With a crowded market and so much competition these days, every business is looking for a way to be a step ahead of others. Brands have recently discovered the power of authentic content created by their own customers and fans, called User-generated content. That's why you can find many brands looking for UGC creators in different niches and industries.
But why is user-generated content important and why is it a trend among professionals? In this article, we will tell you everything you need to know about this type of content. Also, we will provide you with examples of brands that use UGC creators regularly to get inspired.
What Is User Generated Content?
Before introducing you to brands looking for UGC creators, it's important to know what it is and how it can help your brand. User-generated content is one of the best forms of content created by customers that brands or businesses share on their websites or social media pages. This content can be in the form of images, videos, reviews, testimonials, and social media posts.
It's a powerful way for brands to tap into the creativity and authenticity of their customers. Also, it helps them build trust with their audience as it acts as a digital version of word-of-mouth advertising.
5 Examples Of Brands Looking For UGC Creators
Want to know the impact of collecting and sharing user-generated content? Here are 5 examples of brands that work with UGC creators and have successfully grown their businesses.
1. Fenty Beauty
In 2017, Rihanna launched her own cosmetic brand, Fenty Beauty, which became popular for a wide range of concealer and foundation shades. One of their first launches was Pro Filt'R foundation which came with 40 different shades to match every skin tone. The idea behind this makeup brand by Rihanna was the same thing! A full-coverage foundation for her skin!
Fenty is one of the first makeup brands that work with black models for their advertising campaign. Faces of the initial Fenty Beauty campaign included Slick Woods, Halima Aden, Leomie Anderson, Indyamarie Jean, Paloma Elsesser, Selena Forrest, Camila Costa, and Duckie Thot. Soon after Rihanna. Other brands such as Loreal and makeup forever started with colored women too.
The brand actively encourages its customers to share photos and videos of their makeup looks using Fenty Beauty products. By doing so, Fenty Beauty not only showcases the different range of makeup styles, but also highlights the quality of its products. Fenty is one of the most famous brands looking for UGC creators. So, if you check their social media accounts on Instagram and TikTok, you can see hundreds of user-created content.
2. Roar Organic
If you are an athlete or someone who cares about the nutrition their body gets, Roar Organic is probably a known name for you. This health and wellness beverage company produces natural, caffeine-free, healthy hydration beverages with just 20 calories and less than 3 g of organic cane sugar per bottle.
Also, these electrolyte blends come with zero artificial flavors, colors, or sweeteners making it popular among gym lovers. But how did this brand start its marketing? Roar Organic has embraced UGC as a way to promote its products and engage with health-conscious people.
The brand encourages customers to share their experiences of staying hydrated with Roar Organic beverages on their social media accounts. This UGC strategy highlights the benefits of the products and shows the brand's commitment to a healthy lifestyle. So, if you are looking for companies looking for UGC creators in the food industry, make sure to check their website and Instagram page.
3. BFB Hair
Are you a wig influencer looking for UGC brands to work within your industry? BFB Hair (Barefoot Blonde Hair) is the brand you are looking for. The founder of this successful brand is Amber Fillerup dreamed about starting her career when she was only 15.
Amber built her career on helping remove the stigma around wearing extensions and became known for her amazing braid tutorials and unique hairstyles. Amber is a successful blogger and beauty influencer, so she is completely aware of the power of brands that use UGC creators.
The company provides hair extensions designed to blend with your natural hair for everyday looks. These extensions are 100% human remy hair that can last 4-6 months. So, if you are a hairstylist and want to collaborate with brands looking for UGC creators, make sure to check their Instagram page. 
4. Starbucks
Are you a coffee lover? Then, you definitely heard the name of Starbucks. Starbucks is an American multinational chain of coffeehouses that has stores in more than 80 countries. Starbucks serves hot and cold drinks, whole-bean coffee, micro-ground instant coffee, espresso, caffe latte, full and loose-leaf teas, juices, Frappuccino beverages, pastries, and snacks.
If you search for brands that work with UGC creators, Starbucks is a known name. This brand runs social media, influencer marketing, and UGC campaigns once in a while to collect authentic content and reviews. One of their most viewed and popular campaigns was the #RedCupContest. This campaign runs every December and the brand asks customers to send high-quality photos of their coffees for the chance to win Starbucks gift cards.
5. BMW
If you think luxury brands do not need to collect UGC content and run campaigns, you are wrong. BMW is a perfect example of companies looking for UGC creators who run multiple campaigns with their customers. Bayerische Motoren Werke AG, known as BMW is a German multinational manufacturer of luxury vehicles and motorcycles founded in 1916 as a manufacturer of aircraft engines.
Their cars are marketed under the brands BMW, Mini, and Rolls-Royce. This brand uses the hashtag #BMWRepost to share social media posts on Instagram, Twitter, and TikTok of BMW owners around the world.
How To Collaborate With Brands?
Up to here, we've introduced you to some popular companies looking for UGC creators. In case you are a social media influencer with an established potential audience, you can use this opportunity through collaborations and sponsorships. No matter what niche and industry you are in, you can definitely find brands that are looking for creators like you.
But how to find brands that need UGC creators? Ainfluencer is the platform you need! Ainfluencer is a free influencer marketing platform that connects brands and influencers of all sizes across different niches. As an influencer, you can use powerful search filters based on more than 20 different metrics (hashtags, location, niche, language, budget, engagement metrics, etc.), so you can find your best match easily.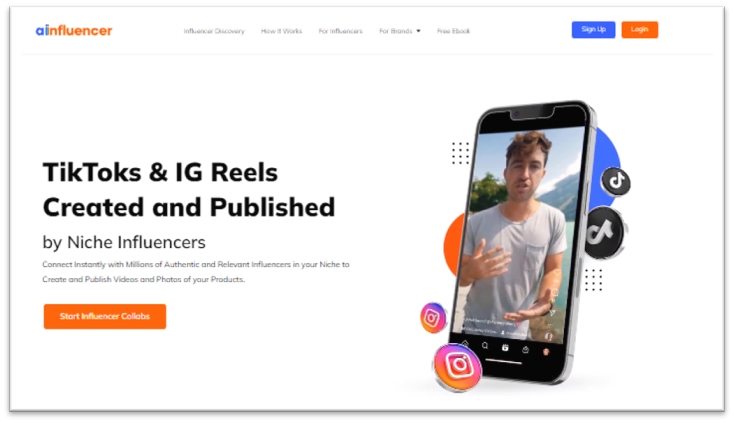 If you are ready to earn money by creating content and working with brands hiring UGC creators, Ainfluencer can help you. You can join the Ainfluencer community of more than 500,000 creators across Instagram and TikTok now. The best part is it's totally free to use Ainfluencer for both the brand and creator side.
Conclusion
If you are active on social media to run your business and grow your customers, sharing user-generated content is an important strategy to consider. In this article, we've provided 5 examples of brands looking for UGC creators to help you get inspired. Also in case you are a creator we've introduced you to Ainfluencer, where you can start collaborating with brands and monetize your account.
FAQs
1. How Can I Become A UGC Creator For A Brand?
Becoming a UGC creator for a brand involves engaging with the brand's products or services and creating authentic content around them. Start by sharing your experiences on social media, using relevant hashtags, and tagging the brand. Keep in mind that brands often look for high-quality, creative, and genuine content when selecting UGC creators.
2. Do I Need A Large Following To Be Considered A UGC Creator?
While having a large following can certainly catch a brand's attention, it's not the only factor that matters. Brands also value content quality, authenticity, and alignment with their values. Even if you have a smaller following, creating compelling content that resonates with the brand's audience can make you an attractive choice as a UGC creator.
3. How Can Brands Protect Their Brand Image When Using UGC?
While UGC can be highly beneficial, brands should establish guidelines for UGC creators to ensure the content aligns with their brand image. Clear communication about the type of content that is acceptable and consistent with the brand's values will help maintain a positive brand image.
4. Can UGC Be Used For More Than Just Social Media?
Absolutely! While UGC is commonly associated with social media, brands can use it across various marketing channels. UGC can be featured on websites, in email campaigns, on product packaging, and even in traditional advertising to enhance authenticity and engagement.