Packing can feel like a nightmare for many of us, yet it can be an enjoyable part of the journey for some people. If you are looking to enjoy packing, choosing a suitable luggage can be quite effective. The top luggage brands understand the significance of durability, practicality, and style for travelers. Whether you're a frequent flyer, a road trip lover, or planning your dream vacation, your luggage choice can significantly influence your journey.
If you want lightweight suitcases, sturdy hard-shell cases, or stylish carry-ons, the best luggage brands have something exceptional to offer for any type of traveler. Whether you are an influencer or a normal person, discovering the best luggage brands that you can collaborate with can be quite challenging. In this article, we'll introduce you to some of the top brands known for their quality, creation, and design.
Best Travel Luggage Brands
When it comes to the best luggage brands, quality is everything. Who would want their belongings to be damaged during a flight? That's why we've gathered the best luggage brands to ensure your items remain safe during your travels.
1. Samsonite
You've probably heard of this brand before. Samsonite is one of the best luggage brands, earning the top spot among many others. It offers everything from small bags to large ones, including briefcases, all within its product range. The company was founded in Denver, Colorado, United States. Its registered office is in Luxembourg, and it is listed on the Hong Kong Stock Exchange.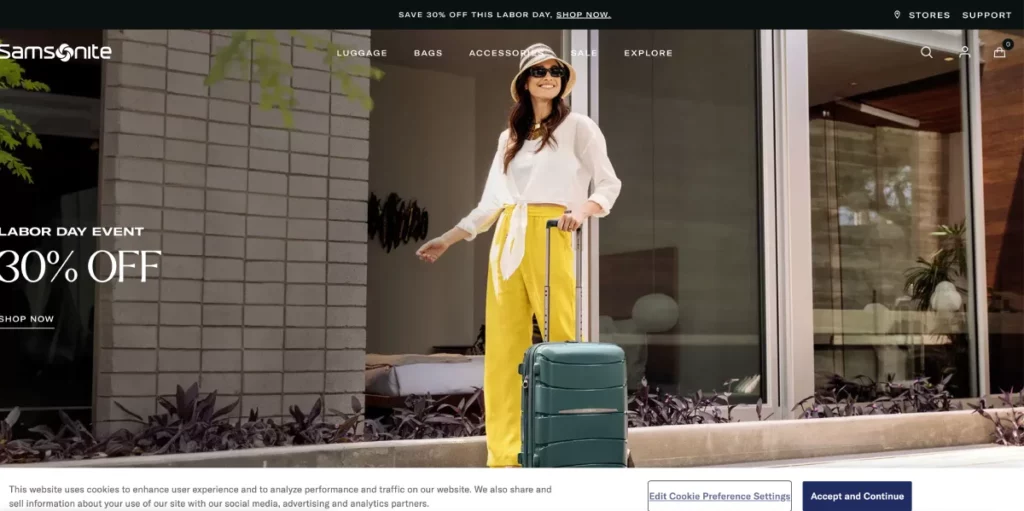 The benefit of having this brand is that there's no difficulty when it comes to opening and closing the cases, which means you can pack easily, thanks to the well-designed compartments that make the most of the space. While it's not the cheapest option, Samsonite maintains fairly consistent prices as a luggage brand that promotes itself as a direct-to-consumer option.
For over a century, Samsonite has been a luxury luggage brand, offering a variety of travel bags, luggage, and accessories for both business and leisure travelers. Known for its focus on durability and creative design, Samsonite provides today's travelers with a wide selection of hard- and soft-sided luggage, as well as various travel accessories to choose from.
2. Away
Based in New York, Away is an American retailer specializing in luggage and travel accessories. This innovative company, founded in 2015 by Jen Rubio and Steph Korey, has secured millions in financing, solidifying its position as one of the most well-funded startups led by female businesswomen.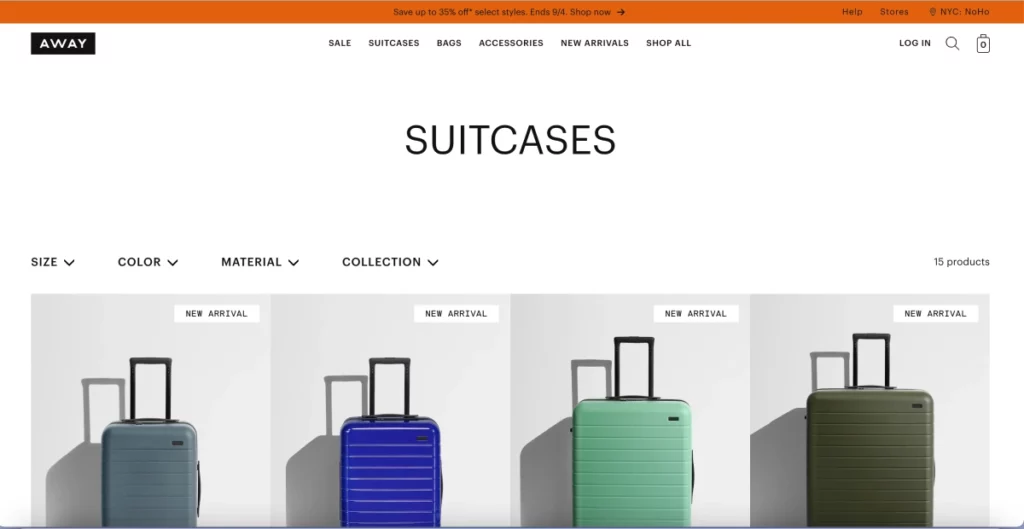 Away is a luxury luggage brand and their comprehensive testing proves it's worth the price. You are going to love their hardside carry-ons. It's made from a tough polycarbonate, which makes it stable and super lightweight. It's also surprisingly roomy, fitting all your stuff easily. Plus, you get a generous 100-day return policy. So, if you're not happy, you can return it for a refund, no questions asked.
Read also: Instagram influencers in UK to grow your brand
3. Hartmann
This one is undoubtedly one of the best luggage brands, founded in 1877 by Bavarian trunkmaker Joseph S. Hartmann in Milwaukee, Wisconsin. It boasts a rich heritage in crafting luggage and leather goods. In 1956, the company grew its reach by launching a manufacturing operation in Lebanon, Tennessee. By 1959, both the company's headquarters and plant facilities had relocated to this Tennessee location, further solidifying its presence.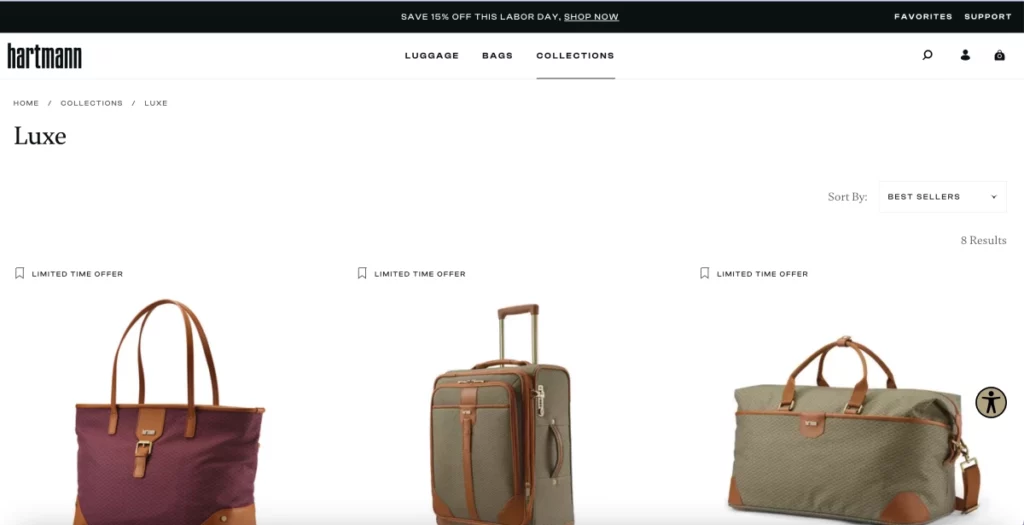 Hartmann is a luxury luggage brand that is on the pricey side but has timeless designs from hardside to tweed fabric that never go out of style. In fact, the brand's marketing and aesthetics are focused heavily on its heritage.
4. Travelpro
Over thirty years ago, a professional pilot came up with the idea of rolling suitcases that stand up on their own for himself and his crew. This new idea created the first Rollaboard, the main product of Travelpro luggage, and it completely changed the way people travel across the world.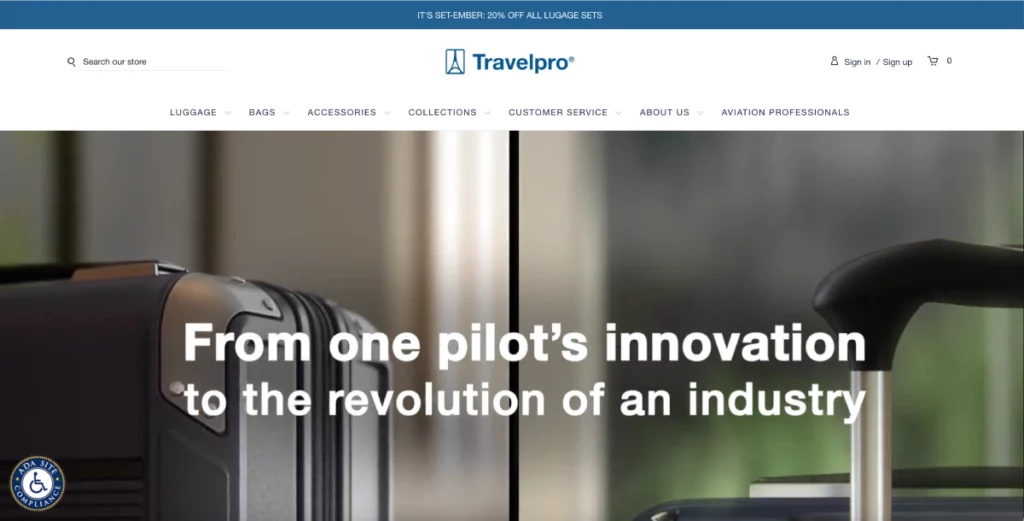 The legacy brand has always been a top choice for frequent travelers, soft luggage enthusiasts, and even pilots and flight attendants. TravelPro offers affordable sets and designs its bags with practicality in focus. We particularly admire the hardiness of the 360-degree wheels and handles on their pieces.
5. Prada
This is an Italian fashion brand that was started in Milan in 1913 by a person named Mario Prada. Prada luggage typically refers to suitcases, travel bags, and accessories designed and manufactured by Prada.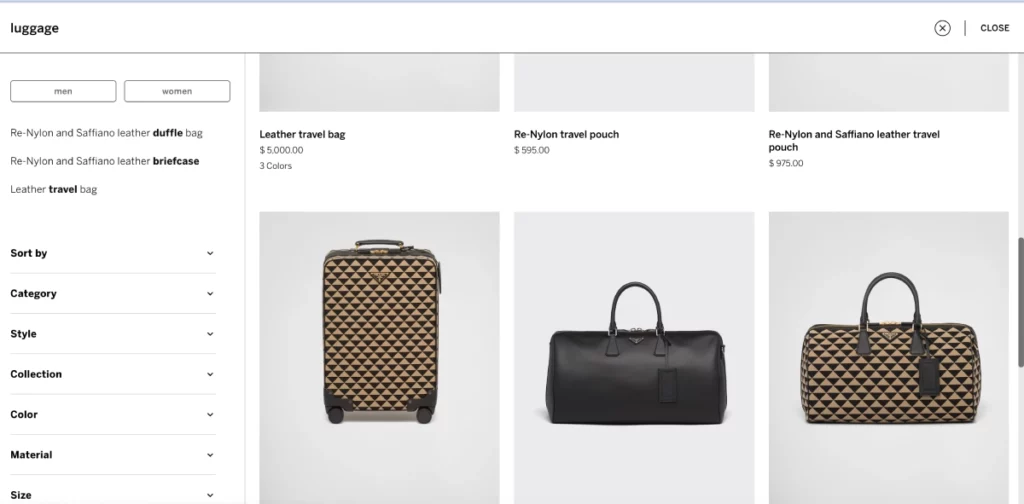 These luggage items are known for their premium quality materials, craftsmanship, and stylish designs. Prada luggage is often considered a symbol of luxury and sophistication in the world of travel accessories.
6. Luis Vuitton
Another well-known brand, Louis Vuitton, has been a trendsetter since 1854. Louis Vuitton Malletier, commonly known as Louis Vuitton, is a prestigious French fashion house and company established in 1854. If you appreciate the finest, take a look at the Horizon collection, created in collaboration with industrial designer Marc Newson.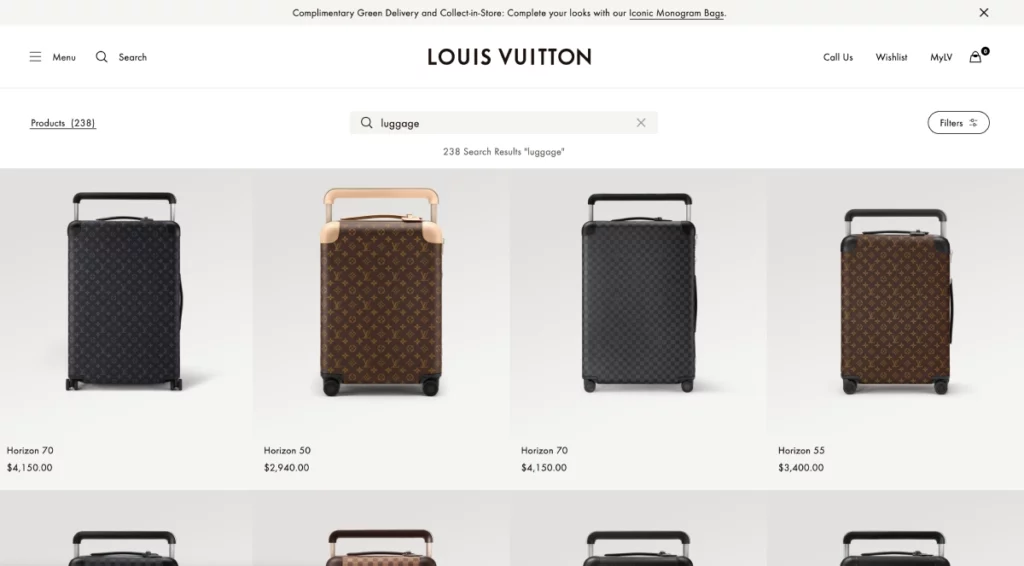 Every designer product from this brand features its distinctive checkered patterns, strong materials, and a truly luxurious touch. This represents the essence of luxury travel. Whether it's luxury luggage sets or high-end suitcases, this brand unquestionably sets the industry standard.
7. American Tourister
This timeless luggage brand was born in Rhode Island back in 1933. The founder's vision was simple: crafting a sturdy suitcase available for just a dollar which makes this one of the affordable luggage brands. Today, American Tourister stands as one of the world's leading luggage brands. With a belief that travel should be enjoyable, the company is dedicated to producing reliable, high-quality, and stylish luggage, as well as business and casual bags.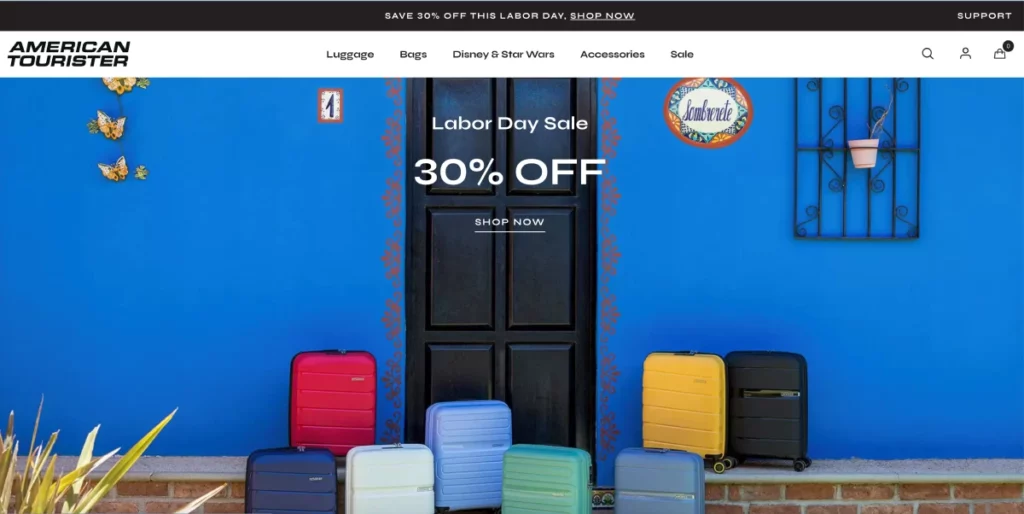 8. Paravel
In 2016, Indré Rockefeller and Andy Krantz co-founded Paravel with the vision of reimagining travel.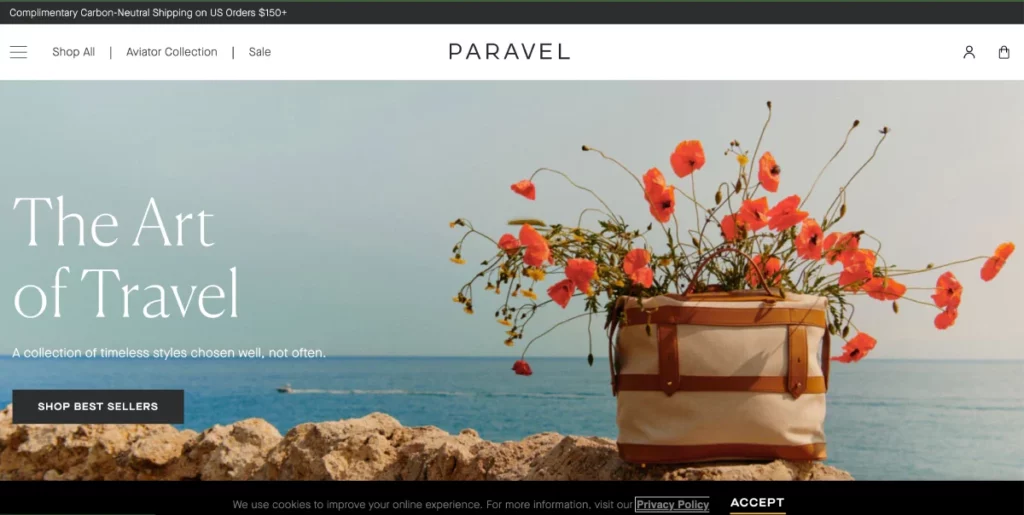 The luggage performed very well in durability tests. However, it's important to note that light-colored complex cases can get scratched easily. These suitcases are also easy to move around on different types of floors. Paravel luggage has a stylish and nostalgic look. While it's a bit more expensive, it's a good investment.
9. Calpak
If you want luggage that fits easily under your seat or in the overhead compartment, Calpak is a great option. Calpak is one of the best luggage brands, and it has been tested with various bags by different people. What you're really going to like are their duffels, under-seat bags, and suitcases.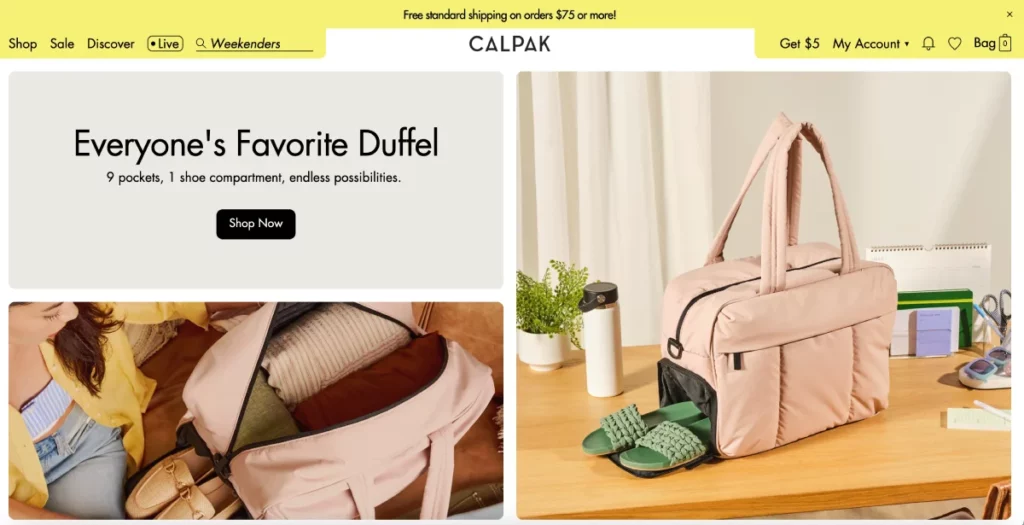 Their small bags are perfect for a weekend trip or a quick business journey. Even when they're packed full, they roll smoothly on either two or four wheels. The duffle-style weekender bag is comfy to carry with its shoulder strap. They look stylish and come in grown-up colors.
10. Tumi
Tumi started in New Jersey in 1975, named after a knife from Peru. They're famous for their tough black nylon travel bags designed with technology in mind. Their products are all about being strong and practical, perfect for your travel needs.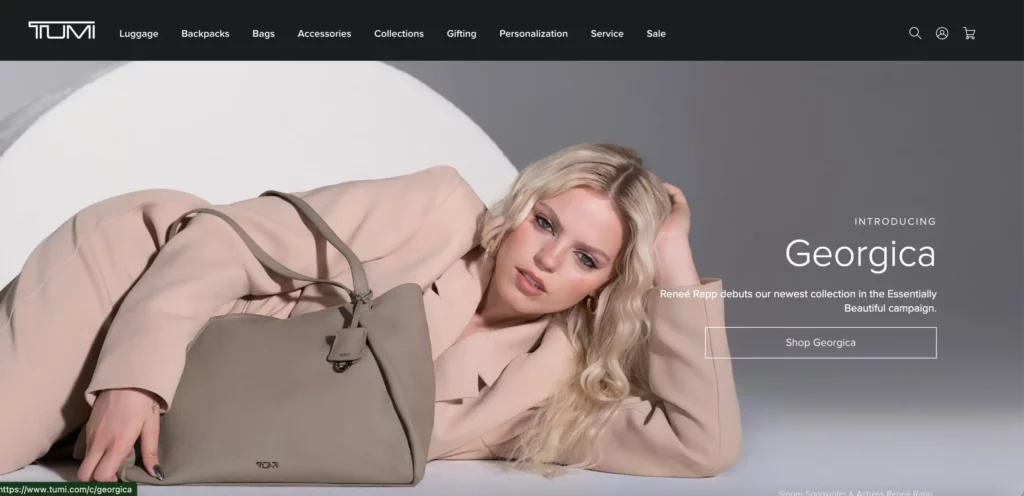 Tumi luggage is easy to move around, thanks to the spinner wheels, but keep in mind that the checked sizes are pretty heavy even when they're empty. If you can afford the high price, we believe Tumi is an excellent choice for long trips, frequent travelers, and people who like to stay organized.
11. Beis
Shay Mitchell founded BEIS for travelers who desire stylish suitcases. Beis is one of the most affordable luggage brands that you can have.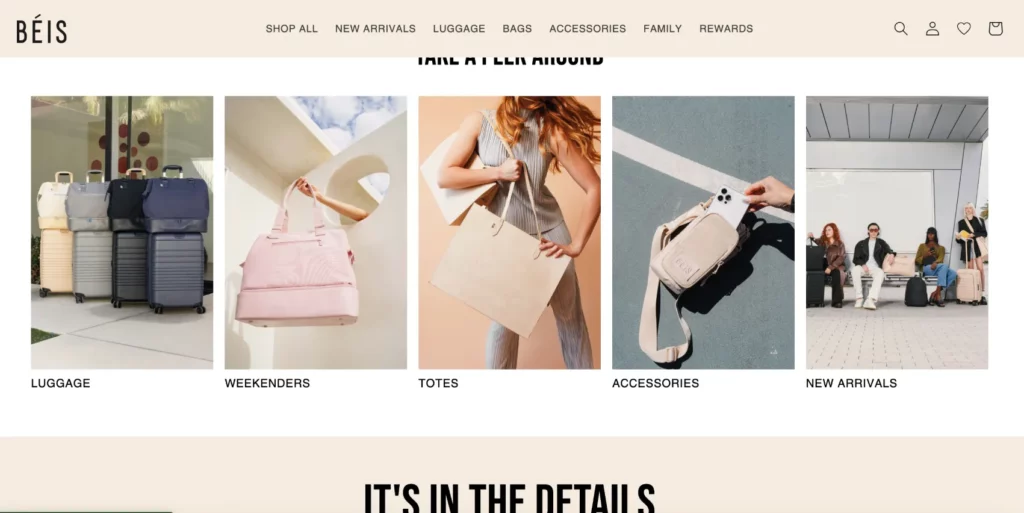 Beis Travel creates luggage that's both stylish and practical, making packing easy. One example is their clever luggage cup holder, a great travel accessory. One of their top bags is Beis's luggage Check-In Roller, which has a useful carrying loop for handbags and totes, a built-in luggage scale to help you pack efficiently, and approved locks for security.
Inside, there are lots of compartments, dividers, and many pockets to keep your things organized.
12. BRIC'S
If you're a luxury traveler, Bric's is a brand you'll love. Founded in Milan in 1952, they offer pure Italian luxury with top-notch craftsmanship, incredible attention to detail, and premium leather. While not super common in the U.S., choosing Bric's means you'll definitely get noticed at the airport.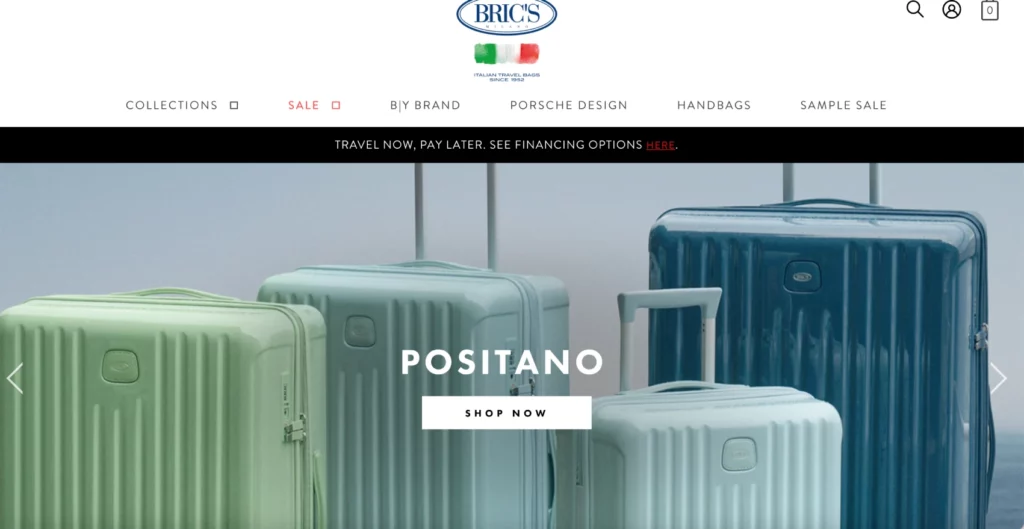 The Bric's collection comes in classic colors like cream, black, olive, and navy, all with stylish leathers. No matter what you prefer, you'll find a wide range of sizes and styles, including carry-ons in different sizes, large travel bags, duffel bags, backpacks, and briefcases.
13. Delsey
Delsey, a French brand, has been making hard and soft-sided luggage since 1946. They now offer a wide variety of styles, sizes, and colors, including some affordable luggage sets. Delsey is known for its innovation, with over 70 awards and permits. They were the first to introduce hard-sided luggage in 1972 and the trolley system just two years later.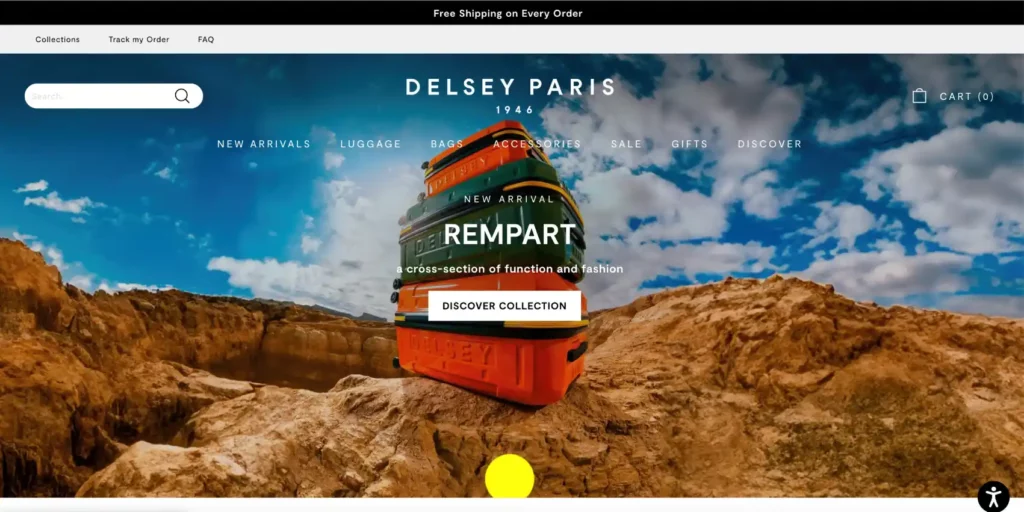 They've introduced some cool upgrades like wheels for a quieter ride and strong zips that are hard to tamper with. If you care about the environment, they have a sustainable line made from 100% recycled fabric using ocean plastic. Plus, their products go through tough testing, and you can choose warranties lasting two, five, ten years, or even a lifetime, depending on what suits you best.
14. Osprey
This one started in 1974 as Santa Cruz Recreational Packs in California, making custom backpacks and travel gear. Now, almost 50 years later, they're still a leading brand for backpacks, travel packs, and luggage, based in Colorado. What we love about Osprey is that they're big on sustainability, using recycled materials, partnering with special systems, and working to reduce their carbon footprint.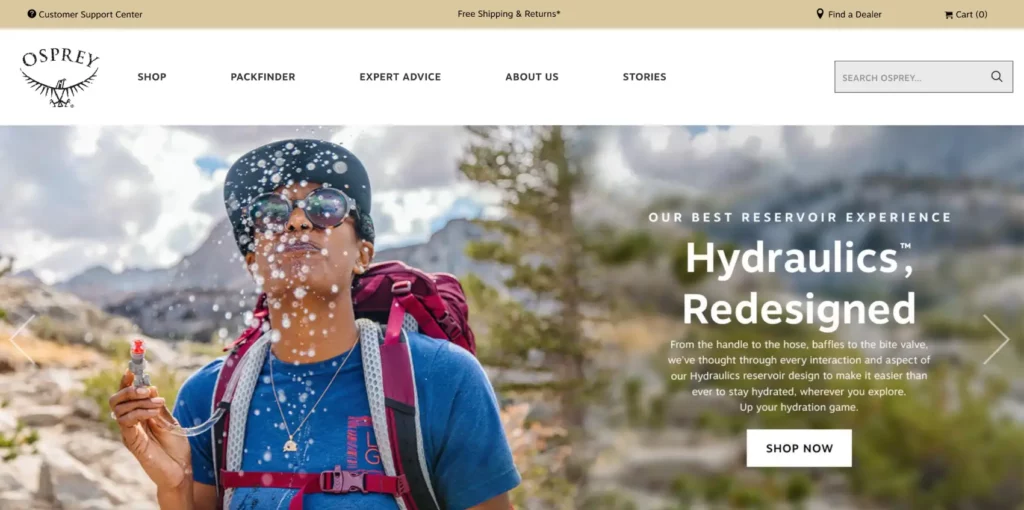 They work with Latino Outdoors and the Outdoors Empowered Network to make the outdoors more diverse and welcoming. They're also coming out with a backpacking line for plus sizes, which is fantastic. Additionally, they provide free shipping and returns, and their All Mighty Guarantee ensures they'll repair your products, regardless of their age, including custom packs dating back to 1974.
15. Briggs & Riley
Right from the beginning, Briggs & Riley has been renowned for its fantastic "Simple as that" guarantee. It means they'll repair or replace any functional issue with your suitcase for life, and you don't need a receipt. Even if the airline caused the damage, they'll still honor it. This guarantee applies to all Briggs & Riley products, including hard and soft-sided carry-ons, checked luggage, rolling duffels, and trunks.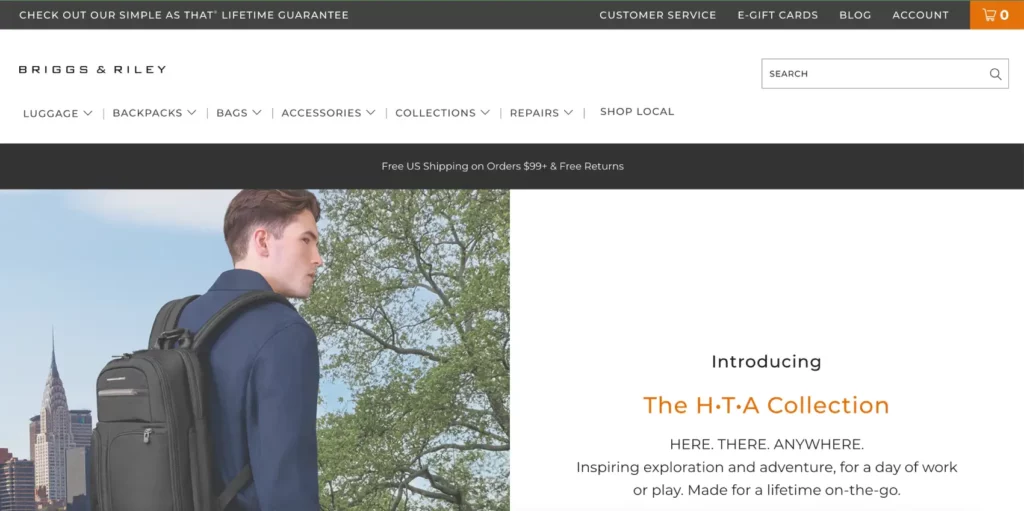 Conclusion
Choosing the right luggage brand is a big decision for travelers. It should fit your needs, style, and budget. The brands we've talked about offer various choices, whether you want luxury, durability, or affordability. Pick the one that makes your travels better and gives you confidence and style.
FAQs
1. What Is The Number One Rated Luggage?
Samsonite is our top pick for the best luggage brand. They offer a variety of options for all kinds of travelers, from business trips to vacations. Plus, it consistently proves to be high-quality based on our testing over the years.
2. What Is The Disadvantage Of A Hard Shell Suitcase?
Hard-shell luggage can't fit in small spaces, and they also need more storage room at home, which can be less convenient.