We all understand the importance of staying fresh during the day in our body and mind. But have you ever considered how your choice of underwear clothes, specifically lingerie, can enhance your comfort? What do you expect from a lingerie brand when it comes to using them during the day and for a long time?
What you can expect from the best lingerie brand is simply comfort and style. At the same time, the importance of a lingerie brand may not be the same as a lipstick brand, for obvious reasons like wearing lipsticks on your face as your everyday make-up routine. Comfortable lingerie leads you to a good night's sleep. That's why we're here to share the best lingerie brands.
Top 10 Lingerie Brand
As we've previously discussed the importance of a lingerie brand and its impact on a restful night's sleep, it's important to familiarize yourself with the top lingerie brands to ensure a smart selection.
1. Savage X Fenty
The iconic celebrity Rihanna founded Savage x Fenty which is famous for its exceptional quality and luxuriously soft materials. Notably, they provide an extensive range of sizes to cater to diverse body types. Even more exciting thing is their exclusive VIP membership, which offers numerous bonuses, including a yearly birthday surprise and a generous 90-day fit guarantee.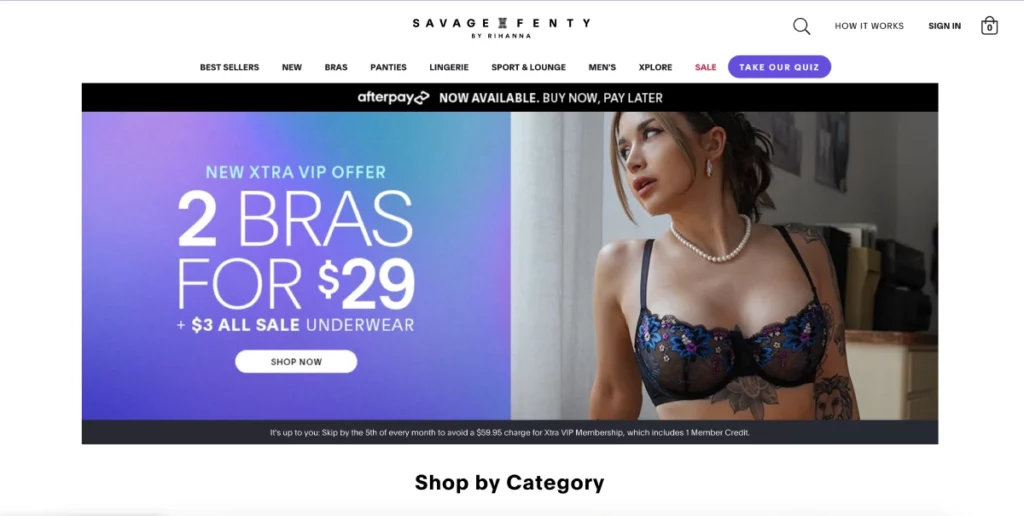 Agent Provocateur was established in 1994 by Joseph Corré, the son of Vivienne Westwood, and his ex-wife Serena Rees. Their inaugural store opened its doors on Broadwick Street in Soho.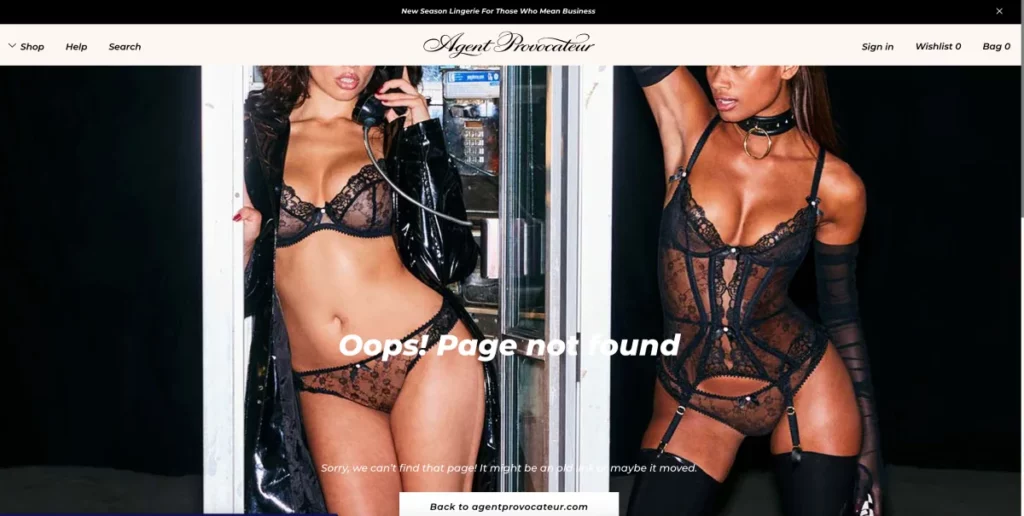 Similar to other lingerie brands, they provide a selection of some of the most luxurious lingerie options. They provide a variety of exciting models that change daily, catering to diverse fashion tastes and preferences.
You should also know that the company is well-known for its bold videos. They featured famous people like Australian actress Melissa George, English model Chloe Hayward, and American model Elettra Rossellini Wiedemann. In a campaign directed by John Cameron Mitchell, they encouraged women to be in control while wearing the company's lingerie.
3. CosaBella
Their bra tops are comfy and sexy, making them unique in their range of desirable lingerie. They're made from stretchy, breathable lace in many colors, making them a must-have for any woman's wardrobe. They offer sleeveless tops for various occasions, such as curvy deep-V bralettes, black lace halter tops, silk camis, and everyday lace-trimmed choices.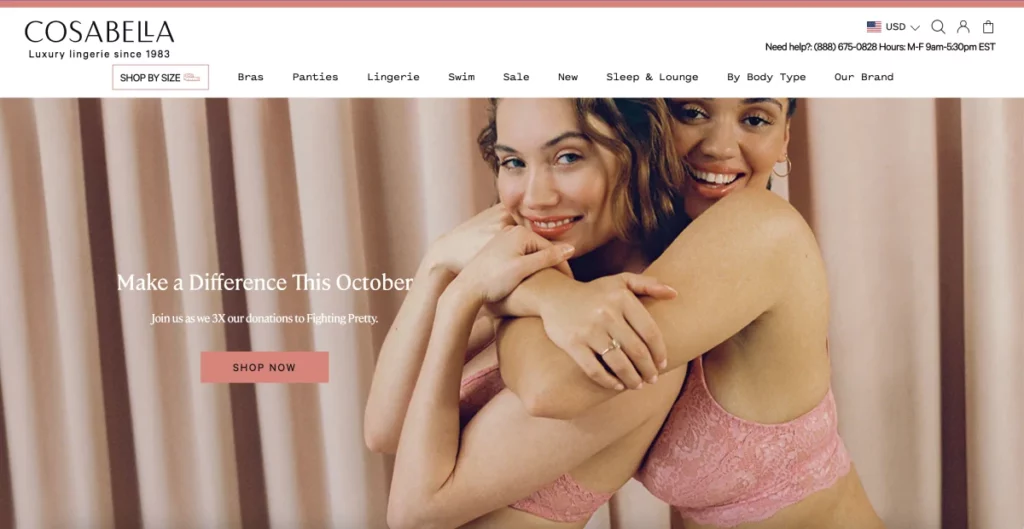 Cosabella's lingerie is made in Italy, which is a country where manufacturing costs are higher than in some other places. Because of this, the price is higher, around $45, making it an expensive and luxurious lingerie brand.
4. La Perla
La Perla is a top luxury lingerie brand known for sexy and sophisticated lingerie. They have a wide range of lingerie, including lace bras, bustiers, thongs, and garter belts. Their collection also includes elegant satin slips and alluring nightgowns with artistic touches, all made from high-quality materials. But, it's important to mention that their prices can be quite high, like a silk-lace nightgown that costs over $1600 which means their prices are too much even for a luxury lingerie brand.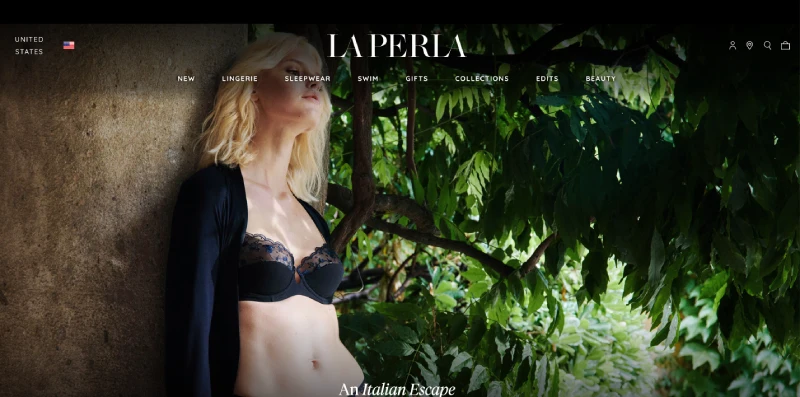 Read also: What Is A Brand App And Why A Business Needs It?
5. Victoria's Secret
We're all familiar with Victoria's Secret, a well-known luxury lingerie brand known for its luxurious runway shows featuring stunning models often referred to as 'Victoria's Secret Angels.'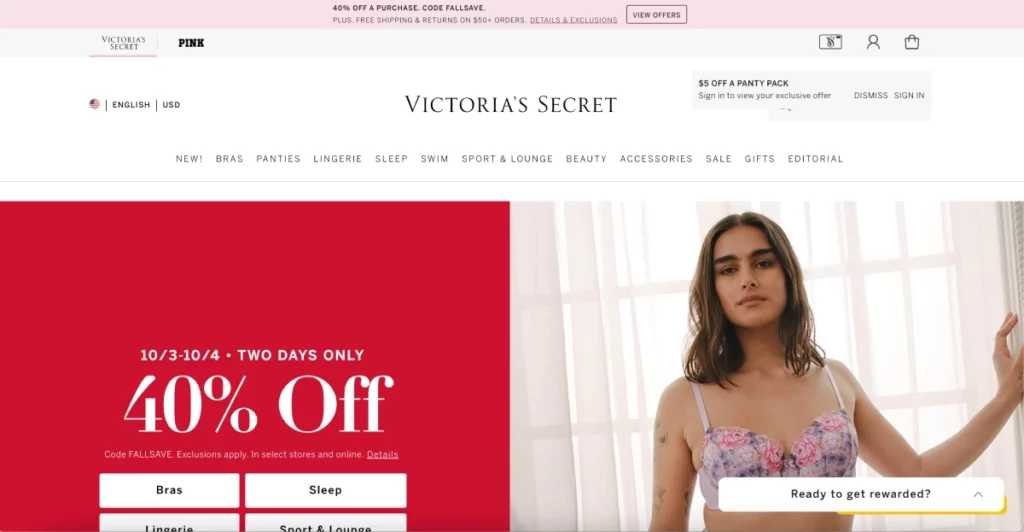 Victoria's Secret is the biggest store for underwear and more. They have a lot of stylish stuff like bras, panties, lingerie, comfy sleepwear, swimwear, and sporty clothes. They also make great perfumes and body care products.
The important thing is that The Victoria's Secret Fashion Show, once a major pop culture event, faced scandals and increasing demands for runway diversity, prompting its cancellation in 2019 for a period of marketing evolution. However, the lingerie company has announced its return in 2023. 
6. Fleur Du Mal
Fleur du Mal is a favorite among celebrities like Kendall Jenner, Bella Hadid, and Selena Gomez, and it's your go-to destination for everything lingerie. Their attractive designs are so gorgeous that you might even want to wear them as outerwear, and there's no reason not to!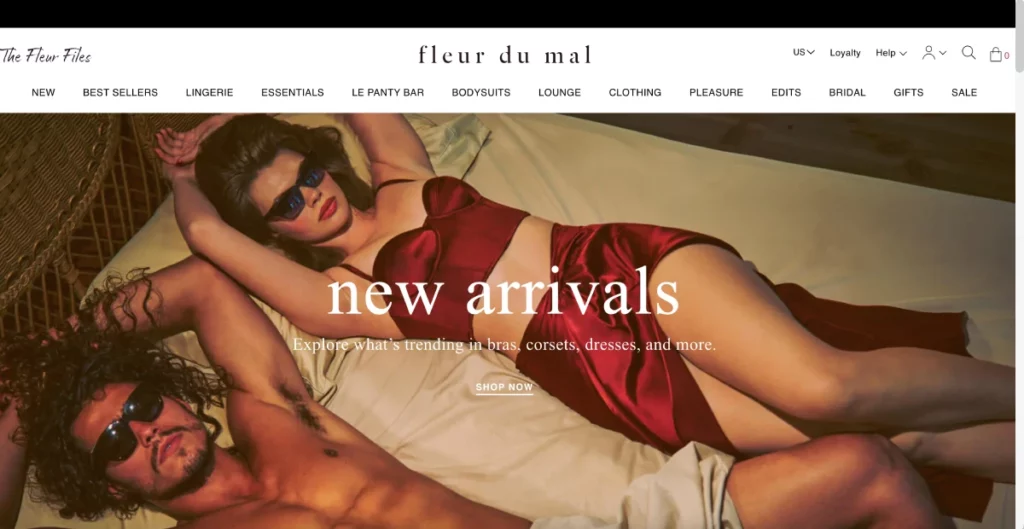 Their boudoir-style lingerie offers all the elements of your most luxurious fantasies, with silk, embroidery, and plenty of lace. While they're one of the best sexy lingerie brands their Embroidery Plunge bra is perhaps their most iconic style, the Top Stitch Bebe is slight enough to wear throughout the day which could be really interesting.
7. Blue Bella
Bluebella is a British lingerie brand company founded by Emily Bendell in 2005. They have operations in the UK, US, Australia, France, and Italy, and their headquarters is in London, England. Early investors included James Averdieck, the founder of Gü, along with Incito Ventures and the South East Seed Fund.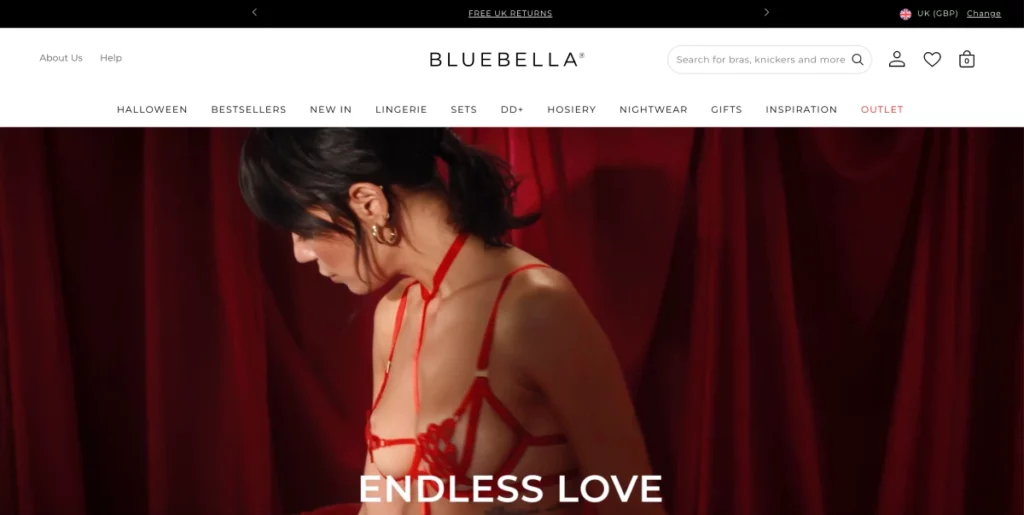 According to their word, they create more than just lingerie; they create art. They believe each piece is designed to catch the eye with beautiful floral embroidery, carefully positioned mesh, and elegant patterns.
The perfect fit will boost your confidence every time you look in the mirror. Their dedication to crafting luxurious nightwear means they offer a range of sensual pieces that anyone will feel their best in, especially those presented as feminine.
8. Intimissimi
Intimissimi is an Italian lingerie brand that started in 1996. They focus on making bras, underwear, lingerie, of course, vests, and pajamas for both women and men. It's interesting that Intimissimi clothing once used to be available through a partnership with Victoria's Secret.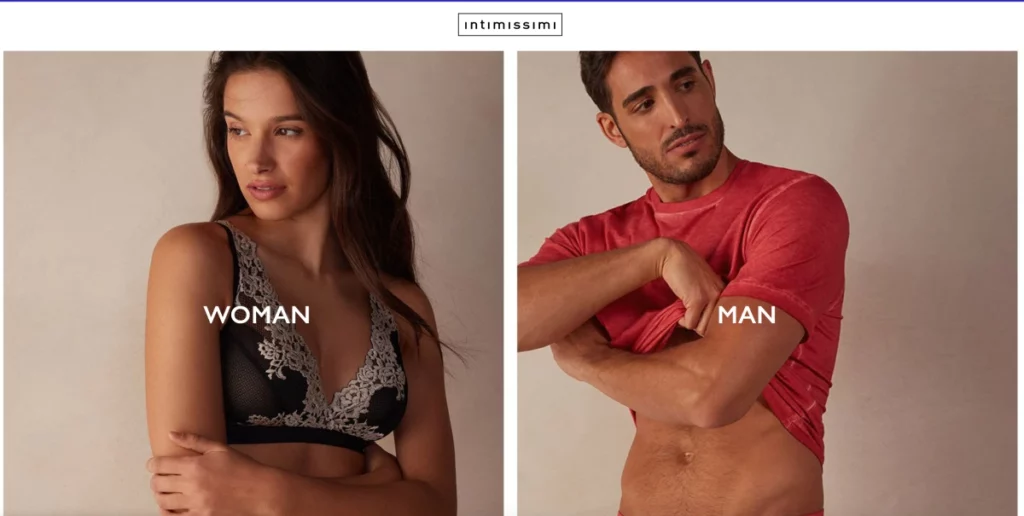 This lingerie brand is known for using top-notch materials and offering a wide range of sizes to cater to all customers. From everyday essentials to luxurious, enticing lingerie, they have become one of Italy's top brands.
9. Dorsa Larsen
In 2016, Georgia Larsen started Dora Larsen in London. She was tired of uncomfortable and boring bras, so she left her job at a big fashion store to make something special. Dora Larsen combines cool colors with modern lingerie designs.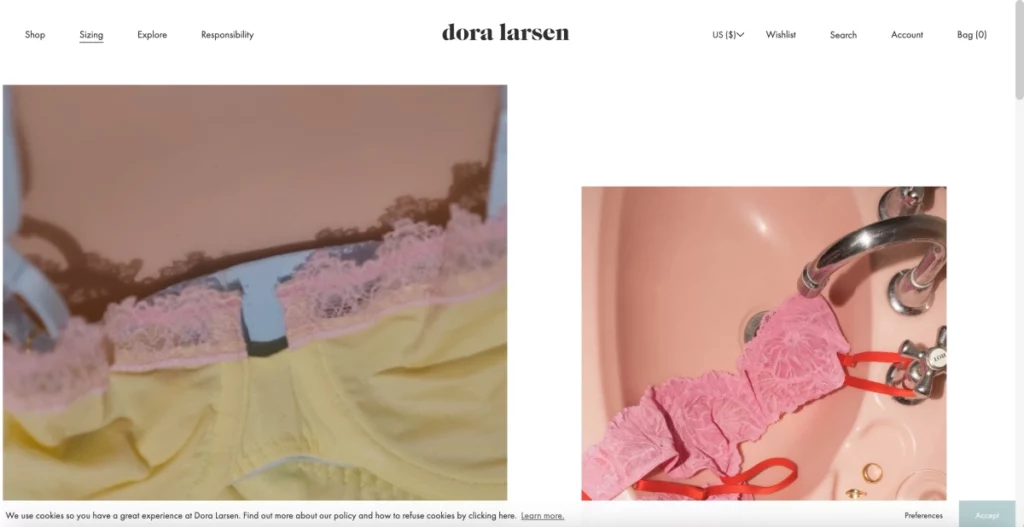 So, they are a small, family-run business with a strong belief in Karma as they claim. Their top priority is responsible production. They aim to create products that are durable, comfortable for everyday wear, and made from certified sustainable materials.
While they acknowledge they aren't perfect which is good because hardly anyone can admit to their weaknesses. They are an affordable lingerie brand that focuses on continuously improving and becoming the most responsible version of themselves.
10. Gooseberry
Gooseberry, based in Bali, provides 16 collections of intimate apparel, each featuring unique and playful styles, patterns, and colors to cater to all your lingerie preferences. What sets the company apart is that its pieces are custom-made and hand-dyed by local artisans using materials sourced from Indonesia.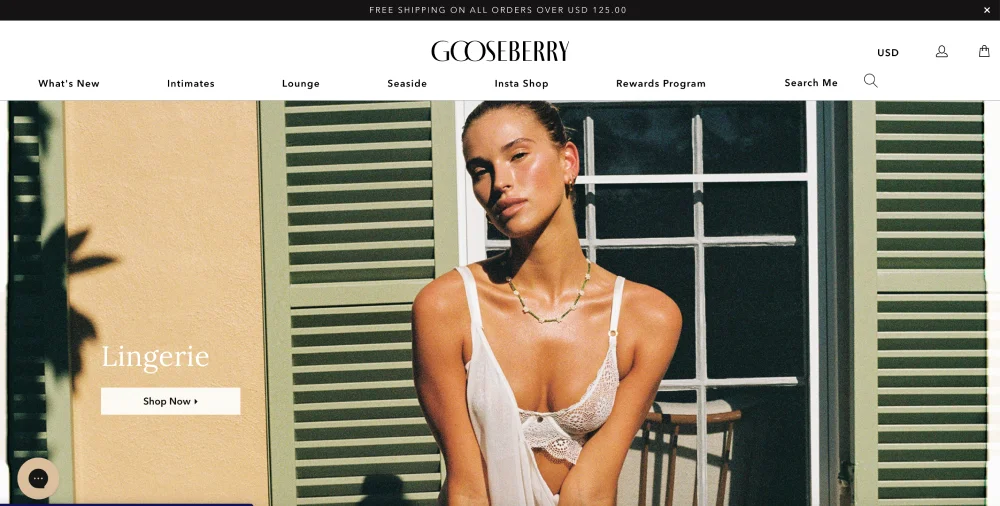 Gooseberry makes classy, comfy clothes that you can wear all day. They use Indonesian lace and local artisans to hand-make each piece when you order it. They care about Fair Trade and being eco-friendly, so every purchase is special and thoughtful.
Conclusion
lingerie brands have transformed sensuality, sophistication, and comfort. Whether you prefer timeless classics or bold innovation, there's the best lingerie brand for you like Gooseberry, Dorsa Laren, etc. Find the one that boosts your confidence and makes you feel beautiful and empowered. Your lingerie choice should ignite your passion and make you feel your best, day and night.
FAQ
1. Is Intimissimi a Luxury Brand?
Intimissimi uses top-notch materials and offers various sizes, making it suitable for everyone. They have everyday basics and luxurious lingerie, making them a top brand in Italy.
2. Are Calzedonia And Intimissimi The Same?
Calzedonia is an Italian fashion group, founded by Sandro Veronesi in Verona in 1986. As of 2021, it boasts over 5,000 shops worldwide. In addition to the Calzedonia brand, the group also owns labels like Intimissimi, Tezenis, Falconeri, Atelier Emé, Progetto Quid, and SignorVino.