As an influencer, it's essential to find brand collaborations that align with your personal brand and audience. The fragrance industry is a booming market, with countless perfume brands vying for attention. With so many options available, it can be overwhelming to choose the right perfume brand to work with.
This is where an influencer marketing platform like Ainfluencer can help you out. By signing up with a platform like this, you'll have access to a vast network of brands looking for influencers to collaborate with.
In this article, we've got you covered with an ultimate guide to finding the top 10 perfume brands you must try. Each of these brands offers a unique scent and characteristics that make them stand out in the market.
Understanding the Fragrance Industry & Perfume Brands
This industry is a massive market, and it's essential to have a good understanding of how these popular brands grow on Instagram and what the current trends are.
One of the first things to consider is the different types of fragrances. There are four main categories: floral, woody, fresh, and oriental. Each category has its unique scent profile, and it's essential to know which one will resonate with your audience.
You should also understand the different notes of a fragrance, which include the top note, middle note, and base note. Knowing these notes will help you understand how a fragrance evolves over time and how it interacts with your body's chemistry.
It's also crucial to stay up to date with the latest fragrance trends. For example, in recent years, there has been a trend towards clean and fresh scents, with more natural ingredients becoming popular. You should also be aware of any seasonal trends, such as the rise of warm and spicy scents during the fall and winter months.
Finally, understanding the key players in the fragrance industry is also essential. There are several well-known perfume houses, such as Chanel, Dior, and Gucci, that dominate the market. However, there are also niche perfume brands that cater to specific audiences and offer unique scents.
So, having a good understanding of the fragrance industry will help you choose the right perfume brand to collaborate with.
Top 10 Perfume Brands
Choosing the perfect fragrance can be a daunting task, especially with so many options to choose from. When it comes to finding the right perfume brand to work with, there are several factors to consider. These include the brand's identity, quality of ingredients, and how long the scent lasts.
To help narrow down your choices, we've compiled a list of the top 10 perfume brands that meet these criteria and more.
1. Chanel
This brand is a line of fragrances created by the French fashion house Chanel. The most famous and iconic fragrance from Chanel is Chanel No. 5, which this company created in 1921 by the perfumer Ernest Beaux and is still a classic perfume and a symbol of luxury.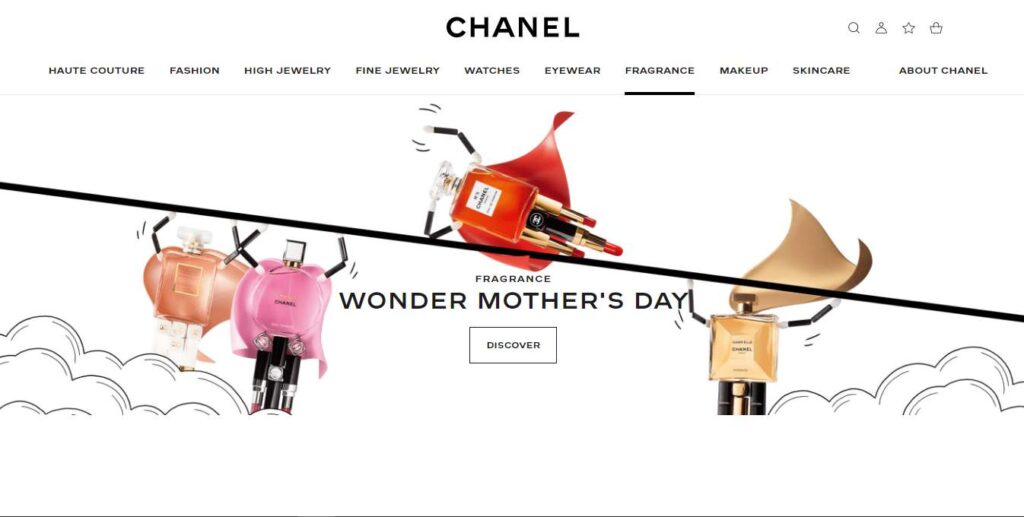 Chanel offers a wide range of fragrances for men and women, including Chanel Chance, Coco Mademoiselle, Allure, and Bleu de Chanel.
2. Dior
Christian Dior was a French fashion designer who founded the iconic fashion house, Dior, in 1946. Since then, the brand has expanded its offerings to include fragrances, with a wide range of perfumes for both men and women.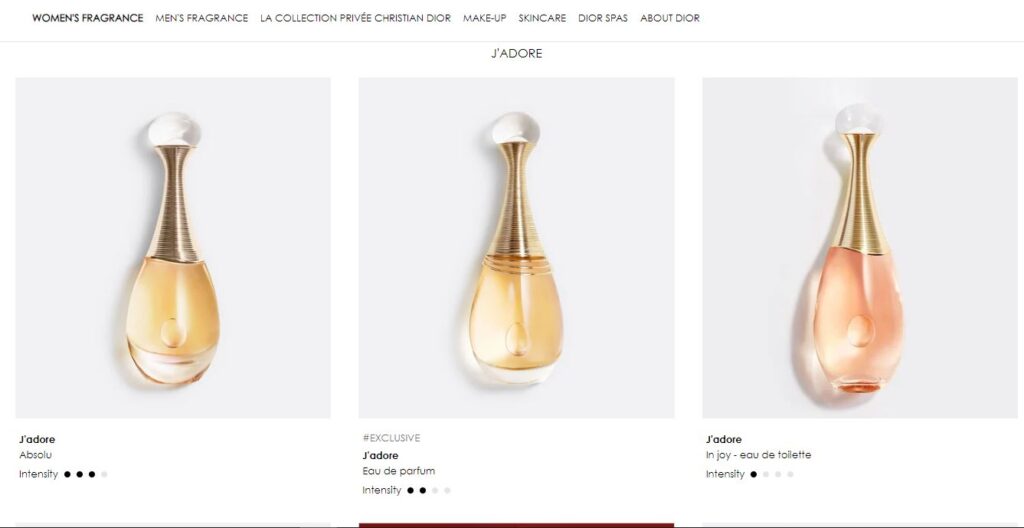 One of Dior's most popular and timeless fragrances is J'adore, which Dior launched in 1999. J'adore is a floral scent that blends notes of ylang-ylang, jasmine, and rose, with a hint of fruity mandarin. It's a feminine and sophisticated fragrance that women all around the world have been embracing it.
For men, the brand offers fragrances such as Fahrenheit, Sauvage, and Homme.
3. Gucci
This brand is of the most famous perfume brands created by the Italian luxury fashion brand Gucci. Founded in Florence in 1921, Gucci has become known for its high-end fashion designs, accessories, and fragrances.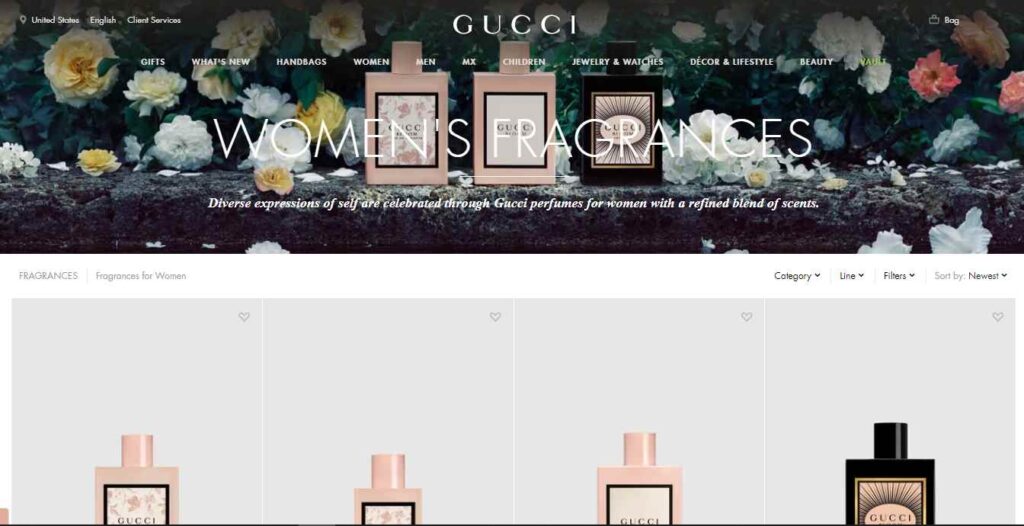 For a more sophisticated taste, Gucci's Memoire d'une Odeur is a great option. Launched in 2019, Memoire d'une Odeur is a unisex fragrance that features a blend of chamomile, jasmine, and sandalwood. It's a modern and timeless scent that is perfect for those who prefer a more subtle and understated fragrance.
4. Tom Ford
This line of fragrances was created by the American fashion designer and filmmaker Tom Ford. Launched in 2005, the Tom Ford Private Blend collection features a range of unique and luxurious scents for both men and women.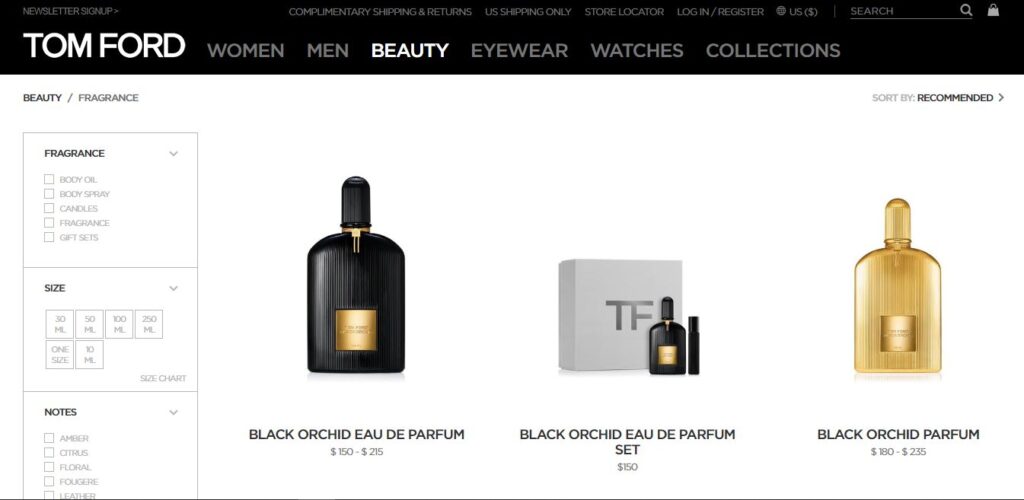 Tom Ford perfumes are famous for their sophisticated and sensual scent profiles, often featuring a blend of rare and exotic ingredients. The brand offers fragrances such as Black Orchid, Oud Wood, Tobacco Vanille, and Neroli Portofino, each with its unique scent and character.
5. Jo Malone
This brand was created by the British fragrance and cosmetics brand Jo Malone London. Founded in 1990 by Jo Malone, the brand has become known for its unique and high-quality fragrances, as well as its minimalist and elegant packaging.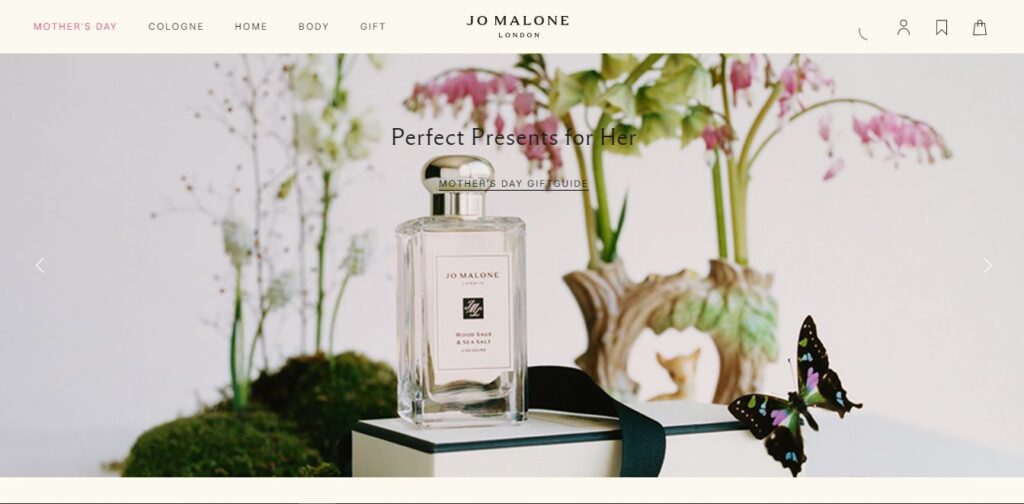 Jo Malone offers a range of fragrances for both men and women, including the popular scents Lime Basil & Mandarin, Peony & Blush Suede, and Wood Sage & Sea Salt. Each fragrance is crafted with a blend of ingredients to create a distinct and sophisticated scent profile.
6. Yves Saint Laurent
It's one of the old fashion brands which was created by the French luxury fashion house Yves Saint Laurent. Founded in 1961, Yves Saint Laurent has become known for its iconic fashion designs, as well as its high-quality perfumes.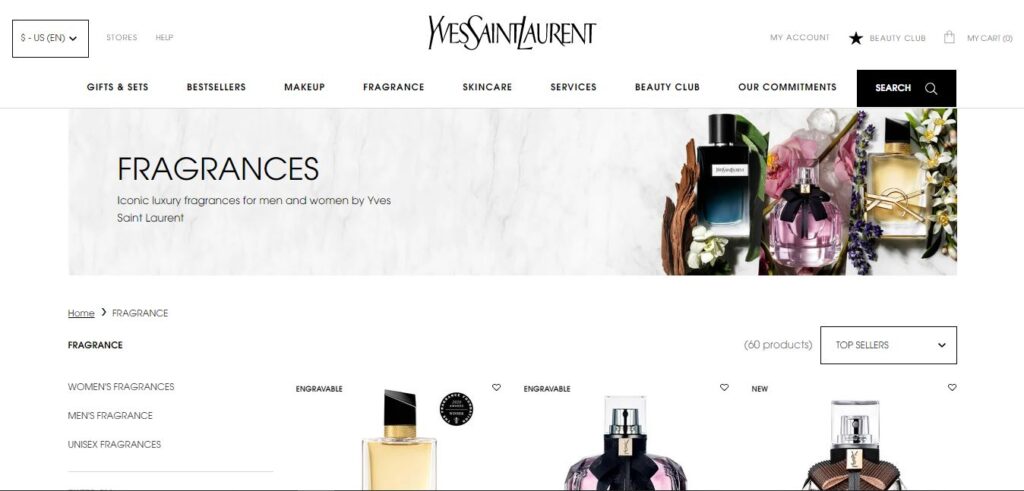 Yves Saint Laurent perfumes are known for their high-quality ingredients and innovative scent combinations. The brand often uses rare and exotic raw materials, such as patchouli, jasmine, and vanilla, to create unique and sophisticated scents.
7. Lancôme
It's a range of fragrances created by the French luxury cosmetics and skincare brand, Lancôme. The brand was founded in 1935 by Armand Petitjean and has since become known for its high-end makeup and skincare products, as well as its unique and sophisticated fragrances.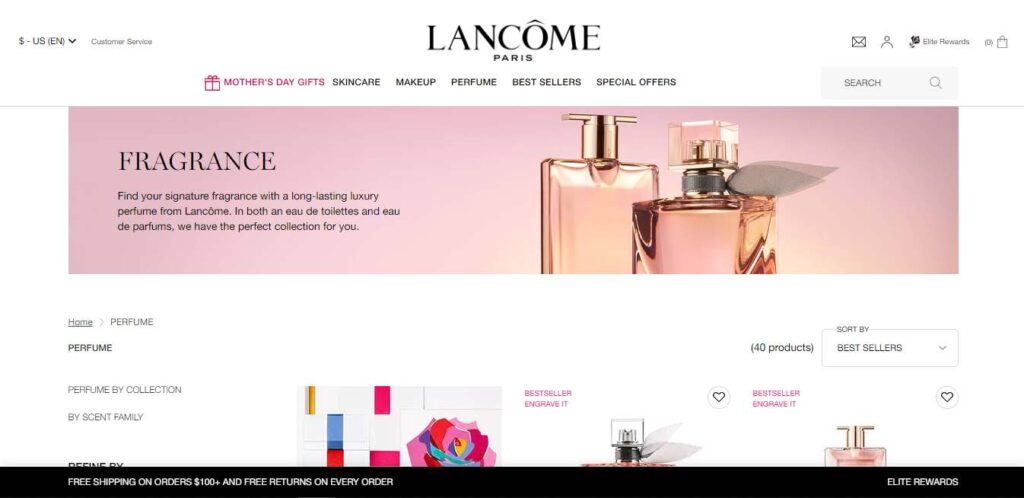 Lancôme offers a wide selection of perfumes, including popular scents such as La Vie Est Belle, Trésor, and Idôle.
8. Versace
Founded in 1978 by Gianni Versace, Versace has become known for its bold and glamorous designs, as well as its unique and luxurious fragrances.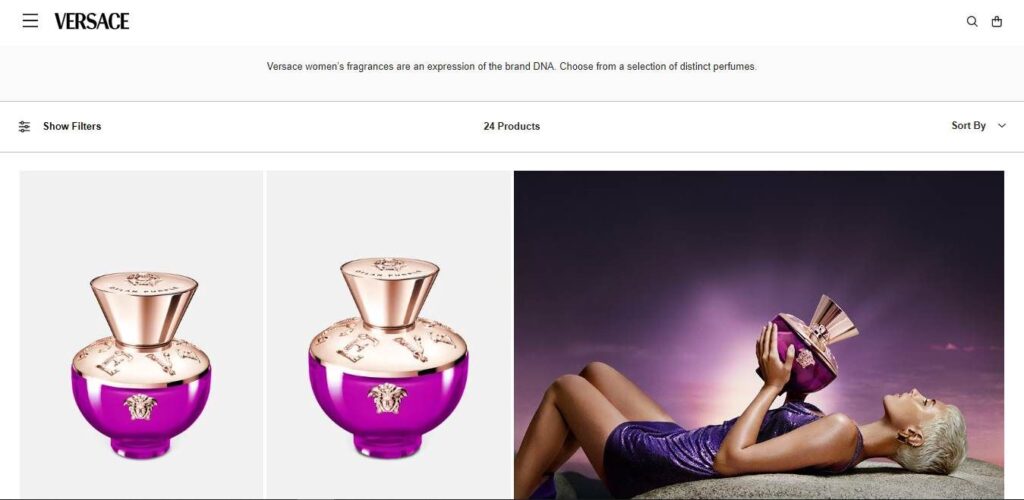 Versace offers a range of fragrances for people with different tastes, including popular scents such as Bright Crystal, Eros, and Dylan Blue. Each fragrance features a distinctive scent profile, often combining floral, fruity, and woody notes to meet every taste.
9. Marc Jacobs
Here's another famous line of fragrances created by the American fashion designer, Marc Jacobs in 1984. Known for his unique and playful designs, Marc Jacobs has become a leading name in the fashion industry, with his fragrances becoming equally popular among fragrance enthusiasts and fashion lovers alike.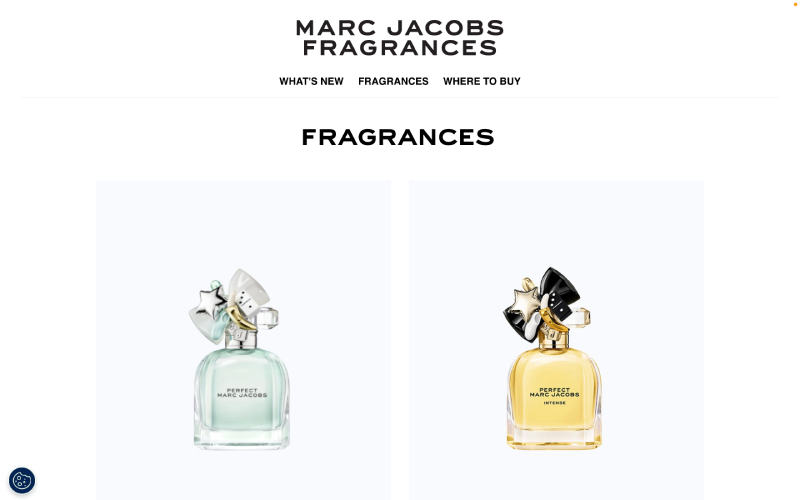 Marc Jacobs is known for his creativity and innovation, which is evident in the unique scent combinations used in his fragrances. The brand often uses unexpected ingredients, such as cucumber and rhubarb, to create a distinctive and refreshing scent.
10. Hermes
Founded in 1837, Hermes is one of the most popular perfume brands and has become known for its high-quality fragrances.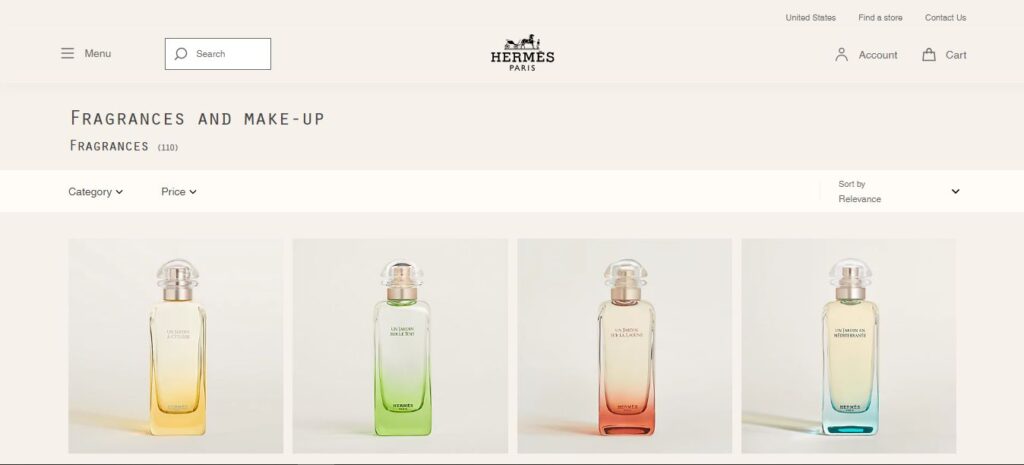 Hermès is renowned for using high-quality ingredients and rare raw materials to create their fragrances. They often use natural ingredients such as grapefruit, vetiver, and patchouli, expertly blended to produce a timeless and refined scent.
Using Ainfluencer as a Great Platform for Influencers and Brands to Collab
Ainfluencer is a great influencer marketplace that allows influencers to connect with brands and find collaboration opportunities. As an influencer, you can create a profile on Ainfluencer and showcase your unique selling points, such as your audience demographics, engagement rates, and past collaborations. You can also browse the perfume brands on the platform and apply to collaborations that are a good fit for your personal brand and audience.
Ainfluencer also provides brands with a convenient way to find influencers, connect with them, and manage their Instagram marketing campaigns. Brands can search for influencers based on their audience demographics, engagement rates, and past collaborations, and reach out to them directly through the platform.
Overall, Ainfluencer is a great tool for influencers and brands to connect and collaborate on projects that align with their personal brands and values. If you're an influencer looking to expand your brand and collaborate with perfume brands, consider creating a profile on Ainfluencer and exploring the opportunities available. Sign up for free now!
How to Approach Perfume Brands for Collaborations
Have you decided to collaborate with a perfume brand? Then, you should know that approaching perfume brands for collaborations requires a strategic approach. Here are some tips for different types of influencer outreach:
1. Research the Perfume Brands
Before reaching out to a perfume brand, research its values, target audience, and past collaborations. This information will help you determine whether the brand aligns with your personal brand and audience.
2. Craft a Compelling Pitch
Craft a good pitch that highlights your unique selling points as an influencer and how you can increase their brand awareness. Make sure to include your social media following, engagement rates, and any past brand collaborations.
3. Follow Up With the Perfume Brands
After sending your initial pitch, follow up with the brand to ensure they received your message. Keep your follow-up message short and friendly, and reiterate your interest in collaborating with the brand.
Conclusion
Perfumes have become an essential part of everyone's daily routine, and it's hard to imagine leaving the house without wearing any. With the rise of numerous perfume brands in the market, choosing the right fragrance can be overwhelming.
In this article, we introduced you to the top 10 perfume brands and explained how Ainfluencer can help brands and influencers build long-term partnerships that would result in maximum revenue for both parties.
Don't waste another second. Sign Up for FREE today and collab with your favorite perfume brand!
FAQs on Perfume Brands
Here are some frequently asked questions about perfume brands that can help you choose the right company.
Q1. What Is the Name of a Popular Brand of Woman's Perfume? 
The most popular perfume brand varies depending on personal preferences, but some of the most popular brands include Chanel, Dior, and Gucci.
Q2. What Is the Most Popular Perfume Brand Among Young Women?
The answer to this question can vary depending on different factors such as geographic location and current trends. However, some popular perfume brands among young women include Victoria's Secret, Marc Jacobs, Chanel, and Gucci.
Q3. Can Influencers on Ainfluencer Collaborate With Indie Perfume Brands for Sponsored Posts?
Yes, influencers on Ainfluencer can collaborate with indie perfume brands for sponsored posts. In fact, collaborating with smaller, independent brands can be a great way to diversify content and attract a wider audience. 
Indie perfume brands often offer unique fragrances and are eager to work with influencers to promote their products. To connect with indie perfume brands, influencers can use platforms such as Ainfluencer to find potential collaborations and reach out to brands directly to express interest in working together.