With the steadily growing interest in influencer marketing, marketers feel the need to increase their budget and jump on the bandwagon. People are seeking to understand more about influencer marketing campaigns now than ever before.
Bear in mind that running successful influencer marketing campaigns depends closely on your influencer marketing strategy and executing your campaign correctly. Let's delve deeper to find out how you should try this strategy.
What is an influencer marketing campaign?
Influencer marketing campaign is a marketing effort by which businesses promote their products, drive sales and traffic to their website, and increase brand awareness. How? By leveraging well-known figures on social media who have influence over their target market.
Simply put, influencers are people who have a large, engaged community that takes their recommendations seriously.
To that end, influencer advertising involves a private individual sharing his or her opinion on a product/service with the audience.
One influencer marketing example is Murad and Nataly Osmann. The style of their photos (Nataly leading her boyfriend by the hand) gives them the chance to work with top marketers like Macy's and Napa Valley Beringer Vineyards to create compelling ads.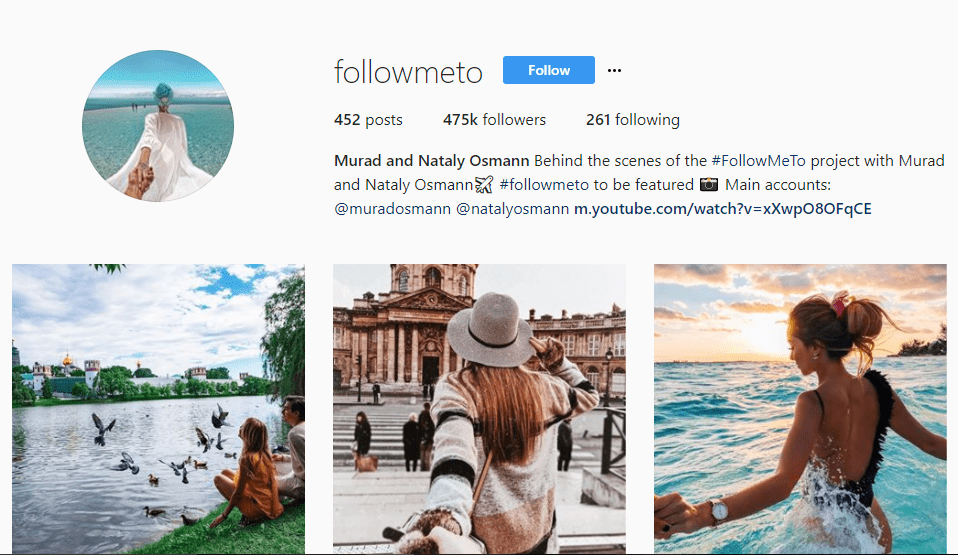 How to create an influencer marketing strategy?
To run successful influencer marketing campaigns, you need to be strategic, don't you? To do so, you can either use manual tips and strategies to your advantage, or you can use a top-quality influencer marketing agency like Ainfluencer to get organized, execute the campaign, and track results.
Ainfluencer- A top free influencer marketing tool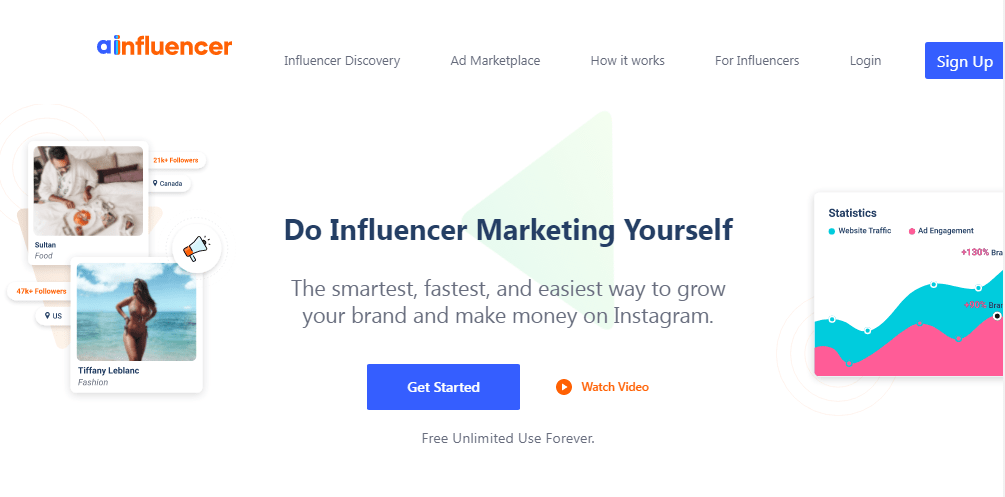 Believe it or not, the process of running the best influencer campaign needs a lot of time and expertise if it's done manually. In case you would like to accelerate and facilitate this process, you need an influencer marketing platform.
Would you like to be a smart marketer on such a popular platform as Instagram and end up promoting your brand to hundreds and even thousands of new targeted, loyal, and engaged people? Then, Sign up on Ainfluencer for free. 
Ainfluencer acts as a middleman in the influencer marketing campaign. This full-service app lets you either sign up as a brand to find and invite your target influencer or as an influencer to make offers for brands to collaborate with.
Its advanced AI and workflow make the process of influencer/brand discovery, influencer management, and analyzing the campaign's insight in real-time super easy.
Here's a YouTube video to walk you through Ainfluencer Instagram marketing:
Note: What makes Ainfluencer distinctive from similar platforms out there is that it is absolutely free.
How Ainfluencer works for brands: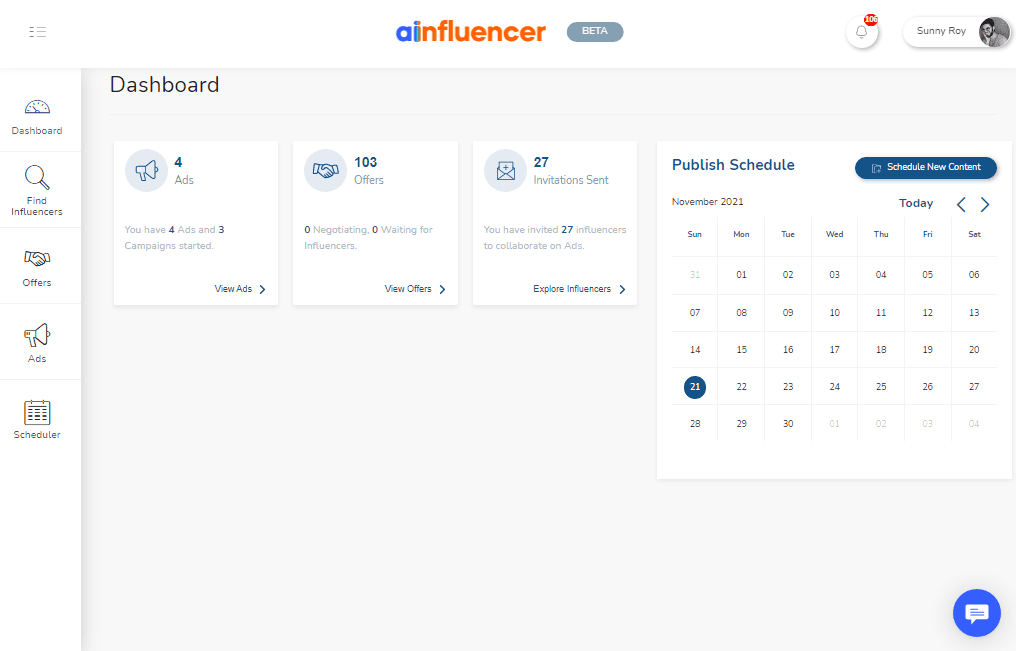 This influencer marketing platform incorporates all the following features into its website to let brands make the most of influencer marketing strategy.
Post a marketplace ad
Post scheduler
Custom search filters for influencers
Creating and receiving offers
Chat with influencers using smart workflow
Campaign monitoring
Real-time analytics
How Ainfluencer works for influencers: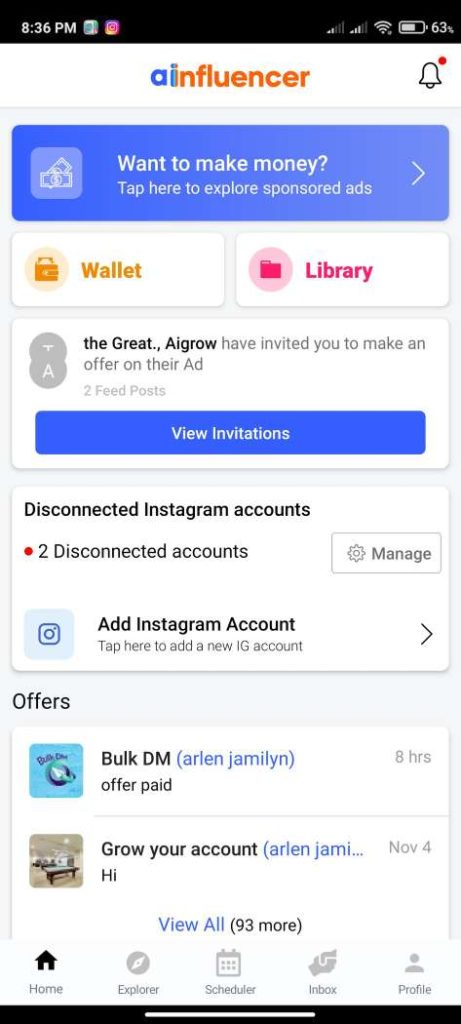 Influencers need to download the Ainfluencer app, which is available for both Android and iOS users. You can explore brand ads and make offers for brands you would like to collaborate with from the app.
A step-by-step guide to running an influencer marketing campaign
To create and launch the best influencer campaigns, go through the following steps that guide you through the process.
1# Outline the goals
Your goals inform every decision you make. That's why you need to determine the goals of your influencer campaigns before doing anything else.
It helps you shape a consistent strategy throughout your campaign, and more importantly, it lets you see what metrics you should track to measure your success at the end.
Here are some goals you may want to consider:
Brand awareness
Building brand identity
Sales and lead generation
Social media followers and engagement
Customer loyalty
Link building
2# choose from types of marketing campaigns
All types of marketing campaigns usually involve three types of relationship triggers: inspire (inspire an influencer to share your content on their own), hire (pay them to promote your brand, content, messaging, etc.), or a mix of both.
What kinds of influencer campaigns are there?
When a company decides to go with influencer advertising, they have to choose from numerous types of influencer campaigns. Here, we will dive into 8 different kinds of them that you can use to bring brand awareness.
Gifts:
Sending free products to an influencer hoping for free publicity, review, mention, etc.
Contests and giveaways:
Run a giveaway campaign and ask an influencer to share your giveaway event with their followers.
Social media takeover:
Allowing an influencer to take over your social media channels for a set amount of time to navigate your brand promotion on social media.
Affiliate marketing:
Giving influencers a commission on all sales they drive as a result of their content and influence.
Sponsored content:
Paying an influencer to feature your brand on their blog or social channel.
Guest blogging:
Collaborating with influencers in your niche who write blogs and accept blogs to either accept the blog entries or post your content to websites and blogs.
Brand ambassador program:
Being tagged or mentioned by people who use your product and adore it. Some brand ambassadors even share images, posts, articles, etc. related to your product and promote them on social media.
Discount codes:
Provide an influencer with a discount code for your products/services that they can offer to their audience.
3# Define target audience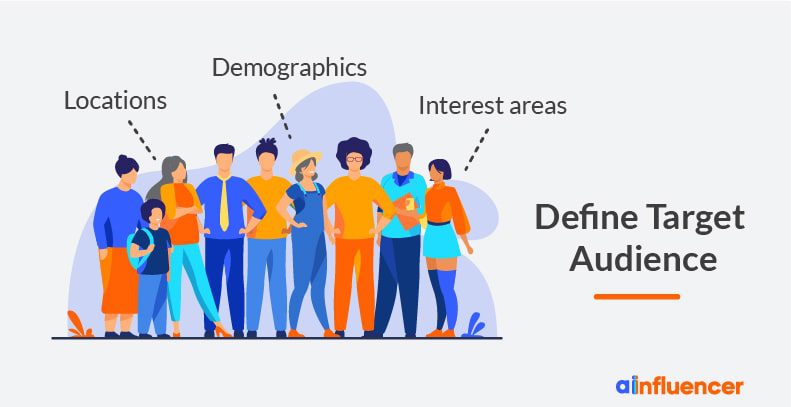 Who do you want to connect with through your campaign? Before you begin looking for social media influencers to collaborate with, you need to find an answer to that question.
Outline your target audience by focusing on locations, demographics, and interest areas to get a clear understanding of them. In other words, the more you know your audience, the easier it will be to identify the top people they follow and the websites they use. This will lead to finding the right influencer.
4# Select the right social media platform
The next step of your influencer marketing strategy is to decide where you want to run your influencer marketing campaign.
Each platform has its own style, strength, marketing results, and audience. Note that not every platform works well for different objectives. What really matters is that the content you create with influencers needs to suit the social media platform you are working with.
For example, if your business is related to fashion and art, you definitely want the influencer to post photos most of the time, rather than text, long videos, etc. So your content is tailored to suit Instagram or Pinterest.
5# Find effective influencers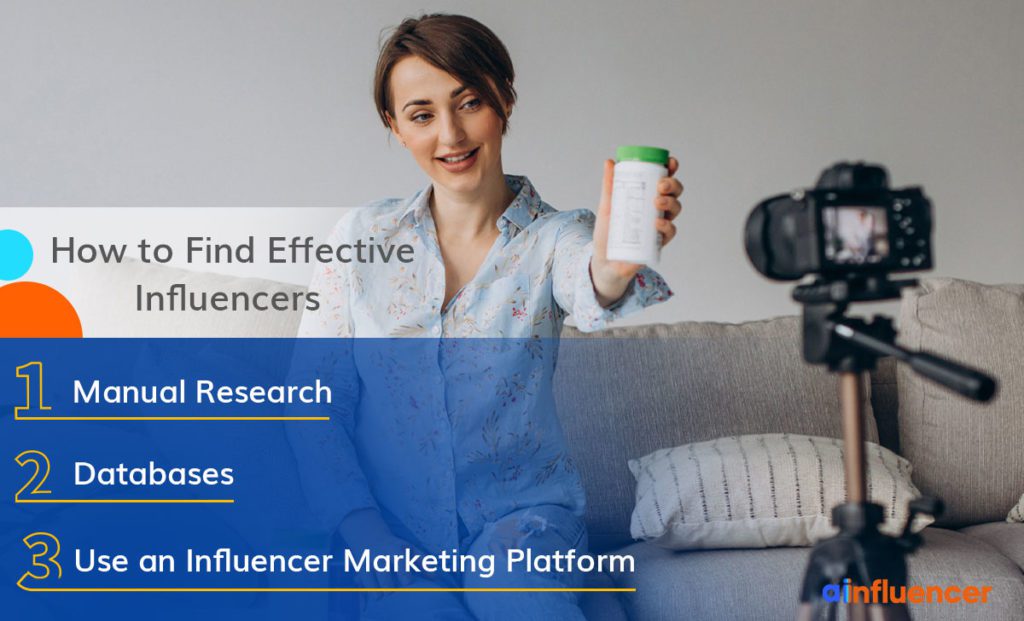 Arguably, the success of a killer influencer marketing campaign depends on choosing the right influencer. There are four main ways to find influencers:
1. Manual research:
You may not find this method very effective in the process of influencer advertising since it is extremely time-consuming. It requires conducting individual searches.
Luckily, all major social media platforms allow users to search for profiles and use the filters to narrow down the search result. For instance, you can enter the keyword of your campaign such as "food" in the Instagram search bar to search for "Accounts", "Tags", or "Places" accordingly.
Note: There are networks allowing you to sort your options based on different metrics, including location, engagement, reach, etc. You can use them to your benefit for going through influencers' profiles and reaching out faster.
2. Databases
Do you consider the process of manually searching for the influencer time-consuming? Then, databases can do the heavy lifting by letting you access an organized collection of structured information or data. 
Although these tools do the web-scraping for you and provide you with all publicly available data, vetting each influencer that is a completely time-consuming process, is still on you.
3. Use an influencer marketing platform
If you want to run the best influencer campaign while saving some time and making the most of influencer targeting, the best approach would be hiring an agency.
As we mentioned earlier, influencer marketing agencies, like Ainfluencer, are matchmaking platforms for influencer targeting. They make it easier and faster for brands and content creators to discover each other.
6# Qualify your influencers
Basically, this influencer marketing strategy is of great importance since you need to make sure whether your influencers are the best fit for your brand and goals otherwise your influencer campaigns may not produce the results you're looking forward to.
Don't qualify influencers based solely on the size of their audience! Qualify their audience, instead.
You can make use of some tools out there to uncover details about the audience's interests, habits, and needs.
Plus, the level of the influencer's reach and authority is a key to accomplish your goals. For social media accounts, target those influencers who have an engaged audience (frequently like and comment on their posts). For blogs and websites, look at their on-site metrics.
The last but not the least is to partner with influencers who align with your brand's/business' core values or mission.
7# Coordinate the influencer marketing campaign
Once you've found the right influencer and qualify him or her, It's time to get your campaign rolling. Don't sit back and let the campaign happen. Instead, communicate with the influencer and let them know your goals, the kind of content that they will produce, your guidelines, compensation, and every other detail.
8# Track and analyze your success
When you complete an influencer marketing strategy campaign, you would want to measure success. Here, the initial marketing objectives you set for the campaign come into play. The more objectives you have accomplished, the more successful your influencer targeting campaign is.
Track all the metrics such as engagement, lead generation, sales, brand awareness, and more importantly, ROI to tweak your overall influencer targeting program.
Influencer marketing examples
Aren't you convinced about the benefits of influencer marketing yet? Here are some influencer marketing examples to let you see how some brands made the most of this strategy.
1. Dunkin' Donuts on National Donut Day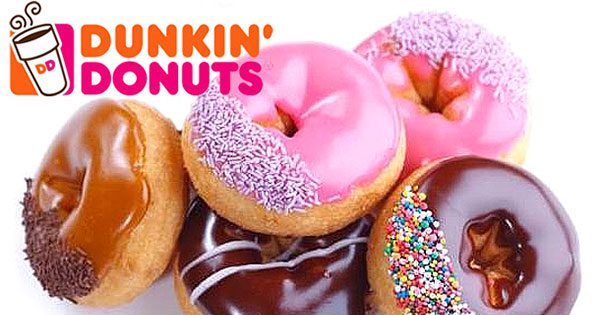 Dunkin' Donuts and its agency (Trilla) decided to launch a special offer for National Donut Day. Trilla further collaborated with the digital talent network and entertainment studio-Collab to create a Snapchat campaign visually enticing creative content.
They chose 8 popular influencers to make and distribute teaser content. All these influencers took control of the official Snapchat account of Dunkin' Donut to run the campaign across three time zones and three cities across the USA.
The influencers used their content to encourage their supporters from all social media platforms to follow Dunkin' Donuts on Snapchat and visit the stores for the special offer.
The campaign gained ten times more followers to their SnapChat channel than they usually did in a month, and it reached 3 million people, with 40,000 cases of engagement.
2. Sony PlayStation Virtual Reality Headset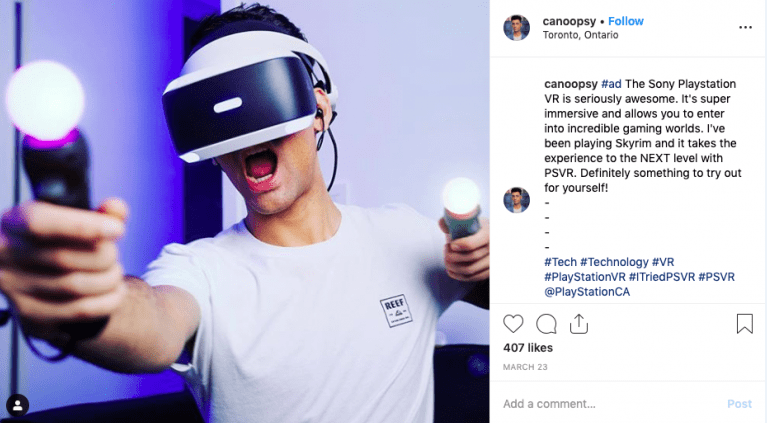 This is one of the other influencer marketing examples which was done right. Sony set up an influencer marketing campaign in Canada for PlayStation VR, their virtual reality headset. The company decided to work with 5 Canadian tech and gaming influencers in order to highlight the positive feeling that gamers have while using Sony's products.
The influencers shared 9 posts (images of themselves having fun using the Sony PlayStation VR headset and a short looping video) in total. They also included the hashtags #PlayStationVR, #ITriedPSVR, and #PSVR, and @PlayStationCA tag.
Overall, the relatively low-level influencers' Instagram posts earned 12,728 likes and 230 comments, for a 3.64 percent average engagement rate. The average interaction rate on YouTube was 3.19%, with 28,322 views, 2,324 likes, and 368 comments.
3. Allen Solly – #ShootForSolly
Allen Solley started #ShootForSolly, a campaign to promote their chinos collection, with the goal of attracting young customers and portraying chinos as an alternative to jeans.
22 influencers paired chinos by Allen Solly with a shirt of their choice then they had to get a photoshoot with the remote support from the Allo Solly team.
All of the photos were put on a microsite and distributed over social media. #ShootForSolly generated 712,203 impressions and reached 73,493 people. The campaign reached 1,16,279 unique engaged users on Facebook, resulting in a total reach of 2 million people and 3.2 million impressions.
Final thought
People trust people more than they trust brands. Influencer marketing lets you make the most of that trust to level up your brand. Here in this blog post, we shared some tips on how to layout a good influencer marketing strategy. Besides, we introduced you to a talent influencer marketing agency to implement your marketing campaign with ease.