Since the social media boom, influencer marketing has taken off as one of the most popular forms of advertising. Celebrities and everyday people alike can influence the purchasing decisions of their followers, making it a powerful tool for businesses.
Though it can be hard to find the right influencers, effective influencer marketing can yield huge dividends. In this article, we will discuss some of the best influencer marketing examples that guide you through your influencer marketing campaigns.
What is influencer marketing?
Influencer marketing is a form of marketing that focuses on using key figures known as influencers to promote and sell products or services.
Unlike other forms of online marketing, influencer marketing relies heavily on relationships and personal connections. By identifying and leveraging the relationships of key influencers in your industry, you can reach a larger audience than you could through traditional marketing channels.
The question is, where to find and connect with these influencers?
How to find influencers in your niche
One of the easiest and best ways to find influencers is by using influencer marketing platforms and marketplaces. These platforms connect brands and influencers, and as a brand, you have access to a huge database of influencers.
Ainfluencer, for example, is an influencer marketplace with thousands of influencers. You can compare and invite influencers based on the number of followers, location, category, engagement rate, etc.
Check out this video to see how Ainfluencer works:
Influencer marketing examples
Here are 21 influencer marketing examples to inspire you to run successful influencer campaigns for your brand.
1. Dior
The 67 Shades of Dior Campaign is one of the most successful influencer marketing campaigns focusing on micro influencers who will probably be more responsive and drive more engagement.
The campaign goal was to increase awareness and catch the public's attention for quite the world-famous Dior Forever Foundation, as well as showcase the variety of shades available.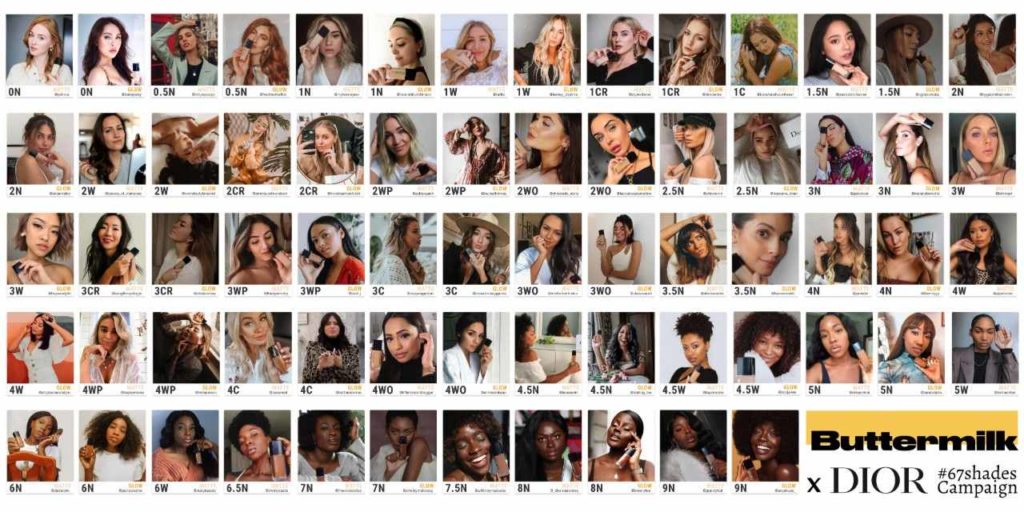 When it came to campaign execution, they set the posting schedule to one post per day over 67 consecutive days. Yes! 67 influencers wearing 67 shades over 67 days. These Influencers brought a 2.66m Audience Reach (+33%).
2. Dunkin donuts
Dunkin' Donuts' marketing strategy rallies espresso lovers with the "Sipping is believing" campaign. Dunkin influencer marketing campaigns focus on finding nano influencers who have settled a more intimate relationship with their followers.
Although Brand message and hashtag usage remained consistent throughout the posts, this is one of the greatest influencer marketing examples that influencers were given room to create personalized messages and add creativity to the campaign.
3. GoPro
GoPro is among the brands that work with influencers to fuel its content with great Instagram marketing strategies. During the COVID-19 pandemic, GoPro launched the #HomePro challenge for people who were stuck indoors.
GoPro urged people to post their most creative videos to social media for a chance to win one of its Hero8 Black or Max cameras and a five-year subscription to its GoPro Plus service, per an announcement.
To enter, mobile users can download the free GoPro App from the App Store or Google Play. After using the app to shoot a photo or video, entrants should post it to Instagram, TikTok, YouTube, or Facebook with the #HomePro and #GoPro hashtags.
​This campaign is among influencer marketing examples that went viral, and many participated in following the influencer advertising.
4. Zara
Zara's #iamdenim campaign is one of the most famous influencer marketing examples. By collaborating with real people and Instagram influencers like Teesh Rosa to promote the new denim jackets and jeans, Zara could attract different demographics and appeal to a wider audience regarding accessibility.
Zara took advantage of an effective yet not flashy Instagram marketing strategy to attract attention and drive sales.
5. Daniel Wellington
Regular tags such as #DWPickoftheDay and #DanielWellington are some of Instagram's most popular fashion-related tags. Using these hashtags as a jumping-off point, the company then integrates regular contests and discounts into sponsored posts from influencer advertising.
Without fancy photoshoots and heavily marketed campaigns, consumers perceive the brand as a grassroots operation with an authentic feel. Even the influencer ads presented natural and authentic imagery, rather than anything cosmetically FaceTuned.
6. Crocs
Many brands are looking for influencers and celebrities to collaborate with, but not all collaborations take off the way Crocs' collaborations do.
One of the reasons Crocs' influencer marketing campaigns are powerful is because they often choose celebrities that are already true fans of the brand.
Crocs Partners with brand ambassadors who are already creative to fuel its social media feed and make influencer campaigns stand out.
7. Swarovski
fashion blogger Melissa Celestine Koh (@melissackoh) was one of Swarovski's mother's day influencer advertising top performers. In partnership with Swarovski, she posted two sponsored Instagram photos.
One showcases Koh gifting her mom Swarovski earrings, and another features the mother-daughter duo wearing the matching earrings.
By doing so, she frames Swarovski jewelry as an ideal gift that followers can buy for their mothers on Mother's Day. By tagging the official Swarovski (@swarovski) Instagram account, she also drives website traffic and product purchases.
8. Guess
One of the most famous influencer marketing examples that generated UGC belongs to Guess. Denim and lifestyle brand Guess launched a hashtag challenge #InMyDenim where users who opened the app were directed to the sponsored #InMyDenim challenge.
Guess launched its challenge by working with influencers who posted videos where they transformed from looking disheveled to glamorous. Their "after" transformation featured Guess apparel.
Once fans saw these videos, they started making and sharing their own transformation videos, using the #InMyDenim hashtag.
9. Calvin Klein
Calvin Klein entered the world of TikTok for the first time in 2019. They took a more traditional route than the others on this list, creating an official account first and posting their promotional videos from this account first. However, they also chose to work with a series of big-name celebrities.
They initially produced 22 videos, using the tag #MyCalvins, where stars such as Shawn Mendes, Kendall Jenner, and A$AP Rocky are briefly interviewed for Calvin Klein.
10. Sperry
Sperry, the popular boat shoe brand, worked with over 100 micro-influencers on Instagram to build brand awareness. They identified the fans on Instagram who were already sharing high-quality photos of their products.
By connecting with these engaged fans, they were able to help with content production for their official Instagram account. They also got authentic content from a wide variety of influencers.
11. Glossier
Glossier is a people-powered beauty ecosystem Skin first, makeup second. Glossier has positioned itself as a beauty company that is real and authentic. To reinforce this brand messaging, Glossier relies on micro influencers and regular women to spread the word about their products.
While most beauty companies share makeup gurus in their influencer marketing campaigns, Glossier sets itself apart by picturing fresh-faced women embracing their natural beauty.
12. Kroger
In mid-2019, TikTok introduced a new feature, Hashtag Challenge Plus. Like your regular hashtag challenges, brands set a challenge to TikTok users to upload videos of themselves using a product in some way.
With the Hashtag Challenge Plus, however, brands can use a separate tab that features an in-app experience that allows people to buy products from the campaign within TikTok itself.
Retailer, Kroger, was the first brand to create a Hashtag Challenge Plus campaign. They partnered with four TikTok influencers for their influencer campaign: Joey Klaasen, Cosette Rinab, Mia Finney, and Victoria Bachelet.
13. EA Sports
EA Sports partners with top TikTok stars to reach a growing gen-z audience. That's why it's one of the most creative influencer marketing examples. They aim to attach themselves to notable creators who have major influence within the gaming community.
EA Sports recruited TikTok entertainers Brent Rivera and Gil Croes to promote the video games Apex Legends and Plants vs. Zombies. Each influencer humorously integrated product highlights into their sponsored posts, crafting videos that more closely resembled organic content than advertisements.
14. BMW
BMW enlisted a number of top Instagram influencers to help showcase its #RoadToCoachella campaign at Coachella 2017. The influencers specified BMW automobiles as their means of transportation to the event.
It's a luxury example of influencer marketing that came out so successful since the influencers were capturing their journey with BMW and sharing it in their own best way with their audience.
15. eBay
In 2017, eBay began advertising for their #FillYourCartWithColor campaign. They partnered with influencers to help spread the message. Not only have they now created amazing influencer content, but they've also encouraged user-generated content using this branded hashtag.
This hashtag has been adopted by fashion influencers at large, regardless of if they are officially sponsored or partnered with eBay. This has greatly extended the reach of the campaign.
The trick here is that eBay chose a hashtag that had broad usage. It could be used by influencers, people sharing their shopping hauls on social media, fashion bloggers, extreme couponers, and shopping enthusiasts.
16. HelloFresh
The recipe box delivery service, HelloFresh, is a great influencer marketing example that nailed it with influencer campaigns. HelloFresh regularly works with food and lifestyle influencers on sponsored content.
The hashtag #hellofreshpics has over 150,000 posts on Instagram. Influencers use this hashtag to trigger User-generated content(UGC) to encourage their audience to share their own images via social media.
17. Walking dead game
To advertise the release of its new The Walking Dead mobile game, Next Games partnered with an all-star cast of YouTubers, including Anwar Jibawi, Hannah Stocking, Inanna Sarkis, Lele Pons, and Rudy Mancuso.
As a macro influencer, Pons brings shareability, a factor that has played into the immense audience reach Next Games has achieved through the sponsored video. It's one of the best influencer marketing examples on YouTube.
18. BH Cosmetics
Many beauty brands have launched product collaborations with social media influencers. BH Cosmetics launched a makeup palette in collaboration with YouTuber Carli Bybel. She has over 6 million subscribers on YouTube and around 5 million followers on Instagram.
Collaborating on limited-edition products with influencers in your niche can significantly increase brand awareness and sales.
19. Airbnb
Airbnb's influencer marketing efforts began in July 2015 when Mariah Carey stayed in a luxurious Airbnb mansion in Malibu. By leveraging big-name celebrities and influencers, Airbnb is able to effectively generate brand awareness among mass audiences.
Through celebrity partnerships, Airbnb effectively aligns itself with the coveted celebrity lifestyle and positions itself as a luxurious alternative to hotel accommodations.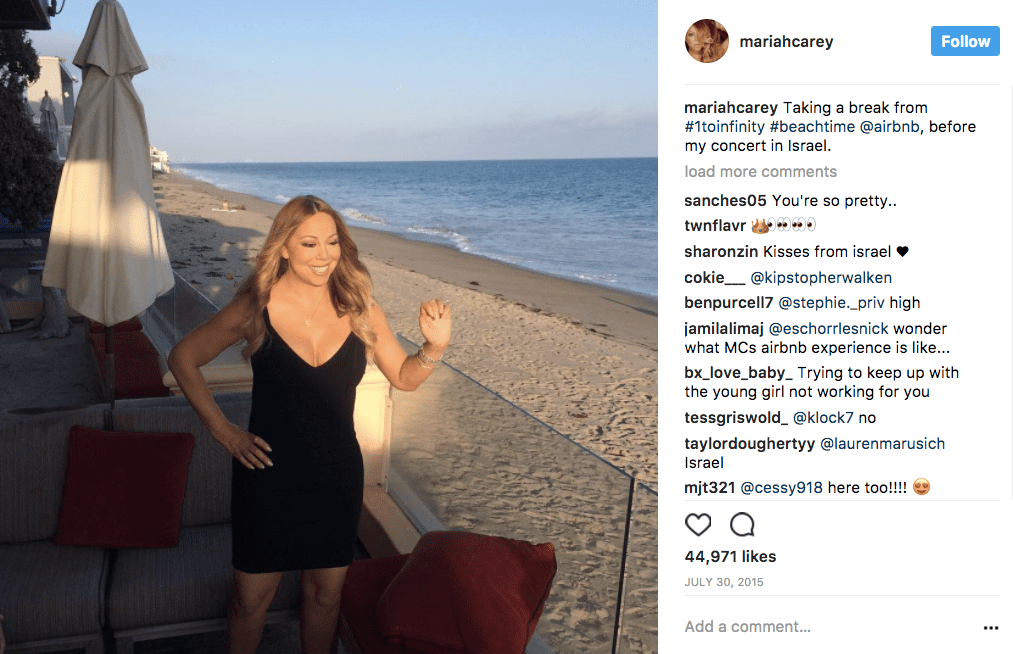 20. Walmart
Let's see one of the influencer marketing examples working with charities on the other side. Showcasing a charity initiative is a great way to humanize your brand. Walmart worked with influencers on the #fighthunger campaign to boost brand awareness and sentiment.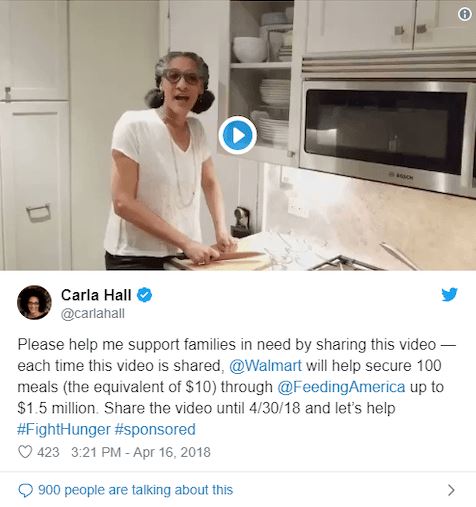 For every user who supported, Walmart donated 100 meals to food banks. In just one month, Walmart achieved 89,000 engagements. They did this by influencer ads in the food sector, helping them to raise more funds for meals in addition to their marketing goals.
21. Levi's
Another brand using the Coachella festival and influencers to promote its products is Levi's.
In this case, Levi's used model Hailey Bieber to sport their clothes at a pop-up and earned 2.5 billion media impressions during their time at the 2017 festival, proving working with influencers can massively increase brand exposure
Conclusion
In conclusion, the best influencer marketing examples come from brands that are willing to think outside of the box and experiment with different strategies.
By working with various influencers across different platforms and focusing on unique content, these brands have seen great success in reaching their target audiences.
So if you're looking to create an influencer marketing campaign that really resonates with your audience, don't be afraid to get creative!
What are the types of influencers?

4 types of influencers are Nano influencers (1K–10K followers), Micro-influencers (10K–100K followers), Macro influencers (100K–1M followers), Mega or celebrity influencers (1M+ followers)

How do brands use influencers?

Influencers operate independently, creating their own content and integrating a company's advertising specifications. The influencer controls the brand's message, choosing how they would like to portray it. This promotes authenticity and can help reach a specific target audience