When it comes to marketing your business effectively, Influencer marketing is the best solution. Top social media influencers can professionally work for your brand personality to authentically recommend products and services to their loyal audience.
Miami influencers are one of the best influencers communities who can stand out among the crowd by sharing every aspect of Miami life with their loyal audience.
It might obsess your mind about how to find influencers in Miami, but do not worry, it is a piece of cake.
In this guide, we provide you with a list of several prominent Miami influencers in different categories. We will also mention different ways to find these top influencers, which using Ainfluencer is the best one. Keep reading to see all the ways in detail.
But first, let's see our top list of Miami influencers categorized into ten groups:
1. Instagram models in Miami:
1.1- Missdollycastro
Dolly Castro Chavez, born in 1984, is one of the first names that pops up to mind when talking about Miami influencers. This famous American model has gained more than 6.2m followers on Instagram by sharing posts of her great body and her workouts.
She also shares videos on a variety of topics on her YouTube channel.
1.2- Claudiasampedro
Claudia Sampedro is the second name on our list of Instagram models in Miami who was born in 1989. She is a famous model and influencer in Miami who rose to fame by appearing in the reality TV series "WAGS Miami."
She has featured in so many magazine covers and modeling shows.
1.3- Catafreer
Another significant Miami influencer is Cata Freer, a swimsuit and lingerie model. She has collaborated with so many brands such as Stradivarius and BALR.
Besides posting photos of her fantastic body, she shares her lifestyle and fitness workouts on her Instagram account, which has more than 286k followers.
2. Fashion bloggers in Miami
2.1- Chanteburkett
One of the famous Miami influencers is Chante Burkett, who is one of the style and fashion bloggers in Miami with about 210k followers on her Instagram account. She created a website and another Instagram account for sharing outfit ideas for plus-sized women.
Chante was the only plus-sized model in Target's swim campaign in 2015.
2.2- Alisonbowles
Alison Bowles is one of the other fashion influencers and Instagram models in Miami. She got engaged to well-known baseball player Adeiny Hechavarria in 2019.
She has more than 259k followers on her Instagram account, where she shares her unique styles and modeling shoots.
2.3- Juancherangel
Juanjose Rangel, born in 1994, is another famous Miami influencer. He has about 180k followers on his Instagram account, where he shares his personal style and gives advice on how people can express themselves through clothing.
3. Lifestyle bloggers in Miami
3.1- Nany
With over 179k followers on Instagram, Daniela Ramirez is one of the fashion and lifestyle bloggers in Miami. She shares photos and videos of her family and her everyday life. She also showcases the latest fashion and beauty trends, local events, and her personal style.
Ramirez is the founder of the website "nanysklozet" and writes blogs about fashion, motherhood, traveling, and lifestyle.
3.2- Ijulian
Among all influencers in Miami, Julian Gabriel Hernandez is a famous male lifestyle blogger with 145k followers. He is among the professional Instagram models in Miami, and a solo practitioner attorney.
Moreover, he once landed the cover of DNA magazine.
3.3- Mariandre_vs
The last lifestyle blogger on our list of Miami influencers is Maria Andreina Vera, who is a lifestyle blogger with 37k followers on her account. She shares content about fashion, beauty, and med life.
4. Food influencers in Miami
4.1- Thenaughtyfork
When talking about food influencers in Miami, Sam Schnur is the first name that comes into your mind.
She gained more than 1m followers by sharing food news and recipes and becoming partners with brands such as Oreo, McDonald's, and Burger King.
She has also collaborated with the Honeyspot App, where users share or find restaurants based on their family and friends' recommendations.
4.2- Succulentbite
Among the other Miami influencers, Nico Norena is a famous one, who is most well-known for his food-related content.
He has more than 1.2m followers and has been named among the top 100 influencers in marketing by MARsum.
4.3- Miami_foodporn
Dana Rozansky created the Miami_foodporn Instagram account and gained about 180k followers. She travels for food and shares her experiences on Instagram. Dana then decided to take her talents to the world wide web and created a website with the same name, Miami_foodporn.
She encourages people to step outside their culinary comfort zone and try new foods.
5. Travel influencers in Miami
5.1- Activitymonster
Among so many travel influencers in Miami, the first one on our list is Beril. She travels around the world and shares her experiences and great photos with her 300k Instagram followers.
Beril worked with so many well-known brands such as Google, Zappos, American Tourister, Dicks Sporting Goods, etc.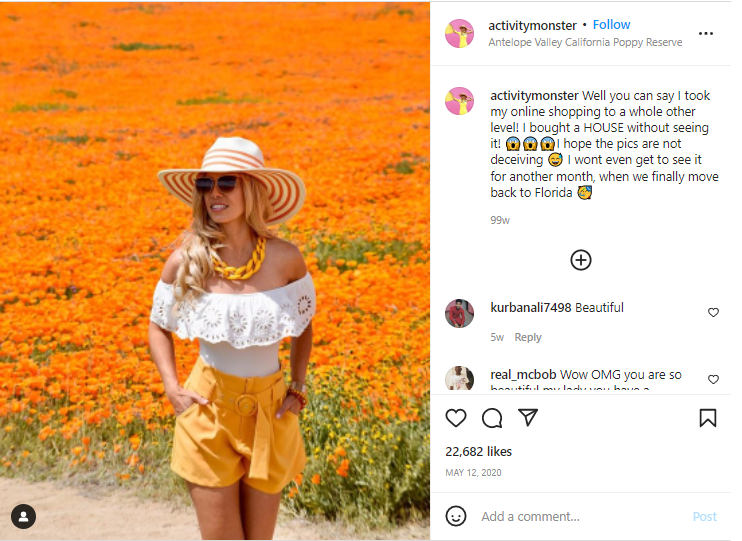 5.2- Twooutsiders
Two Outsiders is a travel and lifestyle Instagram account and blog created by Dani and Nico. These two Miami influencers are a couple who create content to inspire people to travel more and live the way they want.
They gained more than 164k followers on their Instagram account.
5.3- Mariatettamanti
Maria Tettamanti is a Miami influencer and journalist. She shares travel, cuisine, fashion, and beauty-related posts and videos on her account, which has more than 33k followers.
She has also created the "thewordygirl" shopping website.
6. Beauty influencers in Miami
6.1- Cindyprado
There are so many Miami influencers working in the beauty field. Cindy Prado, born in 1992, is the first famous Miami-based beauty influencer with 2.6m followers on Instagram. She is also an American model and fashion designer.
She collaborated with multiple fashion brands and charities and appeared in various magazines.
6.2- Ironnsalt
Daniela Moreno is one of the great beauty influencers in Miami. She is a content creator and founder of the blog "Iron N Salt."
Her Instagram account has about 29k followers and is full of beautiful photos and videos of beauty products. She always shoots the products in new creative ways to attract her audience.
6.3- Khkiddo
Khadija Hall is one of the Instagram models in Miami who also works in the beauty and fashion field. She shows off her daily outfits and shares beauty and health tips.
She is the Co-founder of "Knbeautykn."
Check out her Instagram account, which has more than 188k followers, and see her fantastic feed.
7. Fitness influencers in Miami
7.1- Kinoyoga
Besides being a fitness Influencer, Kino MacGregor is an author and a Yoga instructor. She holds online Yoga classes at Omstars and runs Yoga workshops in Miami, Guatemala, Arizona, and Portland.
Kino has over 1.1m Instagram followers.
7.2- Mendezfitness
One of the best fitness influencers in Miami is Anthony Mendez. He has worked in the health and fitness industry for so many years and is known as a top-level athlete and coach for PUMA. His Instagram account has more than 287k followers.
In addition, Mendez is a co-host of the "Sweat It Out" podcast.
7.3- Misslisamorales
Lisa Morales Duke is a well-known fitness and lifestyle Influencer. She tries to promote a healthy lifestyle and shares her clean eating and regular exercises on her Instagram account with her 2.1m followers.
Lisa is also the founder of the Miami model citizens charity.
8. Music influencers in Miami
8.1- Nathalieparis
Nathalie Paris is an excellent singer and songwriter who is also a music, fashion, and beauty influencer, based in Miami.
She gained over 1.2m Instagram followers by sharing content on different topics. She released so many songs such as Confident, Gaviota, Sunset high, etc.
8.2- Scottyhuss
Scotty Huss is a great one among so many music influencers in Miami, with over 2m followers on his Instagram account.
He usually shares his music videos, stunning outfits, and inspirational quotes on his account.
He also makes excellent TikTok videos.
8.3- Davina_leone
Davina Leone is another musician and influencer among all Miami influencers. She is also a singer, songwriter, and producer. This young musician taught herself how to play the guitar and then began writing and composing her own songs.
She rose to fame by releasing her self-written and produced EP, "Knowing."
Her Instagram account has about 20k followers.
9. Photography influencers in Miami
9.1- Hi_tola
Tola Osokoya is a Miami photographer who shares cosmopolitan lifestyle, diverse subjects, and products with his 140k Instagram followers.
He has documented great photos of Mercedes-Benz, Pandora, and more.
Take a look at his fantastic feed and enjoy.
9.2- Newteam
Noah. M is one of the best photography influencers from Miami. His magnificent photography collection is full of various photos of South Florida, the sky, sunsets, and climate patterns.
He gained more than 93k followers by sharing his great photos on his Instagram account.
9.3- Brianladder
Brian Ladder is one of the most talented Miami influencers who is active in the photography field.
He shoots new spots in Miami in new and different ways and shares his amazing photos on his Instagram account, which has about 50k followers.
10. Celebrities in Miami
10.1- Pitbull
Armando Christian Pérez, known as Pitbull, born in Miami in 1981, is an American rapper and singer as well as an Instagram influencer with 9m followers.
He released a debut album named "M.I.A.M.I" in 2004.
Pitbull also released the single "On the Floor", featured by Jennifer Lopez's "love?" album. His song made its Billboard Hot 100 debut at number nine and became the highest-debuting Hot 100 single of Lopez's career.
10.2- Chrisbosh
Another famous Miami influencer and celebrity is Chris Bosh, a former professional basketball player. He has 2.6m followers on his Instagram account.
His career was cut short by a blood clotting condition, and he played his final NBA game in 2016.
He was elected to the Basketball Hall of Fame in 2021.
10.3- Jessdarrow
Jessica Darrow is the last name on our list of Miami influencers. She is an actress, born in Miami in 1995, and gained about 94k Instagram followers.
The National YoungArts Foundation named her a national finalist in spoken and musical theater.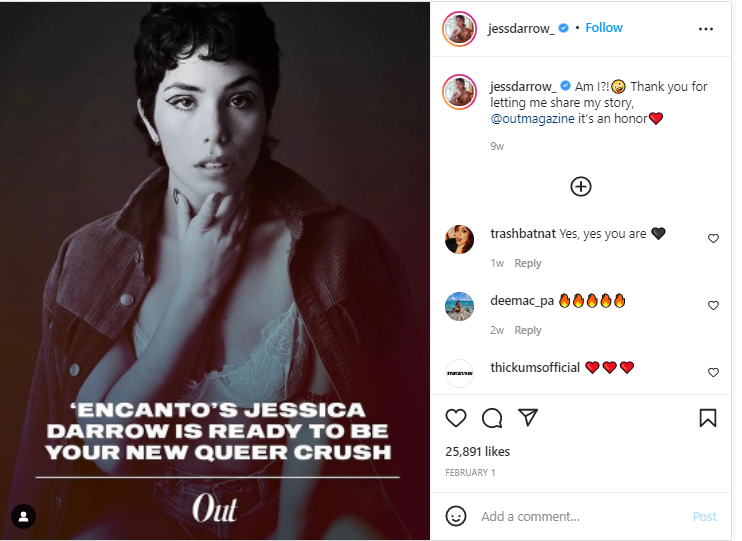 How To Find Miami Influencers on Instagram?
As you know, Influencer marketing plays an internal role in promoting your brand awareness. Mami influencers, or other local influencers, are specific types of influencers that can help you improve your marketing.
In general, to succeed in finding the right influencer in any location, you need to put so much effort, time, and energy to finally come up with the most effective ones.
But don't worry. Here is a great recommendation for you. To find local influencers such as Miami influencers, here are three strategies that quickly help you find and reach out to your target influencers.
The first and easiest one is using marketing platforms, the second one is searching on Google, and the third one is using hashtags.
#1- influencer marketplace
Using influencer marketplaces, such as Ainfluencer is a great way to find and connect with Instagram influencers.
Ainfluencer is the best influencer search tool that lets brands and influencers meet and make deals. So, as a brand looking for influencers to promote your company, just follow these steps:
Post a Free Marketplace Ad
Register a free account and create an ad from the brand side. Specify the details for the proposed Instagram post, and then your ad will appear in the marketplace, where thousands of qualified influencers can see it.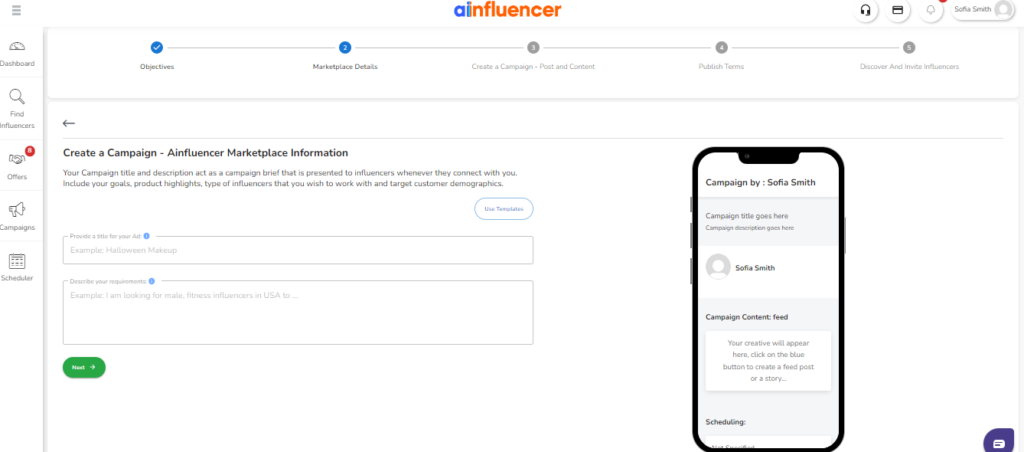 2. Explore and Invite Targeted Influencers
Ainfluencer lets you start your influencer discovery process after publishing your first ad. Its custom search is also a great option that provides you with over 20 metrics to determine if an influencer is right for your company.
Search filters include keywords, hashtags, categories, location, and followers. It would be very beneficial for you to set any important filters you want and invite the listed Instagram influencers for your business growth.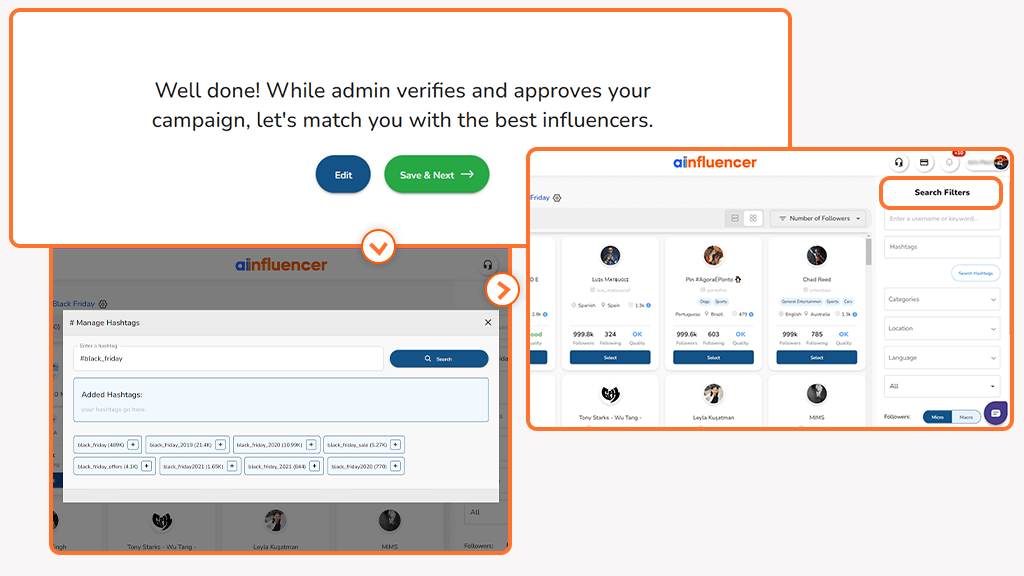 3. Chat with the Influencers
After inviting your targeted influencers to your ad, you can negotiate with them, make offers, and accept or decline their offers.
#2- Google
Google is the other option. You can search different niches and come up with a significant number of names.
#3- Hashtags
And the last option for finding your targeted influencers is searching by hashtags on Instagram.
By using the right keywords and hashtags related to your brand or product, you can find influencers in your particular niche.
Conclusion
In a nutshell, based on your marketing goals and strategies, you can choose influencers from our list of top 30 Miami influencers and cooperate with them.
You can also use one of the three mentioned ways in this article to find the best influencer for your business.
Keep in mind that by using Ainfluencer, you can make great descriptive ads and persuade influencers to collaborate with you.
Who is the number 1 influencer on Instagram?
Cristiano Ronaldo, the professional footballer, and Instagram model is the most followed man on Instagram with over 424 million followers.
WHO IS MR Miami Instagram?
Marvin Tapia (mrmiamimarvin) is a public figure and influencer on Instagram, with about 8k followers.