The music industry is ever-changing, and with new technologies and platforms emerging, the definition of "influencer" is also changing. With so many people now having a voice online, it's no surprise that music influencers are becoming more and more popular.
Music influencers are people who use their voice and talent to influence public opinion about music. They may be singers, songwriters, DJs, or producers. Many of these influencers have a large group of followers on social media. They use different platforms, especially Instagram, to share their thoughts and experiences about music.
In this article, we will teach you how to find music influencers. We will also provide you with a list of the top 43 music influencers on Instagram who can help you grow your brand.
How to find top music influencers on Instagram?
There are several ways to find different types of influencers, such as music influencers. You can find influencers by Googling their niche to find many blogs about them. Or find them by searching through hashtags or location tags on Instagram. You can also use an influencer marketplace, such as Ainfluencer. The last way is usually the easiest and quickest way.
Ainfluencer
Ainfluencer is a smart and secure influencer marketplace that connects brands and influencers for free with no hidden fees.
In order to find the best music influencers, use Ainfluencer's Al-powered search engine to filter your targeted influencers based on hashtag, location, gender, category, etc., explore thousands of qualified influencers, and invite them for collaboration.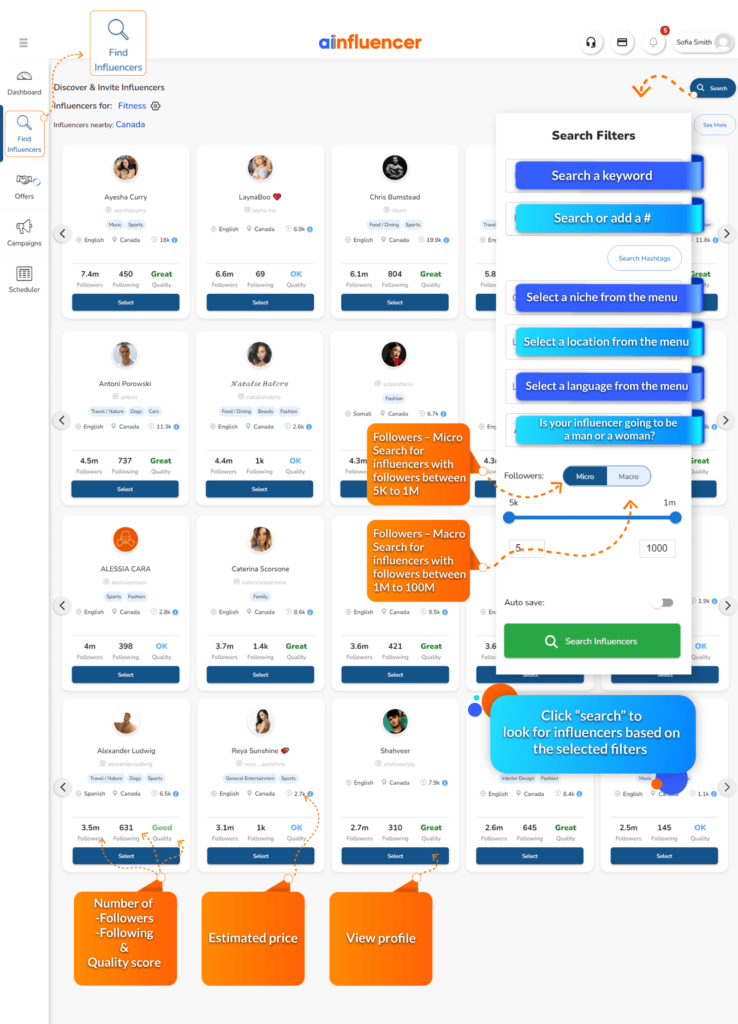 Top 43 music influencers
Here is our list of top music influencers on Instagram:
1. Gabriel Barreto (@gabrielbarretoof)
Gabriel Barreto, born in 1990, is an actor, director, and music influencer on Instagram with over 26k followers. He is known for his unique covers of popular songs, which often go viral.
2. Vitinho (@cantorvitinho)
Vitinho is one of the top music influencers from Rio De Janeiro. He has amassed over 1m followers on Instagram, where he usually posts covers of his songs as well as videos of himself singing.
Vitinho is also a fitness influencer and often shares his workouts with his followers.
3. Farid Ghannam (@ghannamfarid)
Ghannam is a composer and music influencer on Instagram. He was born in Morocco in 1987. Ghannam uploads photos and videos of himself singing and playing instruments and could gain 408k followers.
4. Yeni Türkü (@yeni_turku)
Turkish music influencer Yeni Türk is a famous singer with about 54k followers on Instagram. He's one of the most influential artists in Turkey today.
He often performs with a live band, and his energetic shows are always a hit with fans.
5. Rican (@RockstarRican)
Romique Thompson, also known as rockstar Rican, is an American songwriter, rapper, and music influencer on Instagram.
His unique sound and soulful voice have won him about 970k loyal followers. Don't hesitate to collaborate with this talented macro influencer.
6. Siddharth Slathia (@siddharthslathia)
Siddharth Slathia is one of the top music influencers who has gained popularity on Instagram, YouTube, and other social media platforms. He has amassed about 2m subscribers on YouTube and more than 400k followers on Instagram.
This song influencer is also a performer and the founder of Synkrecords.
7. Rodrigo Soltton (@rodrigosoltton)
Rodrigo Soltton is one of the other Instagram music influencers that has impacted the industry with his unique sound. He was born in Brazil and started playing the guitar at a young age.
He mixes the sound of the piano with his vibrant voice to make his music unique and surprising.
8. Randy Pangalila (@randpunk)
There's no doubt that Randy Pangalila is one of the most influential names in the music industry. He is an actor, musician, and MMA fighter with 911k followers on Instagram. He usually shares everything on his account, from his songs and movies to his fights and daily life.
9. Sema Serverzade (@sema_serverzade_official_)
One of the other music influencers on our list is Sema Serverzade. This Turkish singer is also a lifestyle influencer and model who could gain about 400k Instagram followers.
10. Victor Evans (@ruste_muthafuckin_juxx)
Victor Evans, also known as Ruste Juxx on social media platforms, is an American rapper and music influencer. This micro influencer has about 53k Instagram followers and has been in the music industry for over a decade.
11. Cik Manggis (@cikmanggis)
Cik Manggis is one of the most popular actors and music influencers from Malaysia. She has over 890k followers on Instagram, and she often posts covers of popular songs as well as photos of her daily life. Her music is a mix of pop and acoustic, and her covers are always well-received by her fans. Cik Manggis also performs at concerts and festivals.
12. Piero Barone (@barone_piero)
Piero Barone is an Italian music influencer who has 503k followers on Instagram. He is a talented singer and the co-founder of the vocal group II Volo. He continues to be a major influence on the music industry today.
13. Marques Braddy (@braddy478)
Marques Braddy, born in Macon, Georgia, is a great singer, musician, and hip-hop artist. He has worked with major artists such as Pastor Troy, T-Pain, and Roy Jones Jr.
He currently has 53k followers on Instagram.
14. Sain (@saintjhn)
Sain is another music influencer on Instagram. His music has been streamed millions of times on different platforms, and he has headlined multiple tours in the United States and Europe. He has 1.72m subscribers on YouTube and about 880k followers on Instagram.
15. Sebastian Bach (@sebastianbach)
The famous singer and composer Sebastian Bach is considered one of the most influential musicians of all time. He has 411k fans on Instagram and usually tours around the world.
16. Shane Gaalaas (@shanegaalaasofficial)
Shane Gaalaas is a Canadian drummer and songwriter who was born in 1967. He has released so many albums, such as Primer.
He's also worked as a session drummer for many famous artists. Shane is highly sought after for his musical talents and knowledge. He has been a guest speaker at various music festivals and workshops around the world.
17. Rocio Quiroz (@quiroz.rocio)
Rocio Quiroz is one of the top music influencers who has been working in the industry for over a decade. Her work as a vocal coach and vocal producer has given her the opportunity to work with some of the biggest names in Latin music. She has amassed 888k Instagram followers so far.
18. Sandra Denton (@darealpepa)
Sandra Denton, known as Pepa, is an American- Jamaican musician. She is known as a rapper, singer, and actress. She is best known for being a member of the group Salt-N-Pepa. Denton has helped shape the sound of hip-hop and R&B throughout her career.
Denton is a true pioneer in the music industry, and her influence can be heard in the work of many current artists.
19. Destiny Petrel (@destinypetrel)
Another particularly influential musician is Destiny Petrel. Destiny Petrel is an American singer and songwriter who first rose to fame after appearing on the tenth season of American Idol. She quickly gained a large group of fans on social media platforms due to her soulful voice and honest lyrics. Her music reflects her personal experiences and covers a range of topics such as love, loss, and self-acceptance.
20. Pancho Barraza (@panchobarrazaoficial)
Pancho Barraza is another Mexican singer and songwriter. He has been writing and performing music for over three decades. He started his career in the 1980s, and since then, he has released over 20 albums. His music is heavily influenced by traditional Mexican folk music, as well as by rock and blues.
He accumulated more than 822k followers on Instagram and is known as one of the famous music influencers to cooperate with.
21. Shae LeRae Smolik (@shaesmolik)
Shae LeRae Smolik is a fashion and music influencer on Instagram who has amassed over 100k people with her eclectic mix of musical tastes. From country to hip-hop and everything in between, Shae's account is full of different tracks for her followers.
22. Samira Mighty (@samiramighty)
Samira Mighty is one of the other music influencers on Instagram, with 780k followers. She often posts about her love of music.
Samira Mighty has worked with several brands and can be a great brand ambassador to promote your brand too.
23. Zucchero Sugar Fornaciari (@zuccherosugar)
Italian singer and songwriter Zucchero is one of the music world's most influential users of Instagram. With over 218k followers, he has used social media platforms, especially Instagram, to share his recordings, rehearsals, and live performances.
24. Petya Koleva Ivanova (@preslava_official)
Petya Koleva Ivanova, or Preslava, is a Bulgarian pop singer. She has been active in the music industry since 2004.
Preslava is one of the most popular singers in Bulgaria and has a large group of followers on social media, particularly Instagram. She has about 700k followers and uses this platform to share photos and videos of her performances, as well as photos from her personal life.
25. Kristina Schiano (@schianooo)
Kristina Schiano is a music influencer on Instagram with over 205k followers. She has become well-known for her incredible music and her sense of humor. In addition to her music career, Kristina is also a successful drummer and YouTuber.
26. Dreicon (@dreicon)
Dreicon is among the other top music influencers on Instagram. He has amassed 680k Instagram followers by posting videos of himself singing as well as photos of his personal life.
Dreicon's music is a mix of soul, R&B, and pop.
27. Elaia Carameluchi (@elashow)
Elaia Carameluchi is an up-and-coming music influencer with a large group of social media followers. She usually posts videos of herself performing original songs on YouTube and Instagram. She is also the author of the bestselling book "Elashow."
This teen influencer is also the best Spanish artist of 2021.
28. Yeyen Vivia (@ yeyenvivia)
Born in Jakarta, Indonesia, Yeyen Vivia is a music influencer on Instagram with over 611k followers. She's known for her soulful covers of popular songs and for posting videos of herself singing.
29. Ariel Rebecca Martin (@Babyariel)
Ariel Rebecca Martin is a 22 years old American singer. She is also a social media personality, singer, and actress known as Baby Ariel in the online world. Ariel is well-known for her videos on the Tiktok platform, and because of this popularity, she is one of our top music influencers. Currently, she has 10.2m followers on Instagram.
30. Jannat Zubair Rahmani (@jannatzubair29)
Jannat Zubair Rahmani is a well-known figure in the music industry. She has amassed 42.7m Instagram followers and is known for her covers of popular songs, which she posts to her account. She has also starred in several music videos.
31. Chancelor Jonathan Bennett (@Chancetherapper)
Chancelor Jonathan Bennett is one of the unique American rappers, singers, songwriters, and music influencers. He gained his popularity on the internet and published his earliest mixtapes on streaming services, using social media to create brand awareness and create a reputation. He has amassed 15.5m Instagram followers so far.
32. Loren Gray (@Loren)
In the world of music influencers, Loren Gray is another one who received her big boost thanks to TikTok. Her success in making videos on TikTok led to the creation of a social media popularity with 23m Instagram followers and 3.76m subscribers on YouTube.
33. Dove Cameron (@dovecameron)
Dove Cameron is one of the young music influencers with almost 47.7m followers on Instagram. In addition to being a popular singer, Dove is a famous actress. She is well-known in the Disney Channel adolescent sitcom "Liv and Maddie" for playing a dual role as the eponymous protagonist and playing Mal in the Descendants film series.
34. Calvin Cordozar Broadus Jr. (@snoopdogg)
Snoop Dogg is a well-known rapper and social media personality from America. He is also a songwriter and producer with 74m followers on Instagram and more than 8.50m subscribers on YouTube. Cannabis brands love Snoop Dogg for his advocacy for smoking weed. He's one of the biggest weed marketing tools on the planet.
35. Camila Cabello (@camila_cabello)
One of the other top music influencers is Camila Cabello, who has 63.5m followers on Instagram. She is a Cuban-American singer and songwriter. In 2016, Cabello declared that she had partnered with Save the Children to develop a limited-edition "Love Only" T-shirt to increase consciousness of the problems on equal rights for women to schooling, health care, and possibilities for success.
36. Belcalis Marlenis Almanzar (@Iamcardib)
Cardi B is an American rapper and television personality. She is well known for her breakout single, "Bodak Yellow," which reached number one on the Billboard Hot 100 in the United States in 2017.
37. Shawn Mendes (@shawnmendes)
Shawn is a Canadian singer and model. He has 68.7m followers on Instagram. Mendes learned how to play guitar by exploring video tutorials on YouTube at the age of 14. Less than one year later, he started posting videos on YouTube, and it was his start to become a famous influencer.
38. Demi Lovato (@ddlovato)
Demi Lovato is one of the biggest names in the world of music influencers on social media, with 133m followers on Instagram. She published her first single from her upcoming album "Tell Me You Love Me" in July 2017, which immediately went into the Top 5 on the iTunes lists.
39. Rihanna (@badgalriri)
Pop superstar Rihanna has an Instagram account with over 130m followers. She is known throughout her career for adopting different musical styles and reinventing her picture. She uses her Instagram account to promote her own brand of beauty, Fenty. Utilizing her musical influence, Fenty is now one of the most world-renowned beauty and clothing brands.
40. Katheryn Elizabeth Hudson (@katyperry)
One of the most popular music influencers is Katy Perry, with the full name Katheryn Elizabeth Hudson. She was born in Santa Barbara, California, in 1984 in a religious family. Katy Perry first tried to break with a gospel album into the music business.
Perry began singing lessons around the age of 9, and when she was 13, she learned how to play the guitar. Now she has more than 163m followers on Instagram.
41. Taylor Swift (@taylorswift)
With over 213m followers, Taylor Swift is one of the most followed influencers on Instagram. She is famous for her private life narrative songs that have gained extensive media coverage.
42. Beyonce (@beyonce)
Beyonce is an American pop star with no need for more introduction. She shares pictures frequently on her Instagram feed and her Instagram music blog, which has more than 261m followers but rarely provides any text in the captions.
43. Selena Gomez (@selenagomez)
Selena Gomez, with 325m followers, is the second influencer on the list of most-followed people on Instagram. Although many music influencers are using their popularity to feature their recent album or promoted products, many are also using social media to do well.
Conclusion
In conclusion, using music influencers to grow your brand on Instagram can be a very successful strategy. However, you need to do your research and find the right influencers for your brand. You can discover as many influencers as you need on Ainfluencer!
1- How do music artists grow followers on Instagram?
There are a few things music artists can do to grow their followers on Instagram. One is to post interesting and engaging content. This could include behind-the-scenes photos and videos, snippets of upcoming songs or albums, or shots of the artist in the studio.
Artists can also use hashtags to reach a wider audience, and they can run contests and giveaways to encourage fans to follow them on Instagram. And finally, it's essential to interact with followers and respond to comments and questions.

2- How do you get people to share your music?
There are a few techniques that can be used in order to get people to share your music. One way is to make sure the music is easily accessible. This means having it available on popular streaming platforms like Spotify and Apple Music, as well as making sure it's easy to find on your website and social media pages.
Another way to get people to share your music is by giving them a good reason to do so. This could mean offering exclusive content or discounts for people who share your music online. Additionally, you can encourage fans and followers to spread the word about your music by creating catchy slogans or hashtags that they can use when promoting your work.
Whatever methods you decide to use, make sure you are constantly promoting your music and engaging with your fans and followers online.