Instagram is one of the most popular photo-sharing apps without it we can not build our online business successfully. Additionally, if you only learn how to get 10K followers on Instagram, you can become an influencer and get paid on Instagram.
Instagram marketing is one of the best ways to reach your marketing goals and increase your followers. How to get followers on Instagram is the main thing every marketer needs to know to make money on this platform.
Instagram surpassed the 1 billion global user mark. So, if you try to gain 10K followers on Instagram, you can build your store for effective product sales, boost your social proof, or become an influencer!
Now, without further ado, let's begin your journey to get 10K Instagram followers.
Why It Is Important To Learn How to Get 10K Followers on Instagram
As you may be aware, it is no longer only mega and macro influencers or celebrities who can make money on Instagram. Any type of influencer on Instagram can monetize their accounts now.
By learning how to get 10K Instagram followers, you can become an Influencer and make money as a micro-influencer on Instagram.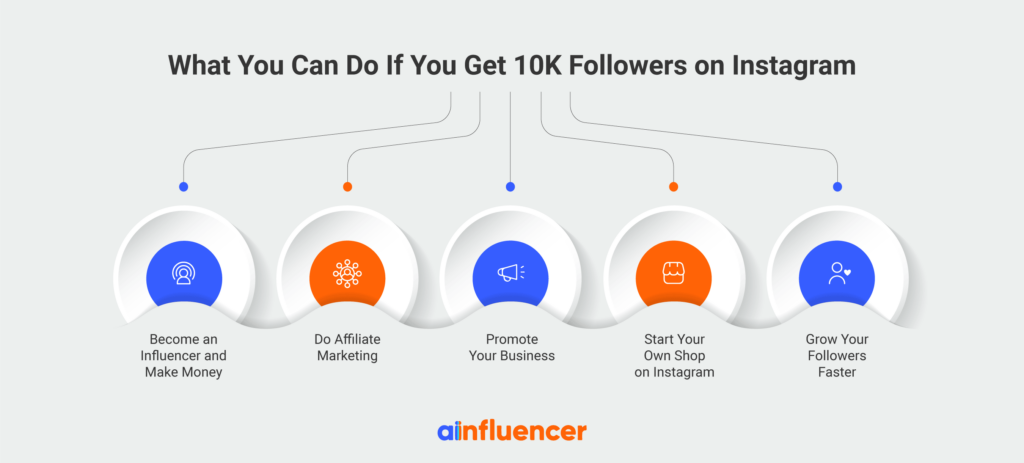 Additionally, gaining 10K Instagram followers ensures your success to gain even more followers. When you gain a certain number of followers, for example, more than 10K followers, Instagram algorithms will show you to more and more IG users. So, the number of your followers will rise exponentially.
Some of the things that you can do when having 10K IG followers are:
Become an Influencer and make money
Do affiliate marketing
Promote your business
Start your own shop on Instagram
Grow your followers faster
This guide wants to outline how to get followers on Instagram practically to build your popular brand or become an influencer on Instagram. However, it's a good investment to spend money to gain IG followers as your brand advocates! So, stay with us as we cover hack 10K Instagram followers in free and paid ways.
How To Get 10K Followers On Instagram?
Getting more followers on Instagram is a key part of growing your brand awareness and authenticity effectively. If you are not active on social media and especially on Instagram, you'll fall behind your competitors.
Additionally, as we mentioned, regardless of the types of influencers; anyone can use their account to make money as an influencer. All it takes is 10,000 Instagram followers or even less to start your job on the platform.
If you want to know how to get 10K Instagram followers you need to try different ways and don't suffice one or two ways. Here are 20 practical ways that every brand and influencer can benefit from growing their Instagram following organically and then monetizing it.
Let's dive in!
1. Get Your First 10 Instagram Followers!
Gaining even 10 free Instagram followers is enjoyable if you want to start your IG account from scratch. So, begin with your friends, family, and anyone else on whom you rely to engage with your first posts. Using this method, you can easily gain more than 100 Instagram followers.
However, this number of followers is insufficient to launch a career or become an influencer, but you can increase your social proof and attract new followers. Because, as you know, following someone who has no followers cannot be appealing to IG users who are unfamiliar with you.
If you want to jump and gain more followers instantly, read the next section.
2. Use An Efficient Influencer Marketing Strategy
Influencer marketing is the most effective way to reach out the real customers. It can connect brands to multiple different influencers to get more Instagram followers.
Influencer marketing can bring higher-quality customers to the business. It is also useful for other Instagram brands with thousands of followers to develop influencer marketing with different marketing purposes.
Additionally, whether you are a brand or an influencer, finding influencers can be hard for you. By using influencer marketplaces you can find influencers to negotiate with them and promote your IG account to gain 10K Instagram followers and more.
Here is one of the best Instagram influencer programs that can help you run efficient influencer marketing campaigns.
Get More Instagram Followers Using Ainfluencer
You can rely on a number of influencer marketing hubs to increase your Instagram following. One of the best influencer marketplaces is Ainfluencer. Using Ainfluencer, you can find influencers as a brand, or brands as an influencer.

Ainfluencer has a huge database of influencers that gets updated consistently. Using Ainfluencer, you can also ask their support team for advice on your influencer marketing strategies as well.
The noticeable point is that although it may sound hard to find influencers, Ainfluencer lets you create a free marketplace campaign and give it a try!
3. Focus On Your Content Marketing
Content marketing plays a crucial role in getting free Instagram followers in the long run. To have successful content marketing, you need to know the updated Instagram algorithm and regular marketing efforts and activities.
As great content is king, brands can build their self-images using the right Instagram content strategies and methods. With this in mind, It would work best if you notice content marketing strategies and factors to growing your Instagram followers.
4. Use The Best Instagram Hashtags
One of the ways on how to get 10K followers on Instagram is to use the most relevant and trending hashtags to maximize your reach. Hashtags are a helpful way and easy strategy for newcomers to promote their content on Instagram.
It would help if you use different kinds of hashtags such as branded hashtags, niche hashtags, and popular hashtags to increase your posts' visibility on Instagram. It helps you reach your goal of gaining 10K followers instantly.
5. Take Advantage Of Instagram Growth Services
Instagram growth services can save more time and money for Instagram businesses to get desirable marketing results. On the other hand, if you are an influencer, you may not have enough time to manage your IG account.
As your account or your brand grows on Instagram, you need to take advantage of Instagram marketing tools to increase your followers, boost engagement, and generate more revenue with perfect management tool services.
Here we want to introduce one of the best services that help you grow your Instagram organically.
How To Get 10K Followers On Instagram Using Aigrow
Aigrow is one of the best Instagram management tools that promote Instagram businesses on any scale. Using AiGrow allows you to hire an Instagram manager for your account who will do follow/ unfollow tasks manually for you.
So you can get 10K Instagram followers organically without being afraid of being blocked or suspended by Instagram.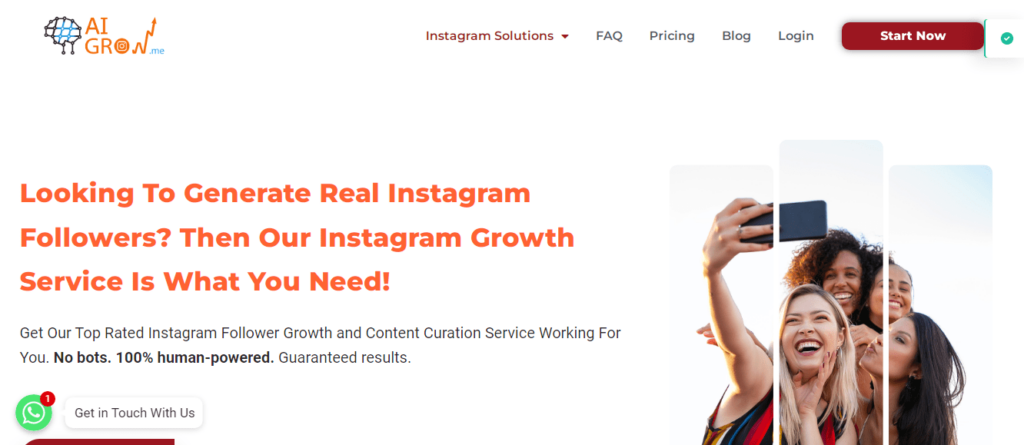 Their services also include automation for post and repost scheduling, URL bio linking, and more. Using this efficient service, you can turn your Instagram business from zero to hero to achieve your marketing goals.
6. Leverage User-Generated & Influencer-Generated Content
UGC content is a creative Instagram idea that can draw much attention because of its real and simple strategy. Sharing photos that brands' customers create and share on their feeds can bring a huge trust for your brand, and when people see your brand's authenticity, they become your followers.
Additionally, you can use influencers to do it for you. Influencer Generated Content (IGC) is a new way of UGC that lets an influencer control the content and the message type. This is the smartest way to make an active investment in high-quality content and get closer to your goal of gaining 10K followers on Instagram.
7. Schedule And Repost Relevant Content
If you want to know how to get 10K followers on Instagram, you should know how to use your older content. Reposting your older content that has gained a lot of views is another great way to increase your Instagram followers.
You can also repost other users' content on your feed. It is interesting to repost relevant content on your Instagram feed and write an awesome self-written caption because it can maximize your Instagram engagement.
8. Take Advantage Of Instagram Stories & Highlight
Instagram stories are effective to gain free followers on Instagram. If you post appealing Stories, there is a chance that they go viral on explore section on Instagram. This way your account will be viewed by more people and you can reach out to more IG users.
Additionally, Instagram Story highlights are really essential in describing your business background and activity. It is also a useful tool to show your brand strength including user satisfaction, events, and everything you want your audiences to know.
9. Consider A Cohesive, Appealing Instagram Style
Using one or two single patterns of your brand's colors in your Instagram feed can deliver a gorgeous Instagram grid style to get more users' attention and make a great content strategy. This way you boost your Instagram aesthetic and make yourself and your brand look more professional.
10. Run Instagram Contests
One of the effective ways on how to get 10K followers on Instagram, is to hold giveaway contests. After working on your Instagram appearance and content creation factors, contests and giveaways are the best brand awareness strategies to promote and improve your personal branding.
Running an Instagram contest has the biggest impact on getting more new followers on Instagram. Only you need to ask your followers to do an Instagram follow, like your posts, and tag their friends in the comments. It can help grow your following.
11. Post At The Best Times
According to punctuality essence, being on time is beneficial in every industry. So, if you want to get closer to your goal of gaining 10K Instagram followers, then share your content at the best times to post on Instagram.
If you use different social media channels, find your best times to post there. For instance, the best time to post on TikTok may differ from the ideal time to post on Instagram.
12. Use Link In Bio Tool
If you wonder how to get 10K followers on Instagram, don't forget the importance of putting your contact links in your bio. Connecting various social media platforms can help you gain more followers on Instagram. But, as you are aware, you can only add one clickable link in your IG bio, so make sure to use a useful link.
You can use a link-in-bio tool to add all your social media channels if you want to direct your TikTok followers or your other audience of different channels that you use to your Instagram account or vice versa. So, if you want to add more than one clickable link in your IG bio, try choosing the best link-in-bio tool.
If you want to connect your site, WhatsApp link, and other social media links to your Instagram bio, you can use My.URLs link in bio tool. This helps you to add as links as you wish in one place and add it to your bio.
One another link in the bio tool is BrandID. If you want to add all your social media channels, your website, and your coupon you can use this link in the bio tool. BranID also allows you to choose a theme according to your brand pallet color.
13. Track Your Competitors
Keeping an eye on your rivals will prevent you from falling behind them. By monitoring your competitors you can also be aware of the latest trends. So maintain a close eye on your competitors and draw inspiration from them to gain more audiences. You can even engage in conversation with their followers in the post's comments or by following them.
14. Try Free Instagram Followers Trials
If you are seeking a way on how to get 10K followers on Instagram, you may have thought about gaining the free followers that some websites offer. However we never recommend buying followers or using such ways to gain free followers, but some genuine services offer free followers trial that you can use to gain your first followers.
15. Cooperate With Other Influencers
One of the ways to gain free followers on Instagram is to shout out your IG account through other influencers on Instagram. In this way, you should find IG accounts that have the same number of followers as you and repost each other's content to exchange your followers. This way is one of the best ways of getting 10K followers on Instagram.
16. Mention Your Favorite Brands
If you want to get paid on Instagram, it's a good way to mention brands that you desire to work with. This helps you to be seen by brands and if you create quality content they will repost your content on their account and a lot of users on Instagram will see your post.
This way, the chance of your post getting reached by many people rises and you get closer to your goal of getting 10K followers on Instagram.
17. Track IG Insights
It's very important to use a business account. So, if you didn't switch to a business account yet, do it now. Using a pro account on Instagram will give you access to Instagram Insight. This way you can get more information about your followers' intentions, your posts' performance, and your engagement rate.
It makes it easier for you to achieve your goal on how to get 10K followers on Instagram.
18. Invest In Instagram Ads
Instagram ads or promotions are among the ways this platform offers you to promote your content. But using this way you can't get Instagram followers for free and you should pay for it. But if you have tried all the other ways and didn't get your desired result, try this way.
19. Regular Posting
It may be clear but as it's very crucial to get Instagram followers, we emphasize that if you want to be successful on the platform don't forget to post regularly. It will help you to be in front of your audience's eyes and grab their attention. Additionally, by posting consistently your content will have more chance to go viral, according to Instagram algorithms.
20. Use Various Social Media Channels
Using different social media platforms like TikTok, YouTube, Twitter, Pinterest, LinkedIn, and so on, you can attract people from there on your Instagram. Additionally, this way you lower the risk of losing your followers if one of the platforms suddenly down!
Keep reading to get to know how to gain followers on Instagram by considering some points and avoiding things that kill your Instagram growth.
Points To Consider On How To Get 10K Instagram Followers
There are always some common mistakes that absolutely can kill growing your Instagram account. Here are the most important factors that you need to consider to get more Instagram followers.
1- Find The Right Instagram Influencers
Ainfluencer is the easiest platform that lets brands work with leading Instagram influencers to achieve their marketing goals in the smartest and fastest way.
It shares a huge opportunity for marketers to browse through thousands of Instagram influencers, meet, and make deals to get their first 10K Instagram followers.
The good point is that, unlike all the other Instagram influencer marketing platforms that charge expensive usage fees, with Ainfluencer, you can create Ads, discover influencers, invite, and collaborate, all 100% free to use, with no hidden fees.
2- Avoide Using Too Many Instagram Hashtags
Overusing popular hashtags is a useless effort to reach a wider audience because they impact your Instagram post engagements. Hashtags like "#love," #instagood," and "#photooftheday" have a very short lifespan that makes your posts devaluate.
Additionally, you need to avoid using hashtags that appear to be spam. Instead, remember to use relevant branded and long-tail targeted hashtags that best fit your industry.
3- Get Rid Of Ghost Followers
Instagram ghost followers refer to the accounts that follow your page without any interaction with your posts. They include regular users or fake accounts that put you in danger of killing and ruining your engagement rate.
So it makes no sense to collect ghost followers to prove that you have many followers. Instagram users will know that all your followers are fake as ghost followers don't interact with your posts.
4- Use Follow-Unfollow Strategy In A Right Way
Over-following is the wrong Instagram strategy to gain more Instagram followers. It can affect your Instagram brand value. When IG users see you have a large following that is more or equal to your followers, it hesitates them to trust your account and your content quality.
On the other hand, the follow-unfollow strategy is the most common way to increase Instagram followers. You follow many personal accounts, and then you unfollow them after a period. Although this method might grow your page quickly on the platform, it causes you to get banned or suspended by Instagram.
Conclusion
These practical ways can work for all businesses, individuals, or brands to grow on Instagram. If you want to know how to get 10K followers on Instagram at a glance, do not hesitate and start with influencer marketing.
However, content marketing strategies and Instagram growth services dramatically help you get great marketing feedback. But keep in mind that Ainfluencer can offer the right Instagram influencers to do content marketing for you.
1- What Happens When You Gain 10K Instagram Followers?
If you get 10K followers on Instagram you have a chance to start monetizing your account. Especially if you choose a niche, a lot of brands and businesses are looking for micro influencers to promote them.
Additionally, you can be famous and impact others through your content. One another thing is that as you grow your account, Instagram will show your content to more people on Instagram. So, you have a chance to turn from a micro influencer to a macro influencer and more.
2- Are There Other Ways On How To Get 10K Followers On Instagram?
There may be other ways that you can use to gain 10K Instagram followers. Some of them are:
1. Take advantage of various features on Instagram including Stories, Live streaming, Reels, etc.
2. Keep your audience constantly engaged by answering their questions in the comments or when they send you direct messages.
3. Make people understand what your account is about at first glance (write a brief autobiography on your bio, and add clickable links).
4. Provide clear ways to contact you.
5. Choose a memorable photo for your profile.
6. Look for groups in your niche and join them.