Everyone has their own opinion of what defines the ideal body, and all of them want to be up in the gym working on their fitness. But are they actually doing it? Sometimes, all we need is a little aspiration. In this article we have listed top black fitness influencers who can inspire their followers to stand up and start doing workouts.
Fitness influencers are great options for promoting gym clothes and apparel. Apart from the list in this article, there are thousands of influencers out there that can be proper for your business and budget. That's why using influencer marketing platforms like Ainfluencer is essential to collaborate with top influencers in your niche. 
Check out these incredible black fitness influencers on Instagram if you're seeking for helpful fitness tips and motivation, as well as a killer workout program or two to follow.
Top 25 black fitness influencers on Instagram
Whether you want to follow fitness influencers or would like to start a partnership with them, this list includes the top black fitness influencers who not only can inspire you to do more workouts, but also can be great people for your influencer marketing campaigns. 
1- Lana Ector
With 153k followers, Lana Ector is one of the well-known black fitness influencers and instructors from the United States. This fitness instructor and social media star is known for co-founding a Gymnetics Fitness studio in Atlanta, Georgia. Her mother and her co-created the Ectorcise fitness challenge.
2- Jaz McNew
Jaz is the nickname of Jasmine McNew who is one of the best female black fitness influencers, fitness models, and social media personalities.
Jaz's beauty, hair, travel, and workout videos and photos helped her to acquire more than 148k followers till now on her Instagram account.
3- John Gaines
John Gains is a black bodybuilder influencer from the United States. All you need to get motivated and attempt to be fit is to look at his powerful and fit body. As one of the black fitness models, he has 204k followers, and his posts are all about his workout routines.
4- Dc Banks
He is one of the successful black fitness influencers with 16k followers. He is a licensed personal trainer who uses images and videos of his workouts to motivate, encourage, and educate his fans. 
5- Kabria Dame
Kabria Dame is an Instagram fitness influencer. Her Instagram posts cover modeling, fitness workout, and lifestyle. Since she has 12k followers on her Instagram, she can be a great micro-influencer for gym clothing brands. 
6- Denise Guidry
As a fitness coach with 21k followers, Denise is one of the best black fitness influencers who shares different content on her posts and stories, from health, fitness, to beauty. Furthermore, she mostly promotes bikini and swimwear, which makes her one of the top Instagram bikini models too. 
7- Clinton Moxam
Clinton Moxam is an Instagram celebrity in the United States who rose to fame after creating the eponymous account. Clinton Moxam is one of the most prominent black fitness models in the United States, with over 414k followers.
This male fitness model and Instagram star appeared on season six of the dating series Are You the One?
8- Josh Bailey
He is one of the successful black fitness influencers with 1M followers. Additionally, he is a licensed personal trainer who uses images and videos of his workouts to motivate, encourage, and educate his fans.
9- George Bamfo Jr
As a celebrity trainer and former college football player George Bamfo Jr is all about self-improvement. As one of the black fitness models on Instagram with 1.6m followers, he shares posts and Stories featuring his hard fitness workouts, healthy diet, etc.
10- Nicole Monroe
Nicole Monroe is an Instagram model/star especially known for her RAW fitness videos on Instagram. She is a former D1 sprinter and Army veteran, right now she is striving to bring back the basics to overall fitness and to help change the narrative for women trainers.
11- Brian Jenkins
Brian Jenkins is one of the well-known black fitness influencers on Instagram with 355k followers. This fitness trainer uses his influence on Instagram to share workouts, motivation, lifestyle, and healthy diet posts and Stories.
12- Victoria Tapp
Female fitness influencers are great figures for promoting gym clothings. Victoria Tapp is one of the fit black women who is a personal trainer and doubles as an Instagram female model. She is dedicated to helping everyone_ a variety of clients from beginner to advanced athlete levels_ get in shape
As one of the successful black female fitness models, she has 23k followers on Instagram where she shares workouts and modeling posts.
13- Morgan Dawson
She is a National Academy of Sports Medicine trainer while also doubling as a fitness model. Morgan is also the owner of Squat Tough (a high-quality fitness equipment brand). Furthermore, she has run a company to sell skincare products. Although she is mainly known as a black female fitness influencer, she loves traveling too. So, she is inspirational in different ways.
With 569k followers, on her IG account, she has become one of the successful athletic black female fitness influencers. , Additionally, she shares transformation, lifestyle, and healthy diet posts and Stories. Talking about diet, if you like to learn more about healthy diets, you can follow the best health influencers.
14- Marie blachard
This seven-time bikini champion is one of the successful black fitness influencers who is also an MBA student of psychology. Furthermore, she has published her cookbook, 'Dieting Deliciously,' to help others follow a healthy lifestyle and cook more nutritious food.
15- Leah Marie
As a successful fitness model, Leah helps her Instagram followers through their weight gain journey. Furthermore, she gives them targeted workouts and healthy meal ideas.
You should note that fitness is not all about workouts; what you eat is important too. That's why fitness influencers are excellent choices for companies and brands that offer healthy food, especially dedicated to athletes. Therefore, if you have a business in this field, you can benefit from collaborating with top fitness influencers in different countries. 
Sign up on Ainfluencer for free, create a campaign, and search for influencers to discover the best for your business.
16- Frantzcesca Casimir
Frantzcesca Casimir is an American fitness model, United States Army officer, fitness instructor, and social media influencer known for her incredible physique, which she features in photos and videos of her workouts on her Instagram profile. She's stylish, gorgeous, big, and stunning.
17- Nadege Ndjebayi
She is interested in wellness, fashion, and women empowerment. Moreover, Nadege is the founder of her own brand, 'Nadege by She Beasts.' She has 35k followers on her Instagram account and uses her influence to motivate her followers to be fit and healthy.
18- Dr. Cordelia
Dr. Cordelia is a board-certified OBGYN who also works as one of the top black fitness influencers in our list. She operates within women's health, fitness, and lifestyle content. So if you are looking for a perfect blend of fitness tips and women's health, don't miss the chance to follow her account.
19- Nneka Uchendu
 As one of the popular African American fitness models, Nneka  is a fitness coach with both beauty and brains headquartered in Detroit. Nneka, a doctor-in-training, has your back if you're a student searching for encouragement to hit the books or the squats.
20- Brittne Jackson
Brittne Jackson is a great dance fitness performer. Introducing herself as the 'Queen of Home Workouts,' she has some fantastic combinations of fashion and fitness. With 2M followers, Brittne's posts seems appealing to people. 
21. Jeanette Jenkins
As an experienced personal trainer and health coach, Jeanette is a famous black female fitness influencer on Instagram. Since the COVID pandemic made people get into home workouts, Jeanette also decided to help them get the most out of it. Therefore, she shares workout tips and gives weekly workout plans to her followers. Since this type of content is so interesting on social media, especially Instagram, she has 976K followers.
22. Monica Jones
As one of UnderArmour and BASH brand ambassadors, Monica is among the top black fitness models on Instagram. She is a boxing coach and fitness trainer with 29k followers. 
23. Corey Calliet
Not only is Corey a great fitness trainer, but also he considers himself a motivational speaker. Although they may seem a world apart, they are actually connected. Generally, people who do a sport are great motivators, as Corey is.
Known as one of the top black male fitness influencers, Corey has 469k followers and shares his training, daily life, and fitness modeling photos.
24. Selena Watkin
Although she introduces herself as an artist, Selena is a fitness influencer and yoga lover. Since she posts beautiful photos of herself doing yoga poses, her name can also be on the list of top yoga influencers. Furthermore, her craving for dancing has led her to become a choreographer. Accordingly, she has so much to share with her 22k followers.
25. Ally Love
Being a fitness trainer is not enough for Ally because she has her range of gym clothes called Pelton. Furthermore, as one of the successful black female fitness influencers on Instagram, she hosts different shows too, one of them is a show on Netflix, which is about dancing.
How to find black fitness influencers on Instagram?
The more popular influencer marketing gets, the more brands want to know how to find the best influencers most easily to make the most of their influencer marketing campaigns.
Finding influencers has multiple ways, such as: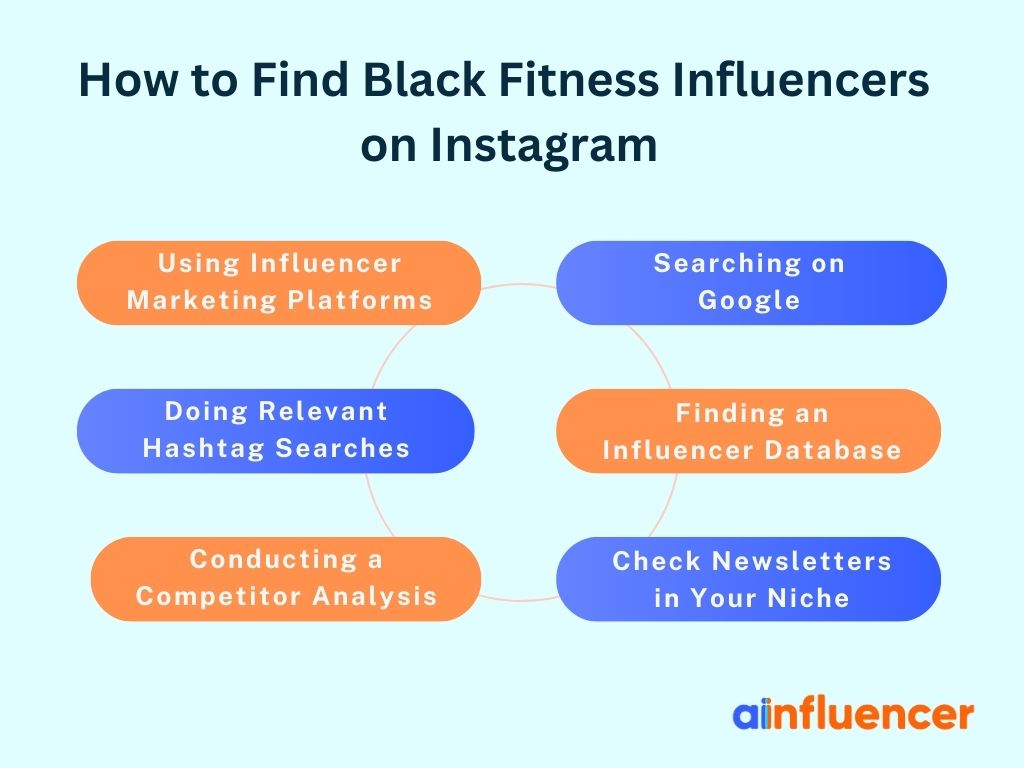 Using influencer marketing platforms
Searching on Google
Doing relevant hashtag searches
Finding an influencer database
Conducting a competitor analysis
Taking a look at blogs, events, and newsletters in your niche, etc.
Taking advantage of influencer marketplaces helps you best because you don't need to do anything manually; instead, you can explore and find thousands of influencers without wasting tons of time and energy.
Do you want to know one of these influencer search tools? Let's dive right in.
Ainfluencer: : the Best Influencer Marketplace
Ainfluencer is a DIY marketplace acts as a middleman and helps both brands and influencers collaborate. 
This search tool is packed with lots of useful features and an AI-powered search engine that allows you to filter influencers based on location, hashtags, category, gender, language, number of followers, etc.
Note: Unlike most of its competitors, Ainfluencer does not require payment upfront and provides you with limitless access to its wide influencer network.
Here are some of the features of Ainfluencer in detail:
Free to use (It's 100% free to use with no hidden fees.)
Risk-free (The automatic system keeps track of your campaigns and holds funds until you confirm the necessary material.)
AI-powered (Artificial Intelligence is used on the platform to help users discover influencers.)
Influencer audit (Ainfluencer shows your account information like engagement rate, average comments and likes, comments to followers ratio, and likes to followers ratio for influencers.)
Fast, easy, and smart
Creating marketplace ads (brands can create a free marketplace campaign that is posted to the marketplace where thousands of qualified influencers can see and make offers.)
Built-in chatbox (brands and influencers can negotiate the marketing terms and close the deal right in the app.)
Real-time analytics (Ainfluencer tracks your performance from start to finish.
Conclusion
In conclusion, these fitness influencers are changing the game when it comes to health and wellness. They motivate others to get fit, be healthy, and love their bodies. If you're looking for some motivation and inspiration, be sure to check out these amazing black fitness influencers on Instagram!
Furthermore, do you know how fitness influencers make money on Instagram? Social media is an incredible place for influencers to receive influencer marketing offers from top brands. These collaborations will be mutually-beneficial for brands and influencers; the first group gains more followers and increases their sales, and the second group will make money and have a chance of becoming brand ambassadors. But where can they meet? 
If you are an influencer, whether in fitness or any other field, you can join Ainfluencer for free and increase your chance of being discovered by brands and companies for partnership. Therefore, do not hesitate! Maybe you will be the next figure brands fight to collaborate with.
FAQ
Who Is a Fitness Influencer?
A fitness influencer is someone who has a lot of authority in the online fitness community. They are well-known, liked, and trusted among fitness enthusiasts, so their advice carries a lot of weight. They utilize their credibility to persuade others, frequently endorsing brands' products and services.

Who Is the Most Popular Fitness Influencer?
Michelle Lewin is the most popular fitness influencer with over 14.8 million followers.