As a fitness enthusiast, did you ever wonder if those fitness influencers you follow on social media make a lot of money? The answer is a resounding yes, and the good news is that you, too, can be just like them.
Are you a fitness freak who wants to become a social media fitness model? Or perhaps you're looking to transform your current account into a fitness profile, earn money as a fitness influencer, and build your online presence. Either way. A free influencer marketing platform can help you find sponsored posts at no cost!
In this article, we'll talk about how you can go from being a fitness fanatic to a fitness influencer and make some big money in the process.
But if you are looking for a quick method to make money as a fitness influencer on Instagram, give Ainfluencer a try. It's a free DIY influencer marketplace.
How to make money as a fitness influencer?
If you're a fitness freak who's successfully turned your fitness obsession into an engaging social media presence and wonder how to make money as a fitness influencer, chances are, you can do one of the following to monetize your social media audience. Let's see what we can find out!
Note: Influencers with audiences of different sizes can use the eight methods we'll cover in this post.
#1- Sponsored posts
Sponsored posts are the first and one of the most common ways for different types of influencers to make money online. Paid posts can be anything from single posts or a series of posts to Instagram Stories or YouTube and TikTok videos.
Sponsored posts' popularity on Instagram is on the rise. As a result, we understand that executing an Instagram influencer marketing campaign with sponsored posts is a very effective influencer marketing technique.
You should note that there are a lot of brands and companies willing to increase brand engagement, improve digital strength, acquire more customers and audiences, and nurture better relationships with their customers through sponsored posts.
In case you wonder how to make money as a fitness influencer, why not get sponsored and collaborate with these brands?
Remember that as an influencer looking for ways to make money in fitness, you need to collaborate with brands with the same niche as yours.
Learn all you need to know about getting sponsored on Instagram and use paid posting to your benefit.
Do you consider the process of getting sponsored tiring and time-consuming?
Don't you know how to meet and make deals with brands that fit your niche?
Then all you need is an influencer marketplace like Ainfluencer. Let's see what Ainfluencer is and how it can help you.
Ainfluencer- A top-notch Influencer marketplace for Fitness Bloggers
Ainfluencer acts as a middleman that helps brands and influencers to meet and make deals. One of the very first steps to see how to make money as a fitness influencer is to find the right brand to help them promote their products and services using your influence.
With Ainfluencer, you can explore to discover thousands of sponsored content opportunities that fit well with your style and audience.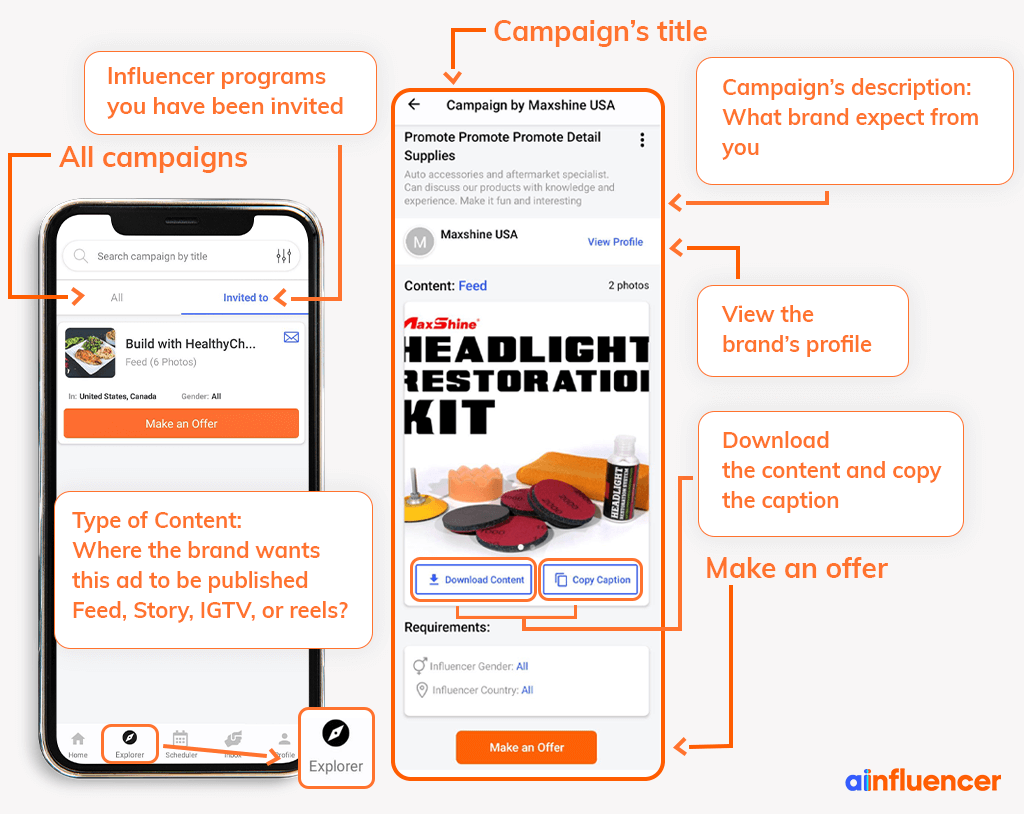 Then start the collaboration by making an offer on as many marketplace ads as you like, use the chatbox feature to negotiate with brands, and also allow Ainfluencer to closely supervise the payments and make sure no issues will be raised later.
Ainfluencer offers a safe and secure payment method to ensure that influencers get their money without any concerns. Check out the following video to learn how you can select a payout method and receive your money.
Haven't joined Ainfluencer yet? Don't miss your opportunity to make money as a fitness influencer on Instagram.
#2- Ebooks and downloadables
Being very active and efficient brand advocates is not all influencers can do. Many influencers are thought leaders and experts in their fields, so they have useful stuff to share with their followers.
So, one of the most prominent ways to see how to make money as a fitness influencer can be selling your content, for example in the form of an eBook. Or, if you have a fitness app, you can put the link in your bio and ask people to download and pay for it.
#3- Digital courses and workshops
Digital courses and workshops, in addition to eBooks, are another effective way for influencers to earn money online. These influencers that fall under niche-specific categories, can make money as fitness bloggers. They can monetize their audience by organizing digital paid courses and workshops.
#4- Affiliate marketing
Affiliate marketing is a type of marketing that allows influencers and bloggers – in this case, called affiliates – to get paid by companies for their marketing efforts.
What is affiliate marketing?
An affiliate is a person or company that advertises a product or service and receives a commission (a percentage of the sale) if someone clicks on the link and purchases the product.
For Example, if you are an influencer looking for ways to make money in fitness, adding an affiliate link for a product in the description box of one of your YouTube videos or in the Instagram caption would be to your benefit.
When a visitor or customer goes to the company's website or product page using a link from the content of the affiliate, you get a reward.
#5- Collaborations with brands
The last way we want to share with you to see how to make money as a fitness influencer is through collaborations with brands.
Sometimes well-established brands decide to collaborate with influencers when they either want to launch a new product or they want to spread the word about the previously launched ones.
The influencer normally receives a share of the earnings in the case of an influencer partnership, based on the terms of the agreement between the two parties.
Now that we explained how to make money as a fitness influencer, Let's take one step behind and discuss how to become an influencer in the first place.
How to become a fitness influencer on Instagram?
To make money as a fitness blogger, first, you need to know how to become a fitness influencer. Instagram is the most strategically important social media channel for influencer marketing.
So, that's why we decided to focus on Instagram fitness influencers.
There are certain things you must do in order to achieve the level of popularity and become an Instagram fitness influencer to earn money on Instagram. Here are some:
#1- Grow your followers base
The very first thing you need to focus on if you want to be known as a fitness influencer and find ways to make money in fitness on Instagram is to grow followers. Do you wonder why?
Because as the number of individuals who follow you grows, so does your credibility. As your network grows, so does your influence. You'll be able to reach a larger audience and get more followers. That's the first step on your path to fame.
How can you grow your followers on Instagram and make money? Aigrow is one of the best tools to increase your followers in no time and turn yourself into a fitness influencer.
#2- Be the master of your content
Due to the fact that you're a fitness enthusiast yourself, it won't be hard to make content that fitness enthusiasts will like.
The list of possible content to make money as a fitness influencer is endless. If you ever get stuck and don't know what to post, you can keep an eye on the type of content other fitness influencers post to draw inspiration from them.
Here are some ideas for creating fitness posts that stand out:
Show off your workout routine.
Give your audience fitness tips.
Tell your audience what you eat.
Share video testimonials to give your audience the motivation they need to keep going.
Go live on Instagram.
Show your team to your audience.
Host a contest or giveaway.
Showcase your wins.
Before-and-after body shots of people.
Add a lot of authority by sharing review posts.
#3- Use relevant and effective hashtags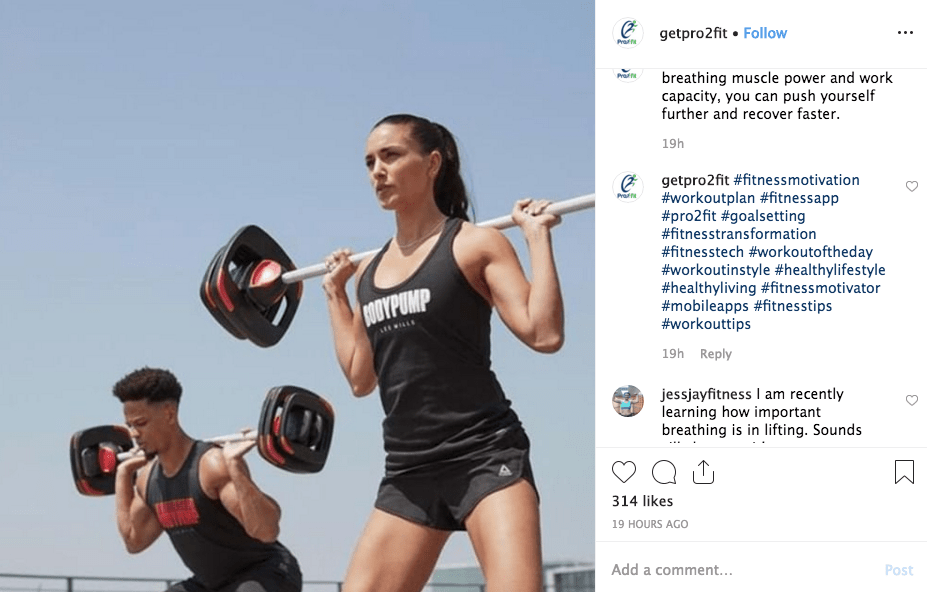 If you use hashtags, your account will receive a lot of visitors. Hashtags are Instagram's way of sorting your content so you are more likely to reach your target audience and increase your engagement rate.
You can use up to 30 hashtags, but it's best to keep it to five because the aesthetic of your content is crucial. The first comment is also a place to insert your hashtags.
#4 Connect to other Instagram users
There are a variety of ways to connect with other Instagram users. Instagram actions, following, liking, commenting, Replying to, or sending DMs are all great ways to engage with your followers and other Instagram users.
You should make an attempt to engage with them in addition to making them engage with you. It's a two-way street. If their effort is not reciprocated, even the most friendly followers will lose interest in contact.
How much do fitness influencers make?
If you're wondering how much influencers make, you should consider a variety of factors. For example, the number of followers they have, their engagement rate, etc.
Currys PC World has conducted research into the world of health and fitness influencers, looking into how well-known the top social media stars are, how much they earn, and what kind of content they provide.
You can read on for some of the findings. Or examine the data yourself by checking out the health and fitness influencer index and filtering the list by followers, niche, social media platforms, etc.
The highest-earning health and fitness influencers
1- Michelle Lewin
Michelle Lewin is a fitness model, bodybuilder, and social media sensation. She is one of the top fitness models in the world, and her toned physique and training routines have garnered a lot of attention. Michelle is well-known for her physique and bodybuilding training approach. With such a large fan base, she is highly active on social media.
Michelle has more than 16 million fans following on Instagram and 8.5 million fans on Facebook. She is also active on YouTube and TikTok.
Michelle Lewin makes about $36,600 per post on Instagram. she is one of the richest fitness models and social media influencers. Her annual income is more than $ 250,000.
2- Jennifer Selter
She is an American fitness model and a top social media celebrity. She is active on different social media platforms and has 14 million followers on Instagram and more than 1 million fans on Twitter. Her average earning per post on Instagram is about $33,700, and her annual salary is more than $600,000.
3- Ulisses Williams Jr.
Ulisses Jr is a fitness model, bodybuilder, fitness teacher, and entrepreneur from the United States. He is primarily known for his Instagram account, which has a following of over 9.5 million people. He is most known as a bodybuilder for winning many Musclemania events.His average earning per post on Instagram is about $21,400.
4- Simeon Panda
Simeon Panda is a British fitness artist, entrepreneur, and professional bodybuilder who is best known for competing in and winning several bodybuilding competitions. He also owns SP Aesthetics and Just Lift, two well-known fitness gear brands. He has also appeared in magazines such as Train Mag, MuscleMag, and Fitness RX.
Simeon Panda is one of the highest-paid individuals on Instagram, YouTube, and TikTok, earning an estimated $17.5 million per year.
5- Matt Morsia
MattDoesFitness is a YouTube star who was born on January 19, 1986 in England. On his self-titled YouTube channel, he shows his passion for Powerlifting, Bodybuilding, diet challenges, and other fitness activities.
Matt Morsia, a former athlete and PE teacher, is the highest-paid YouTuber, earning an estimated $3.9 million a year.
Conclusion
In conclusion, there are many ways to make money as a fitness influencer. You can create your own products or services, affiliate marketing, or advertising. You can also use social media platforms like YouTube, Instagram, or Facebook to sell your services or products. By using these methods, you can make a good income while helping people stay healthy and fit.
1- How do you get paid for Instagram for fitness?
As a fitness enthusiast,  here are some of the finest ways to get started on Instagram.
1- Grow your followers base
2- Be the master of your content
3- Practice influencer marketing
4- Make use of relevant hashtags
5- Learn from your competitors
6- Get in touch with fitness sponsors
7- Connect to other Instagram users

2- How much can fitness models make?
Models are usually paid on a per-job basis, so a model who books more clients will earn more money. Depending on their modeling schedule, fitness models can earn anywhere from $40,000 to $70,000 per year.