Pregnancy is a beautiful time in a woman's life, and there's no better way to document it than on Instagram. There are some pregnant influencers who have mastered the art of pregnancy style and use their Instagram account to give people inspiration for their own pregnancy wardrobe.
If you're pregnant and wondering how to dress your growing bump, or if you're a brand and want to cooperate with some pregnant fashion bloggers, this article is for you.
Before starting our list, let's check how to find Instagram influencers with no trouble.
How to find pregnant influencers on Instagram?
Looking for influencers can be a daunting task. There are different ways to find pregnant influencers or other types of influencers on Instagram. Some quickest ways include using search engines like Google, Instagram hashtags, and influencer marketplaces like Ainfluencer.
Ainfluencer
Ainfluencer is a safe, secure, and free marketplace that makes the process of finding influencers easy and fast. Ainfluencer is a DIY marketplace that lets brands search for their targeted influencers based on location, gender, category, etc.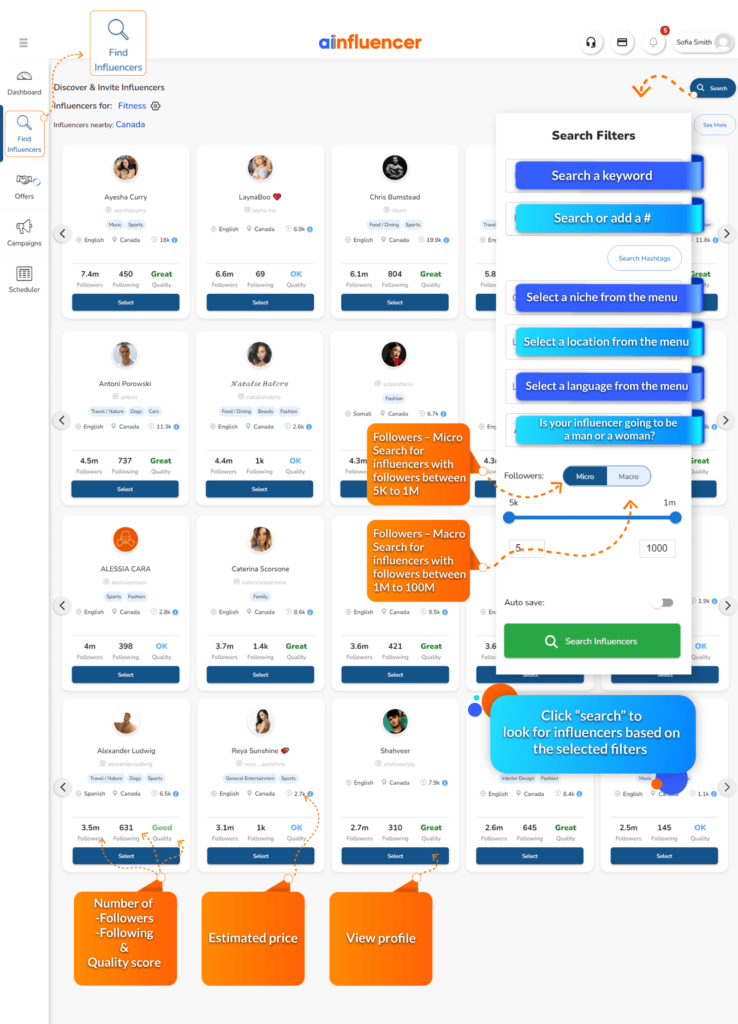 Just sign up, create an ad, explore influencers, and invite them for collaboration.
15 pregnant influencers on Instagram
Take a look at our list of pregnant Instagram influencers and find some inspiration for pregnancy style:
1. Irene Lara (@studio4lara)
On our list of pregnant influencers, Irene Lara is the first one. She is a style and beauty influencer from London. She has over 783K Instagram followers and has recently announced her pregnancy for her second child.
2. Shaughna Phillips (@shaughnaphillips)
One of the other pregnant influencers is Shaughna Philips, who uses her account for motherhood and health encouragement. She is expecting her first child and tries to give her 1.4M followers a great positive view of motherhood and marriage by sharing her daily routine.
3. Amy Hart (@amyhartxo)
Here is one of the pregnancy fashion bloggers on Instagram. Waiting for her baby, Amy Hart gained lots of followers by sharing her pregnancy style. She has over 1.1M followers and shares content related to fashion, beauty, and nature.
4. Daisy Lowe (@daisylowe)
One of the pregnant Instagram influencers is Daisy. She is a fashion enthusiast and model with about 414K followers. Check out her account for her beautiful pregnancy photos.
5. Kelly Mi Li (@kellymili)
Kelly Mi Li is another pregnancy influencer with her baby due in August. She shares her beautiful pregnancy looks and style with her 485K followers. Kelly is an entrepreneur and stylist and can be a great brand ambassador to promote fashion-related brands.
6. Naomi Banjo (@naomibanjo)
Naomi Banjo is another pregnant public figure and stylist on Instagram who shares her pregnancy style and looks with her followers. She amassed more than 185K fans by sharing her everyday style and routine on her account.
7. Rumer Glenn Willis (@rumerwillis)
One of the other pregnant influencers is Rumer Willis. She is an American actress and lifestyle influencer who is expecting another child with her boyfriend, Derek Richard Thomas. Rumer has 1M followers on her Instagram account.
8. Jessica Batten (@jessicabatten_)
The famous actress, reality star, and model Jessica Batten has recently announced her pregnancy on Instagram. This macro influencer usually shares her gorgeous style with her 633K followers.
9. Jessie J (@JessieJ)
Jessie is an English singer and music influencer. She suffered a miscarriage over one year ago and is now pregnant for the second time. She is sharing this journey with her 12.7M Instagram followers.
10. Nikki Reed (@nikkireed)
The famous actor, Nikki Reed, is among the other pregnant influences. She is also a model and founder of the jewelry brand, "Bayou With Love." She has about 3.9M followers and has just announced her second pregnancy.
11. Naomi Osaka (@naomiosaka)
One of the health influencers and tennis players on Instagram is Naomi. Naomi Osaka, with over 2.7M followers, tries to inspire women to take care of their bodies and live better lives. This pregnant cute mom is full of energy, and her account is filled with positive vibes.
12. Dani Dyer (@danidyerxx)
Another pregnant fashion blogger on Instagram is Dani Dyer. She gained about 3.6M followers by sharing photos and videos about her family, modeling, and being a mom. Dani is expecting twins with her boyfriend, Jarrod Bowen.
13. Meghan Trainor (@meghantrainor)
Meghan Trainor is an actor, singer, and Instagram influencer who shares her daily life. She has 16.6M Instagram followers. This mega influencer is pregnant with her second child, and her videos during this period have gained many impressions, making her one of the top pregnant Instagram influencers.
14. Abbie Herbert (@abbieherbert_)
Abbie Herbert is a pregnant model with 1.8M followers on Instagram. She announced her second pregnancy last month and received many positive reactions. Abbie also produces some podcasts, which you can find links to on her bio link.
15. Marzia Kjellberg (@itsmarziapie)
Marzia, the wife of famous YouTuber PewDiePie, is also among the most beautiful pregnant Instagram influencers and celebrities. Marzia, who is based in London, is currently pregnant with her first child and shares her pregnancy style on Instagram. She has nearly 8.4M followers.
Pro-choice influencers
Like with every social movement, the pro-choice one has had its share of notable people. They have used their fame to promote discussion of reproductive rights and to lobby for laws that would safeguard women's access to reproductive health care, including safe and legal abortion. Alyssa Milano is one of the most visible public figures associated with it. 
1- Alyssa Milano (@milano_alyssa)
From the beginning of her career in the 1990s, when she became a household name, Milano has used her platform to push for women's reproductive rights. She has advocated for legislation to safeguard women's access to contraceptive and abortion services and has spoken out against restrictive laws like the Hyde Amendment.
The courts have ruled that it effectively limited the kind of abortions that Medicaid would be required to fund by excluding certain types of treatments from the program's mandated coverage. In addition, she has been an outspoken advocate for Planned Parenthood, which helps millions of women by providing them with access to reproductive health care.
Something that people might use to educate themselves about abortion is texts on the web. Such work is easily described in Pro-Choice essays where you can learn the importance of this theme, its pros and cons, how civilization coped with it in the past, and many more. 
Here, people might read texts regarding this topic and educate themselves about it. Everything about abortion's potential issues, as well as the process of pregnancy, can be found. Furthermore, her efforts to raise awareness and elevate women's voices on reproductive rights have impacted the national dialogue through every pro choice essay you can find online. 
2- Taylor Swift (@taylorswift)
Singer and songwriter Taylor Swift is another high-profile public figure who has helped advance the pro-choice cause. Since she came to prominence in 2006, Swift has been an outspoken supporter of reproductive freedom. She has advocated for legislation to ensure women have access to contraceptives and clever abortion titles and has spoken out against restrictive laws like the Hyde Amendment.
This artist has also been an outspoken advocate for women's reproductive rights by publicly endorsing Planned Parenthood's work. Her work to promote them has boosted dialogue about the topic nationally and ensured that women's perspectives were included.
Now, let's see a short list of the most popular pro-choice influencers:
Gabby Edlin
Sarah Sophie Flicker
Grace Campbell
Gina Martin
Conclusion
If you are looking for some chic and stylish pregnancy inspiration, be sure to check out these fifteen pregnant influencers. They will, for sure, make you feel fabulous and stylish throughout your pregnancy journey. So go ahead and give them a follow, and if you need to find more influencers, use the Ainfluencer marketplace.
FAQs
1. What is the best pregnancy website?
Here are some of the best pregnancy websites:
What to Expect.
Mother to Baby.
Evidence Based Birth.
BabyCenter.
Pulling Curls.
2. Who is the most popular influencer on Instagram?
Cristiano Ronaldo, with 484M followers on Instagram, is far and away the most popular influencer on Instagram. This Portuguese soccer star has used his account to score lucrative endorsement deals with some of the world's biggest brands, including Clear and Nike.