Amazon is one of the most popular online shopping platforms, which allows users to create their own online shop. However, to increase sales and make more revenue, you should introduce your products to more people. That's possible by partnering with the best Amazon influencers.
In this blog, we will be looking at 28 of the most successful Amazon influencers that you can collaborate with to take your business to the next level. Furthermore, if you are an influencer, you can make money on Amazon by joining the Amazon influencer marketing program.
But first, let's see how we can find them.
How to find Amazon influencers?
With the rise of social media, working with influential figures has become an effective influencer marketing strategy to reach out to your target audience, increase your brand visibility and ultimately generate more revenue.
The effectiveness of this type of online marketing made Amazon offer a program for top influencers on social media. It is called the Amazon influencer marketing program, which allows social media influencers to create a storefront and recommend their favorite products and receive commissions based on whatever they sell on Amazon.
This program is beneficial to both brands and influencers. However, finding the right influencers can be challenging for brands, as you need to ensure that they align with your brand's values and have the necessary reach and engagement to impact your target audience. Here are three of the best ways to find Amazon influencers:
1. Using influencer marketplaces
Using an influencer marketplace like Ainfluencer is one of the great options. It is a DIY marketplace where you can search for influencers based on various criteria such as niches, follower count, engagement rate, and more.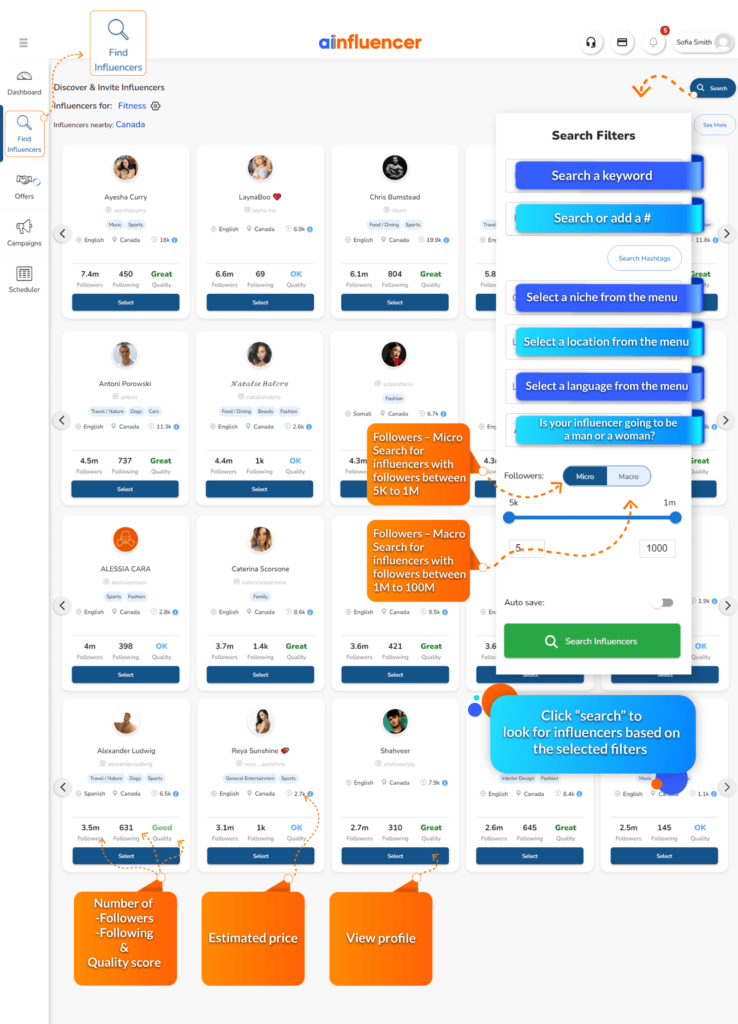 Ainfluencer is specifically focused on Instagram and TikTok influencers. You can find influencers related to your niche and check their accounts to see if they have promoted their Amazon products there.
Furthermore, you can do all the negotiations on Ainfluencer; completely free of charge. You can run a campaign on Instagram and TikTok, which can help boost your brand awareness and sales. So, sign up on Ainfluencer to check out its features.
2. Amazon storefront search
You can use the search function on Amazon to find Amazon influencer storefronts that sell products in your niche. Often, storefronts will have a section for "Featured Influencers" or "Influencer Picks" where you can see which influencers they are working with.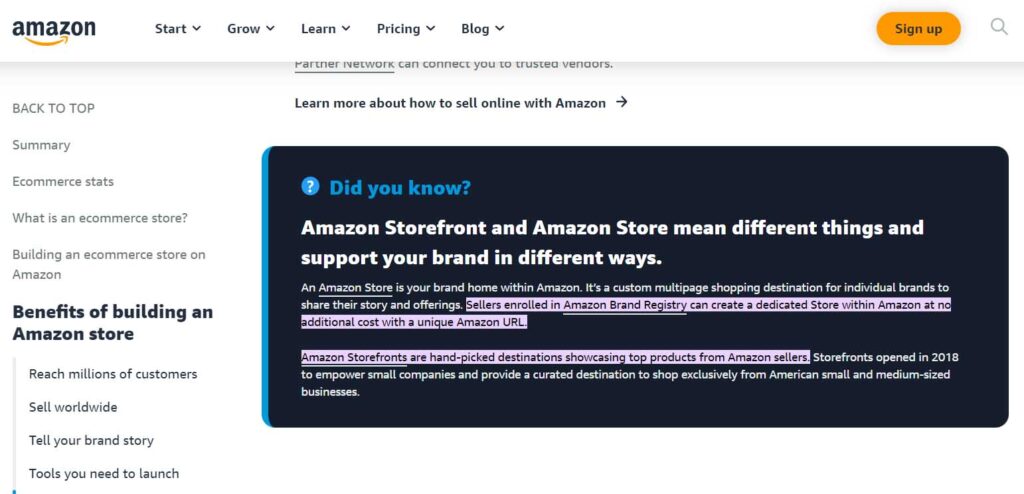 3. Google search
You can also start by doing a general search for "Amazon influencers [your niche]" or "Top Amazon influencers [year]" to find articles or lists that have already identified influencers that may be a good fit for your brand.
There are many other possible ways to find Amazon influencers. Regardless of how you find them, it's essential to take the time to thoroughly research and evaluate potential influencers before partnering with them, as this can help ensure you find the right partner and achieve your marketing goals.
Top 28 Amazon Influencers
Amazon has become a go-to destination for shoppers worldwide.; It's no surprise that the platform is home to many influential content creators, who are popular for sharing their product recommendations and expertise. From TikTok stars to lifestyle bloggers and travel influencers, here are some of the most popular Amazon influencers:
1. Ryan Mulvany (@Mr. deals)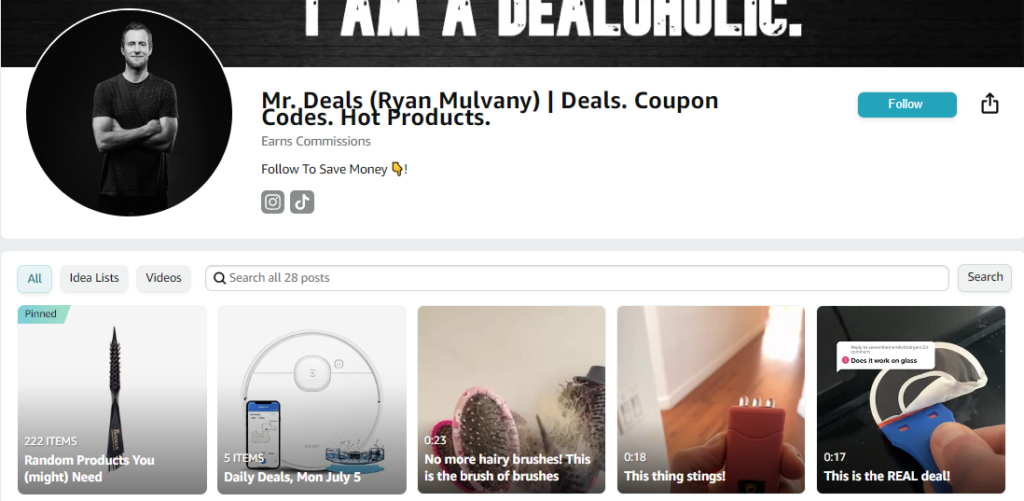 As his name suggests, Mr. Deals focuses on highlighting the best deals available on Amazon. He has about 500K followers on TikTok and frequently posts videos showcasing Amazon products with big discounts. He has become a popular resource for online shoppers.
2. Lisa Cameron (@Adventures in Familyhood)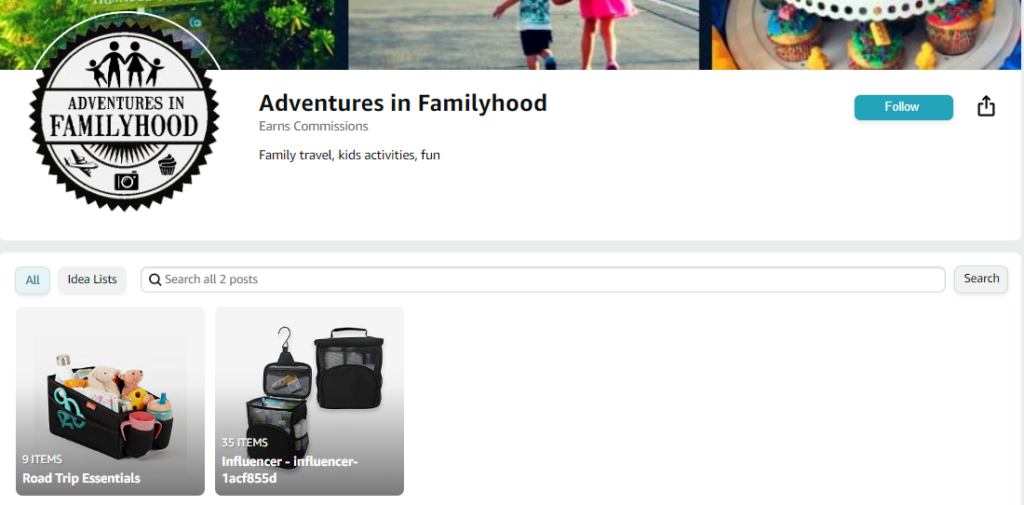 As an active user on different social media channels, such as Facebook, Instagram, and Pinterest, Lisa has many fans who would like to buy whatever she recommends. Since she creates tips and activities for families, she has one of the best amazon influencer storefronts which is full of product recommendations for families, such as board games, books, children's car seats, etc.
3. Chanel Oldham (@Chanel Oldham)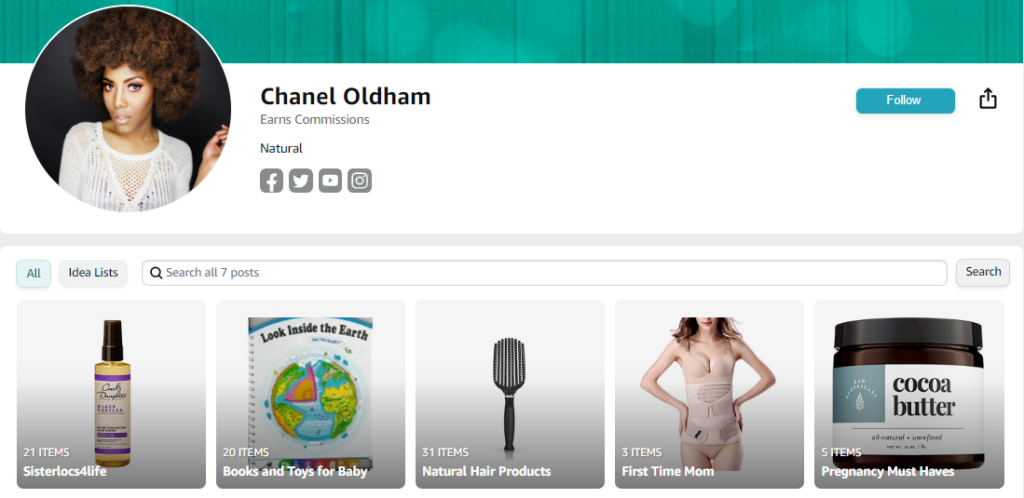 Another Amazon influencer on the list is Chanel, who focuses on sharing Amazon products with her followers. Although she is popular as a mom blogger, she covers various topics, from beauty and fashion to business and lifestyle. However, her Amazon products are mostly products in the home and lifestyle categories.
4. YviG (@Retail Nomad)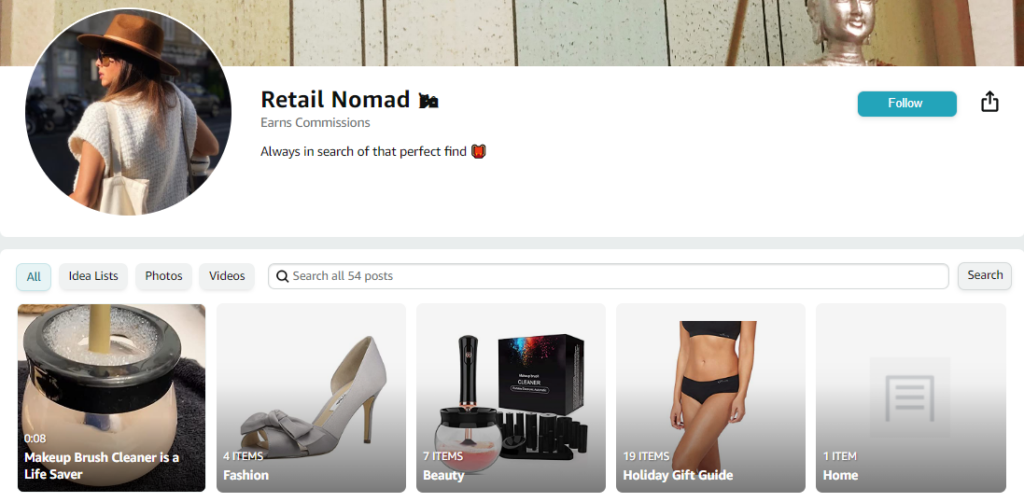 Retail Nomad, also known as YviG, is a fashion influencer who shares fashion and beauty-related recommendations with her audience through her blog and social media channels. Furthermore, she models different clothing products on Amazon and provides direct links for her followers to make shopping easier.
5. Anca (@Gracefully Glam)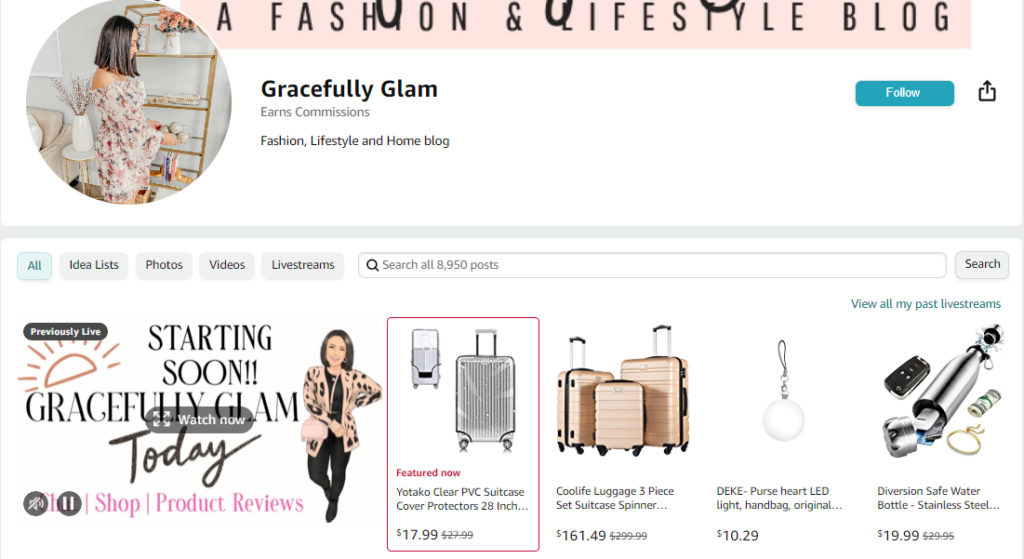 This lifestyle influencer, with 295k followers, frequently shares her favorite products with her audience. In the meantime, Anca has an Amazon influencer storefront where she recommends different products related to fashion, lifestyle, and home. Furthermore, she shares the link to her storefront with her followers for easy shopping. Gracefully Glam, also known as Anca, is an influencer with a focus on beauty and home.
6. Justin Sunseri (@JustinLMFT)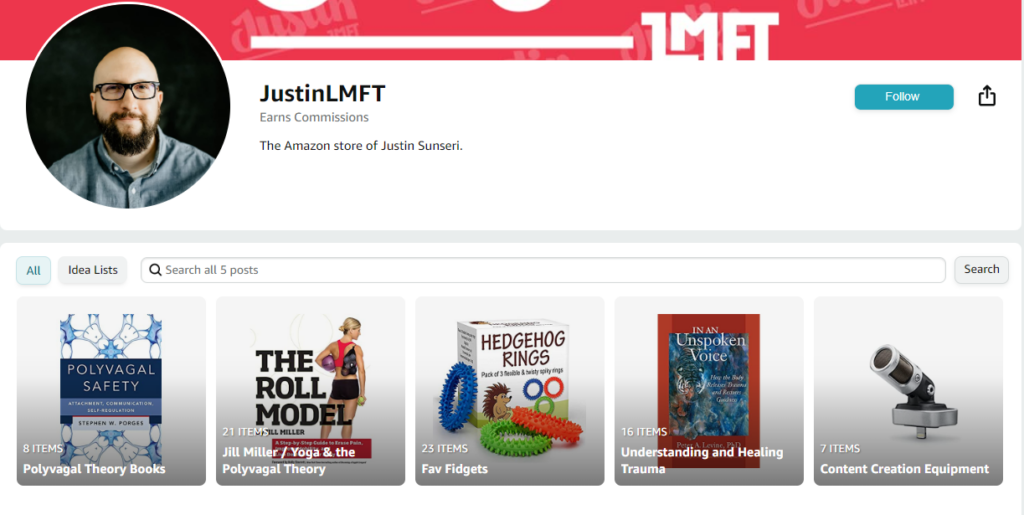 The host of the Polyvagal Podcast, Justin Sunseri, is among the top Amazon influencers. In addition, he is a licensed therapist with a large following on Amazon. On his Amazon storefront, he sells books and courses related to marriage, relationships, and personal growth. Justin is an expert in counseling, public speaking, and coaching. Hence, he regularly shares motivational and practical advice to help his followers improve their lives.
7. Lori-Lee Elliott (@Lori-Lee Elliott)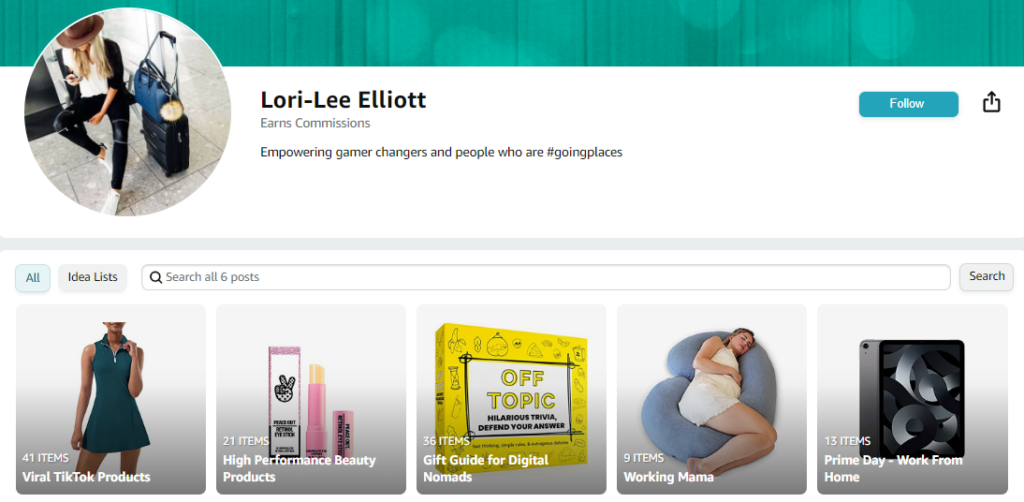 On her Instagram account, Lori-Lee posts photos and videos about fashion and styling. However, not only is she a lifestyle blogger, but also she is a well-known tech influencer. Furthermore, she has an Amazon store where she shares her favorite products and recommendations.
Since Lori is passionate about women's fashion, she would like to help people find their unique style and look their best.
8. ChattyMoney (@Chatty Money on Amazon)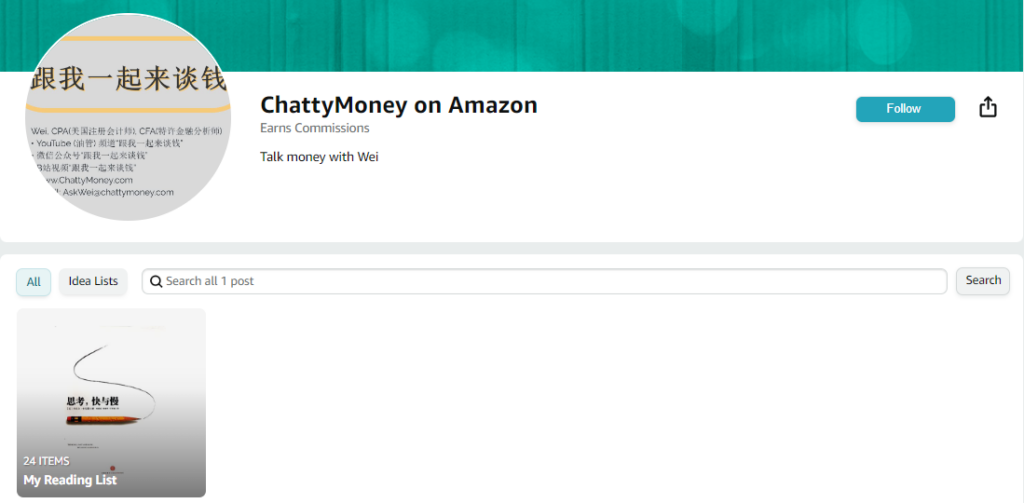 As the name indicates, ChattyMoney is a financial influencer on Amazon who teaches people money management through her courses, books, and recommendations. On her Instagram account, she shares her financial journey and advice on personal finance, budgeting, saving, investing, and financial literacy.
Therefore, her in-depth knowledge of financial planning has made her a trusted influencer to many Amazon shoppers.
9. Jalissa Queen (@Jalissa Queen)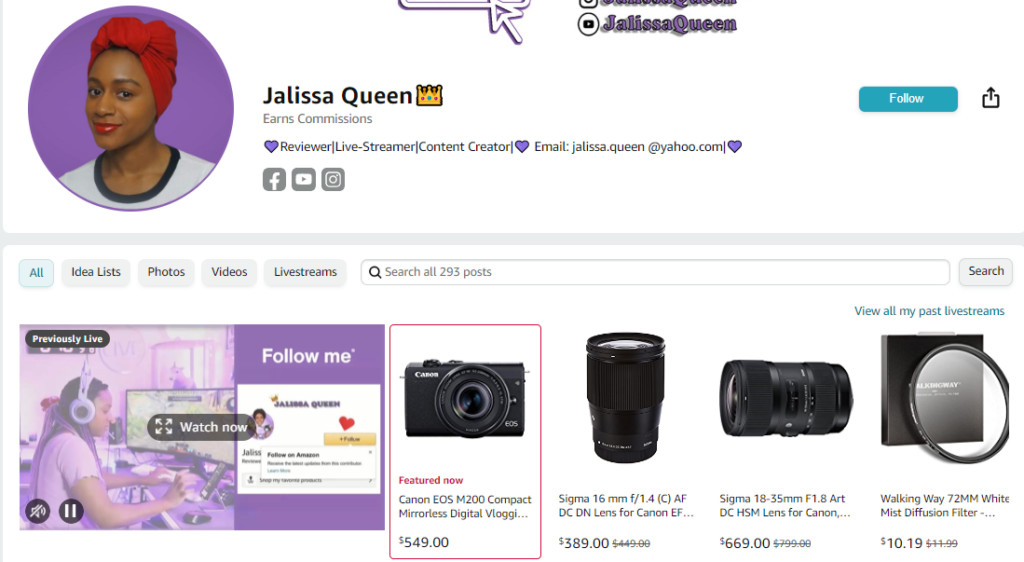 Since Jalissa is an Instagram photographer and lifestyle blogger, she shares a collection of her favorite makeup, beauty, and photography products. Furthermore, her blog, social media, and YouTube are filled with educational content, such as tutorials, reviews, and tips to help people elevate their life.
10. Chelsey White (@Chelsweets)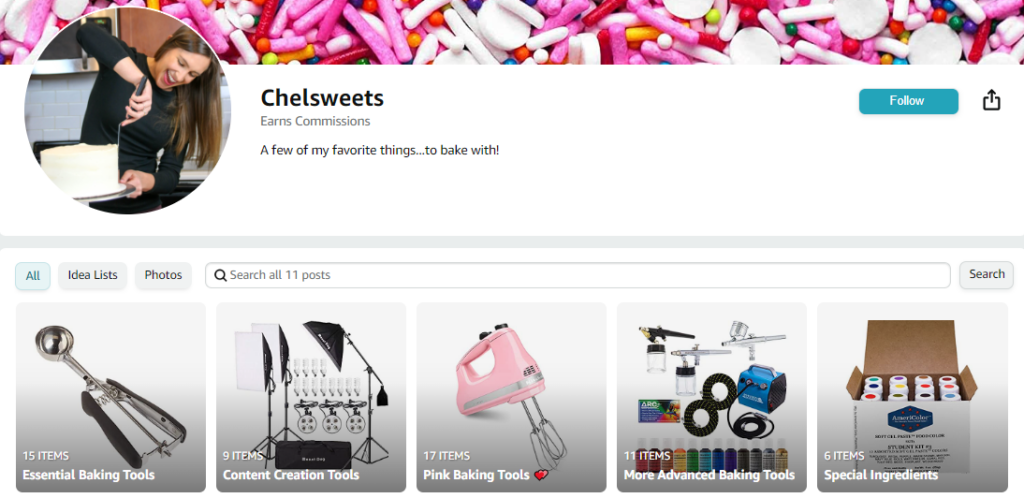 People who love baking can learn many things from Chelsey, from making a cake to using the right baking tools. Accordingly, as a baking influencer on Amazon, Chelsey shares her passion for baking through her online store, YouTube channel, and social media.
Her Amazon storefront features her favorite baking tools, equipment, and ingredients, as well as her own cookbook, which features her best recipes. Furthermore, Chelsey has become an Amazon influencer because she shares her creativity, knowledge, and love for baking with others, inspiring them to explore their baking skills.
11. Pixie Pocket (@Pixie's Pocket)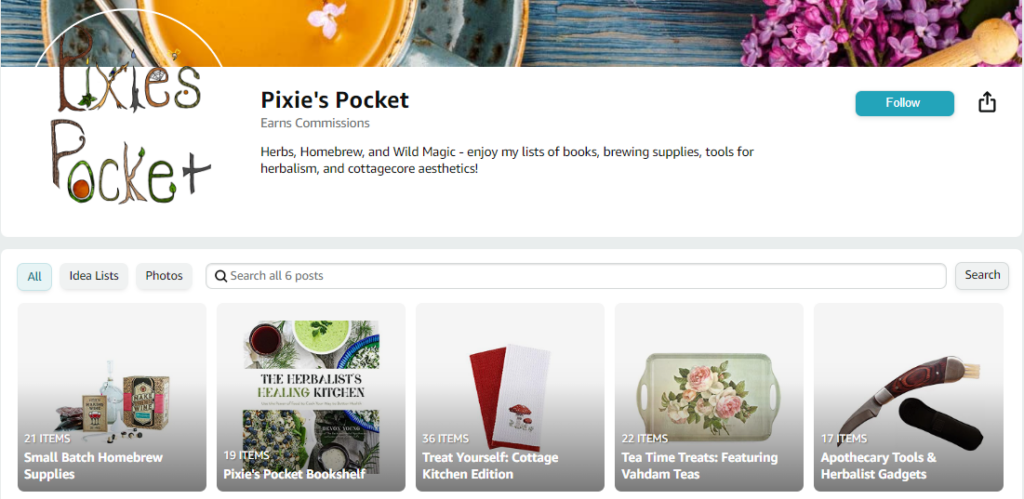 Herbal products are popular worldwide. However, people need to know about them; from the benefits they have to how to use them. That's why Pixie Pocket has many followers on Amazon. As an Amazon influencer, she provides reviews and recommendations on various herbal products and apothecary tools. In addition, her engaging and informative product reviews on Amazon help her followers learn about herbs and brewing supplies and live healthier.
12. Pierre Nicholson (@Pierre Nicholson's Luxury Home Selection)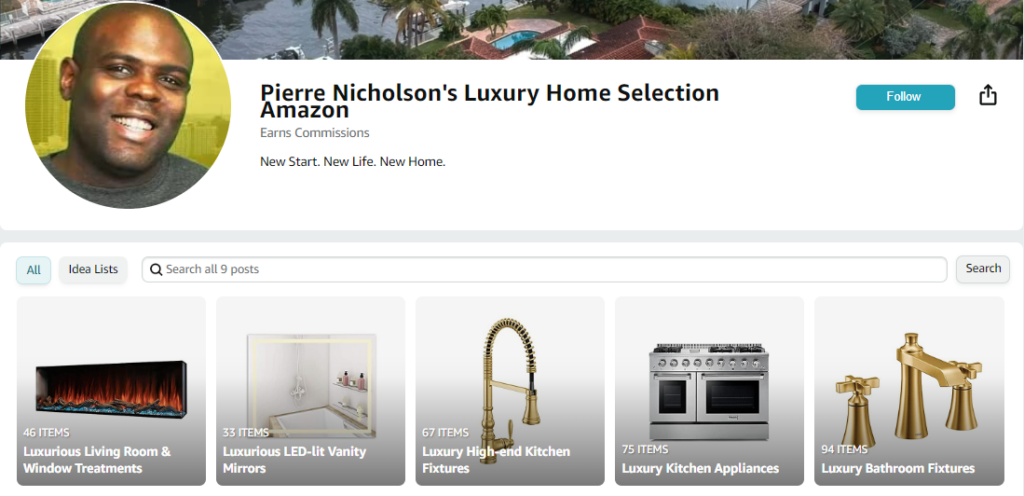 Home décor influencers can give great recommendations about buying things that best suit your home decoration. One of the best Amazon influencers in this field is Pierre Nicholson. He has lots of followers on Amazon, where he provides product reviews of home office furniture and outdoor living equipment. If you are looking for luxurious home devices, check out his Amazon home influencer store.
13. Justin Braun (@Overtime Garage)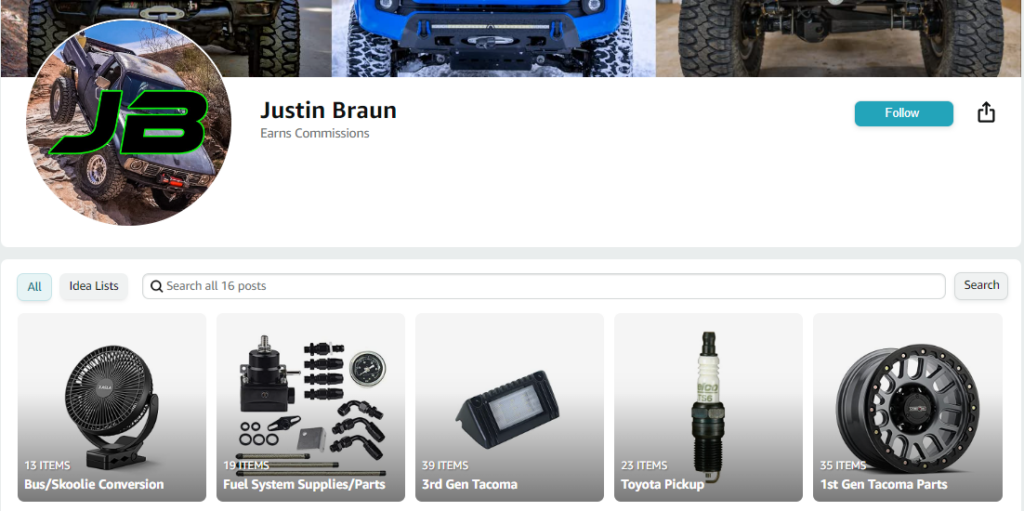 For some people it might be hard to find the right tech tools. Therefore, they follow people like Justin Braun, who covers everything from tech tools to vehicles. Since he is an active lifestyle influencer on Amazon and social media platforms, like Instagram and YouTube, he is a well-known person in this field.
So, people follow his product reviews, which offer a comprehensive overview of the items he promotes, making it easier for his followers to decide to purchase them.
14. Mako Ccino (@makoccino)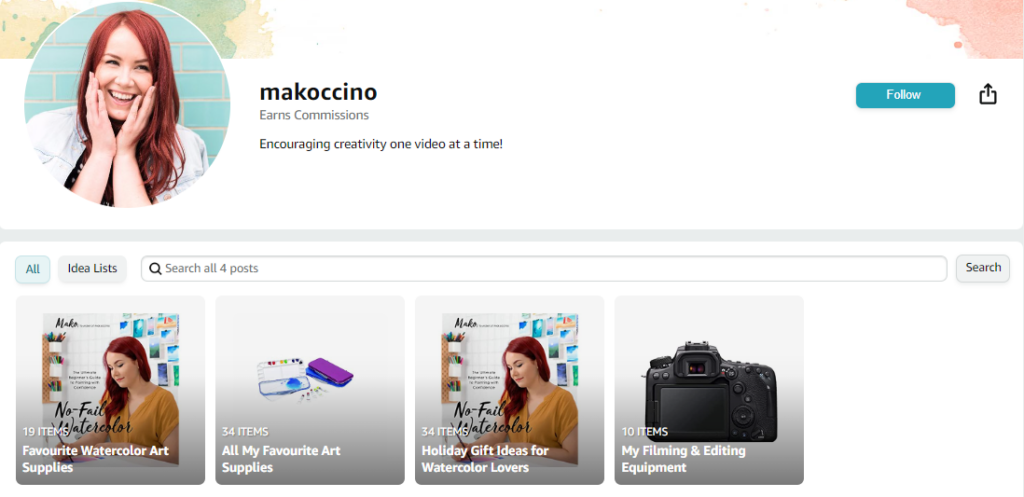 As a popular YouTuber with over 2M subscribers, Mako Ccino has one of the top Amazon influencer storefronts, where she shares her courses and painting tips. Furthermore, since Mako's primary focus is on art, her product reviews stand out due to her detail-oriented nature and her creativity.
Professional YouTubers can make money by creating engaging videos. Therefore, read all about how to become a YouTuber to increase your knowledge about making money on social media.
15. Koree Ream (@kickinitwithkoree)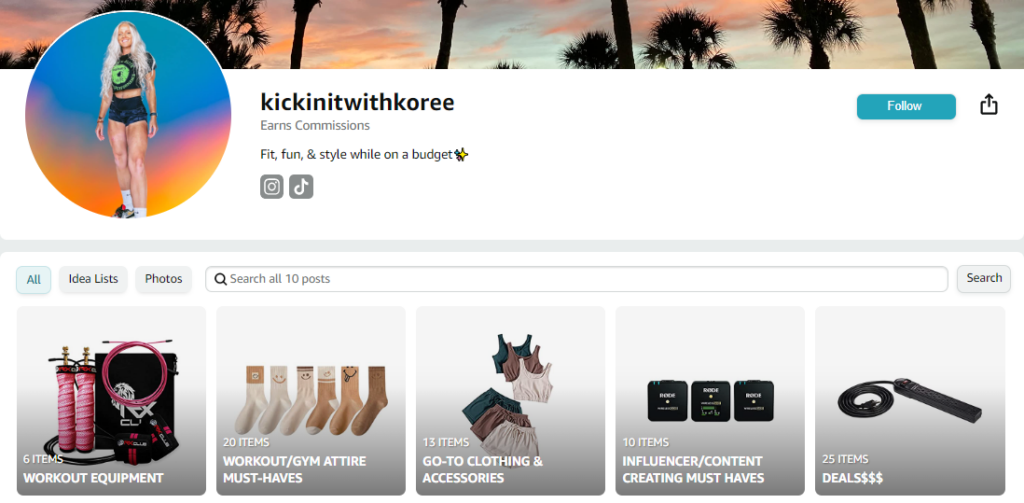 With more than 10K followers on Instagram, Koree Ream is a mindset and fitness influencer. Her reviews mainly focus on women's health and fitness items. However, Koree is an Amazon influencer whose recommendations are backed up by her personal experiences in exercising and doing fitness.
16. Felicia Day (@Felicia Day)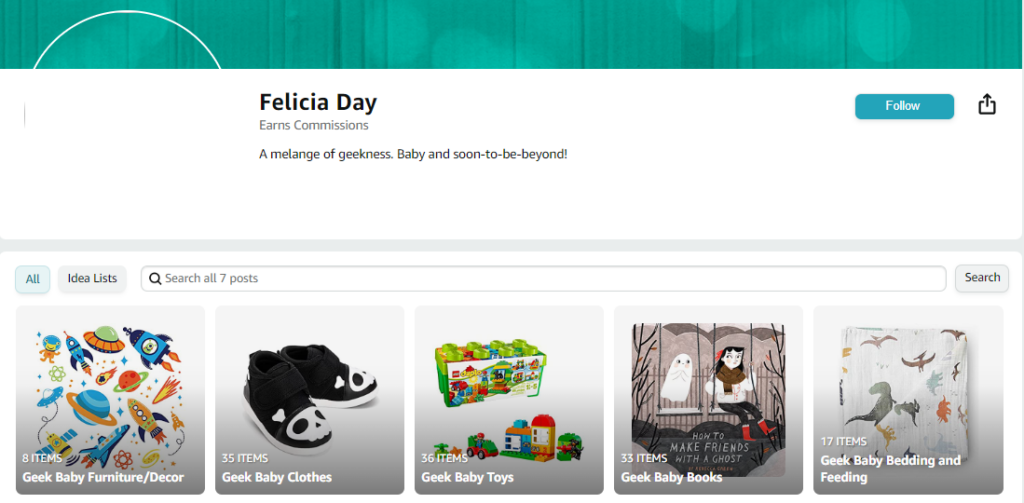 Next on our list of top amazon influencer storefronts sits Felicia Day, a prominent actress, writer, and producer. Since she is known for her work in the gaming industry, she promotes many kid-related products on her Amazon account. Furthermore, Day has founded and starred in the web series "The Guild" about a group of gamers, which adds to her popularity.
17. Leticia Gardener (@Leticia Gardener)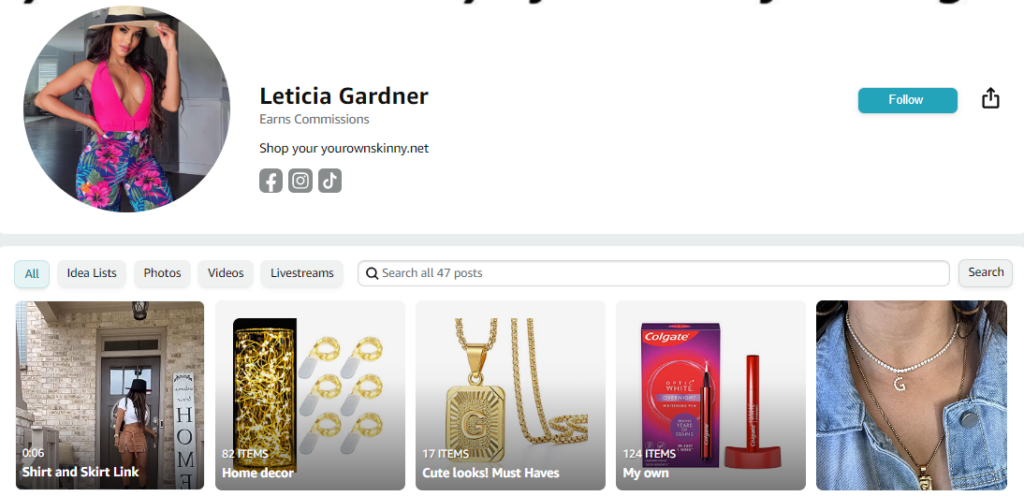 As one of the well-known TikTokers with more than 2M followers, Leticia Gardener covers various topics and products on her Amazon storefront, from fashion and beauty to baby and pet-related products.
18. Brad Kowitz (@UnlimitedRecon)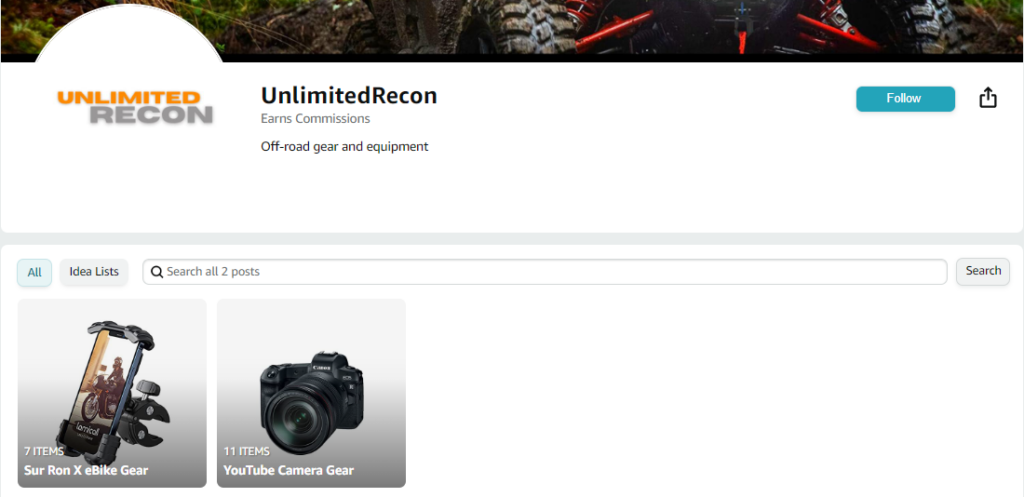 Being an expert in photography and off-road adventures made Brad Kowitz an excellent social media influencer and YouTuber. Accordingly, he is a trusted Amazon influencer who promotes photography tools on his Amazon storefront.
19. Trisha Hershberger (@Trisha Hershberger)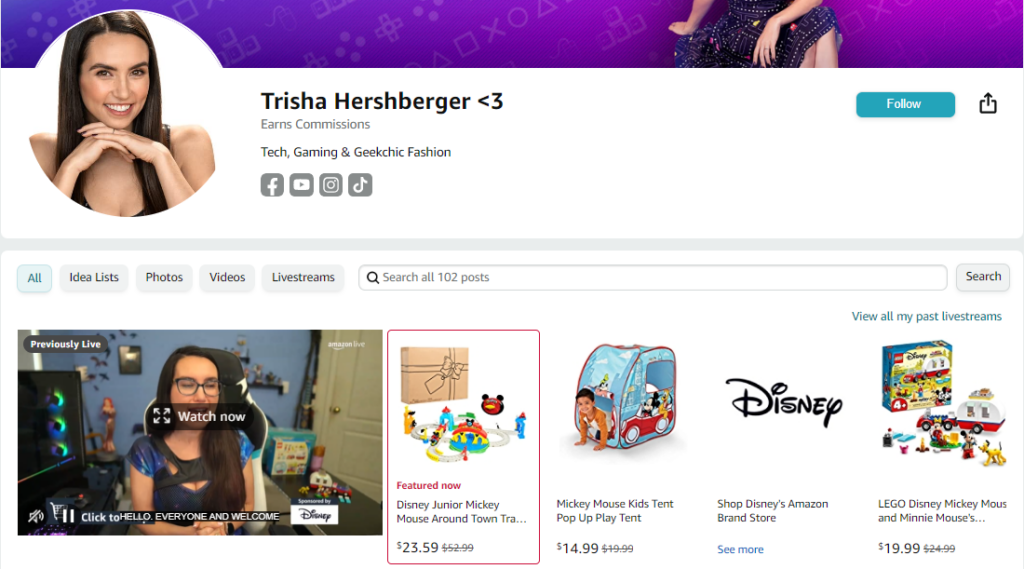 This Amazon influencer is mainly known for her work in the gaming industry. Trisha Hershberger is a social media and Amazon influencer who usually recommends and reviews gaming products for kids in different ages. Additionally, her social media accounts are filled with a wide range of topics, such as lifestyle, gaming, and technology.
20. Kristin Johns (@Kristin Johns)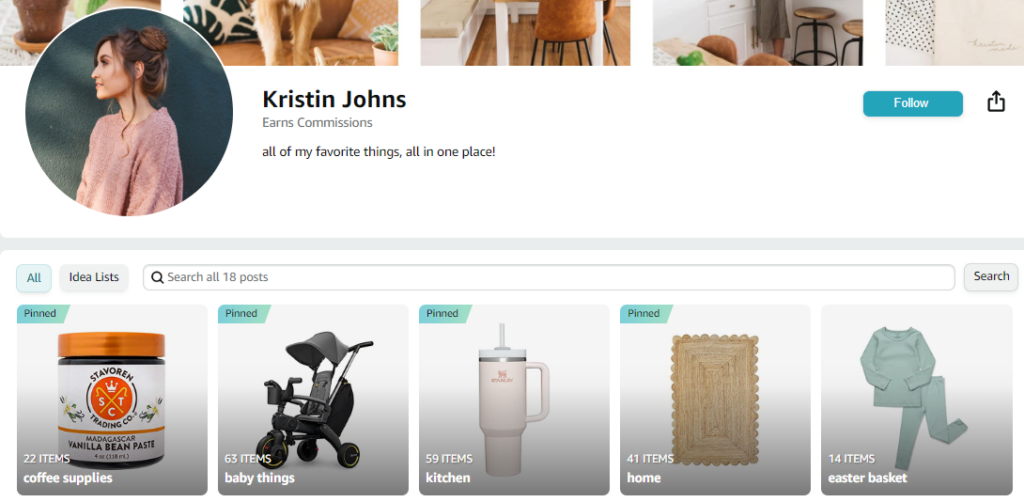 One of the other top Amazon influencers is Kristin Johns, a YouTube influencer who specializes in lifestyle blogging, including fashion, travel, tech, pets, and beauty. As a macro influencer with 680K Instagram followers, Kristin is known for her positive and relatable personality. You can find all kinds of products on her Amazon storefront.
21. Ashley Marquez (@Teach Create Motivate)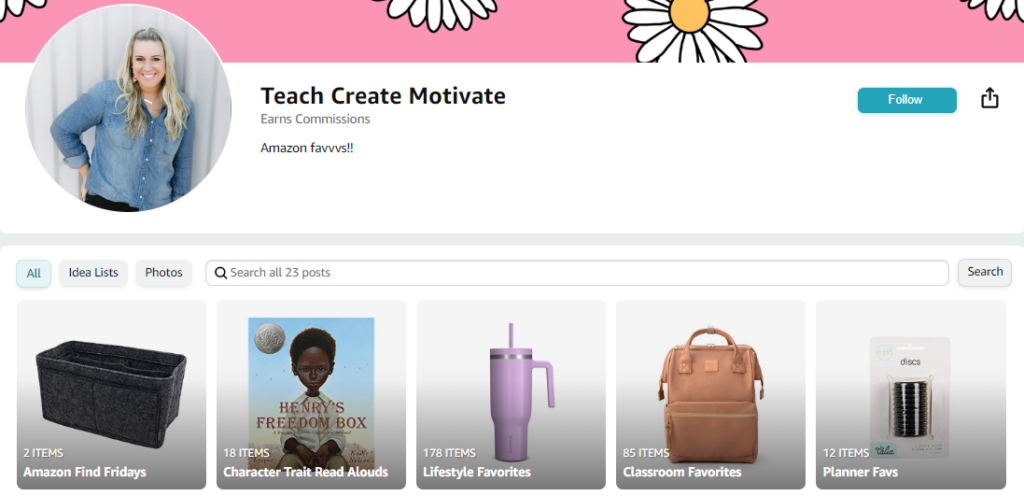 The other top Amazon influencer storefront belongs to Ashley Marquez, who is known for her honest and detailed reviews. Although on her social media accounts she usually shares tips, tricks, and motivational posts, she often recommends teaching-learning products available on her Amazon store.
22. Jamye Hunter (@Jamye's "Just Gotta Have Its")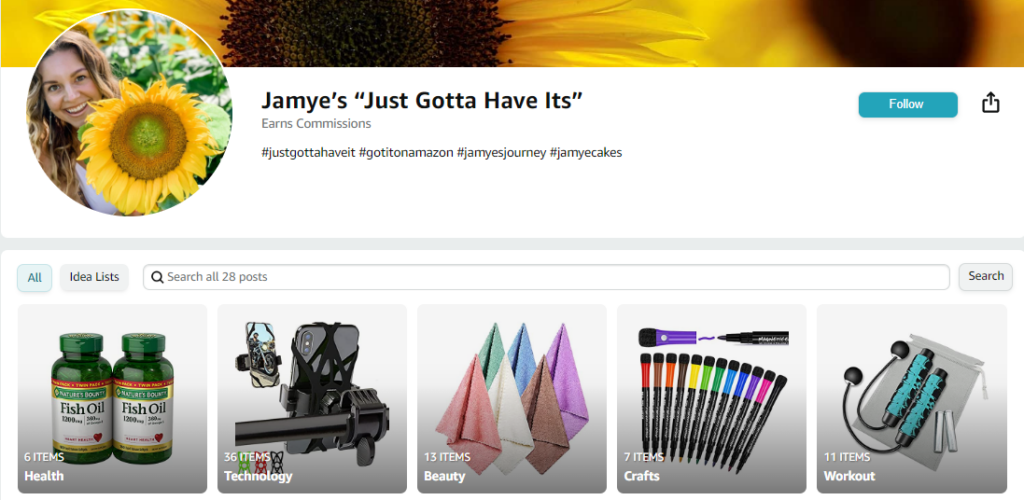 Generally, wellness influencers recommendations attract people because their followers trust them in this field. Jamye Hunter is one of the best influencers who covers topics related to fitness and having a healthy lifestyle. Her practical and relatable content brought her many followers. Therefore, they can find her favorite products on her Amazon storfront, particularly those related to home organization.
23. TbonesTech (@Shade Review / Tbonestech Store Front)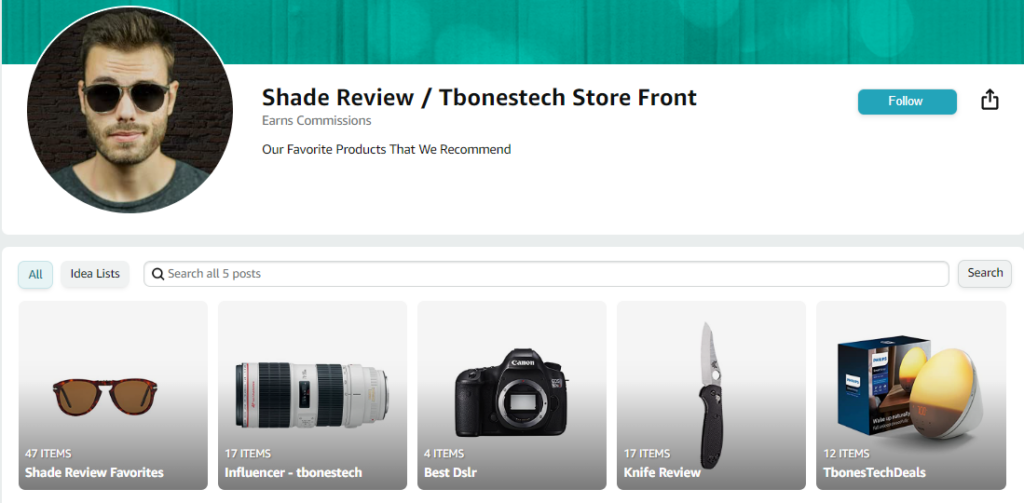 For people who love capturing amazing photos, following top photographers on Instagram is inspiring. Furthermore, they would like to have their tools and appliances to capture photos like them.
TbonesTech is a tech and photography influencer who covers topics related to photography. He has over 70K subscribers on YouTube and is known for his in-depth reviews, unboxing videos, and tutorials. Since it's important to his followers to know about the best cameras and photoshooting tools, he often recommends photography-related products and tech tools on his Amazon storefront.
24. Laura Fuentes (@Laura Fuentes – MOMables)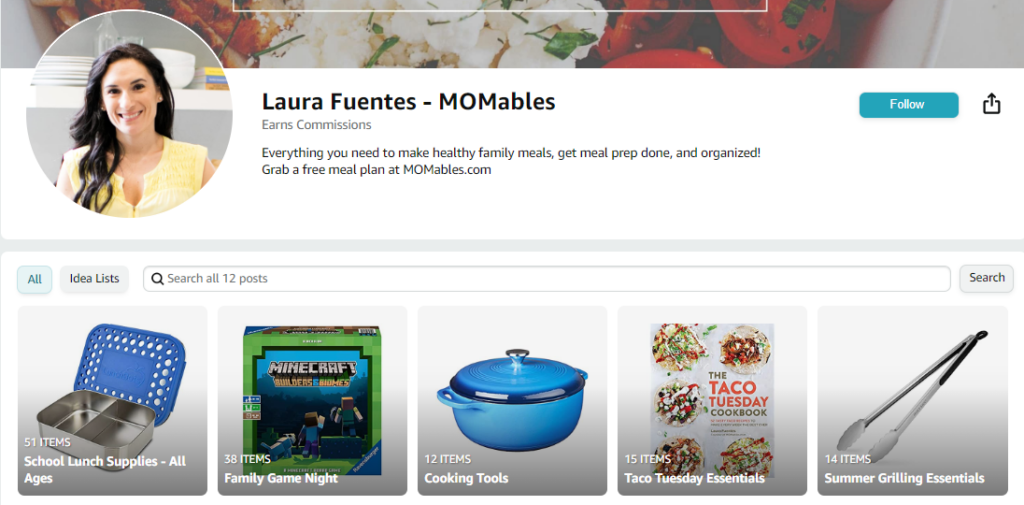 With 55K followers on her Instagram, Laura is a popular food influencer known for her practical and easy-to-make recipes. As her career shows, she is one of the best Amazon influencers for offering kitchen tools and appliances.
25. Nicole Sposato-Torres (@It's All In My Head)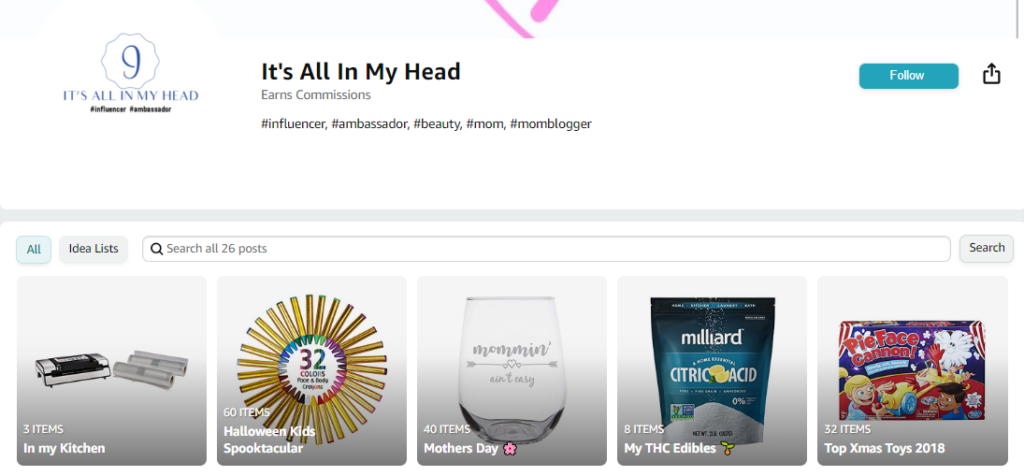 Being a mom is an experience that people share with each other. Accordingly, Nicole is an influencer on Amazon who shares mom and parenting product recommendations on her Amazon. Furthermore, she is known for her honest and informative reviews. However, her recommendations are not limited to parenting products, she also recommends beauty and skincare products as well.
26. Shana J Ray (@Shana J Ray's Faves)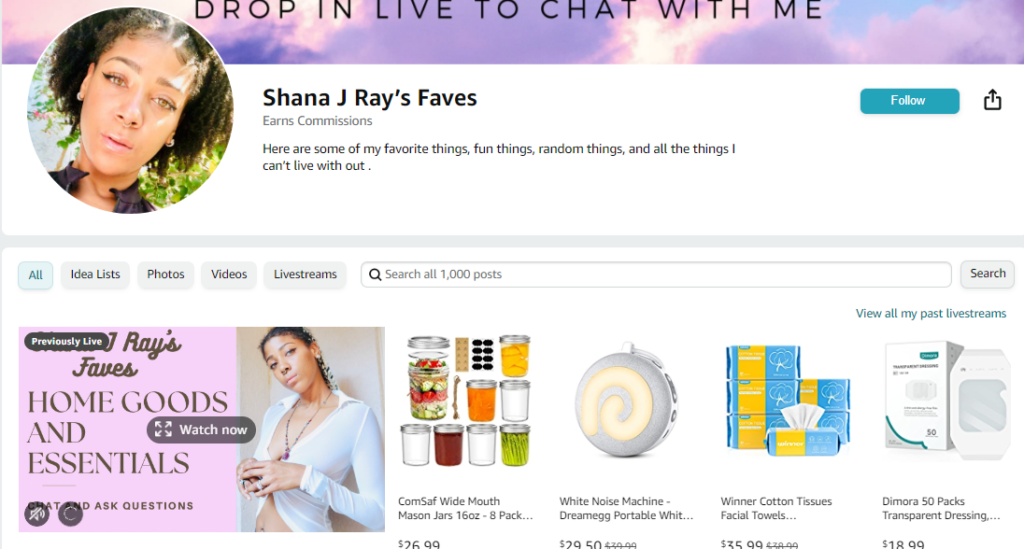 Let's meet one of the top amazon fashion influencers on Instagram. Shana Ray is another top Amazon influencer, who is an ideal choice for promoting fashion, beauty, and wellness products. As her bio says, she recommends products she can't live without.
27. Holland Paterno (@hollandsmithstyling)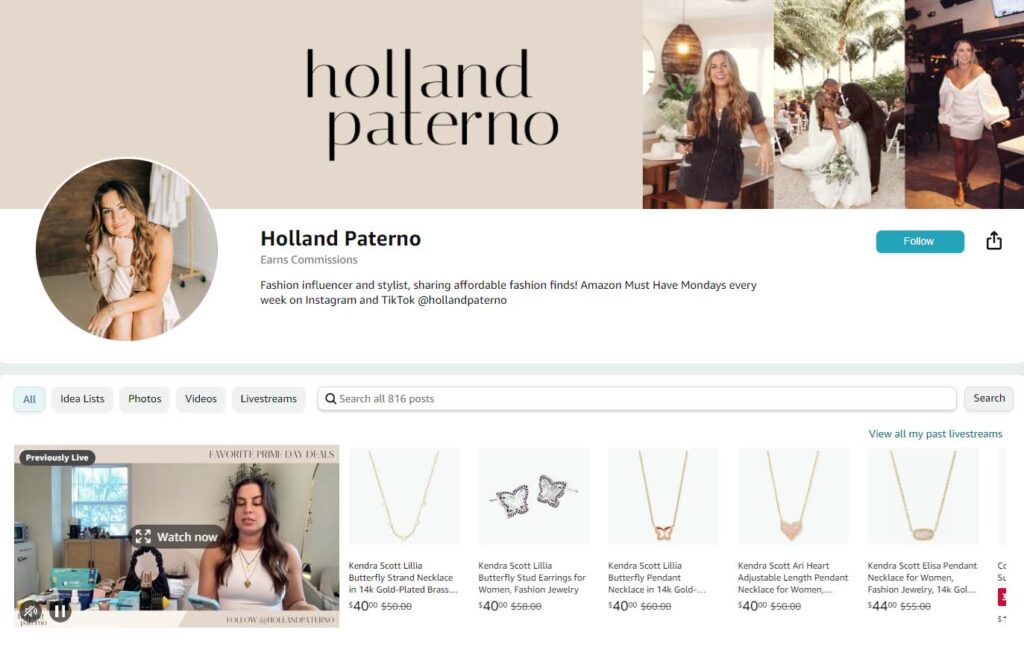 Fans of jewelries like following jewelry influencers on Instagram to be informed about the latest trends in this industry. That's how Holland makes money on Amazon. She mostly recommends beautiful accessories with great discounts.
However, that's not all she offers on her Amazon storefront. Like many Amazon influencers, Holland offers anything she likes for her daily life, from dresses to vacuum cleaner.
28. What's Up Moms (@whatsupmoms)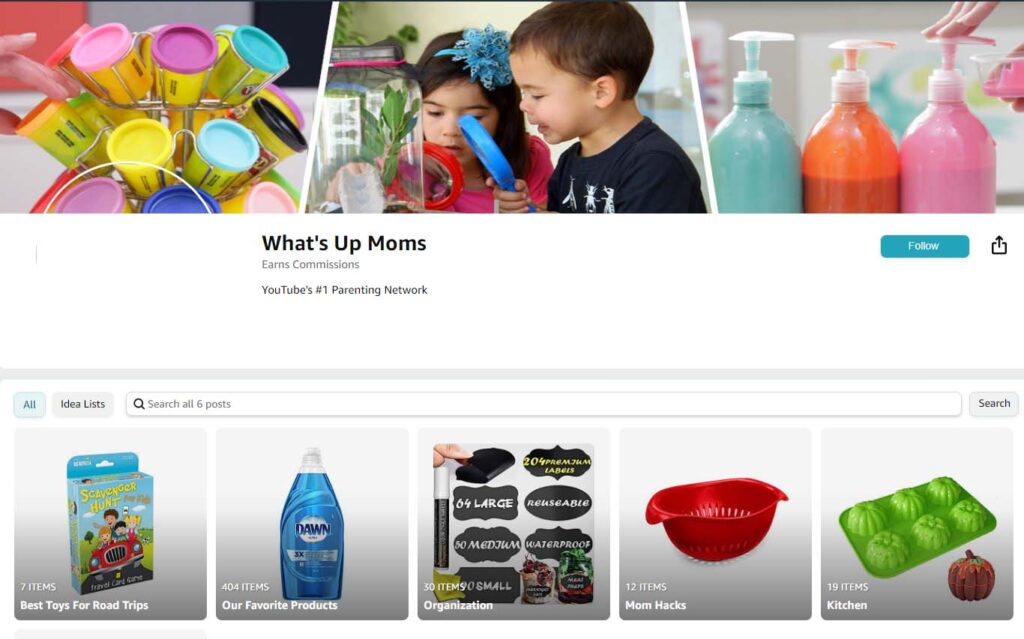 As the name indicates, this Amazon storefront belongs to a mom influencer. On What's Up Moms' Amazon storefront, you can find toys, kid crafts, and fun products for the kitchen and home.
Conclusion
Since working with influencers is becoming one of the top marketing strategies for businesses, it is important to collaborate with influencers in different platforms, like Instagram or TikTok. However, you should not forget about Amazon because it can give you more potential for selling your products. On the other hand, influencers can make more money by recommending their favorite products on their Amazon influencer storefronts. Therefore, finding the top Amazon influencers and creating a partnership can be cost-effective to brands and money making for influencers.
Check our Amazon influencer list and remember that it takes time and effort to build strong relationships with top Amazon influencers and achieve your marketing goals, so start building those relationships now.
FAQs
How Do Influencers Increase Sales?
Influencers have the power to create brand awareness. By promoting a brand or product on social media platforms like Instagram, YouTube, or TikTok, they expose it to their followers who may not have known about it before. This creates curiosity among consumers which is often converted into sales.
How Many Followers Do You Need to Be an Amazon Affiliate?
Amazon has no specific follower requirement for its affiliate program. Instead, it evaluates applicants based on their website or social media platform's overall quality and relevance to the Amazon products they plan to promote. So while having a large following can certainly help, it's not the only factor that matters.
Is an Amazon Affiliate the Same as an Amazon Influencer?
Although they are both part of the Amazon Associates Program, they are not exactly the same. The Amazon influencer program only accepts influencers with a certain number of followers, but anyone can join an Amazon affiliate, even if they are not influencers on social media. 
What is an Amazon Influencer Storefront?
Influencers who join the Amazon influencer marketing program will have a dedicated page on Amazon, which is their storefront to put their recommended products. This storefront includes product images, descriptions, and an intro about the influencer.