Many people are wondering how much do Instagram influencers make. Our recent study shows that the amount of money Instagram influencers earn has even increased significantly over the past year.
Instagram users are growing day by day. That is why companies and brands are searching for strong Instagram influencers with many followers.
They want to place ads on these individuals to gain a significant foothold in the popular Instagram community. They sometimes even want to partner with an Instagram influencer to take advantage of their followers' interaction with the brand.
If you have massive audiences on Instagram, you can become a paid influencer too.
But let's do quick math to find out how much do Instagram influencers make and everything about influencer income.
The income of Instagram influencers
If you wonder how much do Instagram influencers make, you should pay attention to different criteria and put them all together.
For example:
What kind of influencer is he? (Macro influencer, Micro influencer, or Nano influencer)
How many times a week does the influencer advertise?
Are these ads mostly done in Instagram Stories or posts, and what methods of content production (photos, videos, etc.) does it use?
What is the price of each ad on his page?
Engagement rate of influencer's Instagram account
As you noticed, the last factor is the engagement level on the platform. If the engagement is high, it is easy to see why brands are willing to pay to have ads on their page. When a post receives enough likes and comments, it may earn the right to appear on the explore pages of supplemental feed for a specific time.
These factors determine "how much do Instagram influencers make" because they promote their page based on a specific policy.
Some people try to have a certain number of ads per week and do not publish more than that, but others accept all the offers regardless of the number of ads and generate total revenue.
So not all Instagram influencers earn the same amount, even with the same number of followers.
So before telling you some exact numbers, let us break down some of our factors.
Types of Influencers
If we want to know "how much do Instagram influencers make" or the average influencer salary, we should first see what type of Influencers we are talking about. 
Mega influencers have 1 million followers or more. Often include celebrities such as singers, footballers, TV, and movie actors. Of course, some people have achieved great fame and popularity only in virtual networks. They have the highest Instagram influencers salary.
Macro influencers have 100,000 to one million followers. This type of Instagrammer is often looked to for recommendations, and their passion, experience, and authenticity make their advice more credible and impactful.
Micro influences have 10,000 to 100,000 followers. Micro influencers often work with start-ups and smaller brands. Micro-influencers costs are lower than those of macro influencers, but many followers still trust them due to their greater focus on their expertise and high audience engagement rate.
Nano-influencers have 10,000 followers or less. Usually, influencers in this category are only helpful in their geographical area. That is why they are also called local influencers. Compared to other influencers, working with these people will not bring many visits and desired results. But the positive thing about these people is their very close relationship with each of their followers.
If you are any of the above-mentioned types, you can apply to be an influencer on our platform, Ainfluencer to pitch to brands.
How to find Instagram influencers
Influencer marketing can help you reach more audiences, build credibility and trust, and increase brand awareness. But to run a successful influencer marketing campaign, you need to identify relevant and well-matched influencers.
Now that you know the different types of influencers and the importance of working with them to grow your business, let's see how to start collaborating. There are couples of ways to find influencers in your niche, such as searching Google, checking related hashtags, checking competitors, etc. But the most straightforward way we recommend to you that helps you save so much time and make it easier for you is using an influencer and ad marketplace.
Ainfluencer is a free ad marketplace that allows brands to find Instagram influencers, connect and collaborate with different types of them.
All you need to do is sign up on the platform and follow the leads to create your first ad as a brand and business. Next, you can search thousands of influencers, find those in your budget, and invite them.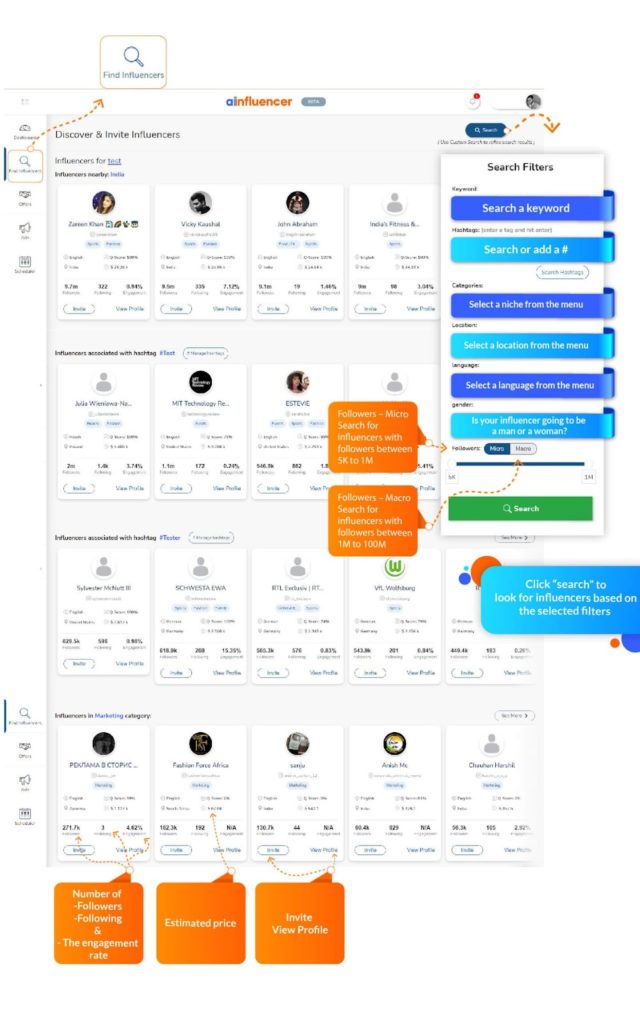 Also, influencers and Instagrammers can view your ad and send you a message if they are interested in working with you.
How Much Do Instagram Influencers Make Per Post?
For marketing on Instagram, social media influencers charge brands anywhere between $75 and $3,000 per Instagram post. For Sponsored Instagram posts an Instagram influencers salary will depend on the quality of their content and the size of their audience. Here is an average social media influencer salary in 2021:
2,000 to 10,000 Instagram followers: $75 to $250 per post influencer income
10,000 to 50,000 Instagram followers: $250 to $500 per post influencer income
50,000 to 100,000 Instagram followers: $500 to $1,000 per post influencer income
100,000 to 500,000 Instagram followers: $1,000 to $3,000 per post influencer income
500,000+ Instagram followers: $3,000+ per post
This is how influencers are getting paid per post and average influencer salary, although there are plenty of other collaboration types that are more complicated to calculate.
How to grow followers on Instagram?
Before you start making money on Instagram, first, you need to know how to increase your followers on Instagram and become an influencer. Suppose your Instagram influencer page's performance isn't quite as robust as you were hoping. In that case, it's time to learn how to grow your audience organically and increase your social media influencer salary. Here are some tips on how to monetize Instagram and boost influencer income:
1. Interact with your followers
One of the best ways to make users aware of your page to increase your social media influencer salary is interaction with your followers. You can jump into their conversations in the comments and answer DMs questions, like their comments. If you have more time, you can try liking their posts, viewing their stories, and leaving comments. This strategy can be beneficial when you have a small audience to increase your average influencer salary.
2. Optimize your Instagram bio
Your Instagram bio is the first place your page visitors check, so by completing your bio and using a good profile picture, users will know about your service, and you can monetize Instagram. Use a high-quality image with a simple background for your profile. Also, keep your username search-friendly so the visitors can remember it.
Another tool you can use in your bio for making money on Instagram is adding a clickable link to your bio.
3. Use Hashtags
One of the best ways to bring your content on top and in front of a larger audience is by using top and trend hashtags on your posts. By using trend hashtags in your niche, you can organize your posts, and your content will appear for users who search and follow the hashtag. You can find these tags related to your post by searching in Google or using an Instagram hashtag generator tool and find them in a blink. This is one of the best answers to monetize Instagram as an influencer.
Other types of collaborations
Influencers' income is different from company to company, so it is essential to know this upfront.
In addition to that, some companies want their influencers to pitch their product/service, while others want them to build buzz around their brand/product.
Here are some of the most common ways to increase your influencer income:
One way they can make money is through revenue sharing, which means that each time one of their posts is liked or shared by one of their followers, they receive a portion of the center's revenue.
Another way is to receive a flat fee from a company or agency in return for having their content syndicated across multiple platforms.
A third method that some Instagram influencers use to increase their visibility and start making money is selling advertising on their pages. An excellent example of an advertiser offering space on a page for one price is Google AdSense.
If Instagram influencers produce high-quality content that entices readers, offers tips and tricks, and provides insightful thoughts, they can see a steady stream of money coming in month after month.
Others offer Pay per Click advertising. But the best way to start making money on these platforms is by using advertising opportunities that you can monetize with your account.
The last method for influencers getting paid is by promoting a product or service on your social media accounts.
It is wise to consider all of these carefully and decide which collaboration type suits your business most.
Conclusion
Influencers on Instagram can creatively advertise in various ways, including video, photo, selfie Story, banner Story, and more. Some have even started making money through podcasts and series for IGTV. So you can advertise using all kinds of content forms.
But through these methods, videos cost more because they are more involved in terms of content production and require a more detailed scenario.
As we mentioned earlier, their payments may vary, but a promotional post may cost somewhere between $75-$3.000 based on the number of followers an Instagram influencer has. In this article, we showed you how much do Instagram influencers make, different types of influencers, how to increase your followers, and all you need to know about Instagram pay.
1- How do you get paid on Instagram?
Here are different ways to make money on Instagram: 
To get sponsored by brands and work as an influencer
Be an affiliate marketer
Earn money for your content through tips and ads
Sell your own products and become an entrepreneur
2- How much do Instagram influencers get paid?
Here is the formula: the more followers and more posts you have, the more money you can get as an influencer. Influencers with a million followers can earn around $670 per post. A content creator on Instagram with 100,000 followers can earn about $200 per post, while someone with 10,000 followers can make about $88 per post.