If you want to expand your brand's reach and do brand marketing, China is a great place to do so. But if you want to increase your brand's exposure in China via Instagram, you'll find it challenging to find the best Chinese influencers.
Although Instagram has been officially blocked in China, approximately 4 million Chinese citizens still access it by means of virtual private networks (VPNs). This means there are lots of Chinese bloggers available to collaborate on Influencer marketplaces.
However, if you want to grow your brand in China via their active fan following, this blog will present a list of 20 Chinese influencers on Instagram you may wish to contact.
How to find Chinese influencers on Instagram?
It can be a time-consuming process to find the right Chinese influencer to contact for the goal of promoting your brand.
However, you do not need to worry about this because one of the top-rated influencer marketing platforms, Ainfluencer, is here to assist you.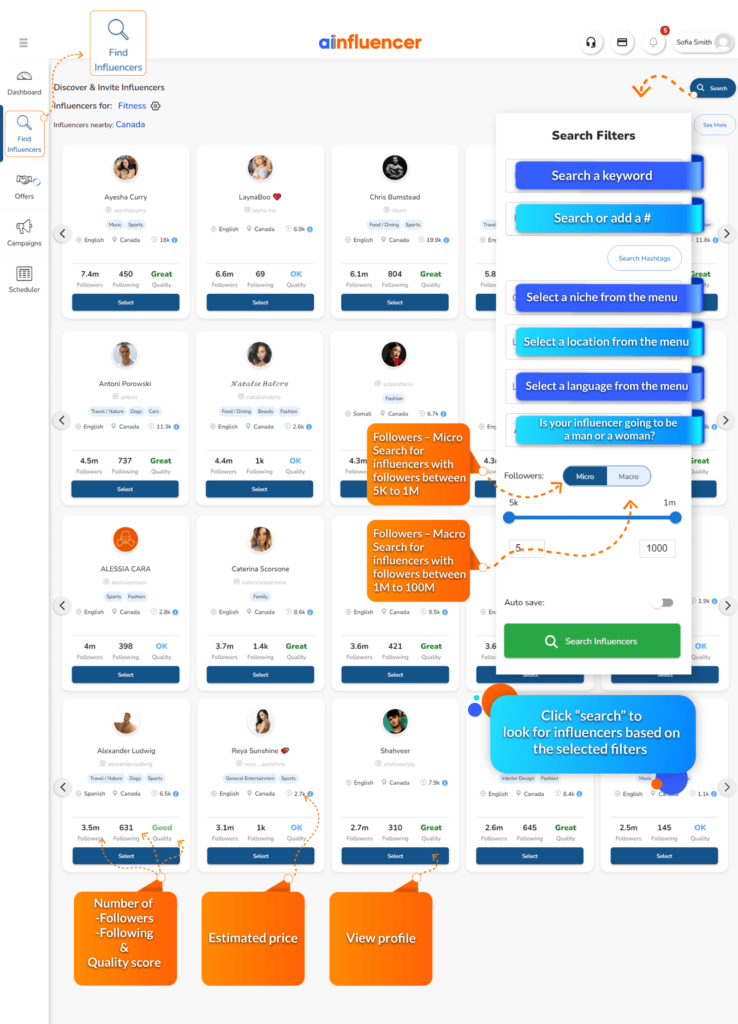 Ainfluencer is the first DIY 100% free influencer marketplace in the world! Whether you're an influencer or a brand, you can utilize any of Ainfluencer's features at no cost to you. All the transactions you plan to do within the app will be completed swiftly and safely. As a brand, you may discover which influencers are most beneficial to your business.
Using Ainfluencer, brands and influencers can find and contact each other to negotiate the terms of influencer marketing campaigns and close deals.
Brands can use Ainfluencer's powerful search options to identify and get in touch with suitable influencers (such as Chinese influencers) for collaboration based on a variety of criteria, such as geography, gender, language, hashtags, follower count, and more. So, What are you waiting for? Give Ainfluencer a try!
Top 20 Instagram Chinese influencers to grow your brand
If you're looking to expand your brand into China, these are the top 20 Instagram Chinese influencers to follow and contact.
1. Zhang Dayi (@milksmellbest)
Zhang Dayi initially entered the fashion industry as a model, and her success in that field led to her becoming a renowned Chinese influencer. After seeing significant demand for her chic clothing, Zhang decided to launch her own retail outlets. As of 2017's SIngles' Day, she had made 100 million RMN in sales. Dayi is a huge deal in the Chinese fashion influencer industry and retail e-commerce, with her 20 million followers.
2. 李元玲 (@cathrynli)
Cathryn Lee is one of the most well-known Chinese female Instagram models and influencers. She has many talents, including classical piano, acting, fitness, ballet, NFT cosplaying, and gaming. There are already more than 3 million people that follow her on Instagram. In the world of Chinese fashion, she is among the top influencers.
3. Lim Shang Jin (@limshangjin)
Lim Shang Jin was born in Malaysia but currently lives in China, where he is recognized as a Chinese influencer among Chinese youth. He has over 341K Instagram followers and over 700K YouTube subscribers.
4. Feng Yi (@fengyilu)
The Chinese Instagram influencer, Feng Yi, is a multi-talented performer who models, dances, and travels extensively. For the time being, he resides in Frankfurt. He currently has 328K followers on Instagram.
5. Hu Bing (@hubing)
A multi-talented Chinese influencer, Hu Bing has worked as an actor, model, singer, designer, and producer in his homeland. He's been a top male model in China since 1990, when he first began out.
After being the first Chinese male model to appear on international catwalks, he gained the title of "Top Chinese Male Model" in 1991. There are presently 747K users following him on Instagram.
6. Zhou mi (@zhouzhoumi419)
Zhou Mi is a member of the Chinese boy band Super Junior-M as well as a singer, actor, songwriter, and presenter in South Korea and China. He has amassed 1.2M Instagram fans at the moment. He is considered a great Chinese influencer as well.
7. Tiffany Tang (@tangyan1206)
Tiffany Tang is a Chinese actress and singer and Instagram influencer. Among the many popular figures in Chinese fashion-influencers, she has widespread adulation. She has 396K followers as of right now.
8. 溫舒森 (@Wshusen)
Shu sen is one of the rich Chinese girls on Instagram. She has over 687K followers on Instagram and 464K+ on Youtube, and she is currently residing in Taiwan.
She's been a model for a wide variety of well-known brands. She also enjoys exploring the world.
9. Charlene Liu 查理 (@coindevanity)
One of the top Chinese bloggers is Charlene Liu. Photos from her daily life are typical of what she uploads. She has gathered over 315K Instagram followers at present. Her typical topics include her approach to fitness as a fitness Chinese fashion blogger and her way of life.
10. Liu Wen (@liuwenlw)
The NYT called Model Liu Wen "China's first supermodel" in 2012. This Chinese influencer was an Asian model for "Victoria's Secret" in 2009. In 2012, AskMen recognized her as one of the 99 most beautiful individuals in the world.
In November 2013, she won "ELLE International Idol Supermodel." On July 26, 2014, she became the first Asian model to make MDC's "New Supers" list. She currently has 6M followers on Instagram.
11. Gloria Tang (@gem0816)
G.E.M., or Gloria Tang, is a Chinese influencer and songwriter.
Presently, she has 7M Instagram followers. She also has 2.61M subscribers on Youtube.
12. Angelababy (@angelababyct)
Angela Yeung Wing, or Angelababy as she is more well known, is a rich Chinese influencer. She's been a model for a long time and a TV regular. Currently, she has gathered a following of 11M people on Instagram.
She deserves recognition as a significant Asian influencer and blogger as well. She has multiple careers, including those in music and the fashion industry.
13. Rayn Feng (@dmfung)
Rayn Feng is a popular male Chinese model and influencer on Instagram. He has 56.9K followers and many gym selfies in his feed, indicating that he is a fitness fanatic.
14. Xia Han (@hx1125)
The Chinese blogger and artist, Xiao Han is originally from Wuhan, but she now makes her home in Saskatoon. As shown on her Instagram account, Han has taken some stunning photographs. She has amassed a current following of 73K. She is one of many famous Chinese Instagram influencers.
15. Tao Liang (@mrbagss)
One of the most popular Chinese fashion influencers is Liang Tao. With over 54K Instagram followers, he reportedly sold around 3,24M RMB in purses in just six minutes. He is a significant Asian influencer and a Chinese male model on Instagram.
16. Ava Foo (@avafoo)
Ava Foo is a well-known fashion Chinese blogger and influencer. She has more than 30K people following her on Instagram.
17. Crystal (@thegirlcrystal )
Crystal is an artist as well as a Chinese influencer. As a Chinese fashion blogger, she has over 64K people following her on Instagram. This rich Chinese girl uses Instagram to showcase her extravagant taste in fashion and accessories.
18. Nikki Min (@nikki_min)
Nikki Min is one of the most stylish Chinese influencers and models on Instagram. She's a fashion blogger and icon with over 33.6K Instagram followers. Her feed clearly shows she has an excellent sense of style.
19. Lucia Liu (@lucialiustylist)
Aside from appearing on China's Next Top Model in 2015 and being the brains behind the wardrobe for Divorce Lawyers, one of the most successful Chinese TV shows in Asia, Lucia Liu is one of China's most in-demand stylists and one of the best Asian influencers out there.
She was the first executive deputy editor and fashion director for T Magazine China. She is a famous Chinese influencer in the Chinese fashion influencer industry on Instagram, with over 70,8K followers.
20. Carrie Tong (@cisforcarrie)
Carrie tong is a new face in the Chinese fashion influencer industry, and she is getting ready to become a very well-known Chinese influencer in the future. She is currently a Chinese fashion blogger, and she has over 14.1K followers.
Conclusion
We enlisted different Chinese influencers from different niches in this blog just for your brand. Whether you're looking for a rich Chinese girl Instagram model or a Chinese fashion influencer, we got you covered. To aid you in expanding your business in China, we've compiled a list of the top 20 influencers in the country.
1- How much do Chinese influencers get paid?
The most influential specialized bloggers earn between RMB 100,000 and 300,000 per post.
2- Who is the most influential influencer?
First on the list is Cristiano Ronaldo, who currently has a total of 484.3 million followers across three social media sites. Next is Justin Bieber with 420.54 million follower count; Ariana Grande, 398.3 followers; Selena Gomez, 380.75 million followers; and Taylor Swift with 354.4 million followers
3- Are there influencers in China?
In recent years a number of Chinese influencers have risen to prominence as KOLs – providing marketers across the globe with sought-after access to Chinese consumers.