Over a billion people regularly use Instagram, making it one of the most popular social networking programs available. Finding the proper influencer to follow isn't easy, and it's even more challenging when you're seeking a specific subset of influencers. For example, if you want to find top Christian Instagram accounts you should do several searches.
Whether you are looking for Christian bloggers to follow or collaborate with, you can use one of the influencer marketing platforms to find them.Thanks to our extensive research, we have identified the top Christian influencers on Instagram, which are listed below.
How to find Christian influencers
If you have ever wondered how you could discover the best Christian Instagram accounts, here are a few options that might work for you to get what you want.
Take a look at the most popular Christian influencers-related hashtags like #Christian, #Christianliving, #Christianity, and more.
Browse 'Location' tags to look for Christian influencers in a specific location.
Google 'Christian Instagram accounts' or 'Top Christian bloggers on Instagram' to yield several results to select.
Use the 'Suggested' feature of Instagram to search for similar Christian influencers to those you already have in mind.
Use influencer marketplaces such as Ainfluencer, which can help you find thousands of influencers on Instagram and TikTok. 
Let's take a deeper look at what Ainfluencer is and how it can help you grow your business.
Ainfluencer: The Best Influencer Marketing Platform
Finding the best Christian Instagram influencers through Ainfluencer is one of the simplest methods, whether your goal is to collaborate with them, or check out who are currently the top Christian bloggers on Instagram. 
Ainfluencer is an influencer marketplace where companies and influencers can connect to strike mutually beneficial deals that benefit both parties. It's free of charge and easy to use.
Unlike most influencer marketing platforms, you don't need to pay any price for a subscription. So, you can create a campaign, find influencers, or use other features for free. It is important to ensure that payment to influencers is made only after mutual agreement has been reached.
Therefore, it will be more cost-effective for businesses to collaborate with influencers using this platform. Not to mention every transaction you do in the app is completely secure and safe because Ainfluencer has an Escrow system that safeguards your payments to influencers and guarantees influencers receive their payments.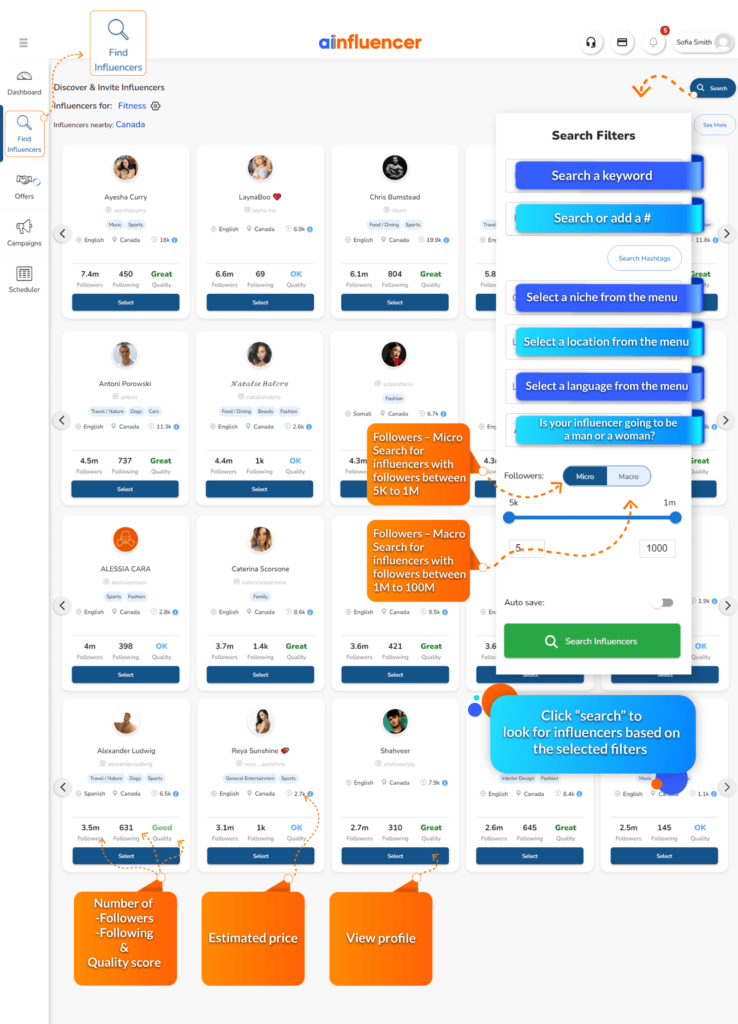 You may wonder how you can find Christian influencers with Ainfluencer.
The method is straightforward; after signing up on Ainfluencer, navigate through the 'Find Influencers' tool. In this place, you can search for influencers based on category, location, gender, number of followers, language, and the hashtags they use.Since influencers use hashtags related to their profession, you can find Christian influencers using the relevant hashtags.
top 45 Christian Instagram influencers to follow in 2023
Here is the list of the top Christian influencers on Instagram who work in different niches.
1. Ella (@daysof.ella)
With over 7K followers, Ella is a Christian Nano influencer with more than five years of expertise in photography, and video editing and more than eight months of experience in content creation. She is pursuing her bachelor's degree in psychology right now. However, whatever she posts on Instagram doesn't have anything to do with it.
On Instagram, Ella is a Canadian Instagram influencer who shares her daily outfit to show her followers that they don't have to be slimy to be beautiful and modern.
Currently, she has collaborated with brands including "Mejuri," "Bubble," "Salty Crush," and more. Her Instagram profile serves as a portfolio, where brands may view samples of her work to gauge interest in collaborating with her.
2. Alicia (@loveablelyns)
This Christian influencer is a Birth & Wellness consultant, so she's your best bet if you're in the market for both. On her website, Alicia describes herself as an 'empath who wears her heart on her sleeve,' and she writes extensively about her experiences as a mother of four as well as anything one may want to know about holistic living. She has almost 10K followers. She regularly updates her Instagram with adorable photos and videos of her kids dancing to TikTok.
3. Cameron Kinley (@ck3thethrill)
One of the top Christian bloggers on Instagram is Cameron Kinley. A self-proclaimed 'man of god,' he frequently addresses crowds on a wide range of themes. He recently finished the naval academy and is now working as a coach.
His other accomplishment was being a top athlete. In addition, he published a podcast that is accessible through several sources. His Instagram following has grown to almost 11K people.
4. Lady D'Argento (@the_silver_canuck)
Do you think silver hair is not attractive enough? Check out Lady D'Argento Instagram account for inspiration.
Lady D'Argento is a stunning Christian influence who you should look up to. She may be 54 years old, but that doesn't make her any less of a silver hair inspiration. Selfies and photos of her exquisite outfits that highlight her gorgeous silver hair adorn her Instagram feed. She has amassed around 32K Instagram followers at the present time.
5. Aly (@allmumstalk)
Aly is a mother of three and a London resident. She is a digital artist who frequently shares stunning images, either showcasing her incredible fashion sense or the adorable antics of her young children.
Her Instagram is worth checking out because she frequently posts photos there. At the present moment, she has over 33K Instagram followers.
6. Hannah Westby (@hanwestby)
Being a mom is so enjoyable! You will see this love on Hanna's Instagram profile. As one of the top Christian influencers, Hannah's profile is a reflection of her eclectic interests. She is interested in fashion, gardening, photography, art, clothing, home decor, DIY, and traveling.
As a true optimist, she sees the bright side of everything, and finds great joy in awakening others' appreciation for aesthetics.
This year, she plans to focus more on her website and Instagram by regularly posting new content. Now that she has a baby girl, she promises to share countless adorable photos of her new addition. To date, Hannah's Instagram following has surpassed 51K.
7. Qcknd (@quietcoolkid)
The Twitch streamer and a YouTuber, Qcknd has over 186K subscribers to her YouTube channel, where she vlogs about being an alternative vegan and talks about the setbacks of her life. You may consider her a vegan influencer, but she is mostly an artist on Instagram rather than being a vegan. She is fond of updating her Instagram account on a daily basis. At the present moment, she has amassed a following of over 53K on Instagram.
8. Janine Myska (@knitsnknotswpg)
Originally from Canada, Janine is a knitwear designer and published author. It was in 2016 that she discovered knitting and crocheting on YouTube, fell in love with them, and eventually turned them into a successful business.
Her company has expanded from its original Instagram presence to include an Etsy shop, a website, a blog, and now all of these combined. You can find her finished products/patterns on Etsy, Ravelry, LoveCrafts, her website, 'knitsnknots', and her blog called Knitsnknots.ca.
Janine has 61K followers on her Instagram, all of whom are there either to learn knitting or purchase her products.
9. Becca Bristow (@beccabristow)
As a food lover, Becca Bristow is a well-known registered dietitian. Her YouTube channel, with over 191K subscribers, is packed with evidence-based nutrition information, healthy meal inspiration, grocery hauls, non-toxic living, and glimpses into her daily life.
You can see what she's up to daily by following her Instagram account, and you can learn about the many ways she puts essential oils and other non-toxic goods to use by following her natural living Instagram. Currently, she has over 63K followers on Instagram.
10. Baris Parildar (@barparildar)
Not all Christian influencers talk about God! Some of them show you the beautiful world God has made. Baris Parildar, who is also one of the top Instagram travel influencers, is one of them. Beautiful photographs he has shot dominate his Instagram feed. Some of his videos get over 100K views on YouTube despite having less than 10K subscribers.
Such video creation appears to be his full-time occupation, prompting the question, "How do travel influencers make money?" Baris has more than 80K Instagram followers.
11. Christine Marie (@christinemariestyle)
As one of the female Christian influencers, Christine discusses the various areas of style, health, and fitness that motivate her, which is rarely seen among Christian bloggers. She started the blog so that other people might benefit from her research and experience.
Christine regularly updates her Instagram with montage videos dubbed 'GRWM' and recounts her daily activities. She has amassed an Instagram following of over 83K people at the present time.
12. Alden (@aldensteimle)
As an LA model, Alden frequently posts images of her outfits to her Instagram account. Basically, she uses Instagram to post regular updates about her life. She has more than 83K people following her on Instagram right now. The photos on her Instagram account are artfully composed.
13. Alli Koch (@allikdesign)
Dallas-based artist Alli Kock is most known for her large-scale floral murals, which may be found in cities across Texas and beyond. Known as one of the top art influencers on Instagram, Alli has leveraged her talent and dedication into a successful career that has brought her widespread recognition in art.
Alli has collaborated with companies like 'Domestika' and 'Create and Cultivate' to encourage people to try their hand at art and illustration. She is the author of eight books so far. Two of her books, 'How to Draw Modern Florals' and 'Bloom', are available on Amazon. As of this time, she has amassed over 85K Instagram followers.
14. Valorie Darling (@valoriedarling)
When it comes to wedding photography, Valorie is at the top of her game. As one of the top wedding influencers on Instagram with 88K followers, she photographs weddings, boudoir sessions, fashion editorials, and lifestyle shoots.
Her work is reminiscent of that of a National Geographic wildlife photographer, except that instead of learning about the plumage and behaviors of tropical birds, she has learned to appreciate the poetry of people and the rituals and small moments that add up to love.
Vogue, People, Elle, Martha Stewart, BRIDES, and Over the Moon are among the magazines that featured her work.
15. Beth (@bethsandland)
Considered an Instagram mom blogger, Beth is self-employed as a Christian influencer, blogger, and general-purpose jack-of-all-trades based in London, UK. Follow her on Instagram to see her drool-worthy trip posts and authentic, unfiltered photos of her life and style. Nearly 105K people now follow her on Instagram.
16. Aaron O'Connell (@aaronoconnell)
American actor and male fashion model Aaron John O'Connell. Even though O'Connell was a college student in 2006, she signed with Ford Models. Magazines such as GQ, Vanity Fair, Vogue, Vogue Paris, Arena Homme +, and VMAN have highlighted him.
In addition to Abercrombie & Fitch, Hanes, Lucky Jeans, Ralph Lauren, Champion, and Jockey have all been represented by O'Connell. Presently, Aaron's Instagram following exceeds 94K.
17. Beckie Hart (@beckiehart_)
The London-based Christian influencer, Beckie Hart is a content creator specializing in fashion, beauty, and lifestyle topics. She has more than 122K followers on Instagram, and frequently posts content about fashion on this platform.
18. Sebastian Topete (@sebastiantopete)
Over 2.9M people follow Sebastian on TikTok, where he has become famous for his lip-sync videos to the music of singers like Lil Pump, Kid Cudi, and Kalin and Myles.
Occasionally, he creates content in collaboration with other influencers. On Instagram, where he has over 511K followers, he regularly shares snapshots of his life, frequently with friends and other celebrities. In May 2020, he signed up to be a part of the TikTok clubhouse community.
19. Madi Teeuws (@madtev)
Professional Christian influencer, and model Madi Teeuws, is well-known for being signed with multiple major modeling agencies. Represented by Industry Model Management in Los Angeles, Elite Model Management in Miami, and PRM Modeling in London.
In addition, she has over 559K followers on Instagram, where she often posts images of herself and her modeling work. She also co-starred with Howie Mandel on the game show Deal or No Deal, where she became known as briefcase model #15.
20. Xavier Dolan (@xavierdolan)
With 905K followers on Instagram Xavier Is a Christian influencer, director, actor, and costume designer from Canada. He started out as a child star in commercials before moving on to direct many independent features.
In 2009, he directed, starred at, wrote, and produced his first feature film, 'I Killed My Mother' (J'ai tué ma mère), which had its world premiere in the Directors' Fortnight section of the 62nd Cannes Film Festival and went on to win three awards there.
Additionally, Dolan has directed music videos, most notably for Adele's singles 'Hello' (2015) and 'Easy on Me' (2016). (2021).
21. Sarah (@sarah_lit)
After checking out Sarah's profile on Instagram, you will hear a voice say "the world is more beautiful with cute children." Andy and Sarah's six children are all stunning.
Her blog is about things moms like her could be interested in, such as do-it-yourself projects. She's a big deal on Instagram because she blogs about home decor in addition to being a mom influencer. Famous companies like Mattel and Vici Dolls have used Lit to advertise their products. She could be considered one of the top Christian bloggers on the market as well. As of the year (2019), as a home decor influencer, Sarah appeared on a TV show called Apartment Therapy. Her Instagram account boasts well over 1M followers.
22. Jony (@jonysios)
Famous for his time-lapse cosmetic instructions and fashion-themed comedic videos on TikTok, he is a makeup artist with a large online following. Jony is a Christian influencer legend on all of the major social media sites. Now, he has over 3.2M Tiktok fans, 519K YouTube subscribers, and 892K Instagram followers.
He started uploading cosmetic tutorials to Instagram and YouTube, in February 2015.
23. Kathryn Dennis (@kathryndennis)
Currently residing in South Carolina, Kathryn Dennis is an American Christian influencer, model, author, and TV host. She became famous after appearing on the bravo reality show 'Southern Charm'.
Additionally, Kathryn was so talented that she got her first step to the industry when she was just 14 years old. Many prestigious publications, including Azalea, have featured her in their photo spreads. Currently, Kahthryn has 990K followers on her Instagram account.
24. Maeve Reilly (@stylememaeve)
Known as a famous stylist on Instagram with 1M followers, Maeve Reilly is among the best in the business. Her celebrity clients like Megan Fox and Hailey Bieber have to be on the lookout for paparazzi at all times, and this is influencing sales.
Maeve is the face of her own streetwear label. She also has a sizable online fanbase thanks to her own YouTube channel, where she has amassed nearly 70K subscribers and an average of over 200K views per video.
She is one of the most influential people in streetwear, and her designs have been featured in magazines ranging from Vogue to Vanity Fair. There are currently 1M people following her on Instagram.
25. Candace Parker (@candaceparker)
One of the most successful female Christian influencers is Candace Nicole Parker, a professional basketball player from the United States who currently competes for the Chicago Sky of the Women's National Basketball Association (WNBA).
She was taken by the Los Angeles Sparks with the first pick in the WNBA draft in 2008, giving them the overall top pick. She is also very active on Instagram. She currently has over 1M followers. So, if you own a basketball shoe brand and want to collaborate with top influencers in this field, Candace can be the best choice.
26. Chloe Ting (@chloe_t)
With 2.7M followers on Instagram, Chloe Ting is a Singaporean female fitness influencer. Whose training regimen, 'Two Week Shred Challenge,' went viral on TikTok and YouTube during the 2020 pandemic.
In March 2016, she began uploading videos on social media platforms like YouTube and Instagram. However, her videos used to be about fashion and travel, but as of 2017, she only posts fitness-related stuff. When other bloggers and vloggers tried the exercises shown in her August 2019 video, "Get Abs in 2 Weeks," it went viral.
The video has 476M views as of January 2023. Over 24.9M people have subscribed to Ting's channel on YouTube. Ting took home the Health and Wellness Streamy at this year's ceremony.
27. Bisola Aiyeola (@iambisola)
Christian influencer, actress, singer, producer, and MC Bisola Aiyeola is from Nigeria. In the 2017 season of Big Brother Naija, Bisola finished in second place overall.
She was given the AMVCA Trailblazer Award in 2018, which was presented to her at the 2018 Africa Magic Viewers Choice Awards. She presently has 3.8M followers on Instagram.
28. Tessa Thompson (@tessamaethompson)
Actress Tessa Lynne Thompson is a Christian influencer from the United States. Her professional acting career began when she was still a Santa Monica College student when she joined the Los Angeles Women's Shakespeare Company. She received an NAACP Theatre Award nomination for her performance in Romeo and Juliet and also featured in The Tempest.
Her breakout came with starring roles in For Colored Girls (2010), Tyler Perry's version of the 1976 play of the same name, and Mississippi Damned (2009), an independent drama directed by Tina Mabry. Sylvie's Love, on which she worked as a producer, earned her a nomination for a Primetime Emmy.
Furthermore, the British Academy of Film and Television Arts nominated her for a Rising Star Award that year (2017). She also has over 3.6M followers on her Instagram page.
29. Nick Young (@swaggyp1)
NBA veteran 'Swaggy P,' whose real name is Nicholas Aaron Young, is a former American professional basketball player, now has 3.4M followers on Instagram.
In college, he was a two-time first-team all-Pac-10 basketball player for the USC Trojans. With the sixteenth overall choice in the 2007 NBA draft, Young was taken by the Washington Wizards. In 2018, he and the Golden State Warriors won the NBA title. 3.4M people follow him on Instagram right now.
30. DeWayne Colley (@kountrywayne)
A Christian influencer, American comedian, social media star, and actor Wayne Colley is better known by his stage name, King Kountry Wayne. Most people know him from the humorous films he posts on social media platforms like Instagram and YouTube.
Kountry Wayne, as one of the top Instagram comedians. Is one of the active users on social media who upload new comedy skits almost every day.
In 2019, he launched a self-titled channel on YouTube, where he regularly posts comedic videos. Since his channel's launch, it has amassed over 458K subscribers and 163M video views. He also has over 3.5M followers on Instagram.
31. Camila Morrone (@camilamorrone)
The American Camila Rebeca Morrone Polak is a Christian influencer who has skills in beauty blogging, modelling, and acting. She debuted in the James Franco movie 'Bukowski.' She also has roles in two films screening at the Sundance Film Festival in January 2018: 'Death Wish' and 'Never Goin' Back.'
Early in her career, she was featured on the cover of the Turkish version of Vogue. In addition, she appeared on the catwalk with Moschino's 2017 resort collection. She currently has over 3.6M followers on Instagram.
The fun fact is that Morrone was in relationship with Leonardo DiCaprio from 2018 to 2022, adding to her popularity.
32. Shelley Hennig (@shelleyhennig)
One of the top Christian girl Instagram influencers to know is Shelley Catherine Hennig. Among the many honors bestowed upon her are a Teen Choice Award and two nominations for the Daytime Emmy.
Hennig won the Miss Teen USA 2004 pageant before pursuing a Hollywood career. Having made her name as Stephanie Johnson on Days of Our Lives (2007-2011, 2017), she went on to star in The CW's supernatural adolescent drama The Secret Circle (2011–2012).
She is most known for her role as Malia Tate in the MTV supernatural drama series Teen Wolf (2014-2017), however, she has also had appearances in the films Ouija (2014), Unfriended (2014), and When We First Met (2018). She currently has 3.6M followers on her Instagram account.
33. Thomas Doherty (@thomasadoherty)
Born in Edinburgh, Thomas Doherty is a Christian influencer, Scottish actor and singer. He is best known for his appearances as Harry Hook in the 'Descendants' film series, Max Wolfe in the HBO Max version of 'Gossip Girl,' and Walter Deville in the film 'The Invitation.'
Furthermore, he made his audio debut in the 2022 miniseries 'The Inventor's Apprentice,' playing the part of Horatio Godkin. 4M people follow him on Instagram right now.
34. Jena Frumes (@jenafrumes)
Over 4.8 million people follow Jena on Instagram, making her a famous model. If you are looking for a Christian girl's Instagram account you can give her page a look. Several online communities have dedicated posts about her.
Numerous vlogs, challenges, and updates on her personal life have been uploaded to the YouTube channel bearing her name. Over the course of her time in that community, she has amassed over 454Kfollowers.
35. Céline Dion (@celinedion)
Canadian Christian influencer and singer Céline Marie Claudette Dion CC OQ is renowned for her strong and technically proficient voice. She is the best-selling Canadian recording artist of all time and the best-selling French-language singer of all time.
Pop, rock, R&B, gospel, and even classical influences can be heard in her songs. A total of 6.2M people are following her on Instagram right now.
36. Olivia Frances Culpo (@oliviaculpo)
Actress, model, and social media star Olivia Frances Culpo was born in the United States. She began by being Miss Rhode Island USA, then went on to become Miss USA, and finally Miss Universe in 2012.
Of course, Olivia's luxurious mansion has been featured on the nineteenth season of MTV's Cribs. When Olivia won the Miss Universe pageant, she was smart enough to keep her career on track.
She then went on to star in movies including 'American Satan,' Amy Schumer's 'I Feel Pretty,' and 'Reprisal' alongside Bruce Willis. Olivia has a starring role in the 2021 season of Prime Video's American Satan-inspired series, Paradise City. She has 5.3M followers on Instagram and was previously seen in Nick Jonas' 'Jealous' music video.
37. Sanaa Lathan (@sanaalathan)
The American actress Sanaa McCoy Lathan was born to actress Eleanor McCoy and filmmaker Stan Lathan. After making appearances on shows including 'In the House,' 'Family Matters,' 'NYPD Blue,' and 'Moesha,' she was able to launch a successful career. She has around 5.3M active followers right now.
38. Vicky Pattison (@vickypattison)
To name a few of Victoria Pattison's many accomplishments, she is a well-known Christian influencer, British TV host, media figure, and novelist. She rose to fame after guest-starring on Geordie Shore from 2011 to 2014, then on Ex on the Beach in 2014 and 2015, and finally on her own show, Judge Geordie, in 2015. Currently, she has 5.4M Instagram followers.
39. Asa Butterfield (@asabopp)
Originally from England, Asa Bopp Farr Butterfield has become a popular actor. Three Young Artist Awards, two Saturn Awards, and two Critics' Choice Award nominations are among his many honors.
Butterfield, who began his acting career when he was a child, was shot to fame as the title character in the historical drama 'The Boy in the Striped Pyjamas (2008).'Movies such as 'Hugo (2011),' 'Ender's Game (2013),' 'X+Y (2014),' and 'Miss Peregrine's Home for Peculiar Children (2016)' were just a few of the films he headlined in the 2010s. Butterfield took over the lead role in the 2019 Netflix comedy-drama series 'Sex Education.' More than 5.3M people follow him on Instagram right now.
40. Francesca Farago (@francescafarago)
Although Francesca Farago is a well-known actress, she is a popular bikini model on Instagram. She was starred in such films as 'Love Is Blind (2020),' 'Too Hot to Handle (2020),' and The 'Only Way Is Essex (2010).'
Moreover, she maintains a fantastically stylish and aesthetically beautiful Instagram account. She's not only a style icon but also a Tiktok influencer. Only on TikTok, she has amassed 155.3M Likes and 3.4M Followers. Presently, she has amassed 6.2M Instagram followers as well.
41. Karen Sarahi Gonzale (@iluvsarahii)
The Christian influencer, Karen Sarahi Gonzale is a popular beauty blogger, makeup artist, and social media influencer who has amassed a large fan base online. The majority of her YouTube channel is devoted to cosmetics guides she has posted. In 2012, Karen Sarahi began providing amusement via social media.
Her first employment in the fashion influencer sector was with the French luxury perfume and cosmetics brand, house Lancôme, where she could indulge her passion for fashion.
The viral star has collaborated with several major cosmetics companies before, like MAC and L'Oréal. She has more than 6.9M Instagram followers and 1.17M YouTube subscribers as of this writing.
42. Savannah Rose LaBrant (@sav.labrant)
Savannah LaBrant, aka Savannah Rose LaBrant, is a dedicated Christian fashion blogger, photographer influencer, YouTuber, and social media influencer. She has achieved fame as one of the creators of the popular YouTube channel 'The LaBrant Fam', formerly known as 'Cole&Slav' and boasting over 13M subscribers.
She's a professional dancer and photographer in addition to her other talents. Other than YouTube, she has a large following on Instagram and TikTok. She is also well-known for her role as an Instagram blogger, for which she has amassed over 7.2M followers.
43. Milena Ciciotti (@milenaciciotti)
As a lifestyle blogger, Milena has attracted 339K followers to her Instagram account, where she usually shares about her life, family, kids, and sometimes cooking. This female Christian influencer is a mom to three kids, who are usually the main characters in her stories.
44. Alex Congelliere (@alexcongelliere)
With 174K followers, Alex is one of the Christian influencers on Instagram who loves children. She and her husband have three adopted kids. To this family, Jesus is always the most important figure. On her Instagram, Alex usually shares family moments, healthy meals, and positive quotes.
45. Rachel Wynn Earls (@rachelearls)
Mom of 4 boys, Rachel is an author known for her book 'A Higher Calling.' She has 153K followers on her Instagram and usually posts about her family, especially her kids. When you follow her lifestyle, you will see how she enjoys every moment of her life and shares it with her family and friends.
Conclusion
Like every other social media influencer, Christian influencers have their own fans and followers. Most of them try to spread hope and a positive attitude to their followers. However, being a Christian is not all about being a strict religious person; these people believe in God and want their followers to find their way to a happier lifestyle. Ainfluencer is here to help you connect with different types of influencers on Instagram and TikTok.
The only thing you should do is sign up on Ainfluencer for free and search for influencers based on their category, gender, location, hashtag, and number of followers.
FAQs
1. Who Are the Religious Influencers?
The Dalai Lama is arguably the leader in this field; he has had a Twitter account since 2008, now with 17.3 million followers.
1.Daniel Bortz. 
2.Dephne Madyara.
3. Uma Elizabeth Knight.
 4.Ashley Brown.
2. How Can I Become an Influencer?
It is neither tough nor simple to become an Instagram influencer. Instagram influencer marketing, like other jobs, demands passion and effort. Aside from them, you must be conversant with the nuts and bolts of it. Read this blog post to learn 15 useful suggestions on how to become an influencer.
3. Who Was a Great Influencer in the Bible?
But the greatest influencer of them all is Jesus. In the New Testament book of Matthew chapter 14, verses 13-21, we read about the miracle of feeding 5000 people with 5 loaves of bread and 2 fish, and this is just one of around 40 miracles that Jesus performed.
4. How Do I Become a Christian Social Media Influencer?
First, define what you want to get by becoming a Christian influencer. If you want to talk about the Bible, you need to study it more to be completely aware of whatever is written. Furthermore, you can be a Christian influencer and share about things like fashion, movies, sports, and other things.