Influencer marketing has become an integral part of social media advertising and is a great way for brands to reach out to their target audience through the help of influencers. When it comes to Instagram influencer marketing, creating sponsored content can be a lucrative way for influencers to monetize their accounts while also promoting the products or services of their sponsors.
In this blog, we will provide you with some essential tips and strategies for creating sponsored content for Instagram as an influencer. So, if you're an influencer looking to monetize your Instagram account, or a brand looking for an effective way to promote your products or services on social media, this post is perfect for you. Let's get started!
What is sponsored content on Instagram?
Sponsored content on Instagram refers to the content that is created and promoted by an influencer in collaboration with a brand. This type of content is designed to promote a specific product or service, and the influencer is paid by the brand to create and share this content with their followers. Sponsored advertisements can take on various forms and typically include a clear disclosure that the post is a paid partnership, such as "paid partnership with [Brand Name]." The purpose of sponsored content is for the brand to leverage the influencer's reach and credibility to promote their product or service to the influencer's followers and potentially gain new customers.
As an influencer, sponsored marketing can be a great way to monetize your account while building relationships with brands whose products align with your values and interests.
Here is a sponsored content example on Instagram by Bobby Berk:
You can see more content sponsorship examples by searching related hashtags on Instagram.
What are the different types of sponsored content on Instagram?
There are several types of sponsored content on Instagram, and here are some of the most common ones:
1. Sponsored Posts:
These are the most standard form of sponsored content on Instagram, where influencer partners with a brand to create a paid post promoting its products or services. Sponsored posts tend to feature high-quality visuals, branded hashtags, or captions highlighting the product or highlighting the product's benefit to the audience.
2. Instagram Stories:
Instagram Story ads are a great way of engaging your followers and authenticating your experience with the product. A sponsored Instagram Story happens when a brand pays an influencer to create an image, video, or a series of Stories around a product or service. Sponsored Stories come with a "paid promotion" tag and can be tagged with calls to action like "swipe up" or "tap for more information."
3. Instagram Reels:
Instagram Reels are short 15 to 60-second video clips similar to TikTok. Sponsored Reels are a new form of sponsored content where brands can collaborate with influencers to create short video clips. This content is designed to entertain and engage the audiences while promoting the sponsor's product or service.
4. Instagram Live:
Instagram Live is another popular feature where influencers and brands can engage directly with their audience in real time. Sponsored Instagram Live sessions occur when brands pay influencers to share live video content or conduct a Q&A session surrounding a particular product, event, or service.
5. IGTV:
IGTV is a long-form video feature on Instagram that can last up to 60 minutes. IGTV series sponsored content is similar to sponsored Reels and Story content, featuring branded visuals, captions, and hashtags. Influencers get paid to promote a brand's product or service by creating engaging long-form content.
In conclusion, sponsored content on Instagram takes many forms, from posts, Stories, Reels, and IGTV to live streams. The diversity of Instagram's features opens opportunities for a broad range of sponsored campaign collaborations between brands and influencers to keep audiences engaged and entertained with high-quality content.
How to create sponsored content for Instagram?
Creating sponsored content for Instagram can be a great of making money as an influencer, but it's important to approach it strategically and thoughtfully. Here are some tips to help you create effective sponsored content on Instagram:
Build a Strong Profile
Before you start creating sponsored advertisements, it's essential to focus on building a strong profile that resonates with your audience. Take the time to establish your niche, interests, and expertise and create a visually cohesive profile that showcases your personality and style. Your profile should clearly convey the type of content you create and the audience you cater to. Use high-quality images and engaging captions to build a loyal following of engaged followers.
Select the Right Brands
Choosing the right brands to work with is critical to creating successful sponsored content. Select brands that are relevant to your niche and align with your values and aesthetics. It's not just about working with the highest-paying brands but also picking products you personally use, like, and can be of help to your followers. Doing a little research about the brand can go a long way in building a lasting relationship with the sponsor and followers.
You can use influencer marketplaces, such as Ainfluencer, to find brands to collaborate with. You can search among thousands of brand campaigns on this DIY marketplace and choose the one that best fits your brand.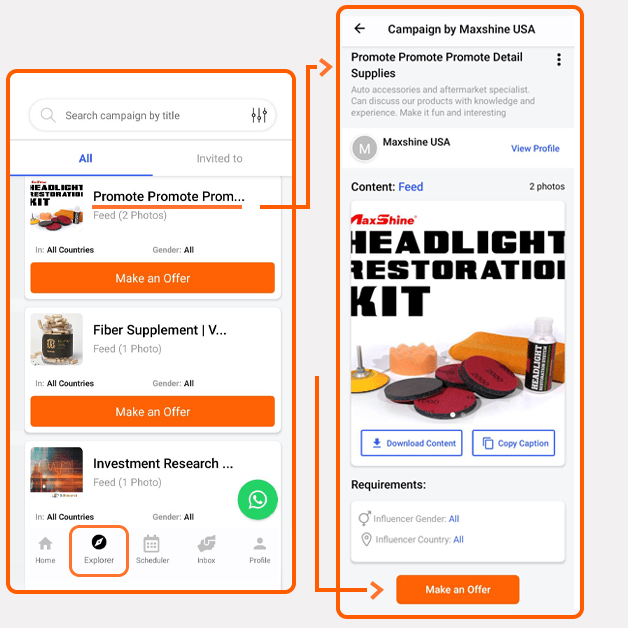 Download and sign up on Ainfluencer app and try it for FREE.
Negotiate on Terms
Once you have identified a brand to work with, work out the details of the agreement. Determine what type of content to create, how many posts to make, the payment, the delivery date, and if you need to track conversions. The terms should be mutually beneficial to both of you. Consider the brand's budget, niche, experience, and the time required to create the sponsored post.
Create Engaging Content
The key to successful sponsored content is to create visually appealing and engaging content that resonates with your followers. Use high-quality images, videos, and Stories to showcase the brand's product or service in awe-inspiring and appealing ways. Be creative and inventive in presenting the sponsored item to your followers to encourage them to take action. Remember, your followers are following you for your creative expressions. So, stay authentic and be imaginative while promoting the sponsored product.
Be Transparent
Transparency is key in influencer marketing. It's essential to disclose that your content is sponsored so you don't mislead your followers. Use the appropriate hashtags, such as #ad, #sponsored, or #paidpartnership, prominently in your content caption, and ensure your audience understands that you have been paid to promote a product or service. Additionally, ensure you follow Instagram policies of sponsored content when using the paid content tool.
Monitor Performance
Like any marketing campaign or business activity, tracking your sponsored content's performance is essential. Keep a tab on your content's engagement rate, reach, click-through rate, feedback rate, and conversion rate. Using the insights from your sponsored posts, you can adapt your content strategy over time to improve its effectiveness and increase your ROI.
Conclusion
To conclude, creating sponsored content for Instagram as an influencer can be a lucrative way to monetize your account while promoting your sponsors' products or services. It's essential to build a strong profile that aligns with the values of your target audience and select brands that are relevant to your niche. Creating engaging content that showcases the benefits and features of the sponsored products can help to increase engagement rates and drive traffic to your partner's website. Additionally, being transparent and disclosing that your content is sponsored is crucial for building trust with your followers.
By following these tips and strategies, you can create sponsored advertisements that are both effective and engaging and help to establish long-term partnerships with brands. So, go ahead and start working on creating your own sponsored content and take your influencer game to the next level!
FAQs
1. Do influencers create their own content?
Yes, influencers typically create their own content for their social media or other online platforms. This could include photos, videos, blog posts, and other creative content that is relevant to their niche or audience. While some influencers may work with a team or collaborate with brands to create sponsored content, they generally have a level of creative control over the content they produce. Successful influencers often have a unique perspective or style that sets them apart from others, which is showcased in the content they create.
2. What apps do influencers use to make content?
Influencers use a variety of apps to make content depending on the type of content they want to create. However, here are some popular apps that influencers often use:
1. Adobe Lightroom – for editing photos
2. VSCO – for creating and editing photos
3. Final Cut Pro or iMovie – for video editing
4. Canva – for creating graphics
5. Unfold – for creating Instagram and Snapchat stories
6. TikTok – for making short-form videos
7. Facetune – for retouching selfies
8. InShot – for editing videos
9. Hype Type – for adding animated text to videos
10. Instagram and Snapchat – for creating and sharing all types of content, such as photos, videos, and stories.