In recent years, makeup has become an integral part of people's lives. Beauty influencers, especially male makeup influencers, have become a growing trend on Instagram.
Whether it's for a more polished appearance at work or an edgier look on social media, male makeup influencers have taken to Instagram to show off their impressive skills.
Many of these men are new to the makeup industry, but their skills and techniques are quickly becoming popular.
From colorful eyeshadows to bold lip colors, these men are transforming their looks in ways that are both unique and inspiring.
How to find male makeup influencers on Instagram?
With the rising of the makeup industry, it's an important issue to find the top male makeup influencers who hit the charts on popular trends.
There are so many possible ways to find different types of influencers on Instagram.
One excellent option is to search for influencers in your targeted niche on Google and come up with numerous results.
Hashtags are another possible option. By searching for hashtags relevant to male makeup influencers, you can find many accounts to follow or partner with.
Another easy and quick way to do so is to use different influencer marketplaces such as Ainfluencer.
Ainfluencer
On Ainfluencer, you, as a brand, can easily find top-rated influencers on Instagram through its advanced search features such as category, location, number of followers, etc.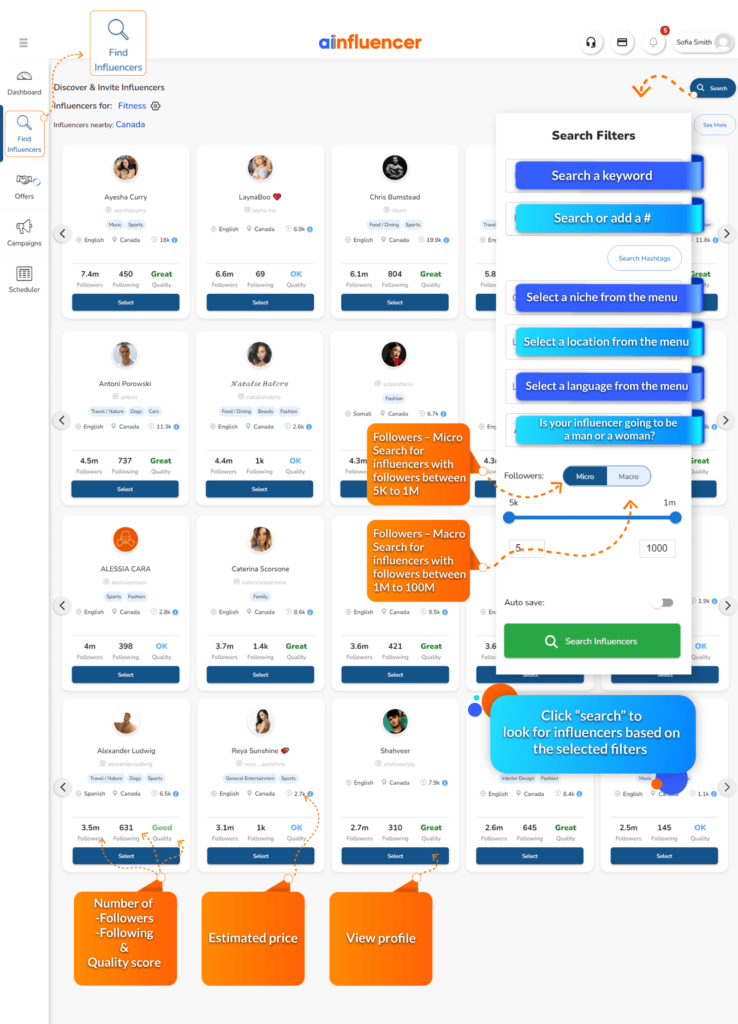 Ainfluencer is a free and secure marketplace full of worldwide brands and Instagram influencers who are ready to connect and collaborate.
Sign up on Ainfluencer now, explore top male makeup influencers, and invite them to cooperate with you.
30 Best Male Makeup Influencers
1. Wesley Benjamin Carter (@Wesleybenjamincarter)
Wesley Benjamin Carter is a famous male makeup artist with 191k Instagram followers.
He posts so many tutorial videos and promotes special brands on his account. Benjamin's account has a high engagement rate and can be an excellent option for your influencer marketing campaigns.
2. Sa-Lih (@Salihsworld)
Sa-Lih is among the best male makeup influencers on our list and has 331k followers. His account is filled with photos, videos, and tips about beauty, cosmetics, and personal care.
Sa-Lih is a brow expert celebrity and one of the brow ambassadors of "Tatti_lashes."
3. Derek Kildall (@Derekkildall)
One of the top male beauty influencers is Derek Kildall. This beauty boy has 121k followers on Instagram and posts about beauty, fashion, and lifestyle.
His creative makeup videos get viral on Instagram, Twitter, and YouTube so fast.
4. Zachary Ling (@Zacharyofthesea)
Zachary Ling is a boy beauty Instagram influencer with 12.8k fans. He is also a non-binary digital creator and mental health influencer.
His account is full of positive vibes and inspiration.
5. Серега (@Notcatart)
One of the Russian male beauty bloggers is Серега Любимов. He gained about 240k followers on Instagram, and his account is filled with photos of his unique makeup.
6. Ayush Rajani (@Ayushrajani)
Ayush Rajani is among the male makeup influencers on our list. With more than 12k Instagram followers, he could run so many Instagram marketing campaigns and promote makeup products.
He believes that makeup is an art and has no gender.
7. Danny Defreitas (@Dannydefreitas)
Danny Defreitas, born in London, is a well-known makeup artist and hairstylist. He has worked with celebrities such as Rihanna and Jess Glynne.
Danny was also a makeup artist for the movie "Give It a Year" in 2013.
8. Romero Jennings (@Romerojennings)
Romero Jennings's name is among the top male makeup influencers. He accumulated about 130k followers on Instagram and shares many fashions and makeup tutorials.
Romero has an official website for MAC products.
9. Cedric Lanappe (@Cedriclanappe)
Cedric Lanappe is an African male beauty blogger on Instagram with 121k fans.
He is a male makeup artist and coach and aims to teach others how to do their natural and fresh look. Cedric is the founder of "Themakeuproom.cl."
10. Mitchell (@Mmmmitchell)
Mitchell is one of the best male makeup influencers on Instagram, with 1.1 million followers. He is the founder of "Madebymitchell," a cosmetic store, and won the title of the best blusher of 2021.
11. Theo Turner (@Theeislandboi)
Another top male beauty influencer is Theo Turner. He is an international celebrity makeup artist and creative director based in New York City.
His specific makeup website and shop is "Shopmyshelf.us."
12. Agustin Fernandez (@Agustinofficial)
Agustin Fernandez is a well-known male makeup artist from Brazil. His great tutorials and beauty tips have got him more than 4 million followers on his Instagram account. He can be a great macro influencer for promoting your brand.
13. Angel Merino (@Mac_daddyy)
Angel Merino, also known as @Mac-daddy, is a male makeup artist and influencer on Instagram. He has gained a large group of followers on the platform.
Merino has over 1.3 million followers and is known for his creative and out-of-the-box makeup looks. He has an official beauty brand named "Artist Couture."
14. Wayne Goss (@Gossmakeupartist)
One of the great male makeup influencers is Wayne Goss, who has about 703k Instagram followers and 3.94 million YouTube subscribers.
He shares his 15 years of makeup experience with others and is known for his incredible eye makeup tutorials.
If you're a brand looking for an influencer to collaborate with, sign up on Ainfluencer and invite Wayne Goss' to cooperate with you.
15. Jaro London (@Jaro_london)
Male beauty influencer Jaro London is shaking up the industry with his innovative techniques and approach to makeup. His tutorials are both entertaining and educational, and he has quickly gained 53k Instagram fans among both men and women.
16. Bailey (@Boyishbeauty_)
One of the other male makeup influencers on our list is Bailey. He has over 21k followers on Instagram, and his tutorials have been viewed thousands of times.
Many brands have selected this micro influencer to promote their products.
17. Timmy (@Timmyondabeatt)
Timmyondabeatt is another male makeup artist who has garnered a large group of followers on Instagram by showing that makeup is for everyone. Timmyondabeatt uses his Instagram account to share tutorials and tips on how to do your makeup like a pro.
18. Dante Onika (@Danteonika)
Dante Onika is one of the other male makeup influencers on YouTube and Instagram who is known for his amazing makeup tutorials. He has more than 18k Instagram followers. DanteOnika's tutorials are not just about applying makeup but also about self-expression and creativity. He encourages men to break the stereotype that makeup is only for women and to experiment with the joy of wearing makeup.
19. David Petersen (@Daves_makeup_laboratory)
David Petersen is a male makeup nano influencer who has gained 9k followers on Instagram for his beautiful and colorful makeup looks. He aims to show that anyone can wear makeup, regardless of their gender identity or skin type.
20. Jaymi Chaells (@Jaymichaells)
Jaymi Chaells is a male beauty artist on Instagram. He often uses sharp eyeshadows and believes that makeup has no rules. His account is full of positivity and self-love, and he tries to inspire others to draw outside the lines.
21. Adrian Rio (@Arartistry)
One of the other male makeup influencers is Adrian Rio. He has more than 39k Instagram fans and is well-known for his great makeup tips. His account is a mix of tutorials, product reviews, and everyday looks.
He is also an Instagram fitness influencer and often shares his workouts with his followers.
22. Mualesandro (@Mualesandro)
Mualesandro is a makeup influencer who has amassed more than 274k Instagram followers. He got his start in makeup as a way to cover up his acne and soon discovered he had a talent for it.
Mualesandro usually gives tips and reviews on beauty products, and his followers always expect something new from him.
23. James Charles (@Jamescharles)
James Charles is among the best male makeup influencers on Instagram who has over 23 million followers. He is known for his incredible makeup skills and being the first male spokesperson for CoverGirl.
Charles has been credited with changing the landscape of the beauty industry by encouraging men to wear makeup.
24. Patrick (@Patrickstarrr)
Patrickstarrr is a male beauty influencer on Instagram with more than 4.3 million followers. He has worked with some significant brands and is known for his creative makeup looks, which often incorporate bright colors and bold patterns.
25. Manny Gutierrez (@Mannymua733)
One of the other top male makeup influencers is Manny Gutierrez, who has over 4 million followers on Instagram. Gutierrez is known for his dramatic makeup looks, which often feature colorful eye shadow and lipstick.
He is also the founder of "Lunarbeauty."
26. Jake Warden (@Jakewarden)
Jake Warden is a boy makeup model, artist, and influencer on Instagram with over 1.4 million followers. Jake often posts tutorials on how to do different types of makeup for men and also shares pictures of his own makeup looks, which are always incredibly creative and well-done.
27. Jony Sios (@Jonysios)
Jony Sios is a male beauty and makeup influencer on Instagram. He has over 930k followers and posts pictures and videos of himself wearing makeup. He often uses bright colors and unconventional techniques, which have made him popular among younger audiences.
28. Gabriel Zamora (@Gabrielzamora)
Gabriel Zamora is among the top male makeup influencers on Instagram who has gained popularity for his transformative makeup looks. He often posts videos of himself applying makeup, as well as pictures of his personal life. Zamora's creative and unique style has won him 780k followers.
29. ary Thompson (@Theplasticboy)
Gary Thompson is a beauty and fashion content creator on Instagram with over 278k followers on his "Theplasticboy" account. He has been featured in some magazines and online publications for his work as a makeup artist and can promote makeup-related brands perfectly.
30. Reuben de Maid (@Reubendemaid)
Reuben de Maid is among the other top male makeup influencers who is from Wales in the United Kingdom.
He was one of the first male makeup vloggers to be featured on BBC's "The One Show" and has been interviewed by major publications such as The Huffington Post.
Conclusion
In conclusion, there are many great male makeup influencers on Instagram. These men are not only talented makeup artists, but they are also great role models for other men who may be interested in trying out makeup. If you are looking for some great makeup inspiration, or want to collaborate with them to promote your brand, be sure to check out these talented men!
And if you want to find more, sign up on Ainfluencer for free and get real results.
1- Who is the most popular makeup influencer?
Huda Kattan is one of the most popular makeup influencers on social media. Her account "Hudabeauty" has over 50 million followers on Instagram, and her posts regularly rack up hundreds of thousands of likes.
2- Can a boy be a makeup artist?
There is no definitive answer to this question. It all depends on the individual boy and his personal preferences. Some boys may feel more comfortable wearing light foundation and blush, while others may prefer to wear more dramatic makeup looks. Ultimately, it is up to the boy himself to decide what he feels comfortable wearing.
There are already a few boys who work as professional makeup artists. One of the most well-known examples is Jake Warden, who has worked with many celebrities.