In recent years, Instagram affiliate marketing has become a popular way for individuals to monetize their social media platforms. Instagram, in particular, has become a popular place for brands and individuals to share photos and videos, which makes it an ideal place for affiliate marketing.
In this article, we will discuss what affiliate marketing is, how to set up an Instagram affiliate marketing program, top Instagram affiliate methods, and how to become an affiliate marketer.
What is affiliate marketing?
Affiliate marketing is a process by which an individual or company promotes a product or service of another company to their friends, family, or social circles in exchange for a commission from the clicks or sales they generate.
Instagram has become a popular social media platform with over 1 billion active users, making it a perfect place for affiliate programs and finding potential customers.
We will look at Instagram affiliate marketing from both angles of influencers and brands in this blog.
What are the benefits of Instagram affiliate marketing?
One of the Instagram affiliate marketing benefits is that it's a great way to make money, and you don't need any upfront investment.
It's a simple process that can be done with any phone or computer. All you need to do is find a product or service that you want to promote, create a post and then put your own Instagram affiliate link. When someone clicks on your link and makes a purchase, you earn a commission. Commissions can be as high as 50%.
We should also mention that Instagram affiliate marketing is an easy-to-scale online business, and you can become an affiliate marketer for many different brands at the same time.
And the last benefit of affiliate marketing on Instagram, which is so important, is that it's a great way to increase Instagram engagement. By partnering with an affiliate marketing company, you can create sponsored posts or videos, promote the products or services, and tag their brand or company. People clicking the mentioned account or the inserted link can directly increase the interaction of your post and increase incoming traffic.
15 Top Instagram affiliate methods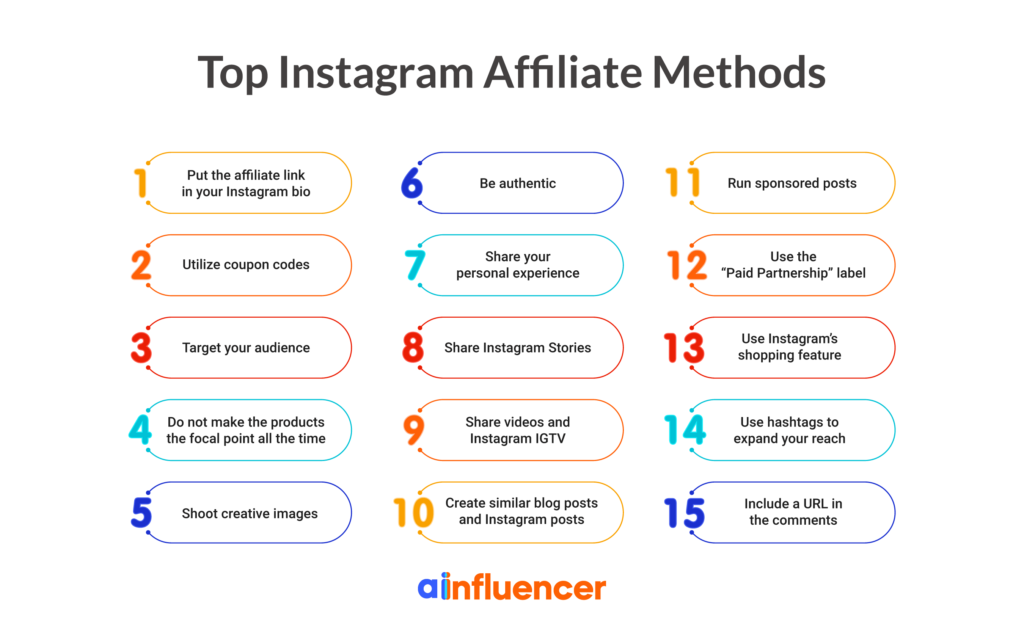 When you decide to monetize your Instagram account by becoming an affiliate for brands and products, you need to consider different methods and strategies to do the process more effectively.
Here are a few tips for becoming an Instagram affiliate:
1. Put the affiliate link in your Instagram bio
If you're an affiliate marketer, you know the importance of placing your affiliate links in as many places as possible. One great way to do this is by adding your link to your Instagram bio. This way, anyone who visits your account and clicks on it will be taken directly to your offer or product page.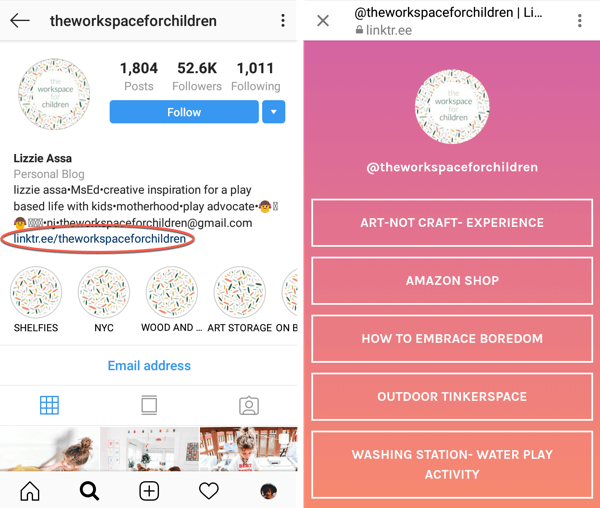 2. Utilize coupon codes
It's also great to use coupon codes when sharing your affiliate links. This can help you encourage more people to buy the products you're promoting and consequently earn more money from your affiliate marketing.
There are many websites where you can find coupon codes for the products you're promoting. Just do a Google search for "coupon codes" followed by the product or company's name.
Or you can simply ask the company you're collaborating with for coupon codes.
3. Target your audience
While doing affiliate marketing, it's important to target your audience correctly. If you're targeting the wrong people, you'll end up wasting your time and even your followers.
The best way to target your audience is by understanding their needs and desires and start targeting them with relevant affiliate products.
4. Do not make the products the focal point all the time
When it comes to affiliate marketing, it's not good to make the products the focal point all the time. You have to remember that it is a process of advertising other people's products and services in order to earn a commission. If you focus too much on the products, you will not be able to generate clicks and sales.
Instead, you need to focus on creating quality content that appeals to your audience. This means sharing photos and videos that are relevant to your niche. You can also use other social media platforms like Twitter and Facebook to share your content and generate more clicks through your affiliate link.
5. Shoot creative images
Affiliate marketing and being a top affiliate marketer on Instagram can be a great way to make money while doing something you love, like taking pictures. You can find affiliate programs for all sorts of products and services, from cameras and lenses to software and online courses.
Once you've found a program that interests you, sign up for the affiliate program and get started. Most programs will give you a link or banner to add to your website or blog and then provide instructions on how to track clicks and sales.
When you're promoting a product as an affiliate, it's essential to create creative images that will catch people's attention. Use your photos to show off the product in action or come up with funny or eye-catching pictures.
Whatever you do, make sure your images are high quality and reflect the tone of your account.
6. Be authentic
You also need to remember another key factor while posting. Be yourself! People can see through a fake persona, and it will only work against you in the long run. So, be honest with your audience, and if you don't like or use a product, don't promote it. Your followers will appreciate your authenticity and will be more likely to trust your recommendations.
7. Share your personal experience
When you post as an affiliate, you want to make sure that you are providing valuable information for your readers. Share your personal experience so that your audience can learn from your mistakes and successes. Be honest and upfront with them, and let them know if a product or service is something that you have personally used and genuinely recommend. When you provide valuable information, your readers will be more likely to trust your recommendations and click on your links.
8. Share Instagram Stories
Instagram Stories are a great way to keep your followers engaged while you're doing affiliate marketing. You can share a quick Story about what you're working on or give a sneak peek at a new product you're promoting. This helps you keep your followers interested in what you're doing.
By sharing daily Stories, you can show your followers that you're dedicated to your affiliate marketing business and that you take it seriously.
9. Share videos and Instagram IGTV
When most people think of affiliate marketing, they think of posting links to products on social media and hoping for sales. However, there are other ways to promote affiliate products that can be more effective.
For example, you can create short videos or even full-length Instagram IGTV episodes about the products you're promoting. It can help you build trust and credibility with your audience, which can lead to more sales in the long run.
10. Create similar blog posts and Instagram posts
By creating similar blog posts and Instagram posts, you can increase your account's unity and make your audience recognize your brand easily and quickly. In this way, you can boost your affiliate marketing income as well. Be sure to use high-quality images and helpful, relevant information in your content.
11. Run sponsored posts
You can earn a commission by recommending products or services to your followers. However, you can maximize your earnings by running sponsored posts as well.
Sponsored posts or paid advertisements are paid posts that you write for a company in exchange for compensation. They are a great way to make extra money, and they can help you build relationships with brands that you love.
When running sponsored posts as an affiliate, always disclose that you are an affiliate marketer. This helps you build trust with your followers and ensures that they know when you are being compensated for promoting a product or service.
Two of the most common markers you can use, are "ad" and "spon." "Ad" should be used when the post is specifically an advertisement for the product or service, while "spon" can be used when you're collaborating with or being sponsored by a company.
12. Use the "paid partnership" label
It would also help if you used the paid partnership label to let your followers know that you're being compensated for the post. This will help them understand that you're not just sharing the post because you think it's a good idea – you're getting paid to promote it.
Using the paid partnership label also helps to protect your credibility as an affiliate marketer. If your followers see that you're regularly promoting products or services without disclosing that you're being paid, they may start to doubt your recommendations.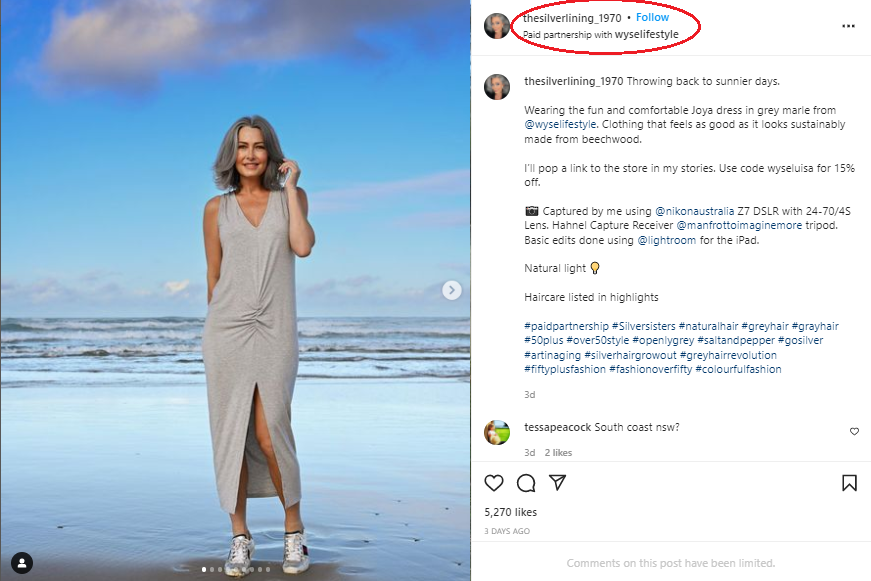 13. Use Instagram's shopping feature
While doing affiliate marketing, you can use Instagram's shopping feature and directly link to the products you want on Instagram. When someone clicks on the link, they will be taken to the product page on the website where you made the sale. This makes it easy for people to buy the products you are promoting, and it also helps you keep track of your sales.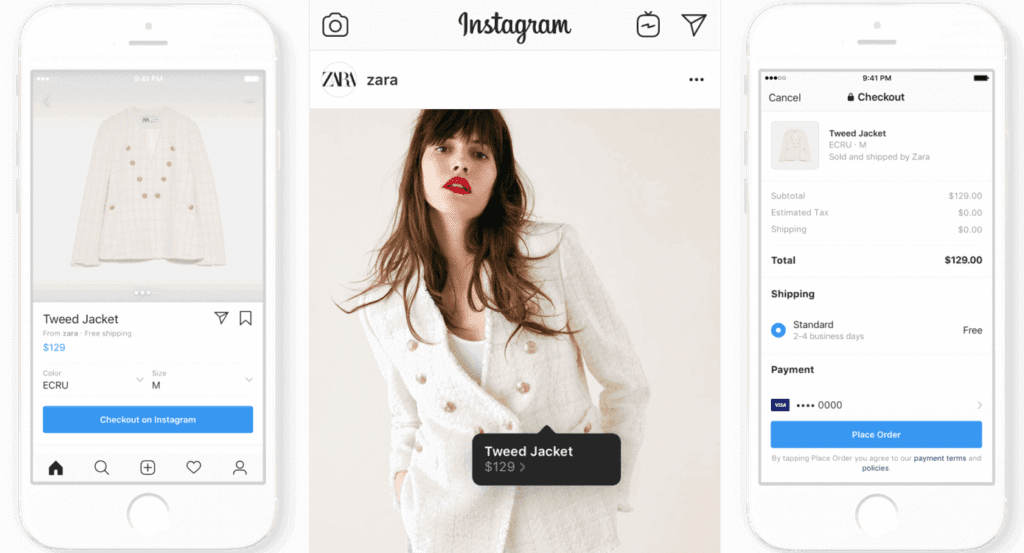 14- Use hashtags to expand your reach
To build affiliate marketing with Instagram, you must create a consistent flow of new Instagram followers.
You can easily increase your audience with the use of hashtags. Users of Instagram have the option to follow hashtags within the app, which means that even if they don't follow your account, they may see your content in their feed.
There are different ways to find Instagram hashtags such as starting with competitor research, using platforms that show popular hashtags, etc.
15- Include a URL in the comments
Including a URL in the comments on Instagram can help to promote affiliate marketing. When a user clicks on the URL, they are taken to the affiliate website where they can purchase products or services. Including a URL in the comments is an easy way to promote affiliate products and can help to increase sales.
How to set up an Instagram affiliate marketing program?
Now that you are familiar with the Instagram affiliate marketing definition and benefits, it's time to set up your affiliate program. But how? Go through the following steps and start increasing sales and traffic on your website.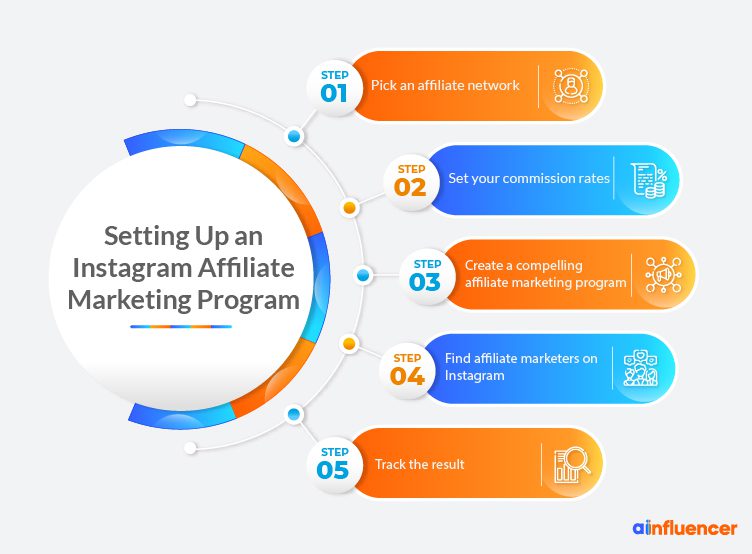 1. Pick an affiliate network
In the world of online marketing, there are some key players that are essential for any business. One of them is an affiliate network. An affiliate network is a platform where companies can find affiliate marketers to promote their products or services. There are several different affiliate networks to choose from, so it can be tricky to decide which one is right for your business. Here are the top 5 ones:
1. Rakuten
Rakuten Affiliate Network is one of the leading affiliate networks with an excellent reputation for being reliable and responsive. It's a platform that connects merchants and affiliates to promote products and services.
The network has a wide variety of merchants and offers excellent commission rates. It is easy to join the network and get started on your affiliate market.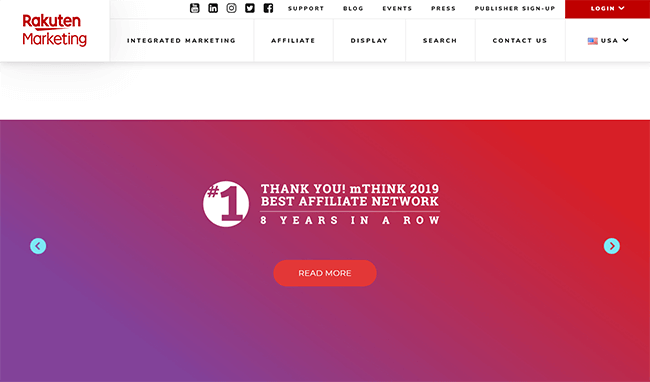 The Rakuten Affiliate Network offers a variety of tools and resources to help affiliates succeed, including marketing materials, tracking tools, and support from dedicated account managers.
2. ShareASale
ShareASale is another affiliate marketing company that connects web publishers with advertisers. The company has a wide variety of merchants, including major retailers like Macy's and Sears. ShareASale is one of the oldest and largest affiliate networks in the world.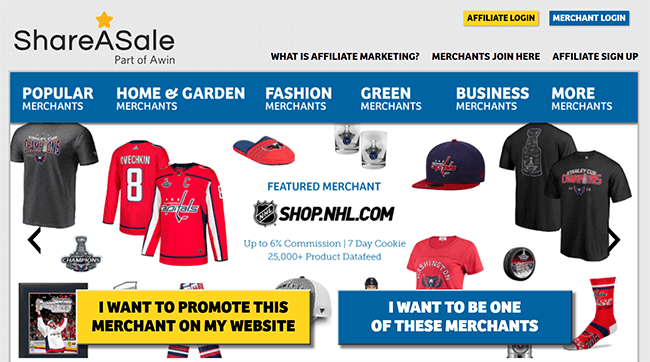 3. CJ Affiliates
Another online affiliate network that connects advertisers with affiliate marketers is CJ Affiliate.
Advertisers can create campaigns and ask marketers to place ads on their social media platforms or websites. Affiliate marketers can earn commissions by referring customers to the advertiser's website.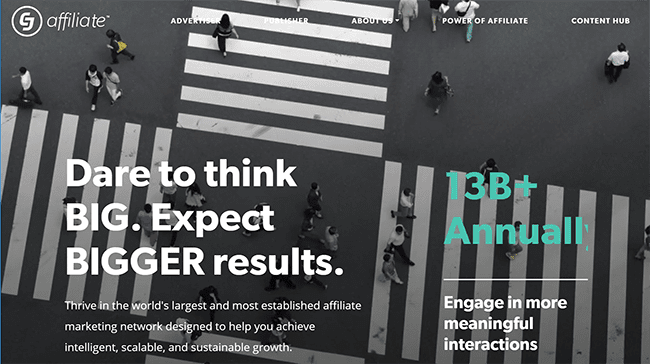 CJ Affiliate has been connecting brands and affiliates since 1997 and has become one of the most trusted names in the industry.
4. AWIN
AWIN is one of the oldest global affiliate networks connecting advertisers and publishers. It was founded in 1999 and is headquartered in London, England.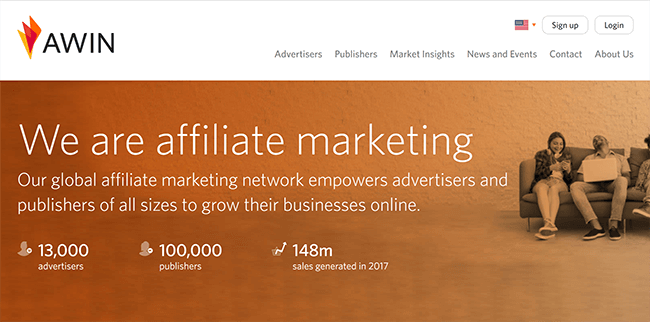 5. Flexoffers
Another advertising network that advertisers and publishers can use to connect is Flexoffers. Advertisers can create campaigns and use Flexoffers' targeting tools to find the right audience, and publishers can choose the best offers from a selection of over 2,000 affiliate programs.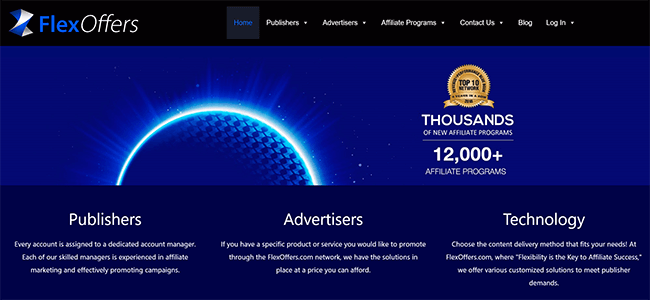 2. Set your commission rates
If you want to start an Instagram affiliate marketing program, you need to set your commission rates, which means defining how much you want to pay the affiliate marketers for each sale they drive.
Commission rates vary depending on the product or service that you are selling. You will also need to consider how much work you are putting into the program. There are a few factors that you need to take into account when setting your commission rates.
3. Create a compelling affiliate marketing program
Affiliate marketing can be a great way to increase traffic and sales on your website. When done correctly, affiliate marketing can be a powerful tool for your business.
To create a successful affiliate marketing program, you'll need to develop a strategy and create compelling content to attract potential affiliates.
You'll also need to provide your affiliates with practical tools and resources they can use to promote your products or services.
Keep in mind that affiliates are more likely to promote your program if they feel that they are part of your team and are being given the support they need to be successful.
4. Find affiliate marketers on Instagram As a brand
Finding affiliate marketers on Instagram for your affiliate marketing program can be a daunting task. It's important to find the right people who will represent your brand well and help you sell your products or services.
You can use Google to find affiliate marketers and influencers who will market affiliate products and services. You can then compare the results based on their account's contents, audience, engagement rate, etc., and then decide if they can be a suitable option for your affiliate program.
Hashtags on Instagram can also help you find people who are interested in the same thing as you. For example, if you're looking for affiliate marketers, you can use the hashtag #affiliatemarketing. This will bring up posts from people who market affiliate products, and you can decide if they are a good option for you too.
Another great way to find affiliate marketers is to use influencer marketplaces.
Ainfluencer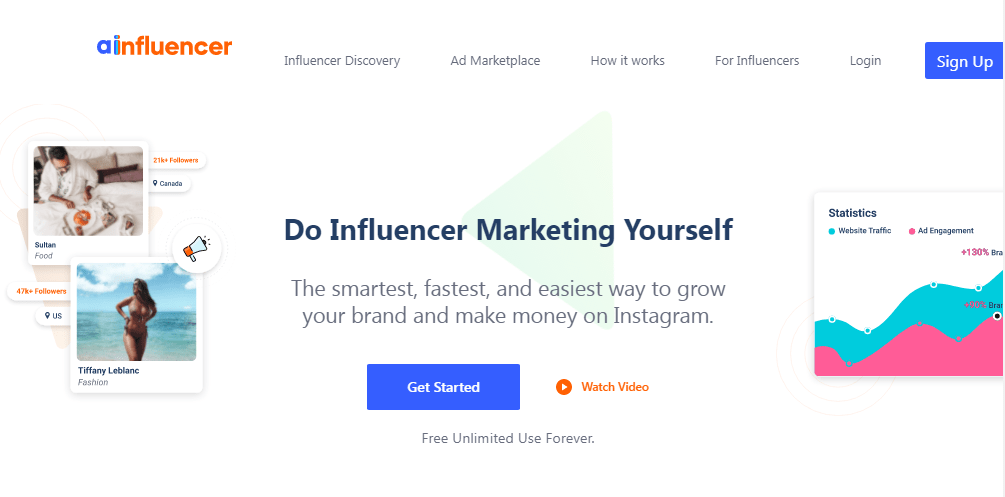 Influencer marketplaces such as Ainfluencer help you find influencers easily and collaborate with the most related ones to your brand.
You can make descriptive ads about your affiliate marketing campaign, explore and find influencers through Ainfluencer's advanced search engine, and invite them to work with your brand.
Check out this video to see how to create your marketplace ad and find your targeted influencers:
5. How to Track the results of your affiliate campaign?
To maintain an effective Instagram affiliate marketing program, it is essential to track the results. Affiliates should report the number of Instagram affiliate links generated for your brand and the number of clicks they've driven.
This will help you determine which marketing technique, which affiliate marketer, and which product or service is working best for you.
You can use different tools such as Google Analytics to track how much traffic you're getting from your affiliates and how many sales they're generating for you.
How to become an affiliate marketer?
In order to become an affiliate marketer, one must be committed to learning the necessary skills and strategies. It is also important to have a strong work ethic and take the initiative.
Affiliate marketing can be a very lucrative career, but it is not easy. There are many things to learn in order to become successful. The most important thing is to get started and never give up.
So, if you want to know how to be an affiliate marketer, take the following steps:
1. Select a very specific niche
The first step to becoming an affiliate marketer is finding a specific niche to focus on. This will allow you to become an expert in that area and provide valuable information to your audience.
If you try to be a general affiliate marketer, you'll find it difficult to compete against other marketers who are targeting the same audience. But if you focus on a specific niche, you can develop a deep understanding of your target audience and create marketing messages that resonate with them.
2. Create your account
The second step in becoming an affiliate marketer is creating an Instagram account. This is where you will share the photos and videos of the products you are going to promote.
Optimizing your Instagram bio is crucial to having a good account. Be sure to include keywords and hashtags in your bio to reach a wider audience.
Do not forget to use Instagram affiliate links in your bio as well. With these clickable links, your audience can easily connect with you, and you can direct traffic to the advertiser's website and start making sales.
3. Create content
As it was mentioned before, having an Instagram account is a must for your Instagram affiliate marketing.
After creating your Instagram account and optimizing its bio, you need to create content. Be careful to create content covering your selected niche and use related keywords and phrases.
You need informative and engaging content in order to gain followers and increase your account's engagement rate. It would be best if you had at least 1k followers to be able to use your account for affiliate marketing on Instagram.
When you become an affiliate marketer, having a high engagement rate makes you an excellent option for many brands.
4. Sign up for affiliate programs
Now that you've picked your niche, created your account, and attracted audiences to become an affiliate marketer, you need to find an Instagram affiliate marketing program and promote products that best cater to your niche.
We introduced to you the top 5 affiliate networks before in this article. Sign up for one, and find out which Instagram affiliate marketing program is the brand or merchant you want to make Instagram introduction posts for and how much commission they will give you for your affiliate marketing on Instagram.
Scrutinize all options and choose the one that best fits your needs.
How to select a good affiliate marketer for your brand?
When looking for an affiliate marketer, you should keep a few things in mind.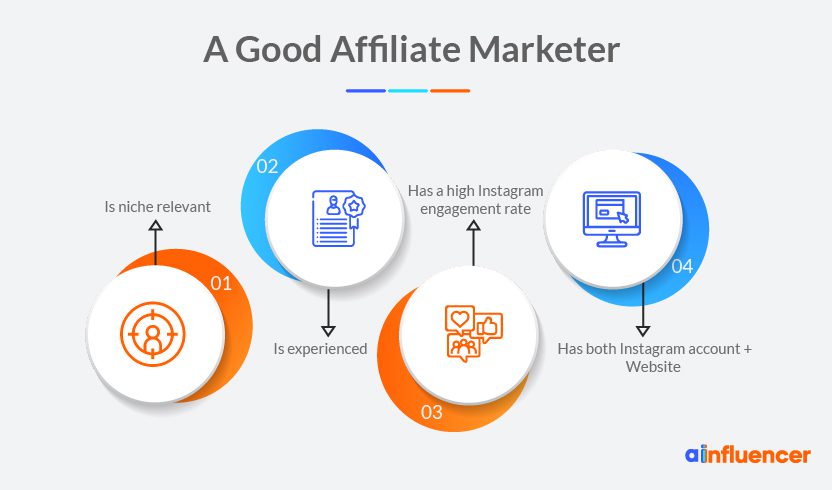 1. Niche relevancy
When it comes to choosing an affiliate marketer, it's essential to consider the relevancy of the niche. It's so important to find someone who has a similar audience to your own. Otherwise, you may be wasting your time and money on marketing efforts that won't reach your target consumers.
2. Being experienced
You should also consider the affiliate marketer's skills and experience. An affiliate marketer is responsible for driving traffic to a company's website, and someone with experience knows how to do this effectively. They also know how to track results and optimize campaigns to ensure that traffic is being directed to the right place.
Ask them how they plan to promote your product or service and make sure they have a solid strategy in place.
3. High engagement rate
Instagram affiliate marketing can be a challenging task. By choosing a marketer who is known for having a high engagement rate, you're more likely to see success with your campaign. An affiliate marketer who is engaged with their audience is more likely to drive traffic to your website and generate sales.
4. Influencers with a website
When looking for an affiliate marketer to work with, it would help to choose one who does both affiliate marketing on Instagram and affiliate marketing with a website.
This will help you ensure that you are working with someone who is serious about their business. A website will also give you a sense of the affiliate marketer's professionalism and expertise.
Conclusion
Social media is one of the most powerful tools an individual or business can use to build a brand or make money. Among the most popular social media platforms is Instagram, with over 1 billion users.
If you're interested in promoting your business, Instagram affiliate marketing can be a great way to do it.
And if you are an individual interested in making extra money, Instagram is a great choice for you as well by becoming an affiliate marketer.
Read this article and go through the top Instagram affiliate methods and the basics of setting up an Instagram affiliate marketing program, becoming an affiliate marketer, and choosing the best affiliate marketer for your brand.
Keep in mind to use influencer finder platforms such as Ainfluencer to save time.
1- Can I do affiliate marketing on Instagram?
Yes, you can do affiliate marketing through multiple networks such as Instagram. Instagram is a great platform to reach potential customers and promote products or services. You just need Instagram affiliate links and share them anywhere on Instagram that allows links.
2- How do I add affiliate links to Instagram Story?
You can add a link to your Instagram Story by clicking on the chain icon that is at the top of your Story. Choose your Instagram affiliate link, type the URL, and save the link. Adding affiliate links to your Instagram Stories is a great way to monetize your account and earn some extra money.