Instagram creator studio comes up useful as an effective Instagram management tool for both business and creator accounts. It's useful to get more out of some creator studio tools essential to growing their business on Instagram.
Influencers who need help with their creator accounts can benefit from it by managing all content types and accessing to in-detail insights from a computer.
It was first rolled out as a Facebook creator studio to help Facebook business page, but luckily, it became available as an Instagram creator tool after a while.
This article walks you through essential tips of creator studio Instagram to help marketers and influencers to take advantage of its impactful features.
What is creator studio
Creator studio offers a collection of tools that help Instagram public accounts manage various Instagram marketing tasks simultaneously from one professional platform. It is also known as a kind of social media content management tool that is available on both Facebook and Instagram that helps creators and publishers manage their content, track marketing performance, and interact meaningfully with their audiences.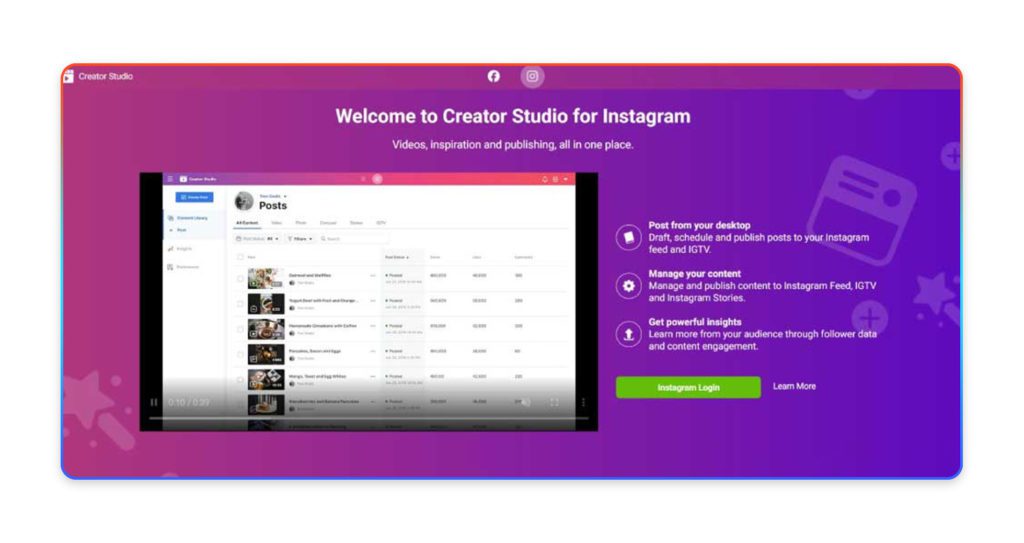 How to link Instagram to Facebook
Linking Facebook to Instagram has some key benefits that every marketer needs in order to promote its Instagram business account through its Facebook page and vice-versa. To experience easy business management, you should start with connecting these two social networks.
Log in to your Facebook page
From the left menu, click Settings
Scroll down the page to select Instagram in the left column
Click Connect Account, and enter your Instagram username and password
Open your Instagram page and tap on your profile
Go to the settings
Select account, then tap the Sharing to Other Apps
Tap Facebook and enter your Facebook login information
What is the Instagram Creator Studio?
As we mentioned earlier Instagram creator studio is an all-in-one platform that simplifies your Instagram and Facebook account management. It serves you with all tools to publish, schedule, and manage all your content across all your Facebook pages and Instagram accounts.
In 2017, the creator studio launched the Facebook creator app dedicated for Facebook business to manage interaction and track content, and manage your page and monetization. As Instagram comes out of the Facebook stomach, the creator studio tools become available for Instagram to let Instagram business or creator accounts join Facebook and promote their accounts and access to useful creator features in having flexible, convenient Instagram marketing.
Five benefits of the Instagram creator studio
Instagram creator studio recommends five main features that help marketers to keep their profiles efficient and interactive.
1. Manage Instagram posts
Access all the content types include video, photo, carousel, stories, and IGTV content
Consider your post's performance to analyze what's working and what's not
Find content easily and use filters to organize it quickly
2. Measure Instagram insight
Figure out when your followers are most active
Analyze audience actions when they engage with your content
Get the reach and impressions of your content
3. Help to monetize
Enables Instagram creators and influencers to monetize from their IGTV
It helps partners earn money from Facebook when they understand their performance across all their monetization products
Facebook creator studio offers to monetize through advertising on Facebook Watch videos
4. Schedule IGTV videos
Set predefined time and date for Instagram posts, IGTV, and Facebook content
5. Streamline publishing
Post videos, bulk upload your content library, and unlock creative tools
How to Use Instagram Creator Studio
After connecting your Instagram account to the creator studio app now, it is time to use the Instagram creator studio and grow their business to get the best marketing performance and reach the desired result.
Open Creator Studio on your pc and click the Instagram icon at the top of the page
Instagram content library
The Instagram content library is the main element of the Instagram creator with an overview of a central content manager that includes all Instagram content types such as videos, images, stories, and IGTV.
This user-friendly library eases content discovery by providing different filter options, including All, Published, Archived and date.
It gives you each content insight that includes impression and reach, etc.
It lets you know each Instagram content interaction and engagement
This management tool also analyzes your Instagram Stories and posts. However, Instagram insight available on the Instagram app can better estimate your Instagram content in compression to Creator Studio lacks this ability.
Tip: The insights differ based on the post type in the Content Library when you click on them.
IGTV and Instagram posts
A scheduling tool in the Instagram creator studio lets influencers or content creators schedule and edit various content types containing IGTV, Instagram posts, and carousels from one convenient place. It also helps them to publish their content across Facebook and Instagram.
To do that, click "Create Post" from the top left of the page (you should see options for both Instagram Feed and IGTV)
Select "Instagram Feed," a window that appears on the right of the screen where you can upload photos, write your caption, and add a location.
It is ok to tag people in your Instagram photo or carousel posts. So, tap the multi options button below your post and select "Tag."
Then click on the photo to tag an account.
It is also possible to crop your photos and edit it
Click the down arrow next to the publish button and select "Schedule."
Now, a calendar shows to schedule your post by adding the specific publish time and date you'd prefer.
How to track your Instagram insight
Separated from the content library in the creator studio brings an insight tab that offers the last seven days insights from your account and audience activities, interaction, and data such as gender, age range, location. It even tracks the reach and the total number of impressions.
With this in mind, Instagram's new Creator Studio is a useful tool for influencers and creators to engage their audience, manage them, and grow their business account gradually.
All in all, creator studio is an extra Instagram marketing tool to get more engagement and build your Instagram business page in such a convenient, appropriate environment to manage your Facebook and Instagram presence. Try using this great tool as an Instagram influencer to take the right path in monetizing from the content in 2021.