Are you in the market for an influencer marketing platform? One platform you might have come across is Captiv8. Before making any decisions, you must explore all your options thoroughly. Join us to learn all you need.
Captiv8 is an influencer marketing platform enabling you to create, scale, boost, and analyze every component of your influencer marketing strategy. But how true is it? In this article, we'll take an in-depth look at Captiv8, provide a comprehensive review, and introduce you to some alternative options worth considering.
Let's dive in!
What Is Captiv8?
Captiv8 offers a range of services in the field of Instagram influencer marketing. They claim to have best-in-class software and have won awards for their services. With Captiv8, you can find Instagram influencers that can help increase your revenue and monitor your campaign's return on investment in real-time.
Moreover, they also provide a platform to manage payments to influencers using different payment models. According to their official website, Captiv8 allows you to promote influencer content through paid channels. You can also use their award-winning services to the extent that suits your needs.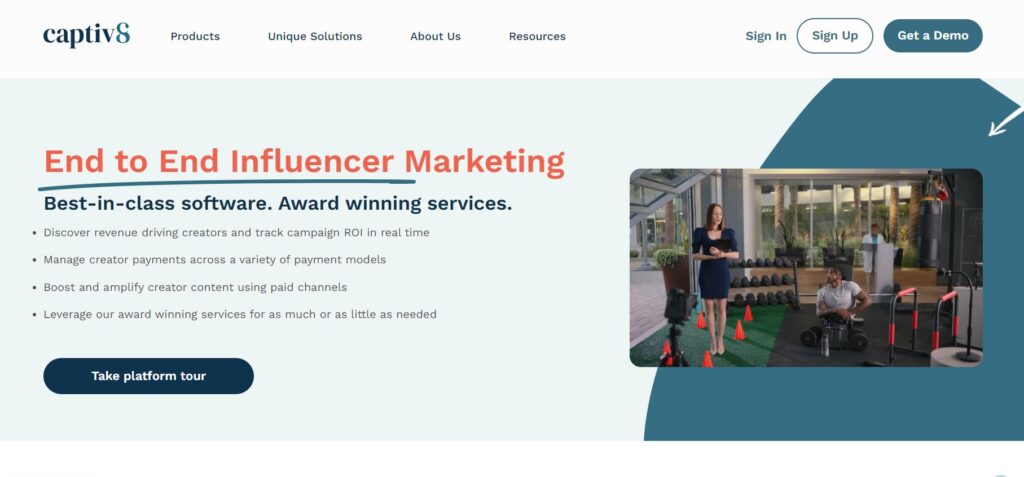 Now, let's jump right into its key features!
What Are Captiv8 Key Features?
Captiv8 claims to offer everything you need for influencer marketing in one place. It helps businesses find influencers, do affiliate marketing, handle social commerce, and track how well things are going. The following capabilities will make it super simple to run influencer marketing campaigns all in one spot.
#1 Social Insights
Obtain unique and verified data to understand your brand's position in the social landscape. Customize trackers, analyze trends, and engage your network for valuable insights aligned with your influencer marketing strategy.
Captiv8 offers in-depth social listening capabilities, allowing users to research accounts, hashtags, and locations. It provides insights into audience demographics, posting patterns, content performance, engagement metrics, and optimal posting times for influencers.
#2 Discovery
You can effortlessly identify and connect with influencers that match your criteria using a vast array of search filters. This feature analyzes detailed profiles and data points to make informed casting decisions. Moreover, it enables you to curate lists and scale results based on brand and audience relevance.
The platform's discovery feature enables advanced searches based on keywords, audience characteristics (such as gender and interests), and content topics. It also categorizes influencers by brand affinity and sentiment, providing a wealth of information for influencer selection.
#3 Talent List Management
Captiv8 allows users to create and organize talent lists, facilitating efficient influencer management. These lists act as mini-CRMs, enabling collaboration, note-taking, and document attachments for streamlined influencer organization. Apparently, if you find an influencer who's not on the list, you can add them.
You can use the talent list to organize influencers for your campaign. When it's time to run the campaign, just add this list to your plan, and the approved influencers will be added automatically.
#4 Campaign Brief Creation
Captiv8 helps you plan things like contests and promotions. First, you need to figure out all the details, like contract templates, payment details, and what you want. It's like making a really detailed plan for a big party!
Once you're in charge of managing the campaign, you can easily bring this list into the campaign plan, and all the approved influencers will be added automatically.
Many platforms claim they're super quick to set up a campaign brief, and Captiv8 made that claim too in their reviews. However, when it comes to setting up a campaign on Captiv8, it shows that being faster doesn't necessarily mean it's better.
According to their claims, you will have complete control over your influencer activation process. In addition, it will help you to streamline communication, workflow, gifting, product fulfillment, affiliates, payments, and campaign management on this platform.
Read Also: How to Create a Successful Instagram Marketing Campaign
#5 Reporting and Measurement
Captiv8's reporting and campaign measurement features provide in-depth insights. Users can access statistics on creators, posts, reach, engagement (organic vs. paid), platform-specific metrics, top-performing content, sentiment analysis, and more.
#6 Budget Tracking
Whether you're activating dozens of influencers or hundreds, ensuring all of your payments are made according to varying terms can be a manual time-consuming process. With Captiv8 Payments, all of this reporting and budget tracking is done automatically for you. Their payments portal includes a built-in budget tracking system, so you can keep an eye on your spending in real-time. You also have control over how and when payments are made.
You no longer need to log into multiple places to send funds or update an offline spreadsheet to track what payments have been made.
Captiv8 Payments is available now on the platform. This, in addition to our other campaign workflows, makes Captiv8 the preferred influencer marketing solution for brands, agencies, and influencers.
#7 Other Features
Additionally, Captiv8 offers advanced influencer marketing solutions with features like Creator Surveys for personalized partnerships and an RFP Portal for streamlined communication.
The platform also provides solutions to elevate influencer casting through the Influencer Velocity Index and CRM Tools. Lastly, it offers tools for account hierarchy customization and white-labeling to enhance branding consistency.
Captiv8's API allows for integration with popular analytics tools, such as Looker, Tableau, and Google Analytics, for comprehensive data analysis.
Now, you may consider how does it costs!
Captiv8 Pricing
Captiv8 customizes its pricing for each client, especially for big social media marketing agencies and brands. It's a high-end cloud software that makes sure its prices and services match what each customer needs. So, Its pricing plans aren't clear.
Before we explain Captiv8 Glassdoor reviews and G2 reviews from its real clients, let's take a quick look at its pros and cons.
Captiv8 Pros & Cons
Understanding the pros and cons of Captive8, or any other platform, is crucial for informed decision-making. Knowing the strengths and weaknesses helps you assess whether the platform aligns with your specific needs and objectives.
Captiv8 Pros
Social Listening for Hashtags and Locations: Captive8 offers social listening capabilities, allowing users to track hashtags and locations. This assists in discovering trends and refining social media strategies.

Hourly Post-Performance Analysis: Captive8 provides hour-by-hour analysis of post-performance. This data is used to generate automated recommendations for optimal posting times and locations.

AI Content Analysis: Captive8 utilizes AI to analyze and categorize influencer content and their posts. This ensures users receive highly relevant results when searching for influencers or content.
Captiv8 Cons
Limited Onboarding/Training: Captive8 lacks comprehensive onboarding and training resources. This may result in a slower learning curve for new users.
Quiet Feature Rollouts: New features are introduced with minimal communication or fanfare, making it challenging for users to stay informed about updates and how to utilize them effectively.
Lack of Support Team: Captive8's website does not provide access to a support team or even a robot help center. This absence of direct customer support can hinder users when they encounter issues or have questions.
Unclear Pricing: Captive8's pricing structure is unclear, which can be problematic for potential customers who need transparent information to make informed decisions.
No Free Version or Trial: Captive8 does not offer a free version or a free trial, limiting users' ability to explore and evaluate the platform before making a purchase decision. It only provides a demo, which may not provide a comprehensive understanding of its capabilities.
Now, let's a closer look at what real users say about Captiv8. Shall we?
Captiv8 Reviews: What Real Clients Say?
According to some real clients, this platform might not be all it claims to be. They've reported a few issues that could give you pause. Let their experiences guide you toward making the right choice for your needs.
Here, you'll see why you need an alternative to Captiv8.
#1 It Falls Short in Influencer Selection & Search
The real client experiences suggest that Captiv8 falls short of expectations in influencer selection, database size, and search functionality. It may not be as robust as it claims to be.
One client expressed disappointment in the platform's influencer selection. They felt that Captiv8 didn't meet their requirements and preferences when it came to choosing influencers. It seemed like their feedback was ignored, leading to a less-than-ideal list of influencers.
Here's its user's review from his experience:
Another issue arose with the number of influencers available in the client's country. Although their account manager tried to address this concern, it didn't fully resolve the problem.
According to this comment, the client wished for a more extensive database of profiles. Furthermore, they found the search functions lacking, making it challenging to conduct targeted searches.
#2 It's Slow
Firstly, it seems like Captiv8 has some speed and search problems. It can be slow, especially when searching for things. Imagine waiting longer than you should just to find what you need!
Here's some feedback about Captiv8 speed:
Thought the previous client may exaggerated?! Well, here's another comment:
According to the above screenshot, It's not just about the slow speed, the user interface is not easy to use. Some people find it a bit tricky, like it's made for tech experts. If you prefer something simple and straightforward, Captiv8 might not be the right choice.
Now, let's talk about those glitches. They can be really frustrating. Sometimes, when you're trying to load pages or update creator profiles, things don't work as they should. Your changes might not even save, and updating your profile picture might not work smoothly either.
#3 It Offers Inaccurate Data
According to the following feedback, the data is only an estimate or average, and influencers are added to the talent list for campaigns before they're authenticated. This means the data isn't accurate until the influencer is accepted by the client, causing potential mismatches.
This problem can result in leaving out influencers from your campaign ideas. When you need your marketing to be spot on and super accurate, Captiv8's data issues can be a big roadblock in reaching your goals.
To sum up, Captiv8, unfortunately, doesn't quite live up to its claims. That's why you need an alternative to it. However finding the best Captiv8 competitors is easy in the market because there are various similar tools that claim to be professional.
To help you find the alternative we recommend you read the next section.
Ainfluencer: The Best Captiv8 Alternative
Ainfluencer is a game-changer for brands seeking to collaborate with influencers across various niches, including fashion, beauty, music, and more. In today's digital age, where influencers hold the reins of consumer trust, Ainfluencer provides a free and user-friendly platform for forging successful partnerships.
Ainfluencer – the ultimate DIY marketplace for both brands and influencers. It's like the Airbnb of influencer marketing, where you pay zero platform fees, whether you're a brand or an influencer.
Ainfluencer Features for Brands
Unlimited Usage: Ainfluencer won't ever hit you with fees, ensuring your budget stays in your pocket. Brands, your deals with influencers come with a $0 price tag.
AI-Powered Matchmaking: This platform uses AI to match your products or services with thousands of Instagram and TikTok influencers, making your collaborations more efficient.
Transparency and Communication: Directly interact with influencers, manage your campaigns, and negotiate within the platform. No more guesswork or complicated processes.
Smart Filters and Invitations: Easily find the perfect influencers using filters like size, platform, gender, and more. Plus, send unlimited invites to influencers in your niche.
End-to-End Solution: The built-in chat inbox streamlines the entire collaboration process, from receiving offers to making payments. It's a one-stop-shop for influencer partnerships.
Secure Payments: Ainfluencer's Escrow system ensures your payments are safe and guarantees influencers get paid.
Ainfluencer Features for Influencers
Free-to-Use: It's a no-cost platform for influencers, regardless of your follower count.
Access to Campaigns: Connect with a wealth of campaigns and earn money doing what you love.
Unlimited Offers: You can make endless offers, negotiate deals, and set your prices, all on Ainfluencer.
Security: No need to share your social media passwords, keeping your accounts safe.
Convenient App: Stay updated on your negotiations and deals with the Ainfluencer app, right at your fingertips.
AI Analytics: Get help categorizing campaigns based on your preferences, making your influencer journey smoother.
Regular Payouts: Ainfluencer ensures you get paid promptly for your hard work.
Ainfluencer Values
But that's not all; Ainfluencer's values are why it's a standout platform:
Access to the Right Influencers: An extensive database ensures you find the perfect influencers for your brand.
In-depth Analytics: Dive into influencers' niches, audiences, and past experiences.
Effective Campaign Management: Run successful campaigns with ease.
Limitless Walkthroughs: Get all the guidance you need.
Secure and Convenient: End-to-end platform in the market allowing you to make unlimited offers and negotiate and make payments securely within the app.
DIY Campaigns: Set preferences your way for maximum customization.
Boost Visibility: Increase brand awareness effortlessly.
Responsive Support: Expect top-notch customer support whenever you need it.
No matter your industry – whether it's fashion, beauty, music, or something else – Ainfluencer makes it easy for brands to find the right influencers. We verify influencer authenticity, provide collaboration history, and ensure secure payments until your campaign terms are met.
Sign up for Ainfluencer today and start reaching your marketing goals!
To Wrap Things Up
In conclusion, Captiv8 offers some valuable features, but it falls short in some areas. While it provides tools for influencer marketing, its lack of transparency in pricing and challenges with data accuracy can be obstacles for users. Real client reviews have shed light on these issues, highlighting the need for more user-friendly alternatives.
One such alternative is Ainfluencer, a platform that empowers brands to connect with influencers seamlessly. With its intuitive dashboard, extensive database, secure payment system, and dedicated support, Ainfluencer emerges as a compelling choice for influencer marketing needs.
FAQs
1. How Does Captiv8 Work?
Captiv8 is a platform that uses AI to connect content creators with brands. It helps creators build their profiles and connect with brands for potential partnerships.

2. What Is The Privacy Policy of Captiv8?
Captiv8's privacy policy states that they gather your Personal Information for various reasons: when it's in their interest, with your consent, to meet a contract, or due to legal obligations.