Food is one of the most popular topics on Instagram. From pictures of extravagant meals to humble snacks, people love to share what they're eating. And to do that, they need some craving food captions for Instagram.
There are a large number of food influencers on Instagram that carefully choose their posts' captions to attract more people and increase their reach.
If you're looking for some perfect captions to accompany your food photos, look no further. Here are some of the best food captions for Instagram.
Note: Do you want to make money with your Instagram account and turn into an Instagram influencer? Give Ainfluencer a try!
Examples of food captions for Instagram
Coming up with a good caption can be difficult. That's why we've put together a list of the best food captions for Instagram.
Instagram food captions can be categorized into different sections, such as funny, cute, short, clever, diet-related, sassy, quotes for food lovers, etc.
Here are five of the most popular sections for food captions:
Short food captions
Short food captions for Instagram are great for sharing photos of your daily meals on your feed or Stories. These captions are perfect for quickly describing what's in your photo without taking up too much space.
Here are the top short food captions for Instagram:
1. Perfect fuel.
2. I'm not drooling. You are!
3. Let's give'em pumpkin to talk about
4. Hunger is a good cook.
5. You're tea-riffic.
6. Donut kill my vibe.
7. Donut worry, be happy.
8. First, let's eat and do the rest.
9. Bliss on a plate.
10. Let's dough this.
11. In the mood for food.
12. Millennials who munch.
13. A glass of positivi-tea.
14. Pie love you.
15. Those details.
16. Hey there, cutie pie.
17. Eat, drink, and cranberry.
18. You bake me happy.
19. Super bowl.
20. Bean thinking bout you.
21. Have a brew-tea-ful day.
22. I love you so matcha.
23. Eyes on the fries.
24. Just brew it.
25. Let's have a par-tea.
26. Calories don't count at happy hour.
27. Live, love, eat.
28. Let's ketchup.
29. Happiness is homemade.
30. A toast to the day ahead.
31. And in the morning, I'm making waffles.
32. Brew can do it.
33. Status: in a relation-chip.
34. Suns out, buns out.
35. Brewmance.
36. But first, coffee.
37. Avocado toast for breakfast? Groundbreaking.
38. Your energy booster.
39. Egg-cellent morning.
40. A sass a day keeps the basics away.
41. Made with love.
42. You're egg-stra special.
43. Enjoy a taste of heaven.
44. Food is always a good idea.
45. Goodies for the foodies.
46. A taste of the food life.
47. I'm soy into you.
48. All the coffee, please!
49. Bean here, done that.
50. I wish for fish.
51. Long-time no sea.
52. You are spec-taco-lar.
53. Sugar, spice, and everything nice.
54. Home is wherever I'm with food.
55. Wining and dining.
Funny food captions
If you're looking for a way to add some spice to your Instagram account and increase engagement, consider using funny food captions.
Best 55 funny food captions for Instagram:
56. Calories don't count during the weekends.
57. You're boring, and I can't stop cheating on you.
58. Come on, hog it out!
59. Cheese is milk's leap toward immortality.
60. I'm in love with the shape of you.
61. I have so mushrooms in my heart for you!
62. Drink some coffee & pretend you know what you're doing.
63. I love you to the fridge and back.
64. There are people in the world so hungry that God cannot appear to them except in the form of bread.
65. I've been dieting ALL morning. Am I skinny yet?
66. I like hashtags because they look like waffles.
67. French fries are those potatoes who went to Harvard.
68. Give thanks and pass the mashed potatoes.
69. Eat right, exercise, die anyway.
70. Sorry – I'm in a relationship. With food.
71. Television + food, a match made in heaven.
72. Another day, another 13,000 calories.
73. Food is like S-E-X: When you abstain, even the worst stuff begins to look good.
74. Great food is like great S-E-X. The more you have, the more you want.
75. The cauliflower is not more than the cabbage with a university education.
76. The only side piece I need.
77. Some days, I eat salads and go to the gym. Some days, I eat cupcakes and refuse to put on pants. It's called balance.
78. It's essential for every party to have a cake. If there's no cake, then it's only a meeting.
79. Promises and pie-crust are made to be broken.
80. Food for the body is not enough. There must be food for the soul.
81. Most people eat to live. On the contrary, I live to eat.
82. I am not a vegetarian because I love animals; I am a vegetarian because I hate plants.
83. My favorite thing to make for dinner is reservations.
84. They told me to follow my heart. Guess where it led me? To the fridge.
85. Skinny people are easier to kidnap. Stay safe, and eat cake.
86. I just want someone to look at me the way I look at foods.
87. Pilates? I thought you said pie and lattes!
88. I lost some weight once, but I found it again in the fridge.
89. If we shouldn't eat at night, why is there a light in the fridge?
90. I may look like a potato now, but one day I'll turn into fries, and you'll all want me then.
91. My milkshake brings all the boys to the yard.
92. Behind every successful person is a substantial amount of coffee.
93. I just don't want to look back and think I could have eaten that.
94. The only bad burger is the one you didn't eat.
95. Our abc's — always be cheesin'.
96. Exercise? I thought you said extra fries.
97. Don't be upsetti, eat spaghetti.
98. Save water, drink wine
99. Thank God I don't have to hunt for my food. I don't even know where tacos live.
100. When life throws you a burger, eat it
101. We scream for ice cream
102. Dear food commercials, no one eats in slow motion with their eyes closed. Sincerely, normal people.
103. I just want a guy to say the three magic words to me… "I brought food."
104. It has lettuce and tomato…so a burger is basically a salad.
105. I'm sorry for what I said before I had my food.
106. I'm not like other girls. I know what I want for dinner. I've been thinking about it since lunch.
107. My dinner stomach is full, but my dessert stomach still has room.
108. I cook with wine. Sometimes I even add it to the food.
109. Brunch without champagne is just a sad breakfast.
110. I make ice cream disappear. What's your superpower?
Clever Food Captions for Instagram
Food pictures are always popular on Instagram, but they can get a little repetitive. If you want to add a little personality to your food pics, try adding a clever sentence. Here are some of our favorite clever Instagram captions for food:
111. Of course, size matters. No one wants a small cup of coffee.
112. Being a foodie is difficult because all you want to do is eat – sometimes your friends' food as well.
113. We all eat, & it would be a sad waste of an opportunity to eat badly.
114. To live a full life, you have to fill your stomach first.
115. I do not need a coach but someone who follows me and slaps me on unhealthy foods.
116. I'm having fruit for dinner. Okay, it's mainly grapes. Fermented grapes. Okay, fine, I'm having wine for dinner.
117. Whatever the question, pizza is the answer.
118. Even breakfast should begin with dessert.
119. Good food never fails in bringing people together.
120. First, we eat. Then, we do everything else.
121. Today I was a hero. I kept some beer trapped in a bottle.
122. Incredibly nutritious and delicious.
123. If someone else is paying for it, food tastes a lot better.
124. If the food was free, why work?
125. Either I eat all my food, or I eat all my food. There is no in-between.
126. First, we eat breakfast. Then, we change the world.
127. One cannot think well, love well, and sleep well if one has not dined well.
128. You don't need a silver fork to eat good food.
129. If only taking a picture made this meal last longer.
130. Never eat more than you can lift.
131. Vodka may not be the answer, but it's worth a shot.
132. It's not true that money can't buy happiness. I mean, have you tried buying ice cream? It's the same thing.
133. Good bread is the most fundamentally satisfying of all foods; good bread with fresh butter is the greatest of feasts!
134. All happiness depends on a leisurely breakfast.
135. Everything tastes good when you're hungry.
136. Good food is healthy food. Food is supposed to sustain you so you can live better, not so you can eat more.
137. Food is for eating, and good food is to be enjoyed. I think food is, actually, very beautiful in itself.
138. Magic happens in the kitchen during lunchtime and dinner time.
139. I get way too much happiness from good food.
140. Waiting until the movie starts to eat your popcorn! The hardest thing in the world.
141. Food is always more satisfying after a day's hard work.
142. I'm just someone who likes cooking and for whom sharing food is a form of expression.
143. Everything is fine if it is made of chocolate.
144. Cooking is like love. It should be entered into with abandon or not at all.
145. Food is not just eating energy. It's an experience.
146. I like food. I like eating, and I don't want to deprive myself of good food.
147. Being a grown-up is the best. You don't need permission to have dessert for dinner.
148. The chief ingredient in yummy food is love.
149. Worry less and eat more pizza.
150. If you combine good flavors, food turns into an orchestra.
151. Healthy Food = Happy Food; Happy Food = Happy Body; Happy Body = Happy Mind.
152. Fish, to taste right, must swim three times—in water, in butter, and in wine.
153. I love to sleep because it's like a time machine for breakfast.
154. Humor keeps us alive. Humor and food. Don't forget the food. You can go a week without laughing.
155. When I cannot eat, I talk about eating.
156. Happy customer, happy life.
157. You gotta nourish to flourish.
158. Food is not rational. Food is culture, habit, craving, and identity.
159. I will stop eating ice cream from the container once I make it completely level.
160. If I share my food with you, it's a big deal.
161. Happiness is best served slow smoked and sauced.
162. A slice of pie without cheese is like a kiss without a squeeze.
163. If history has taught us anything, it's that reheated french fries are gross.
164. Eat like you love yourself.
165. I like rice. Rice is great if you're hungry and want 2000 of something.
Instagram food captions about dieting
If you follow some vegan influencers, you can see that Instagram food captions about dieting are all over the place. Some people post about their dieting journey to show off their progress, while many believe that diets don't work and that they are simply a way to deprive oneself of the foods that they enjoy.
Food captions for Instagram about dieting can be funny, sad, or motivational. Here are some of the top ones:
166. Diet is the most effective drug.
167. Take care of your body; it's the only place you have to live.
168. A balanced diet is a cookie in each hand.
169. A balanced diet is chocolate in both hands.
170. Dear diet, things just aren't looking good for both of us. It's not me, it's you, you're too much work.
171. Skip the diet. Just eat healthily.
172. The closest I've been to a diet this year is to eliminate food searches from my browser history.
173. Every time you eat is a chance to nourish your body.
174. Your diet is a bank account. Good food choices are good investments.
175. Probably nothing in the world arouses more false hopes than the first four hours of a diet.
176. Eat better, not less.
177. Didn't go to the gym today, but… The cashier's name at McDonald was Jim. So, the same thing.
178. The first thing you lose on a diet is your sense of humor.
179. If cauliflower can become pizza, then you, my friend, can do anything.
180. Love and sausage are alike. I can never get enough of both.
181. How can I go on a diet? The fridge is still full!
182. Health is the real wealth.
183. If you keep good food in the fridge, you will eat good food.
184. I love dieting. It always makes me think more about food.
185. Fat lasts longer than flavor.
186. Who fasts but does no other good saves his bread but goes to hell.
187. I highly recommend worrying. It is much more effective than dieting.
188. I'm on that new diet where you eat everything and pray for a miracle.
189. You don't have to eat less. You just have to eat right.
190. Large, naked raw carrots are acceptable as food, only to those who lie in hutches eagerly awaiting Easter.
191. If no one catches you eating it, then it has no calories. This, my friend, is the first rule of my diet.
192. If you combine wine and dinner, the new word is the winner.
193. Food is our common ground, a universal experience.
194. There is no diet that will do what eating healthy does.
195. Food is fuel. Not therapy.
196. I can't control everything in my life, but I can control what I put in my body.
197. I really regret eating healthy today, says no one ever.
198. The foods we choose make a difference.
199. Broken cookies have no calories!
200. Food is an important part of a balanced diet.
201. Eat the salads and eat the cake.
202. I'm on a 30-day diet. So far, I've lost 15 days.
203. A balanced diet may be the best medicine. I was eating too much good eats.
204. You can say a lot about the character of a partner for his way of eating gummies.
205. Whatever your problem is, the answer is not in the fridge.
206. Exercise is king. Nutrition is queen. Put them together, and you've got a kingdom.
207. The key to eating healthy? Avoid any food which has a TV commercial.
208. If you are what you eat, then I need to eat a skinny person.
209. Here's to eating healthy and, most of all, loving yourself.
210. I'm just a person standing in front of a salad, asking it to be a donut.
211. An apple a day keeps anyone away if you throw it hard enough.
212. I need to start eating more healthily, but first, I need to eat all the junk food in the house, so it's not there to tempt me anymore.
213. Avoid fruits and nuts. You are what you eat.
214. It's hard to diet when your favorite exercise is chewing.
215. Every time you use the word healthy, you lose. The key is to make yummy, delicious food that happens to be healthy.
216. Being healthy doesn't mean you have to give up the foods you love.
217. A diet is a penalty we pay for exceeding the feed limit.
218. Treat yourself this week to a DIY salad and a tall caramel macchiato.
219. Sorry, can't hear you. I'm stuffing my face with salad.
220. Is it just me, or does this meal look more scrumptious because I'm on a diet?
Quotes for food lovers
Why we are working so hard for the best food captions for Instagram posts? Because food is one of the most important aspects of life and we love it so much!
It is necessary for survival, and it is also a source of comfort and joy. For food lovers, Instagram provides the perfect platform for sharing photos of their favorite dishes. In addition to beautiful photos, food lovers also love to share lovely captions and quotes about food. Here are some of the best Instagram captions and food lover quotes:
221. Food is my world! No matter if anybody calls me hippo!
222. I enjoy taking long romantic walks to the fridge.
223. Food is my favorite. If I share it with you, then you are damn special.
224. Being in love with food isn't a statement. It is an emotion.
225. There has never been a sadness that can't be cured by breakfast food.
226. We've solved so many world problems, and yet chocolate still has calories.
227. You know, food is like that; it's a hug for people.
228. Burgers are our love language.
229. Breakfast is worship, lunch is a bath, and dinner is relaxing sleep.
230. Eat like every day is Thanksgiving.
231. You're the only bun for me.
232. I got these fillings for you
233. The only way to ruin my day is to cancel lunch plans.
234. There is no sincere love than the love of food.
235. A fancy restaurant is not good at all if it does not serve my favorite food.
236. There's nothing more romantic than Italian food.
237. I love being a food lover because eating is the best exercise body can have!
238. The more you make your coffee dark, the more you will find love in it.
239. I may settle for everything, but with food, there is no compromise.
240. Eating just in case I get hungry later!
241. Cooking is my passion, and food is my hobby.
242. There's no better feeling in the world than a warm pizza box on your lap.
243. The only thing I like better than talking about food is eating.
244. Good food is a good mood.
245. Food is a priority… food is secondary…
246. A good dinner will make anyone smile.
247. I'm on a seafood diet. I see food; I eat it.
248. I love you from my head to-ma-toes.
249. A recipe is a thread that binds us together.
250. Honey comes from bees, but pancakes come from heaven.
215. Life is a combination of magic and pasta.
252. Someone says that the way of everyone's heart goes from the stomach! And I definitely believe in him.
253. When I'm eating, I'm deaf and stupid.
254. I think I was immediately fed, so food became an essential part of my life.
255. Let food be thy medicine and medicine be thy food.
256. I only eat in three places: here, everywhere, and everywhere
257. If you want to avoid heartache, fall in love with food. It'll never break your heart.
258. Always be yourself, unless you can be a pizza.
259. If you're afraid of butter, use cream.
260. Life is uncertain. Eat dessert first.
261. We found love on a hopeless plate.
262. Despite what psychologists say, it's totally okay to replace love with food.
263. Good food is the foundation of happiness.
264. My first priority will always be food because it is the only thing that gives us the energy to live.
265. Food. Eat quickly, or you have to share it.
266. Stress less and enjoy the best.
267. Forms for my heart: 1. Buy food 2. Make food 3. Be food.
268. There is no better reward for hard work than good food.
269. Love is when they know your burrito order by heart.
270. Count memories, not calories.
271. Having food is the best blessing from God to us.
272. When I see cheesecakes, I just got flattered.
273. Eating spaghetti requires so much attention. That's why you can never feel lonely while eating it.
274. I think about food literally all day, every day. It's a thing.
275. Food is really and truly the most effective medicine.
276. I love to sleep, because it's like a time machine for breakfast.
277. The love language of food lovers: I love you to the fridge and back.
278. Normal people eat to live. On the contrary, I live to eat.
279. People who love to eat are always the best people.
280. Nine out of ten people love chocolate, and the 10th person is always lying.
281. All you need is love. But a little chocolate now and then doesn't hurt.
Find more food captions for Instagram
We have provided you with 281 food Instagram captions. If you are looking for more, you can find food influencers on Instagram by searching for them on Google, the Instagram hashtag section, or an influencer marketplace, such as Ainfluencer.
Ainfluencer
Ainfluencer is a safe, secure, and easy-to-use marketplace that helps brands and influencers connect and collaborate.
With this influencer marketplace, you can explore particular influencers by specifying the gender, location, number of followers, etc., through Ainfluencer's Al engine.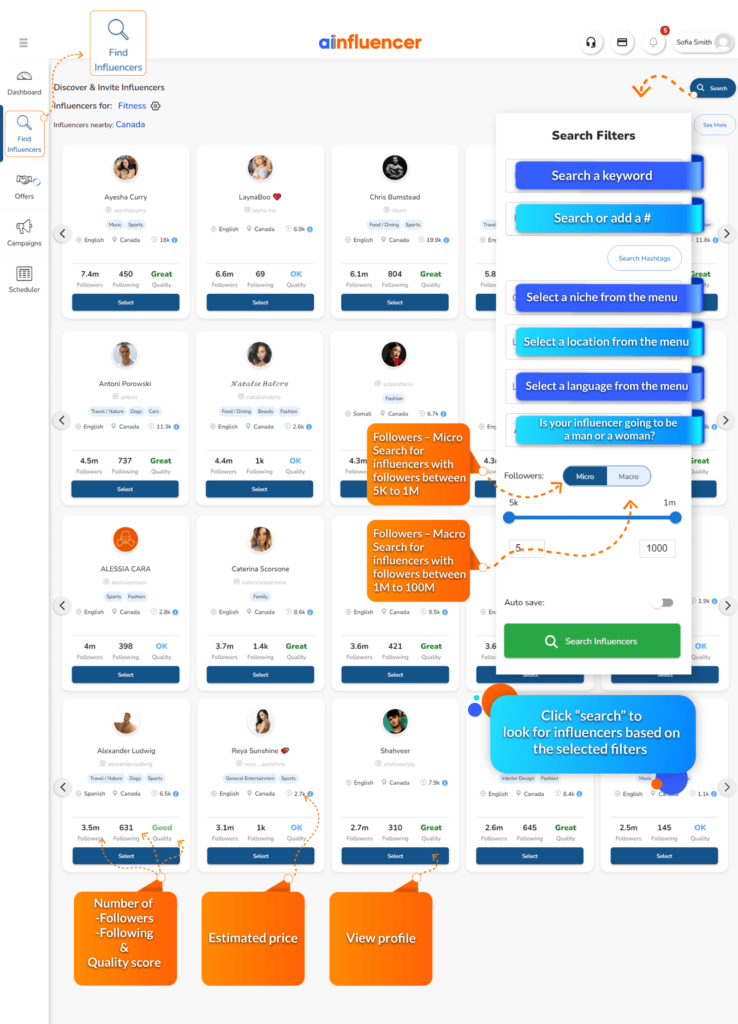 Conclusion
In conclusion, food captions for Instagram can be a perfect way to show off your personality and culinary skills or just share a funny or relatable moment. You can create captions that will make your followers hungry and make them want to visit your page. So, if you're looking for some inspiration for your next post, be sure to check out our list of the best food captions for Instagram.
1- How do you caption a delicious food?
While sharing your meal photos on Instagram, you need a great caption. In order to write a good caption, pay attention to the following tips:
-Use hashtags to find other foodies and get ideas. Some popular food hashtags include #foodporn, #foodie, and #nom.
-Try to keep the caption short and sweet. Captions should be no more than three or four sentences long.
-Be creative! Add a little personality to your captions and make them stand out.
Use emojis to add visual interest (and sometimes humor).
-And finally, give credit where credit is due. If you didn't cook the meal yourself, mention the chef or restaurant in your caption.
2- How do you describe food?
We all know that food is necessary for our survival, but what about when it comes to describing it? How do you accurately describe the taste, texture, and smell of a particular dish?
Well, one way to describe the food is by its flavor. This can be done by using adjectives like "sour," "bitter," "sweet," "salty," or "spicy."
Another way to describe the food is by its texture. You can use words like "crunchy," "creamy," "sticky," or "soft."
Finally, you can talk about the aroma of the dish. Adjectives like "fragrant," "pungent," or "aromatic" can be used to describe it.
When describing food, it's important to be as specific as possible.