In addition to giving us oxygen, nutrition, medicine, and shade, plants also provide us a feeling of calmness that is impossible to replicate with inanimate decor. So plants contribute to our overall well-being and are an important part of our home decor.
Do you want to add some serious plant inspiration to your daily Instagram feed? Then you need to add some plant influencers to your mix.
We've listed 15 plant influencers and accounts that share with their follower's information on plant care, their most recent purchases, plant displays, and more.
How to find top plant influencers on Instagram?
Finding various types of influencers, including Instagram plant influencers, is possible in a number of ways, such as searching for influencers in their niche on Google to find numerous blogs about them. Or find them on Instagram by looking through hashtags or location tags. An influencer marketplace like Ainfluencer is another option. The final option is typically the simplest and fastest.
One of the best and easiest ways to find Instagram influencers in your niche is Ainfluencer. Depending on the category, hashtag, engagement rate, amount of followers, etc., you can search for and contact influencers.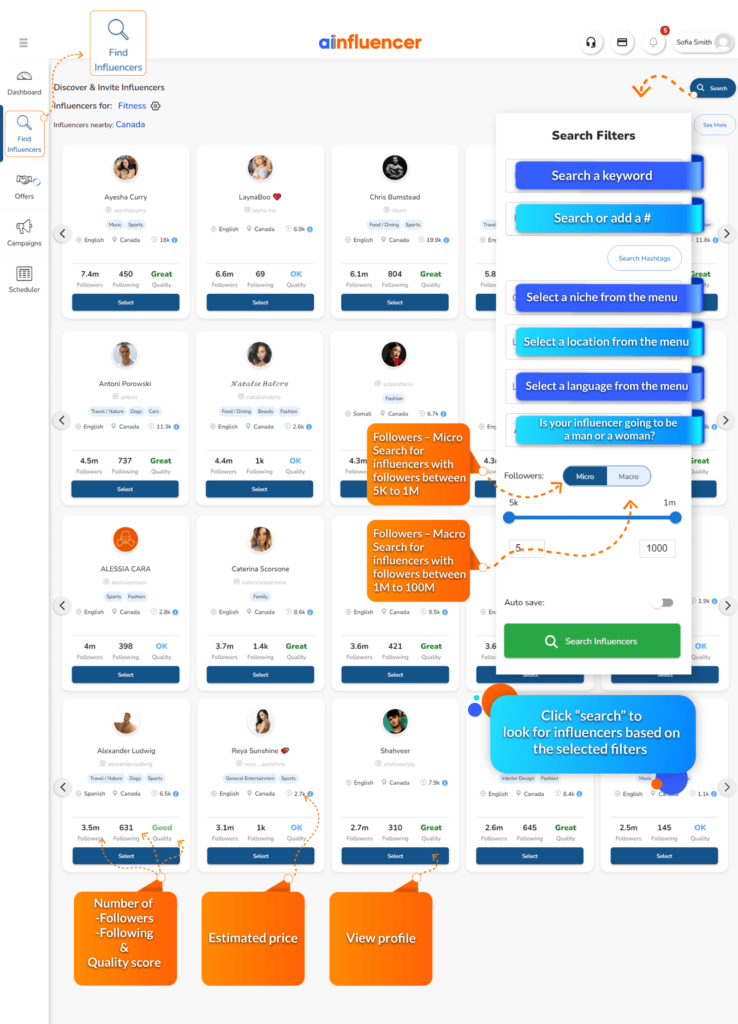 15 top plant influencers on Instagram
1- M'Kenna Joe (@mkennajoe)
M Kenna Joe is one of the up-and-coming plant influencers who has a passion for gardening and plants. You will be drawn into an appealing houseplant enthusiast world by just taking a quick look at her profile, which will encourage you to keep scrolling.
She has 18.4K followers on her Instagram account.
2- Tierra Sol Studio (@tierrasolstudio)
Seana and Yair are now successful plant bloggers. They used to be plant killers and couldn't keep any plants alive. But they spent years developing their own plant science, and now it is their goal to assist other plant killers who also love plants.
At Tierra Sol Studio, we design and grow hardy hand-grown plants, make hand-formed ceramics for the needs of each plant, hand-mixed soils, signature sand that slowly releases water to the roots of the plants, and easy-to-follow plant care instructions for each plant.
Tierra Sol Studio has amassed 68.9K followers on Instagram.
3- The ZEN Succulent® (@thezensucculent)
The ZEN Succulent is a neighborhood plant and gift shop with two locations in the heart of downtown Durham, North Carolina, and Raleigh, North Carolina. It is entirely owned by women. The ZEN Succulent's purpose has always been to spread life, happiness, and inspiration through plants and thoughtfully crafted presents from local and regional makers throughout the United States.
If you are looking for some houseplant inspiration, indoor plant inspiration, and houseplant enthusiasts altogether, don't miss their Instagram account with 44K followers.
4- STUMP (@stumpplants)
Their main goal is to inform their clients so that they can successfully own and take care of their plants. They're eager to get to know customers and impart their expertise on the plants that will thrive in their living and working spaces. As one of the plant influencers on Instagram, Stump has gathered 41.9K followers.
5- The Plant Shoppe (@plantshoppe)
The Plant Shoppe is not only a store selling plants. It's the place to find a curated selection of indoor plants, pots, and accessories as well as an array of daily and custom floral offerings and gifts. If you need plant bloggers for indoor plant inspiration, the Plant Shoppe Instagram account can help you.
6- Sacred Elements (@sacredelements)
Founder Karina Aldredge creates Sacred Spaces in her home and all over the world out of a desire for times of peace and connection. She teaches how to flourish in a new way while engaging with nature every day from within your home, surrounded by plants, the elements, and life. She reminds us of how people and the planet are all connected.
She is one of the best plant influencers on Instagram, with 174K followers.
7- Desert Horizon Nursery (@deserthorizonaz)
Desert Horizon Nursery is Arizona's premier plant nursery and is locally owned and operated. Your landscaping needs will be satisfied by their unrivaled assortment of plants, pottery, and fountains.
As one of the best plant influencers, Desert Horizon Nursery has amassed 28K followers on Instagram and is ready to help you live with your plants and keep them alive.
8- General Pumice Products (@sexysucculents_)
General Pumice is an all-American business with headquarters in Southern California, providing environmentally friendly, ethically and sustainably sourced pumice. By providing the greatest goods and services in the market, they aim to completely satisfy each of their clients.
Their Instagram account is where 86.1K followers have gathered to take advantage of their houseplant inspiration and other plant bloggers' ideas.
9- Yamira (@yamira.home)
Yamira is one of the best plant influencers who enjoys growing her plants and learning about all of them. Tropical and exotic plants have always served as her source of inspiration. Home is where the love is, and as a plant mommy, She thinks that "plants" have the ability to calm and comfort everyone.
She is on Instagram with her 17K followers to share her plant and home decor experience with her audience.
10- Fern (@_wildfern)
Do you love watching plant-filled apartments? Then Fern's Instagram account is one of the best places for you to get indoor plant inspiration and see plants.
11- BEAUTY PLANTS (@amazing__plants)
More than 328K followers visit this Instagram account to marvel over the color of the Pink Princess Philodendron, the upside-down chandelier-like shape of the Cotyledon Pendens, and the tight spirals of the Albuca Concordia.
12- (@houseplantplants)
The 161K followers of this Instagram account come for the mesmerizing, bold, and frequently unique houseplants and remain for the useful tips. For plant addicts, there are also touching memes and funny videos. You'll feel at home on this feed whether you think of plants as a food source, a form of art, or a borderline compulsion.
13- Craig Miller-Randle (@craigmilran)
A well-known plant influencer," interior decorator, and furniture designer, Craig proudly displays his vast indoor plant collection on Instagram. From the very beginning, Miller-life Randle's has been surrounded by plants.
In his book "Green Thumb," Craig refined his 40+ years of experience into a wealth of advice. Craig is a great inspiration to his community of plant lovers and offers what he knows about plants from his minimalist design filled with greenery in Melbourne.
14- Miss May Leong (@hellomissmay)
Miss May Leong is known for her love for plants, flowers, and the outdoors. She enjoys producing content for her fans while also working as an illustrator. She gives interesting stories (which she highlights) about her daily life and templates for her followers to use and plant tips. She is one of the successful green influencers who has gained 370K followers on her Instagram account.
15- Darryl Cheng (@houseplantjournal)
Anyone looking to become a better plant mom can find a lot of free material from Darryl Cheng of @houseplantjournal. He's got you covered on everything from when and how to water your plants to how to keep an orchid alive.
Conclusion
Following plant influencers can help your brand grow exponentially. They are passionate about their work, have a large following, and are great at engaging with their audience. Be sure to check them out and see how you can work with them to reach your goals!
1- What is a plant enthusiast?
A plantsman is an enthusiastic and knowledgeable gardener (amateur or professional) who gives people their tips for caring for plants, their latest plant purchases, plant displays, and more.

2- Can you make money selling plants online?
Selling plants online is undoubtedly a reliable source of income. But remember that many businesses take a while to earn a profit. You need to be patient and consistent to succeed.