Using brand ambassadors is a highly effective strategy to promote a business and to market on Instagram. Brands are looking for passionate brand ambassadors to help them refer customers and build brand awareness, leading to more followers and sales.
The issue for many businesses is finding the right influencers and ambassadors to work with and then streamlining the collaboration process to get promotional deals done.  
Ainfluencer is where you can find thousands of different brand ambassadors and send offers. 
This DIY influencer marketplace is one of the easiest ones to work with. It is 100% free with no hidden fees. You can compare ambassadors in your niche based on their engagement rate, quality score, location, number of followers, etc.
Check out this video to learn more about how Ainfluencer works.
A Complete List of Brands Looking for Brand Ambassadors
If being a brand ambassador sounds like something you'd enjoy, look at some brands that are looking for ambassadors below.
1. Breezy Swim – @breezy.swim
Breezy Swim produces the cutest colorful swimsuits and accessories that are the best recommendation for those clothing ambassadors who want to appear as a model. The excellent point is that both light skin and black Instagram models can be appropriate for this brand niche to promote its products through diverse marketing.
2. Poppy Apparel – @poppyapparelofficial
This Instagram store has various feminine clothes and different types of accessories, which can be an excellent choice for working as a clothing brand ambassador. As an ambassador to collab with this brand, first, you should send your request, and if you be qualified to be a brand ambassador, you will
Earn money every five sales
Humanize the brand by publishing creative content on your social media to spread the word about their products.
Gain 30% of the profit when someone uses your code
3. PMD Beauty – @pmdbeauty
PMD Beauty offers plenty of beauty tools and skincare products that come with a good idea of serving beauty services at home, such as Microderm, lip plump, PMD clean body, etc. If you are keen on joining such brand ambassador applications, you can continue with self-care training and promote beauty products and benefits by giving useful reviews.
4. Yoga Tech – @yoga-tech
If you are a yoga influencer, you can start an excellent brand ambassadorship with this fitness niche. You are going to wear the cutest athlete clothes and create an emotional bond with new audiences. Keep in mind that they want to collaborate with ambassadors to sell dreams, not products. Your mission is to persuade customers to choose your brand over others.
Provide contests and giveaways
10% commission on sales comes from your channel
It offers a discount code for you and your followers
5. Sand Cloud – @sandcloud
Sand Cloud is in search of brand ambassadors to promote its marketing slogan: " Every purchase saves marine life." They sell multiple things, including beach towels, clothing, and accessories.
If you apply as an ambassador, they can help you with
Get the chance of discounts on products
Taking advantage of the brand ambassador opportunity to be featured on Sand Cloud's Instagram
6. ASICS – @asics
ASICS company draws many ambassadors' eyes by delivering free products, shoes, and T-shirts. If you are interested in it, they are looking for new members, from beginners to pro athletes.
Join to take advantage of ASICS services to gain $15 an hour and a pair of free shoes.
7. Enjoy Leggings – @enjoyleggings
This brand is looking for intuitive brand ambassadors to spread the word. This chance is excellent for those with sizable social media followers to quickly become ambassadors.
What you can get:
Free Leggings,
Sneak Peeks at new products,
Exposure through growing Instagram and Facebook Pages through re-posts.
8. Lululemon – @lululemon
Lululemon is athletic apparel that includes two kinds of advocates global ambassadors and store ambassadors. It makes technical athletic clothes for yoga, running, working out, and other sweaty pursuits. The company works on engaging yoga instructors and fitness representatives, especially female fitness influencers.
Brand ambassadors should connect this brand to communities worldwide and provide insightful feedback.
9. Canon – @canonusa
Canon invites skilled Instagram photographers to its ambassador program to run fantastic advertising campaigns. This brand is looking for ambassadors who can also create amazing images and videos which inspire customers and turn them into followers.
They prefer to work with innovative ideas and thoughts that can bring in practical terms, such as taking part in trade shows, events, and workshops and then considering the power of content creation, which helps them.
10. One Tribe – @onetribeapparel
This brand sells tops, dresses, pants, jewelry, and accessories and has specific collections you can shop from.
If you fill out the one tribe brand ambassador application, you will receive a store credit worth 25% of all the sales and specific discount codes that get credited to your account.
11. Trendy And Tipsy – @shoptrendyandtipsy
This brand store offers numerous clothes such as dresses, tops, jackets, vintage apparel, and so on, and is ready to meet passionate brand ambassadors to increase brand awareness. The only thing that is important for Trendy and Tipsy is authentic, compelling content creation to advertise their products.
12. Winky Lux – @winky_lux
Winky Lux is a luxury makeup brand with uncolored cosmetics that appears as one of the best companies that need promoters for skincare brand features. The company is looking for brand ambassadors who are passionate about makeup and skincare. Female and male makeup influencers are both wanted.
As an ambassador, you get invites to private parties, promote your social media account through this brand partnership, achieve a commission from referral purchases, and get Winky Lux branded products.
13. Timberland – @timberland
Timberland focuses on increasing brand engagement by inviting particular Instagram brand ambassadors to reach out to new customers. Therefore, brand ambassadors collaborating with this brand should have a good number of followers.
14. BNY Jeans – @Bnyjeansph
BNY Jeans is looking for individuals to join their brand ambassador program. As a brand ambassador, you will represent and promote BNY Jeans, showcasing their stylish and high-quality products to your audience. Althean Ablan is one of these famous brand ambassadors.
15. Evy's Tree – @evystreeofficial
This company designs fashion-forward and comfortable wear for women. Their product includes hoodies, tees, wraps, and cardigans. This luxury style brand is looking for women brand ambassadors.
They want brand ambassadors to share their brand value and their business's best image, besides using high-quality photos on their social media platforms to spread the word about the brand's achievements.
Receive the chance to appear across all of Evy's Tree social media,
Be the first to know about new products,
Gain commission.
16. Oakley – @oakley
This brand specializes in eyewear specifically designed for individuals involved in outdoor activities, such as skiing. A brand ambassador will be featured on Oakley's social channels if they demonstrate a strong understanding of Oakley products and effectively represent the brand in its full glory. Brand ambassadors wanted will do a part-time job.
17. Move Makeup – @mymovemakeup
Using only a stunning range of colors and water-resistant formulas, this site and company create makeup products meant to enhance the appearance of active customers. These products are marketed as sweat-proof and natural. Active women, athletes, bloggers, and especially beauty influencers might best serve as spokespeople for this company.
Brand ambassadors working with this brand will receive a monthly promo code worth $75, which they can use to make purchases and earn rewards. They must take this step in their biography and in their public postings to indicate that they are an ambassador by putting up two photos of their products per week.
18. Arvo – @arvo
Arvo's products, which they offer to both women and men, fall within the categories of watches, clothing, and even socks, hats, and sweatshirts. They run on the principle of using active brand ambassadors to achieve a highly recognizable brand image. Their brand ambassadors must be able to effectively communicate their motto, "Be good, do good."
19. Trek Light Gear
This company specializes in the sale of camping and outdoor lifestyle products, including clothing, hammocks, and other items. In their brand's sense of humor, they call their brand ambassadors "badassadors."
Brand ambassadors who may be utilized as representatives of this company are lifestyle influencers and folks with a love of the outdoors and a social media following that could help promote products. Those who match the description and identity of Trek Light Gear are open to filling out the brand ambassador applications on the website.
20. Adidas – @adidas
If you're an avid sneakerhead with an impressive collection, Adidas may have a job for you. The athletics company is currently on the hunt for brand ambassadors to help represent its products.
As part of the gig, successful applicants will be expected to showcase their passion for sneakers and share their love of the brand with others.
Adidas announced that they are currently looking for brand ambassadors, and applicants must be "dedicated to the lifestyle and culture of Adidas" and have a "strong social media presence."
21. Nike – @nike
Nike is a big company that knows how to work with influencers, from celebrities with millions of followers to public figures with less than 100K followers. Nike also has some specific ambassadors who are micro-influencers, and they've been featured in a few of their brand campaigns.
22. Toms – @toms
Toms Shoes is expanding its company and looking for brand ambassadors. They are not just looking for anyone, but people who have a good story and represent the company well. Brand ambassadors filling out the applications must be passionate about the company and its mission.
23. Walmart – @walmart
The company has announced that it is looking for brand ambassadors who are passionate about its brand to serve as representatives and spokespeople. The brand ambassadors will be responsible for building relationships with customers and helping to create a positive image for Walmart.
24. Macy's – @macys
Macy's is looking for brand ambassadors! Do you have what it takes? Here's what you need to know. Ambassadors will be responsible for representing Macy's brand and providing excellent customer service. They will also be required to participate in-store events and promote special sales and offers.
25. Hollister Co. – @hollisterco
Hollister Co., a clothing retailer for young adults, is looking for brand ambassadors. The brand ambassadors will be responsible for interacting with customers and providing product feedback. They will also be responsible for promoting the brand through social media.
26. Kate Spade New York – @katespadeny
This brand is looking for brand ambassadors to help spread the word about their company. Brand ambassadors will be responsible for representing the Kate Spade brand in a positive light and promoting the company through various channels. This is a great opportunity for those who are passionate about fashion and fashion influencers and want to help grow a successful brand.
27. Urban Outfitters – @urbanoutfitters
Urban Outfitters is looking for brand ambassadors to help promote its company and products. Brand ambassadors will receive free Urban Outfitters merchandise and discounts, as well as access to exclusive events.
If you are interested in working with Urban Outfitters, submit your brand ambassador application today.
28. Nivea – @Nivea
Nivea, a leading beauty and skincare company, is currently looking for brand ambassadors interested in the beauty industry to get their foot in the door.
If you are a skincare influencer, outgoing, passionate about skincare, and have a strong social media presence, then this could be the perfect role for you!
29. Glossier – @glossier
Glossier is excited to be working with brand ambassadors! This is a great opportunity for anyone who loves makeup and wants to share their passion with others. Glossier ambassadors will have the chance to connect with other beauty enthusiasts, learn about new products, and share their own tips and tricks.
30. CVS Beauty – @cvs_beauty
CVS Beauty is committed to providing quality products and excellent customer service. Brand ambassadors help to spread the word about the company and its products, and they are an important part of the CVS Beauty team.
CVS Beauty has teamed up with some of the most popular micro and macro influencers to help promote their new line of beauty products. The brand ambassadors will be using the products in their daily routines and sharing their experiences with their followers. This is a great way for CVS Beauty to reach a wider audience and get feedback from real users.
31. Clinique – @clinique
This brand knows how to use the power of these bloggers or vloggers for marketing purposes. As a brand ambassador, you'll have to be representing Clinique in a positive light and sharing your knowledge of our products with consumers. This is an excellent opportunity to build your portfolio and gain valuable experience in the beauty industry.
32. Babe Cosmetics – @thebossbabecosmetics
Babe Cosmetics is seeking brand ambassadors to help spread the word about its products. This is a great opportunity for anyone who loves makeup and wants to share their passion with others. As a brand ambassador, you will receive free products and discounts, as well as be able to share your feedback with the company. If you are interested in becoming a Babe Cosmetics brand ambassador, fill out the brand ambassador application on their website.
33. Coastal Scents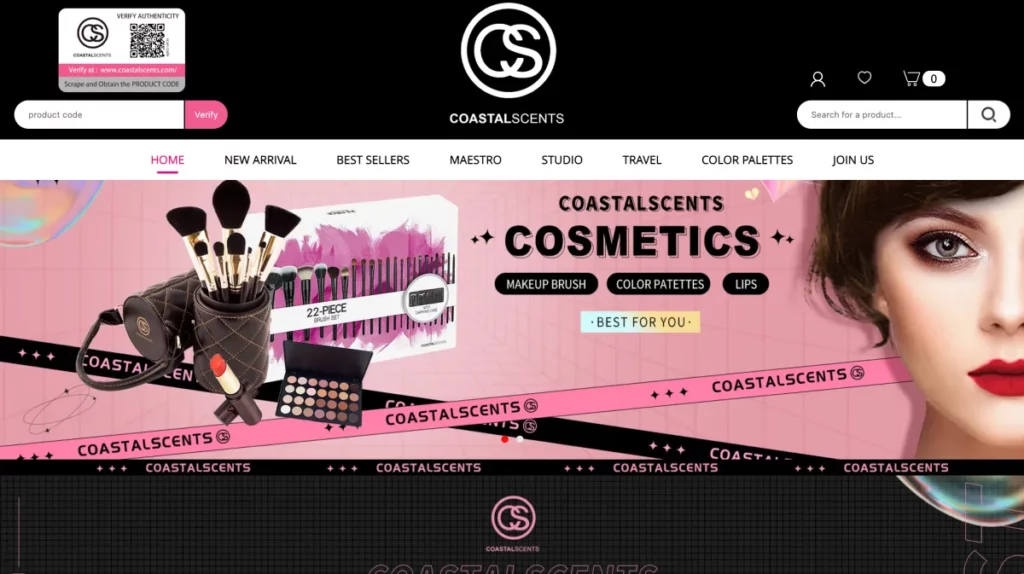 Coastal Scents, an online retailer specializing in quality cosmetics and fragrances, is looking for brand ambassadors. This is a great opportunity for individuals who are passionate about beauty and interested in working with a growing company. If you are interested in becoming a Coastal Scents brand ambassador, submit your ambassador application today.
By the way, they have no Instagram account.
34. Sleek Makeup – @sleekmakeup
Sleek Makeup is searching for brand ambassadors! If you love makeup and want to help Sleek Makeup grow, then this is the perfect opportunity for you to become an Instagram brand ambassador. This is a great way to build your resume and gain valuable experience in the beauty industry.
35. Wet n Wild – @wetnwildbeauty
Wet n Wild is a popular cosmetic company known for its affordable and high-quality products. The company has been around for over 35 years and offers a wide range of products, from foundation to lipstick. Recently, Wet n Wild has been looking for brand ambassadors to help promote its products. Brand ambassadors are different types of influencers with a large following on platforms like YouTube, Instagram, and Twitter.
36. Tarte Cosmetics – @tartecosmetics
Tarte Cosmetics collaborates with trusted micro and nano influencers on Instagram or YouTube. Their videos often include beauty tutorials, ideas, reviews, and more.
37. MAC Cosmetics – @maccosmetics
This brand is looking for ambassadors who are passionate about makeup and want to share their love for Mac with others. As a brand ambassador, you will be responsible for representing Mac at events and sharing your knowledge of the products with potential customers. If you are interested in this role, you can submit your brand ambassador applications today!
38. Starbucks – @starbucks
The coffee chain is now one of the most successful brands on Instagram, partnering with influencers for marketing efforts. Micro-influencers are huge for brands like Starbucks.
Starbucks is looking for individuals who are passionate about coffee and enthusiastic about sharing their love for Starbucks with others.
If you are outgoing and have a passion for coffee, this is the perfect opportunity for you. Apply today and start your journey with Starbucks.
39. BMW – @bmw
As one of the most popular luxury car brands, BMW is always looking for new ways to improve its image. One way they do this is by finding brand ambassadors. They are usually given special perks, such as free cars or early access to new models.
40. Coca Cola – @cocacola
Coca-Cola, one of the world's largest beverage companies, is in search of brand ambassadors who are "passionate about happiness" and "enjoy sharing their happiness with others." Applicants must be at least 18 years old, outgoing, and enthusiastic. The brand ambassadors will promote happiness and share positive messages about Coca-Cola on social media.
41. Hello Fresh – @hellofresh
Are you passionate about cooking and love trying new recipes?
Do you enjoy being a part of the culinary community and sharing your experiences with others?
If so, Hello Fresh may be the perfect opportunity for you! This brand is looking for ambassadors to help spread the word about our meal delivery service. As a brand ambassador, you would be responsible for promoting Hello Fresh through social media, cooking demonstrations, and other creative means.
42. Target – @target
Target is looking for ambassadors who are 18 years or older and must be able to commit to working at least 10 hours per week. The brand ambassadors will be responsible for promoting Target's products on social media and in person. They will also be responsible for providing feedback on the products they promote.
43. La Croix – @lacroixwater
La Croix, a popular beverage company, is looking for brand ambassadors who are active on social media and have a large following. You can apply on their website if you want to become a brand ambassador for La Croix.
La Croix is acclaimed in the beverage industry, not for its traditional advertising strategies but because it collaborated with Whole30, a leading nutrition affiliation, and micro-influencers.
44. Daniel Wellington – @danielwellington
Daniel Wellington's strategy is really simple: Offer influencers an opportunity to receive gifts or prizes in return for a sponsored post on Instagram promoting the brand. Not only this, but they frequently also offer you a chance for your posts to be made in their feed. Their highly rated #DWPickoftheDay competition allows influencers to produce and share creative work, with a chance of winning and having their post reposted on Daniel Wellington's Instagram feed.
You can sign up on the website through brand ambassador applications to become a part of their global ambassador community as an influencer. You may also enter brand competitions, such as Daniel Wellington's Pick of the Day, as a way to grab the spotlight.
45. Asos – @asos
Asos, a British online fashion retailer, is looking for ambassadors with a strong social media presence who are passionate about fashion. The ambassadors will be given free clothing and accessories from Asos to post about on their social media channels. Asos is hoping that this will help them reach a wider audience and increase sales.
46. Audible
Audible, an Amazon company, is looking for brand ambassadors who are responsible for promoting Audible through social media, at events, and in their own communities, generating excitement and brand awareness.
They will also be responsible for creating and executing marketing campaigns and initiatives. The ideal ambassador is someone who is passionate about audiobooks and loves to share their enthusiasm with others. Audible is looking for you if you want to become a brand ambassador.
You can apply to be an Amazon ambassador by signing up on their website.
47. Banana Republic – @bananarepublic
The Banana Republic is a clothing retailer that is looking for brand ambassadors. Ambassadors will be responsible for representing the brand on social media and interacting with customers. They must be outgoing and have a strong social media presence. The ideal candidate will have a passion for fashion and be able to connect with customers.
The Banana Republic is a fine instance of a larger brand cooperating with Instagram micro-influencers. They've run 13 such projects, resulting in over 43 million ideal consumers. Their campaigns mostly utilize Instagram micro-influencers to style their seasonal fashion lines differently.
48. Forever 21 – @forever21
The brand shares a user's Forever21 content on social media after the user has shared their own with the hashtags #F21xMe. The company encourages influencers to post content hosted and financed by Forever21 in exchange for payment plus apparel allowance.
Forever 21 is always looking to expand its talent roster. Shoot a link to your portfolio to talent@forever21.com to be considered for influencer marketing campaigns and ambassador programs.
49. Sephora – @sephora
SephoraSquad has well over 58,000 posts, making it one of Instagram's biggest social media campaigns. Sephora launched this campaign to turn fans into brand ambassadors. Sephora uses influencer marketing campaigns constantly to engage a larger audience and highlight company culture.
Keep an eye on openings at the official Sephora squad site when enrolling for Sephora.
50. Izzy and Liv – @izyyandliv
This online brand seeks black lifestyle influencers and ambassadors who embody the black culture, are highly confident in their own skin, and welcome self-expression through fashion; you should meet these standards to be considered for the job. In order to be considered for the ambassador position, you must have an active social media following on either Instagram, YouTube, or a personal blog, maintain a public profile, and have a loyal following on your social media website.
51. Happy Earth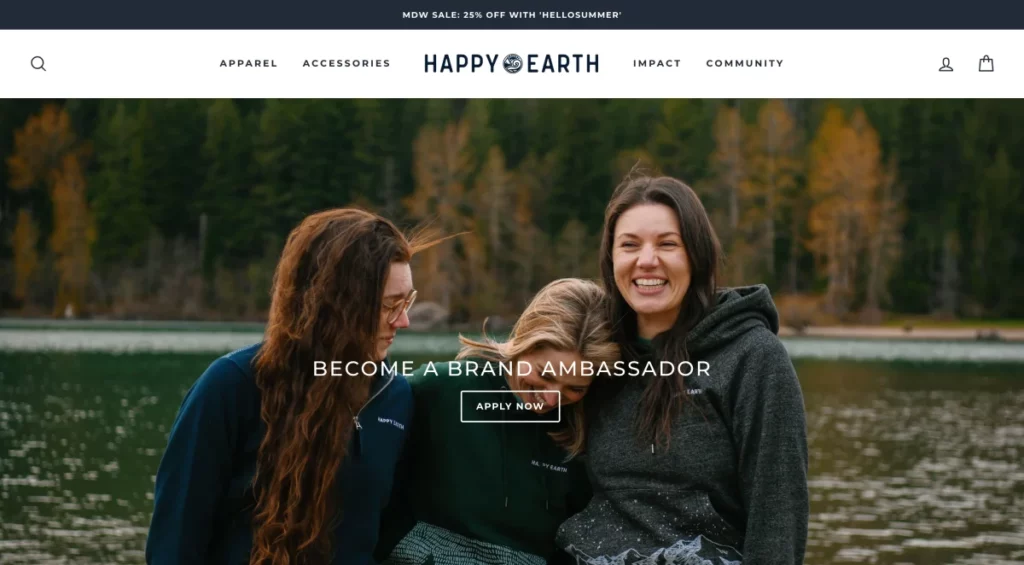 This brand sells apparel to raise money to be able to support environmental issues. As an Ambassador, you will be rewarded with a discount code and a share on social media to share a thing vaguely good for the earth! Join your neighborhood by picking up trash and other activities. Become the voice of the movement for environmental cleanup.
52. Ferrari – @ferraristyle
This fashion brand sells clothing and accessories and creates opportunities for its ambassadors to be on-trend and create a strong social media presence. As an Ambassador, you will control your own schedule and earnings every time someone uses your code to represent the business on your social media accounts.
53. Unemployed Denim – @unemployeddenim
This brand has several cozy clothes you can choose from, no matter where you are. Since this brand's specialty is denim, that's no surprise. You can visit their website to check out the areas where they are looking for new ambassadors. They are also always looking to increase their brand ambassador team, so consider applying if you're interested.
54. Pura Vida – @puravida
Adorable bracelets distributed by Pura Vida give back to communities! Their contributions have exceeded 1.5 million dollars and supported local and national charities. Pura Vida is your best bet if you are a local influencer and you want to contribute to charity while enjoying fashionable charms. Applying for brand ambassador applications means you must be active on Instagram and Facebook.
55. New Balance – @newbalance
If shoes are your thing, this might be a great place to become a brand ambassador. You'll be chosen to carry this brand and receive merchandise and incentives from it all. Brand ambassadors wanted might be compensated for the miles that you drive from store to store. You will receive a payout of $15 per hour.
56. Tweezerman – @tweezerman
This company is looking for ambassadors who have a large fan following base size. With Tweezerman ambassador, you will be given a welcome toolkit, will have an opportunity to participate in new products launch, will be invited to exclusive events, and will be the face of starting and reporting at events.
57. Lash Factory – @lashfactorycosmetics
Lash Factory contains everything, including different eyelashes, eyeliners, mascaras, and lash enhancers. Still, they also cover the trouble of sealing promotional contests. If you've got an established blog or YouTube channel and you are interested in collaborating with this brand, apply to the Lash Factory Ambassador Program today!
58. The SkinCare Boutique – @theskincareboutique
This skincare line has everything necessary for skin care, including bundles, primers, and virtual consultations if you're not sure what kind is best for you. As an ambassador, you need to do your best research and maintain accurate information for customers.
Ambassadors wanted should post one video every week using the credits from the Ambassador Rewards Program representing The SkinCare Boutique correctly and positively and give your discount code to your subscribers.
59. Trendship – @shoptrendship
You must sign up with your Instagram account, and practically anything you wish to buy can be sent to you for free. In contrast to up to 5 links, you can register for up to 5 promotions, and if your brand name likes you, they will send you a product in exchange for you posting a picture of it. All posts should be made two weeks after you receive the product if you want to stay on top of the platform.
60. Orglamix – @orglamix
Orglamix is a beauty and skincare brand searching for ambassadors who would be willing to get free products in exchange for photographic content promoting its unique brand. Your Instagram account needs to be public, have at least 500 followers, and the search is only open to U.S. citizens. As an affiliate program, you will receive a $10 gift card at the conclusion of the signup process.
61. Amazing Lace – @amazinglace
This clothing company is searching for both influencers and brand ambassadors. Influencers will receive free products in return for heading to a specific place and posting photos. Brand ambassadors will have the regular products and receive recognition for representing the company. Interested parties should email the customer service department for more information about the opportunity.
62. Outdoor Products – @outdoorproducts
Do you enjoy spending time outside? Do you stay active in the community?
Outdoor Products wants culturally engaged individuals who are dedicated to outdoor recreation! As a brand ambassador, they expect you to consistently use their products. People you refer purchase products using your unique link will give you 15% of the profits.
As an ambassador, you will regularly post on social media with your ambassador credentials in your bio. Encourage others to use your referral link. Create and submit original photos and videos of you using Outdoor Products gear. Contribute to their social media accounts.
63. Discount Dance – @discountdance
Dancers visit discount dance for everything they need, for example, leotards, shoes, tights, and more. They are looking for dancers with a large social media presence to advertise their latest dancewear trends. Social media ambassadors and college ambassadorship opportunities are available for those interested. As an ambassador, you'll be offered the newest dancewear. If you are a dance or music influencer, this ambassador program might be what you've been looking for.
64. Blue Planet Eyewear – @blueplanetecoeyewear
This eyewear company sells a wide variety of glasses, including sunglasses and reading glasses, all made of recycled materials to do their part in reducing waste. They also promote the Visualize Change Program, which allows one pair of corrective glasses to be donated to someone with each pair of glasses they sell.
As an ambassador, you will receive commission discounted and free products. You will also receive a personalized Referral code.
65. Mophie – @mophie
Mophie is the first mobile battery case brand in the United States. If you're interested in learning the relevant details of this company, submit a request to become one of their brand ambassadors!
66. Kona Surf Co. – @konasurfcompany
This surf company specializes in designing clothes and accessories for women, men, and children. They were also able to design their very own surfboards. They're currently seeking dedicated fans and followers to assist in community-building efforts and social media promotion. Fill out the form on their website and wait to see if you qualify as their customer!
67. Findra – @findraclothing
FINDRA is a brand focusing on clothes for people who enjoy the great outdoors. If you love traveling and desire to promote clothes from others who have similar interests, take a look at their open job position!
68. Lemon Basket Clothing – @lemonbasketclothing
The lemon collection contains charming loungewear for women. As an ambassador, you may receive complimentary merchandise and exclusive offers!
69. Sunny Co. Clothing – @sunnycoclothing
SunnyCo Clothing has swimsuits as well as numerous other apparel hats, tops, skirts, accessories, and hoodies. As a brand ambassador, you will receive a gift from SunnyCo Clothing and earn a reward for authentication. Share photos and communicate with other users, and you will be entitled to exclusive offers.
70. Nuyu
This brand is looking for ambassadors to engage with colleges and universities to promote them. If you think about Instagram and put fashion first, this could well be an opportunity for you. You will have access to our ambassadors in 30 different colleges across the nation. And you will receive rewards for your efforts in reaching 20 percent of all sales. You will learn a wide range of skills and accelerate networking with ambassadors from around the country.
71. Cashmere & Company – @cashmere_company
Cashmere & Company is a wonderful brand that has many different types of clothing. The main requirement to become an ambassador to Cashmere & Company is that you must be at least 16 years old, and you must post four photos to Instagram monthly. Their company names must always be included in all of your Instagram captions, and the photos you post must be high-quality high, resolution, and fun.
72. She Inspires – @sheinspireslovely
The "She Inspires" movement encourages women to celebrate their unique qualities, embrace their faith, and find purpose in their lives. It seeks to empower women to recognize their strengths, talents, and worthwhile embracing their individuality.
Some minimum requirements include creating content and buzz for the brand answering community feedback, and answering community questions. As a brand ambassador, you will gain a flexible work schedule, exposure to social networking, and earn a commission.
73. Lay Low – @laylowapparel
Lay Low Apparel is a brand based out of New York that provides a comfortable brand of clothes for a relaxed lifestyle. By becoming a brand ambassador, you will encounter opportunities through which you can earn commissions on your every order. You may opt for a 20% discount upon obtaining and sharing your promo code, in addition to $40 upon free shipping when using your code online.
74. The Great North – @thegreatnorth
This Norway-based company designs beautiful houses that are unique to their brand. Brand ambassadors are provided with a referral link to their followers and may receive a commission from this when it's used. As a result of the Ambassador, they will receive global exposure.
75. Oopsie Daisy – @oopsiedaisyfriends
If you are interested in fashionable streetwear, Oopsie Daisy is your go-to option. Sign up for Oopsie Daisy's ambassador program is perfect for micro-influencers. Receive perks such as a 13% commission on sales, a credit for your first purchase, and many other advantages.
76. Gemvara – @Gemvara
It's always a good idea to gift fine jewelry, no matter the occasion. Sparkling stones are mounted inexpensive materials like precious metals and individually crafted with love at Gemvara. It begins with a skilled jeweler discovering a centerpiece that will pair well with your many gemstones. Many decisions remain for you to create your ideal stone, precious metal, and ring size.
Would you like to dazzle your social media feed with an amazing style with Gemvara? Then spark a connection between yourself and them today and get some amazing perks. Perks can include a 15% commission and free products.
77. Ross & Snow – @rossandsnow
These boots were created in the Italian countryside, inspired by the Mediterranean's fashionable style. Stylish collections for both men and women from rustic brown, blush camo to indigo distressed, perfect boots.
The Fashion and footwear influencers with over 10,000 followers, if you're interested in collaboration, then Ross & Snow may need your help promoting their brand and products. Influencer rewards include a 15% commission on sales when they refer a customer and a chance to win free merchandise on monthly goals.
78. Coltorti – @coltortiuniverse
Coltorti is a leading Italian retailer in luxury fashion for men and women. From Versace Squinatorone and hiker sneakers, the Saint Laurent anchor-style shirt for men, to the Dolce & Gabbana flocked zebra print mini dress and Jimmy Choo stilettos for women.
If you desire to partner with popular brands, then Coltorti would like to collaborate with you. Influencer perks include a commission of 8% on high-value orders.
79. Bold Dots – @bold.dots
Comfortable frames, superior materials, and beautiful details in every frame detail make Bold Dots eyewear a popular choice. And let's not forget that sunglasses are always flattering for your fans. Optical eyewear is also available.
If you share fashion content frequently and have at least 20K followers, Bold Dots is for you. This brand collaboration platform includes perks such as an 11% commission and free products.
80. Crystal Wardrobe – @crystalwardrobeofficial
A new wardrobe is never out of date, so I think now is an optimal time to buy new clothing from Crystal Wardrobe. Fashionable, chic, classy.
Would you like to complement your wardrobe with a new one-piece swimsuit? Consider putting on a novelty article of clothing like a dress-up lace-up swimsuit. Influencer program Crystal Wardrobe is in search of fashionistas to collaborate with. Influencer reimbursements include a 30% commission on sales.
81. Missguided – @missguided
Missguided is a UK-based corporation that wants to create clothing that appeals to younger women. Consequently, it's no surprise that it generally works with influencers below the age of 25. The corporation leverages social media to publicize its products and is known for scouting trends and designing items in accordance with popular trends.
Get in touch with the team at Missguided to have a consultation. The team is considering working with key influencers in order to increase the page's effectiveness. It could prove beneficial to you since Missguided provides excellent promotion by offering influencers an opportunity to feature their content on their pages.
82. Sincere Sally – @sinceresallyboutique
You'll shed that tantalizing red bodysuit, that lovely pink off-the-shoulder ruffle dress, that cute figure-hugging yellow mini dress, or that trendy line art tee as you stay up-to-date on your feeds. This surely is to keep from attending to their every whim.
Sincere Sally is looking for people who love fashion and travel and who have a knack for taking epic pictures. Does this sound like you? Influencer perks include giveaways. An exotic vacation awaits you.
83. Dia & Co – @diaandco
Ladies in plus-sizes will discover an inspiring home design at Dia & Co. Its FILA Capsule collection provides a stunning fit. The cozy tanks, hot skinny jeans, and adorable born tees are sure to delight.
Dia & Co wants to collaborate with large-size fashion lovers, brands, influencers, bloggers, and social media personalities with 5K to 30K followers.
84. Bohme – @shopbohme
If your fashion sense is boho-chic and your favorite colors include earthy tones, let your free-spirited style flourish while indulging in ShopBohme.
ShopBohme is seeking fashionable influencers (both large and small) to collaborate on its free-spirited brand. Influencer rewards include collaborations that feature free merchandise exchanges.
85. Slipper Chic -@slipperchic
Sometimes you only need a comfy pair of slippers to unwind in, correct? Cute, comfy, and fun slippers from Slipper Chic, which you can use to de-stress as you reconnect with your everyday self every single day.
This brand is looking for ambassadors who value style and have a good influence on their personal and societal lives.
86. Station 16 – @station16_
Where can one get a truly exquisite meal? According to the most recent reviews and opinions, Sacramento's Station 16 is the location to be for seafood. If you're looking for an ideal lunch, dinner, or appetizing brunch, they've got all you could wish for.
If you have a passion for sharing your knowledge of food as an artist, then this one's for you. If you're a food influencer on Instagram who is always ready to capture a delicious meal as your handiwork, then your followers will probably be drooling over your Station 16 posts.
You may be required to post photos, videos, and articles on social media platforms. Influencers will have their involvement in bigger brand campaigns and receive early access to promotions.
87. Distacart – @Distacart
Distacart is the safest source to patronize Indian clothes, jewelry, and makeup sold on the global market. The e-commerce site offers a wide range of Indian products. With this brand receiving worldwide recognition, it is not surprising to notice that they are also in frequent contact with numerous foreign influencers.
This clothing brand welcomes women and men alike; you don't need a high follower count to join the network. Distacart is one of the companies looking for brand ambassadors in the clothing and makeup niche. Ambassadors enjoy a 5% commission on any sales made through their referral link.
88. Pop Bag USA – @popbagusa
You never admired your wardrobe till you observed lovely designer pieces from Pop Bag USA. It is in that store where you would find a bag that speaks to your heart, a bag that fits your style, and a bag that beautifully matches your character.
Pop USA is looking for ambassadors to create story unboxing and in-feed posts.
89. Sprite – @Sprite
It seems like an idyllic idea to enjoy a refreshing soft drink on a hot day. And imagine how nice it would be if you were able to launch a campaign in collaboration with one of the leading soft drink brands in the world. This brand is looking for ambassadors and influencers from the food and beverage industries to promote its products.
90. Healthkart – @Healthkart
If you are dedicated to a healthy lifestyle, you inspire others to embrace both physical and mental well-being as Healthkart, your leading seller of health products for children, is always on the lookout for proactive individuals. It offers a vast selection of products designed to help with various health concerns for all children. If you are a health influencer, you are gonna love this ambassador program!
91. Mulu Jewelry – @mulujewelry
Those who count a significant following on social media websites, such as Facebook, Instagram, Pinterest, or YouTube, may be chosen as Mulu's ambassador and earn store credit for such purchases from the store.
92. S-Force Watches – @sforcewatches
This company is looking for a specific kind of ambassador. Fitness-loving, power bodybuilders with a passion for high-quality timepieces. Do you fit the requirements? Apply today!
93. Twelve Little – @twelvelittle
If you love beautiful bags (backpacks, bottle bags, diaper bags, lunch bags, etc.), Twelve Little may be a beneficial choice for you. You will receive discounts on orders of up to 50%, and you can get the word out to your followers too.
94. Leela and lavender – @leelaandlavender
This multiple-outlet business is always searching for qualified ambassadors to spread out their business. Fill out the brand ambassador application on their website to learn the benefits you'll receive if you become refreshed as Leela & Lavender ambassador.
95. The Copper Closet – @thecoppercloset
The Copper Closet is on the lookout for brand ambassadors! If you love fashion, social media, and working with a team, then this is the perfect opportunity for you. As a brand ambassador, you will represent The Copper Closet and our values by creating content, engaging with customers, and providing feedback to help this brand grow. This is a unique chance to join a growing company and be a part of something special.
96. The Jacket Maker – @thejacketmaker
Rest assured that this company is making luxurious jackets for both men and women and is looking for ambassadors to publicize the brand. In return, ambassadors will be rewarded with 20 commissions for referrals to sales, 50% off the clothing they purchase, and a lifetime discount for you and your friends.
97. Floral Beverages – @tryfloral
With a sparkling, fresh flavor is Floral Beverages. Sip on sparkling water infused with CBD and THC, and the best part is that it s no-caloric with a zero-hangover effect.
Floral Beverages are looking for fitness influencers, nutrition bloggers, and wellness influencers to collaborate with. Join Floral Beverages' Influencer Program to receive a 15% commission from product sales.
98. Born Tough – @borntoughofficial
Creators of cool-looking duffel bags, gym bags, gym accessories, and workout clothes are always looking for brand ambassadors to help promote the company and receive a commission of 15 dollars in exchange.
99. Bliss – @Bliss
The skincare brand has mastered the art of working with influencers, including micro influencers. Are you an Instagram follower with a passion for skincare with a following of over 5K? The company has been a skincare-participating influencer for many years, and its unique identity makes them the best fit. They have several ambassadors who are micro in order to help them promote their brands and products on the market on other channels, including Instagram, Facebook, Tumblr, and YouTube.
And if you don't have enough followers, you should know that getting followers in not as hard as you think. Here are 20 easy ways to get 10K followers on Instagram.
100. BK Beauty – @thebkbeauty
This brand is looking for brand ambassadors and micro influencers. Brand ambassadors wanted should help them promote their brands and products on social media channels like Instagram, Facebook, and YouTube.
102. Makeup for ever – @makeupforever
Another quality cosmetics and beauty brand, Makeup For Ever, is looking for ambassadors to interact with the audience, use their products, and promote them to increase sales.
103. Too Faced – @toofaced
Too Faced is one of the companies looking for brand ambassadors. Too Faced's slogan is "Born this way," and the company is searching for brand ambassadors to help them advertise their cosmetics and show the high quality of their products.
104. Kona Surf Co. – @konasurfcompany
Clothing and accessories for men, women, and kids are the main items offered in this surf shop. They were allowed to design their own surfboards as well. They are currently seeking loyal fans and followers to aid with community development and social media promotion.
105. Ross and Snow – @rossandsnow