Giveaways have long been a popular marketing strategy, helping businesses and individuals alike to increase their reach, engage with their audience, and build brand awareness. From simple social media contests to more complex campaigns, there are many different ways to run a giveaway. We'll explore some of the top influencer giveaway examples and providing insights and tips to help you plan and run your own successful giveaway. 
You should note that giveaways have become a popular tool for Instagram marketing. Therefore, you can ask Instagram influencers to run giveaways for your brand to create a buzz around your name. 
Whether you're a brand looking to boost sales or an influencer looking to grow your following, this blog is a must-read for anyone looking to use influencer giveaways as a marketing tool.
What Is an Influencer Giveaway?
An influencer giveaway is a promotional campaign in which an influencer, or an individual with a significant following on social media, collaborates with a brand or company to give away a prize to their followers. The purpose of giveaways is to increase brand exposure and engagement, as well as to reward and engage the influencer's followers.
The influencer typically promotes the giveaway on their social media channels and encourages their followers to participate by performing a specific action, such as liking a post, following a brand's social media account, or tagging friends in a comment. The winner of the giveaway is then selected randomly or through specified criteria set by the influencer and the brand.
As can be seen, influencers have a major role in this marketing plan. Therefore, choosing the right influencer to collaborate with in influencer giveaways is extremely critical, and you, as a brand, need to do it carefully. 
Additionally, good influencers can come up with great giveaway ideas and encourage their followers to take action. But you may ask yourself how to get influencers to promote your product. This will be easy by finding an influencer who works in your niche or local area.
But how to find the right influencer for collaboration? In the first step, you will benefit from joining influencer marketplaces, like Ainfluencer, where you can connect with top social media influencers.
Let's see how it works! 
Ainfluencer: The Best Influencer Marketing Platform for Giveaway Campaigns
The first step in running an influencer giveaway is finding the influencer. That's where Ainfluencer can help you the most.
Ainfluencer is a 100% free and DIY influencer marketplace that can connect you with thousands of influencers who match your preferences. As a brand, you can join Ainfluencer for free and create a campaign or search for influencers through different filters, such as gender, location, category, number of followers, etc.
You will see a list of influencers and check out their profile or stats about activities. Moreover, you can narrow down the list by selecting more filters, such as adding specific hashtags or dedicating your budget. So you will have a smaller list of influencers to catch up with.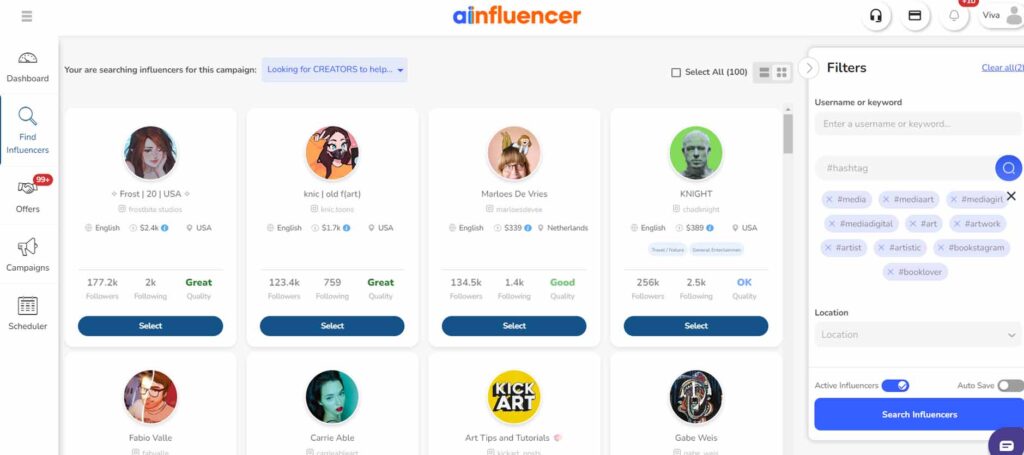 Select influencers that sound suitable for your giveaway ideas. Further negotiations can be done through the chat box on this platform, where you can provide the influencers with unique discount codes or coupons to share as a giveaway to their followers. See! Running a giveaway campaign is as easy as drinking a glass of water! And it's all free on Ainfluencer. So, why not give it a try now?
14 giveaway ideas to inspire brands and influencers
Influencer giveaways are a fun and creative way to show appreciation to customers and followers, and they have many different ways. Here are 15 creative ideas for giveaways that can inspire both brands and influencers to generate buzz and drive results.
1. Liking your post
The first and easiest way to run an influencer giveaway is to ask your followers to like your post. Liking a post is a simple way for people to show their support for a brand or influencer. By encouraging followers to like a specific post, brands, and influencers can increase engagement and reach on their content.
In addition, a high number of likes on a post can increase its visibility, leading to getting seen on the Instagram Explore page.
2. Putting a comment
Asking followers to leave a comment on a post is simple yet effective. By encouraging followers to leave a comment, you are creating an opportunity for them to share their thoughts and connect with you on a personal level. This type of interaction can foster a sense of community and strengthen relationships between brands and followers. In addition, comments can increase the visibility of your post, leading to greater reach and exposure.
Interacting in this way can help build community and strengthen relationships between brands and followers. In addition, comments can increase the visibility of your post, leading to greater reach and exposure.
You can also pick winners from your comments by using giveaway picker tools. "You to Gift" is an Instagram giveaway tool that facilitates the selection of random winners from various sources, including Instagram likes, followers, comments, YouTube comments, and subscriptions.
Additionally, the tool offers features such as random name and number generation, as well as the ability to export Instagram data into Excel or CSV files. It also allows users to conduct their first giveaways free of charge!
3. Tagging another account
Tagging another account is among the popular giveaway ideas requested by companies and influencers. When you ask your followers to tag another account in the comment section, you will increase the chance of expanding your reach, attracting new followers, and building relationships with other accounts. Additionally, it can help you with brand awareness as well. 
This type of giveaway can be particularly effective if the account that your followers tag is related to your niche or has a large following.
4. Reposting or adding your post to their Story
A powerful tool for influencer giveaways is to ask followers to repost or add your post to their Stories. This approach allows influencers to leverage the power of their followers and reach new audiences.
When a follower reposts or adds your post to their Story, it expands your reach and helps promote your brand or message to a new set of eyes. This type of giveaway example not only encourages followers to engage with your content but also creates a sense of community among followers who are excited to share your content with their own followers.
5. Saving your post
Asking followers to save a post is a creative and effective way to increase engagement. A save can serve as an indicator of the quality and value of the content to Instagram. This type of interaction can also increase the visibility of your post, as saved posts will go to the Explore page more easily.
Overall, asking followers to save a post is a creative and effective influencer giveaway idea that can drive great results for both brands and influencers.
6. Writing a caption for your post
Encouraging people to write a caption for your post is also a creative and engaging way to increase interaction and reach on social media platforms. By encouraging followers to write a caption, you are giving them an opportunity to express their thoughts and show their creativity. This type of interaction can also increase the visibility of your post, and gives a chance to followers who are excited to share their captions with others.
Additionally, according to the Instagram algorithm, the use of keywords or hashtags in a caption can help your post get discovered by a wider audience.
Do not forget to answer the comments and show that you care about their ideas.
7. Adding your hashtag to their post or Story
Inviting followers to add your hashtag to their posts or Stories is among the best Instagram giveaway examples that can increase reach and exposure. By encouraging followers to use your hashtag, you are creating an opportunity for your content to be discovered by a wider audience. Therefore, it is essential to have a hashtag strategy for your online marketing.
Using a unique and memorable branded hashtag can also help you track the performance and impact of your giveaway, as well as monitor the conversations and interactions surrounding your brand.
8. Doing your challenge
In any influencer partnership and giveaways, asking the followers to do your designed challenge can also be perfect. This could be a task or activity that aligns with your brand or product and allows followers to engage with you and potentially win a prize. It's essential to ensure the challenge is both fun and relevant to your audience.
9. Adding your link to their bio
One more way to run an influencer giveaway is to ask your followers to add your link to their bio. By adding the link to their bio, you increase the likelihood of more people visiting your website, which can lead to a higher conversion rate.
10. Downloading the app
Inviting your followers to download your app is a great way to drive app installs and increase your user base when running an influencer giveaway. This action not only helps to promote your app but also allows you to engage directly with your followers. By offering a prize for downloading your app, you increase the motivation for people to take action and install the app on their devices.
11. Writing about their experience
When running an influencer giveaway, you can also ask your followers to write about their experience with your brand or product. In this way, you can gather customer feedback and create user-generated content. This action not only helps to promote your brand but also provides valuable insights into how people are using and engaging with it.
12. Running trivia
Running trivia is a fun and engaging way to run a social media influencer giveaway. By asking your followers to participate in trivia related to your brand or product, you can promote yourself and increase the engagement rate of your content. An influencer can do the same about your brand and get more interactions from his/ her followers.
Offering a prize for correctly answering the trivia questions can serve as an additional incentive for people to participate.
13. Celebrating a follower milestone
You can run an influencer giveaway for celebrating a follower milestone on social media. It is a great way to show your followers that you care about them and encourage more people to follow your account. Plus, it serves as an incentive for people to support you in reaching the milestone and can create excitement and engagement around your account.
14. Celebrating an event
Celebrating an event, such as a birthday, anniversary, or seasonal holiday, is a fantastic opportunity to host a giveaway contest. This type of giveaway, which can be held by you or in the form of an influencer partnership, can be a powerful marketing tool that helps to increase brand awareness and engagement with your target audience and boost your sales and revenue.
Top 15 brand/ influencer giveaway examples
Let's go through 10 popular brands and influencer giveaways that have been executed successfully in the past. These giveaways will provide you with insight into the different types of promotions that are commonly used by brands and influencers to engage with their audience and create buzz.
1. Huda Beauty
Huda Kattan, a makeup artist and beauty influencer, ran a giveaway to celebrate the launch of her new Huda Beauty Life Liner.
2. Photo contest
Etxtraveler is the Texas Forest Trail region's official Instagram account that supports ETX. It ran a photo contest and gave away over $3,000 in cash and prizes.
3. Joceline Raad
Jocelina is a mom blogger who ran an influencer giveaway by collaborating with Homedics, a relaxation holiday gift shop.
4. Alyssa Fagien
Travel and food influencer Alyssa Fagin has partnered with so many brands and run numerous influencer giveaways. Her collaboration with "honeysucklegelato" is among the most successful ones.
5. Tilly
Tilly, a retailer that sells clothing, footwear, and accessories, ran a giveaway campaign in collaboration with Adidas, the sportswear brand.
6. Birchbox
Birchbox is a health and beauty brand that ran a giveaway while launching a new line in their shop. The brand invited its followers to select one of the products for their exclusive set.
7. Kravebeauty
Kravebrand, the skincare brand, generated more than 6500 likes and gained many followers by collaborating with ZitSticka
8. Girlfriend
Girlfriend is a sustainable activewear brand that focuses on creating clothing that is environmentally friendly and socially responsible. The brand partnered with Tartecosmetics, Lspace, Bala, and Lovesuja and ran a great influencer giveaway.
9. Loungefly
Rosalie Chiang partnered with Loungefly and ran an excellent giveaway that earned over 14K likes.
10. Domino Pizza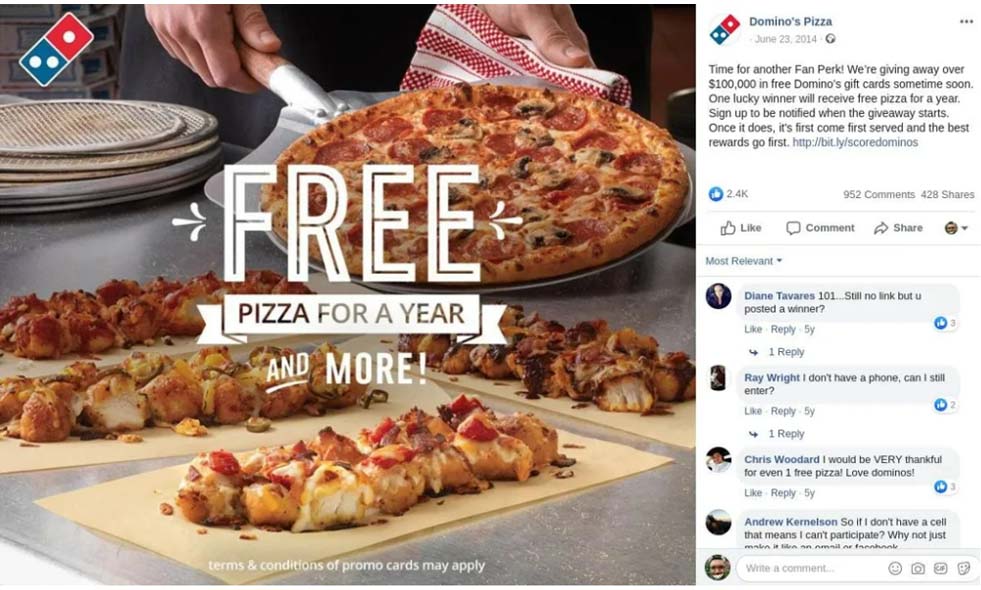 This delicious Pizza brand decided to run a giveaway campaign on Facebook. They asked the followers to sign up on the given link to win free pizza for a year! Who wouldn't like to try this appealing giveaway idea?
11. Lay's 
Undoubtedly, one of the greatest social media giveaway ideas is the ones that create participation between brands and their fans. That's what the Lay's did. They asked their followers to take a selfie with their products' packs and share it on their social media accounts.
They had 200 winners, each winning 50 bags of Lay's potato chips. This way, they could increase their brand awareness and introduce themselves to more people through their followers.
12. Blendjet and Kiehl's
This is a wonderful brand collaboration that had a great result for both. Blendjet and Kiehl's came up with one of the most common Instagram giveaway ideas: asking followers to like a post on Instagram and tag a friend.
Although it seems old-fashioned now, they could earn over 4000 comments, making them go viral for a while. The winners would receive a wellness pack containing the new products of both brands.
13. Krave Beauty and ZitSticka
Another giveaway partnership on Instagram belongs to Krave Beauty and Zitsticka brands, who combined their products to create a mesmerizing prize. Their giveaway idea brought them 4000 entrants and increased their engagement rate.
14. Two Faced Cosmetics 
This beauty and cosmetic brand collaborated with a beauty influencer to run a giveaway campaign. Furthermore, instead of sharing a static post telling the followers that they have run a giveaway, they created Instagram reels, a better method to promote cosmetic brands. 
Two Faced Cosmetics giveaway idea was to bring more followers to its Instagram account. So, the winners would be selected from their followers.
Conclusion
In conclusion, giveaways are a powerful tool for brands and influencers looking to boost their online presence and reach new audiences. With a little creativity and attention to detail, you can create influencer giveaway ideas that are not only engaging and entertaining but also align with your brand values and resonate with your target audience.
We have brought various influencer giveaway examples and ideas, so go ahead, pick an idea that excites you, and run with it! With the right strategy and execution, you can expect increased engagement, brand awareness, and a positive impact on your bottom line.
Don't forget that the essential part of running an influencer giveaway campaign is finding the right influencer with many followers. Therefore, sign up on Ainfluencer right now, create a campaign, search for influencers, and invite those suitable for your brand. 
FAQs
1. How Do You Do a brand Giveaway?
Running a brand giveaway can be a simple and effective way to promote your business and engage with your audience. The first step is to determine your goals and target audience. This will help you choose the perfect giveaway idea and determine the best platform to host it on. 

Once you have a clear idea of what you want to achieve, you can create a plan and set your rules, including the start and end dates, eligibility criteria, and how winners will be selected. 

It's important to make sure your giveaway aligns with your brand values and appeals to your target audience. You can use social media, email, or even your website to promote the giveaway and encourage participation. Don't forget to measure the success of your giveaway and use the insights you gain to inform future promotions.

2. How Do Influencers Get Sent Free Stuff?
Influencers often receive free products or services from companies as part of a sponsorship or collaboration agreement. Companies send these items to influencers in the hope that they will promote the product to their followers on social media platforms such as Instagram, YouTube, or TikTok.

This type of advertising is known as influencer marketing and is a way for companies to reach a large audience through trusted and influential individuals.
3. How Much Do Influencers Charge for Giveaways?
The amount that influencers charge for giveaways can vary greatly depending on a number of factors, such as their following, engagement rate, niche, and the type of giveaway they are hosting.

Some influencers may not charge anything for a giveaway, while others may charge a fee that can range from a few hundred dollars to several thousand dollars. The fee typically covers the cost of the giveaway prize and the influencer's time and effort to promote the giveaway to their followers.

4- How Does the Gleam Giveaway Platform Work?
Gleam is a giveaway platform that allows individuals and businesses to create and run giveaways to engage with their audience and grow their online presence. The platform provides a simple and effective way to set up and manage giveaways, providing a range of customizable options to suit your specific needs.

To use Gleam, you simply need to create an account and choose the type of giveaway you want to run. This can include anything from a simple email sign-up giveaway to a more complex competition that involves social media sharing or other actions.

Once you have created your giveaway, you can set the rules and criteria for entry, including the duration of the competition, the number of entries allowed, and any specific requirements such as following your social media accounts or sharing a post.

5. What Are the Best Giveaway Ideas for Makeup Brands?
You can choose several interesting prizes, such as makeup kits, new product samples, gift cards, or beauty tools. The more surprising the prizes are, the more engagement you will get.