When it comes to Instagram, getting more visibility is a top priority. The Instagram Explore page offers an excellent opportunity to enhance your account's visibility and reach.
Getting viral on marketing and social media can be very hard. In order to go viral, you need to be on other people's Instagram explore pages. The explore page can boost your content's reach and visibility among relevant users and potential customers, resulting in more views, impressions, and the potential to gain additional Instagram followers. In this article, we will help you how to get on Instagram explore.
What Is The Instagram Explore Page?
The Instagram Explore page is a personalized collection of content tailored to each user's interests. The Instagram algorithm selects content based on their interactions with similar accounts or content. It includes photos, videos, Reels, and Stories, making each Explore page unique to the user.
How to Use Instagram Explore Page?
Want to know more about the Explore page? Well, the answer is that you can find the Instagram Explore page by tapping the magnifying icon at the bottom of the app. At the top of the Explore feed, users can search for accounts, keywords, hashtags, and places.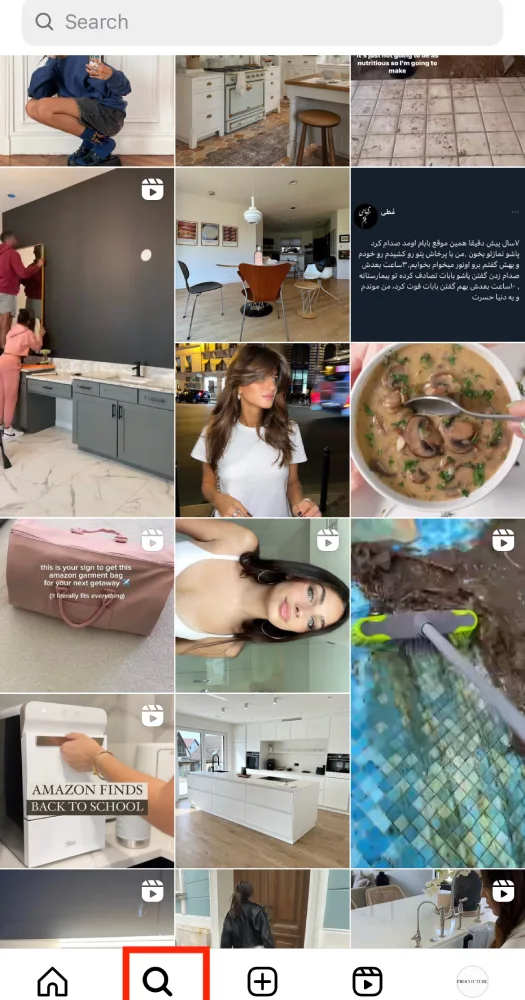 The Instagram Explore page showcases various categories, such as Reels, music, fashion, sports, travel, beauty, and food. When you search for something, the category options adjust to match your interests.
How Does The Instagram Explore Page Algorithm Works?
The Instagram Explore page is different for each user because it's personalized using the Explore Feed Ranking System. This system looks at what you like and does on Instagram to show you content that matches your interests and preferences. So, everyone sees unique content on their Instagram Explore page.
The Instagram Explore page algorithm looks at what you've liked and engaged with before to show you similar content. It keeps learning from your interactions and updates the feed to match your interests. So, it gives you a personalized feed of content that you're likely to enjoy.
How to Get on Instagram Explore Page
As we mentioned, being featured on the Instagram Explore page will increase your visibility and recognition among different users, Instagram explore page will also give you some tips to go viral on social media, Follow these simple tips to quickly appear on people's Explore page.
1. Improve Your Profile on Instagram
Make sure your Instagram profile is perfect. This helps the platform understand your content and makes it easier for users to find and follow you. When setting up your profile, choose the right name and handle. Use a relevant keyword that describes your niche.
Additionally, add keywords to your bio to describe your profile and what your target audience can expect. You can also include relevant keywords in your post descriptions. These can be more specific than your bio or profile name. Optimizing your profile is crucial for landing on the Explore Page.
2. Use Hashtags
Relevant Instagram hashtags are crucial as they inform the Instagram Explore Page algorithm about your content's theme. Users can search by hashtag on the Explore page, so using appropriate tags can expand your content's reach significantly.
On Instagram, you can use up to 30 hashtags. Choose relevant ones by thinking about keywords that describe your content. You can also explore hashtags others are using for inspiration.
 Read also: The Best Art Hashtags On Instagram For Selling Art
3. Post Content Consistently
The Instagram algorithm suggests relevant posts for the Explore Page based on user routines and behavior. To improve visibility, consistency is vital. Here are some ways to stay consistent:
1. Post at The Right Time
To improve your chances of getting on the Explore Page, focus on posting when you get the most interaction. Use Instagram Insights to find the best time for your followers' activity and schedule your posts accordingly. Additionally, consider industry research for posting times in different countries to expand your reach beyond your current audience.
Read also: The Best Time To Post On Instagram
2. Stick to Consistent Instagram Post Topics
Getting on the Instagram Explore page not only boosts your visibility but also verifies your presence on the platform. Remember to post at the right times and stay consistent with your Instagram post topics.
Keep your Instagram marketing strategy focused on relevant topics to help the algorithm understand your account's purpose. Staying on topic attracts interested audiences, boosts engagement, and signals the Explore page algorithm to show your content to more users with similar interests.
Make sure to classify your Instagram posts by subtopics, not just topical relevance. Organizing your content will make it easier for your audience to explore, increasing engagement with your posts.
4. Use Instagram Reels For Better Results
Getting on the Instagram Explore page is a top challenge on the platform. You can achieve it through various methods, including leveraging your Instagram Reels.
5. Share Engaging Content
With understanding what engages your target market, it's time to boost your Instagram engagement. Use your audience research to create an effective social media content strategy for your brand.
Videos perform better in engagement than static visuals because they autoplay in the Explore tab and receive more space in the feed.
While videos excel in engagement, visuals with product tags, carousel formats, or captivating imagery can also be engaging. Don't underestimate the power of compelling captions, as they play a crucial role too.
Remember, engagement goes beyond likes and comments. Focus on creating content that your audience will want to share and save.
6. Interact With Influencers or Celebrities
Collaborating with influencers or celebrities is an excellent method to expand your reach and attract new audiences. The more engagement your posts receive, the greater the chance of appearing on the Instagram Explore page for users who aren't following you yet..
To leverage networking in your content creation, use Instagram Collab. It lets two users share the same posts or Reels, appearing at the top next to your handle. You'll share views, likes, and comments, connecting with each other's communities and expanding your reach.
How to Earn Money on Instagram
Instagram marketing has the power in connecting you with your target audience. When you collaborate with influencers, it boosts visibility, engagement rate, and overall campaign results. To discover the perfect influencers for your industry, use Ainfluencer—an exceptional platform with an extensive network of over 500k influencers.
With Ainfluencer's user-friendly search engine, you can easily target influencers based on specific criteria. This streamlined approach allows you to find the ideal match for your brand effortlessly. So, if you're ready to take your influencer marketing game to the next level, Ainfluencer is your go-to platform! Start exploring now and witness the incredible impact these influencers can have on your Instagram campaigns.
Conclusion
Appearing on the Instagram Explore Page can greatly benefit your brand, boosting visibility and attracting more followers. Increase your chances by regularly posting quality content, using relevant hashtags, engaging with other users, optimizing your profile for search, and making the most of Instagram reels.
Keep in mind that the Instagram algorithm is always changing, so staying updated on best practices is crucial. Stay true to yourself and your brand, and prioritize creating content that connects with your audience.
FAQs
1. How Does Instagram Choose The Explore Page?
The Explore page algorithm uses machine learning to gather ranking signals and determine its content. It operates through an 'unconnected recommendation system,' selecting posts according to each user's activity on Instagram. The algorithm then ranks these posts based on various factors.
2. How Do I Know If My Post Is On The Explore Instagram Page?
To check if your posts have been featured on the Explore page, tap the View Insights button below the post. Then, swipe up to see where the post's impressions have come from.