Art hashtags on Instagram have become one of the most popular hashtags.
In general, hashtags are a great source of content discovery on any social media platform.
There are the best Instagram hashtags for any Instagram industry to maximize your visibility.
According to Later, "A post with at least one Instagram hashtag averages 12.6% more engagement than posts without a hashtag."
Have you ever wondered how to sell art on Instagram using the right hashtag strategy?
It's far too difficult to launch a business without using Instagram hashtags, so it is worth creating a hashtag strategy for your company.
An effective way to get your art found on Instagram is to use digital art hashtags Instagram 2021.
In this article, you'll learn what the best art hashtags for Instagram are and how to use them.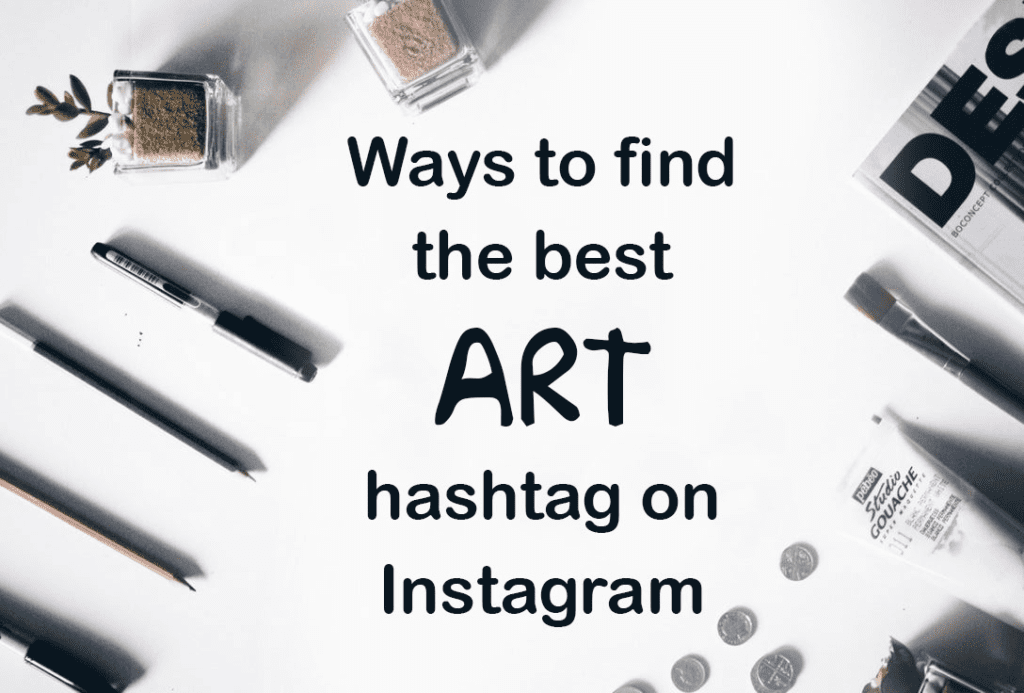 4 simple ways to find the best art hashtags Instagram
Hashtags help people to find your posts easier, but the most important thing is that you use them correctly. The more people can find your hashtags, the higher Instagram engagement you can experience.
Finding the best art Instagram hashtags is highly beneficial to your account's success in terms of increasing your reach and gaining new followers.
1. Use hashtag generator tools for Instagram
Hashtag generators are helpful tools to grow your Instagram posts' visibility.
They are known as one of the most effective ways to generate top and relevant hashtags.
As a result, they're critical in creating a unique set of Instagram art hashtags for each post you make, as reusing the same set of hashtags includes an Instagram penalty.
Here is an important selection of hashtag generators that can deliver you the right hashtags to improve your posts' engagement rates
All Hashtag
All Hashtag is one of the best hashtag discovery tools that can give you great suggestions of hashtags relevant to your keyword.
This tool will help you in developing and testing the quality of your industry's Instagram hashtags.
Ritetag
Ritetag is the second most recommended hashtag finder, which can help you with instant hashtag suggestions for both texts and images.
You can either use the browser extension or mobile app for Android and IOS based on real-time hashtag engagement.
2. Make the most of Instagram influencers
Instagram influencers are great industry leaders with advanced knowledge about the Instagram market.
One of the best ways to sell art on Instagram is by collaborating with Instagram influencers.
These individuals not only can make a strong connection with your target audience, but they are also good at finding the best Instagram industry hashtags.
Now, finding Instagram influencers the easy way is the ideal way to connect with a professional community that can help you grow your business.
Ainfluencer can help you to come up with the correct Instagram art tags for your business.
3. Keep a close eye on competitors
Considering what your competitors in your network are doing is a great way to gain valuable hashtag inspiration.
Monitor the brands in a similar niche, content, products, and target audience to evaluate their content marketing.
Once you've identified the aimed Instagram art tags, you can choose any keywords you're currently missing and incorporate them into your content strategy.
Then track your progress based on your new selection of competitors' hashtags.
4. Do audience research
It is practical to come up with relevant Instagram art hashtags that your target audience discovers about your content.
Indeed, leveraging a proper collection of hashtags can get you in front of the right audience.
Your target audience's interests should resonate with your brand or industry.
Therefore, they would use or follow hashtags relevant to the industry.
How many hashtags should you use on Instagram 2021?
When deciding how many Instagram hashtags to use, you may believe that using the maximum of 30 hashtags will give you more targeted results, but it is not the whole story.
The optimized number of hashtags on Instagram is 5 to 10 per post.
Using these hashtags can help you get the most value out of them to increase your content discovery.
There are many different tactics and recommendations about how many hashtags make a difference. But ultimately, it depends on your marketing strategy.
If you can come up with 30 relevant hashtags to use for each post, it sounds awesome.
Go for it
20popular art hashtags on Instagram
Here are 20 of the most popular Instagram art tags that can help your content snowball.
1. #art
2. #artist
3. #fashion
4. #photography
5. #drawing
6. #instagood
7. #Instagram
8. #artwork
9. #photooftheday
10. #picoftheday
11. #photo
12. #style
13. #nature
14. #painting
15. #artistsoninstagram
16. #illustration
17. #digitalart
18. #design
19. #sketch
20. #bhfyp
10 unique industry art hashtags on Instagram
Try to use the most common industry art hashtags for Instagram.
Instagram hashtags that are smaller, more niche, and have a relevant audience.
1. #artist
2. #artwork
3. #arte
4. #artistsoninstagram
5. #artoftheday
6. #artofvisuals
7. #artsy
8. #arts
9. #artistic
10. #artgallery
11. #artists
12. #artistsofinstagram
13. #artesanato
14. #artlovers
15. #artistoninstagram
16. #artlife
17. #artstagram
18. #artista
19. #artofinstagram
20. #artcollector
Conclusion
Take into consideration that art hashtags on Instagram play an essential role in selling art and make your content easier to find.
To extract your hashtag strategy, use these four simple ways to find the best art tags for Instagram.
Then track your progress by measuring the performance of your posts to find the most engaged hashtags.