One of the reasons brands use social networks such as Instagram is to introduce their business and get their name out. Instagram shoutouts are one of the fastest and most effective ways to increase followers and introduce a business on Instagram. A shoutout is essentially a public endorsement or plugs from another Instagram account.
What is an Instagram Shoutout?
Instagram shoutout is a promising way to promote an online business. Instagram shoutouts are a form of Instagram marketing, especially influencer marketing, which is when an Instagram user promotes another on their account.
One of the most common Instagram shoutout ideas for businesses is when an influencer or regular Instagrammer creates a post or story containing a photo or mention of the business and its products. This exposes businesses, brands, and products to influencers'/Instagrammers' audiences who are likely encouraged to follow businesses.
Note: Along with UGC, Instagram giveaways, and takeovers, brands can also hire influencer accounts with large follower bases to shout out their profile or products. The influencer shoutouts technique is a popular method for increasing followers and brand awareness on Instagram.
Types of Shoutouts for Instagram
Shoutouts for Instagram can happen in a few ways, such as paid, S4S, and voluntary shoutouts. Let's delve deeper to see how they work;
#1- Paid Instagram Shoutouts:
This is when one user pays another (especially influencers) to promote their brand, typically with cash or in exchange for a free product or access to services. These shoutouts are a classic influencer marketing tactic.
How to find Instagram influencers for marketing campaigns?
There are 500000 active influencers on Instagram. They are a lot to choose from, but they are not all created equal. Many of them are not right for your brand. We will introduce you to an Instagram influencer marketing tool to help you find Instagram influencers and connect with those who are followed by your target audience with ease.
Ainfluencer- free influencer marketing tool
The free Ainfluencer ad marketplace helps brands and influencers meet and make deals. Brands can simply explore thousands of Instagram influencers, categorized by location, niche, hashtags, gender, etc., create ads, negotiate with influencers through a built-in chatbox to close the deal, etc.
Here is how it works: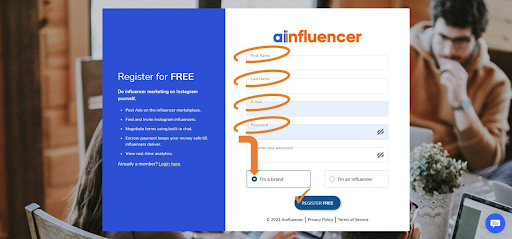 Right from the dashboard, go to Ads, and select Create a New Ad. From here, you can write a title and description for your ad. Moreover, you can add sample image/video, ad publication date, bio ad, etc.
Note: Watch the following video on how to start creating ads with Ainfluencer.
Now, it's time to explore and invite targeted influencers to collaborate with. As we mentioned earlier, you can categorize influencers by choosing filters such as keywords, influencers' locations/ language/ gender, hashtags, number of followers, estimated engagement rate, etc.
Note: Once your ad is posted on a marketplace, thousands of qualified influencers can see it and make offers. So, to connect with influencers, you can either send them invitations or check offers you have received.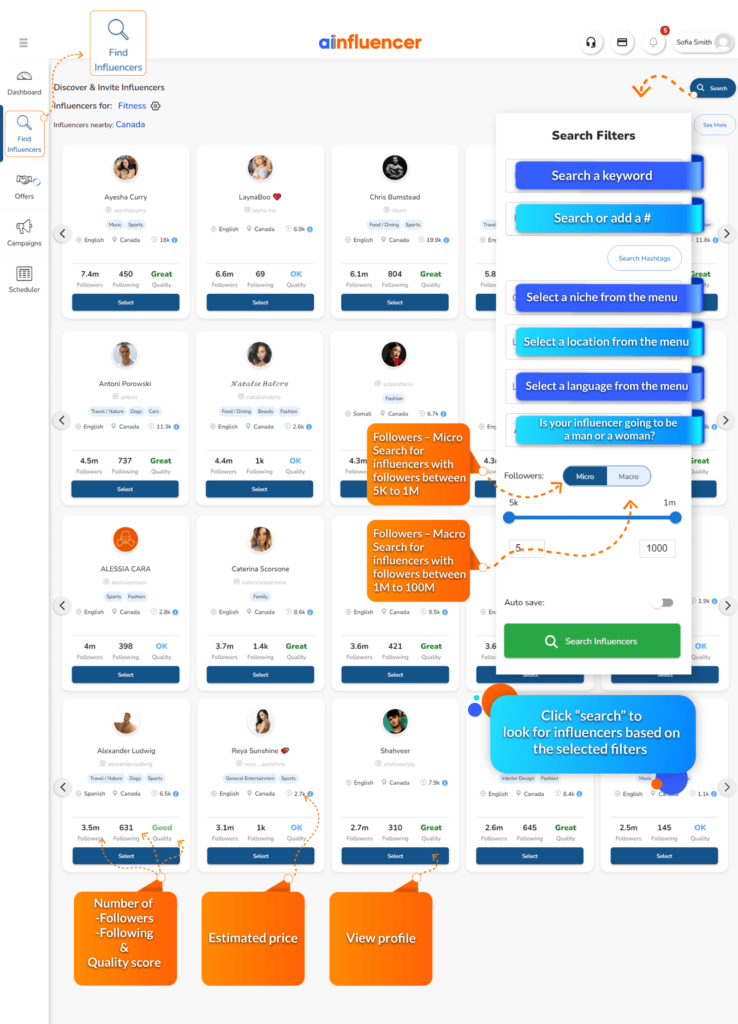 Ainfluencer's super-smart AI and workflow make your influencer marketing campaign easy, fast, and cost-effective. Also, you are provided with real-time analytics of your campaign. This platform is distinctive from similar apps because you can use all its features for free. They handle and release the fee after the influencer promotes your post.
#2- S4S (Shoutout for Shoutout):
S4S is a simple trade – they agree to give you a shoutout on their page if you give them a shoutout on yours. This works best when both accounts are in a similar niche and have a roughly equal number of followers (~5,000).
#3- Voluntary Shoutout:
This is the Holy Grail of shoutouts. Why? Well, there is no payment involved for this Instagram shoutout. Just an account that is so happy with your product or customer service they give your brand free shoutouts to praise you and your brand and introduce you to their audience.
How to get Instagram shoutouts?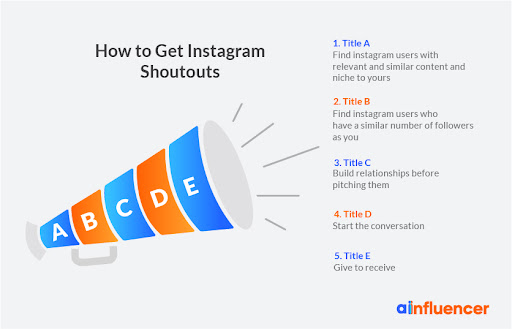 Although there might never be a single right way to get a shoutout for Instagram, there are still guidelines and practices that can increase your chances of succeeding and things you shouldn't do. Without further ado, let's go over a few tips to get shoutouts for Instagram that actually work.
1- Find Instagram users with relevant and similar content and niche to yours
What matters most is to find Instagram users with similar niches to yours. For instance, if your shoutout post for Instagram is about food and recipe and you post a lot of content about food on your profile, you may not have much luck if you target a user for your shout out for Instagram who mainly posts about modeling. In case you start collaborating with them, you wouldn't get many followers out of it because that user's followers are there to see modeling content- not food content.
1.1# How to find Instagram accounts for placing shoutouts?
As we said, getting a shoutout from random pages that are not even from your industry won't give a good result. Here are the effective ways of finding the accounts where you can place your shout out for Instagram on.
• Use specific hashtags
By using and searching relevant hashtags you will find many accounts that are similar to your niche. This way you have many choices to choose from and you can decide which account is suitable for your page to contact for the Instagram shoutouts.
• Searching relevant Influencer by tools
You can find suitable influencers for your Industry by using Influencers marketing platforms like Ainfluencer. This is an easy and good way to find all categories of Influencer in just one place for free
2- Find Instagram users who have a similar number of followers as you
Whether you're a business or an influencer, finding accounts that have a similar amount of Instagram followers as you make much more sense. Because finding a similar ground would be much easier. Plus, the bigger the account is, the more payment you should pay in return. And finally, an account with a fewer audience would be much easier to reach. If you don't already have a lot of influence, you'd better stick with micro influencers.
Pro tip: in addition to the number of followers and the niche of the Instagram users, you should consider the type of engagement and the number of likes and comments their posts are receiving on average.
3- Build relationships before pitching them
Deciding that a person or brand is a good candidate is one of the very first steps. The next step is to follow their Instagram account and other social media accounts like Facebook, Twitter, etc. It is also a good idea to subscribe to their blog if they have one.
Then it's time to contact and engage with them by liking and commenting on them, giving them personalized compliments, bringing up relevant discussion topics, or asking them meaningful questions to let them believe that you're really into what they share and do.
This way, you are more likely to collaborate with them when you ask for your shout-out for Instagram since they'll be familiar with your profile.
4- Start the conversation
To not look too blunt and spammy, don't leave comments like S4S. Instead, use separate communication to bring more weight to your pitch. After building the relationship, start the conversation with a thoughtful, direct message or an email. 
5- Give to receive
Thinking of what you can do to praise someone who wants to give your business or influencer profile an Instagram shoutout is of great importance. It can genuinely make them notice you and even encourage them to shout out your business. By presenting their most important value and giving credit to them, you show that you're not only after what they can provide to you.
How to Post Instagram Shoutouts?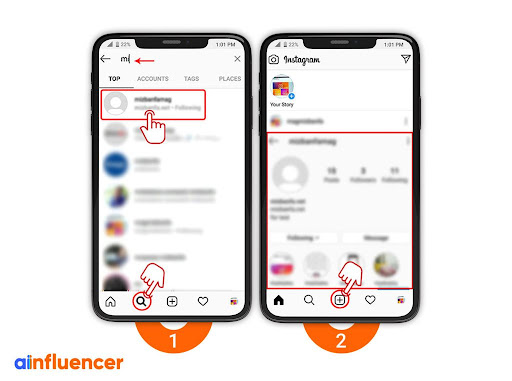 To shout out an account on Instagram, it's usually enough to take a screenshot of the user's profile page. Follow the steps below to create an Instagram shoutout:
In the Explore tab, search for the account name and open the person's profile page.
Take a screenshot of their Instagram profile.
Click the + tab at the bottom of the page and select the screenshot you just took from your gallery.
Upload (post) the screenshot. Make sure to @ mention the user's account! You can also post shoutouts to your Instagram Story for additional engagement.
Conclusion
If you want to promote your brand on Instagram and get good results from your Instagram shoutouts, make sure your content is high quality and that your profile is on point. Pay attention to the tastes of your audience and put some time into making real connections with other Instagram accounts in your field. You can also take advantage of Instagram influencer marketing tools like Ainfluencer to simply connect with qualified influencers and execute free Instagram shoutouts.
1- What is an Instagram shoutout?
An Instagram shoutout is basically an endorsement you can get from another user. It happens when one user promotes another user on their own Instagram account.

2- How do you get shoutouts on Instagram?
Here are some effective ways you can try to get Instagram shoutouts:
1- Find users posting similar content
2- Find pages that have a similar followers count
3- Build relationships and engage with them
4- Appreciate them