If you want to take your influencer marketing to the next level and run effective campaigns, knowing top influencer management tools is essential.
In this article, we will show you how to collaborate with brands and influencers easily using top influencer management tools. With these tools, you don't have to waste your time anymore and can find your best match in a few minutes. 
If you are looking for a way to find creators in your niche and grow your business, Ainfluencer is what you need. Look and search for your industry influencers among more than 500,000 TikTok and Instagram creators.
Why Is Influencer Management Important?
Before introducing you to some of the best influencer management tools, it's important to know how it can help your business. Here are some of the benefits of influencer marketing/management.
Building Relationships:: Influencers have the power to establish connections with their audiences. You can use them to create long-term relationships with your customers. Also, it's a perfect way to build trust with your current followers.
Increased Brand Visibility: Collaborating with influencers allows your brand to reach a wider audience. Influencers have a dedicated following and presence on social media platforms.
Targeted Marketing: By finding and collaborating with your niche influencers, you can access to a targeted market of users interested in your service.
Best Influencer Management & Relationship Tools
If you are thinking about running collaborations and partnerships with influencers to grow your business, you came to the right place. Here are some of the best influencer management tools that you can get help from.
1. Ainfluencer
The first step for starting your influencer/brand partnerships is finding the industry bloggers, vloggers, and influencers that are willing to collaborate. That's why we start the tools with a safe and trusted influencer marketing platform that connects brands and influencers in different industries. 
Ainfluencer stands out as the best influencer management agency in 2023, connecting brands and influencers in a free interface. This platform allows you to collaborate, build relationships, and drive impactful campaigns.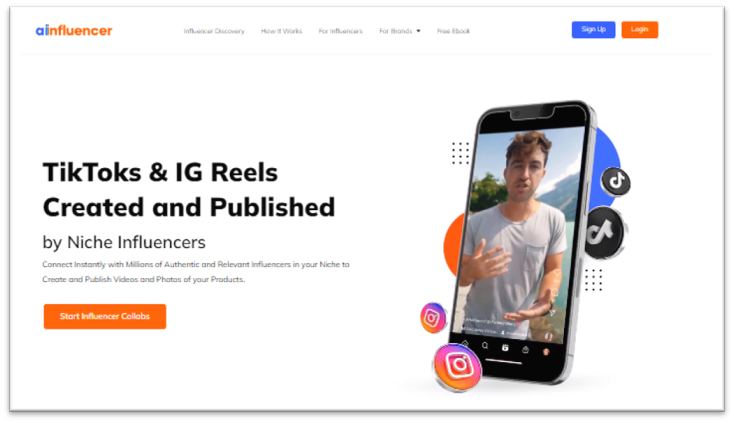 Its powerful search engine allows brands to find influencers based on specific criteria, such as niche, audience demographics, engagement rates, location, budget, language, hashtags, etc. This ensures that brands can connect with influencers who perfectly align with their target audience and brand values.
Another perfect service offering by Ainfluencer is the ability to run influencer/brand campaigns from the same place. Once the Campaign is created, you can use the AI-matching system to find influencers using powerful filters (more than 20 metrics). Then, invite potential creators and Ainfluencer will send emails and notifications to these influencers.
So, no matter what's your niche and what service you offer, you can find the potential on Ainfluencer for sure (there are around 500k influencers on the platform in different industries). Also as an influencer, you can join Ainfluencer for free now, create your profile, search for brands, and monetize your content.
2. Upfluence
The next influencer relationship management with a database of more than 3 million influencers is Upfluence. On this platform, brands and businesses can search for influencers based on keywords related to their industry.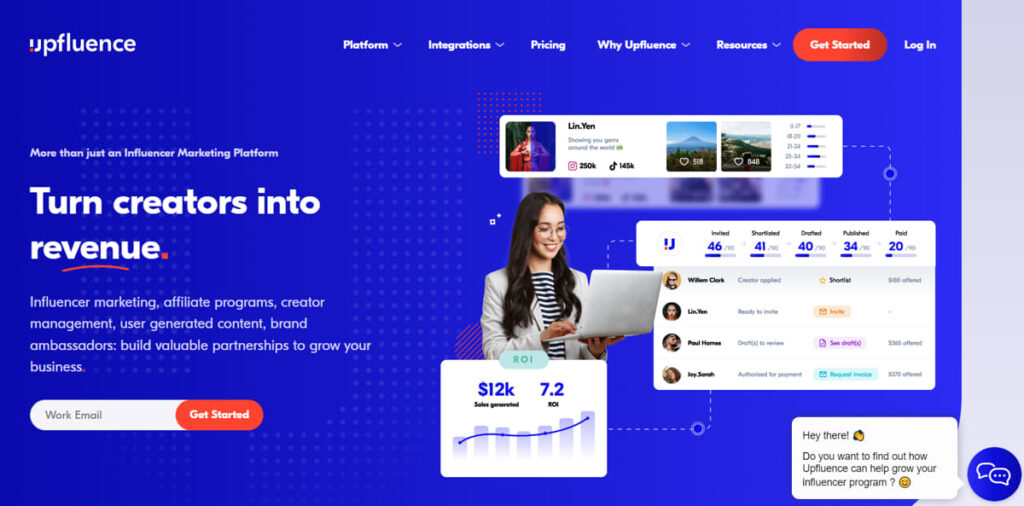 There are around 3 million influencers on Upfluence (With more than 82 million followers) that brands can search based on keywords to find their best match. Other than that, Upfluence offers a social listening tool that helps you create several streams for different purposes such as monitoring your competitors, their activities, and their mentions.
Upfluence Features
Affiliate Management Software,
Manage Client Campaigns,
Find influencers,
Analyze Influencers,
Influencer Gifting,
Campaign Analytics.
Upfluence Pros And Cons
If you are thinking about using this influencer management tool, you need to know its pros and cons to decide better. Here's a summary of it:
Pros
Massive influencers/creators database,
Easy to use and beginner-friendly platform,
Optimized search tools – You can search based on multiple criteria such as the number of followers, keywords(hashtags), location, and topics.
Cons
This platform doesn't provide a free trial,
No visible pricing packs,
You need to schedule a meeting with their team for choosing your package and according to users reviews, they force you to sign a year contract.
Upfluence Pricing
Unfortunately, this platform doesn't provide any pricing for their packages. You need to schedule a meeting with their team, explain your business, and they will offer you a contract. So the price of using this platform is different for each person.
3. Grin
With a user-friendly interface, Grin is on the list of top influencer management agencies. Grin helps brands and creators discover each other.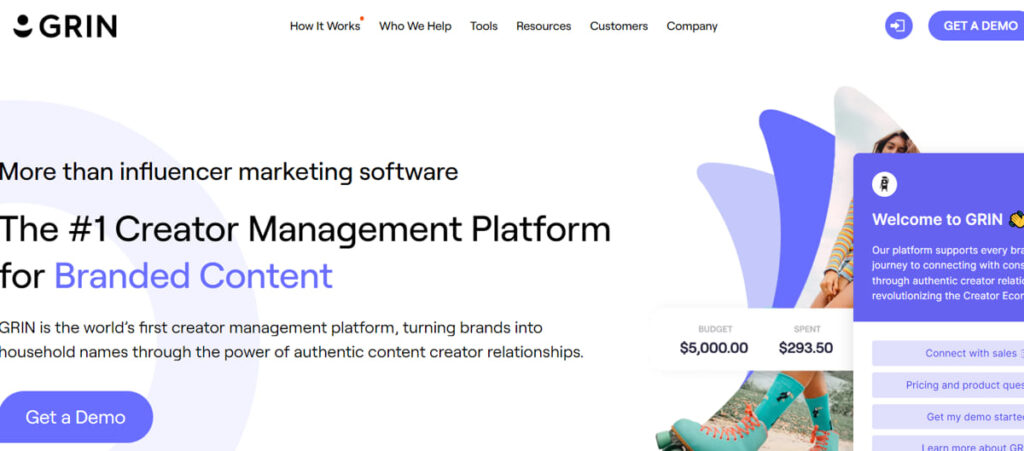 Besides the database of influencers, this macro and micro-influencer management service provides tailored email sequences and the ability to track opens, clicks, and replies. If you have previously worked with some creators, you can add them to Grin and it will find similar influencers for you in a couple of seconds.
Grin Features
If you are thinking about using this influencer management service, you need to know what it offers. Here are what Grin offers:
Relationship Management,
Discovery & Recruitment,
Reporting & Analytics,
Content Management.
Grin Pros And Cons
Now that you know the features of the Grin influencer relationship management tool, let's sum up its pros and cons.
Pros
The customer support team is quick in responding to your issues and questions.
You can manage multiple campaigns and numerous brand ambassadors easily.
Cons
No visible pricing plans.
This platform doesn't offer free trials to test the features.
Grin Pricing
Grin's pricing is completely customized and is different for each person. To start using this platform, you need to request a demo on their website and include some business details.
4. Promoty
The next name on the list of influencer management agencies is Promoty.
Promoty is an influencer relationship and influencer management tool that claims to have a network of over 250 million creators from YouTube, Instagram, and TikTok.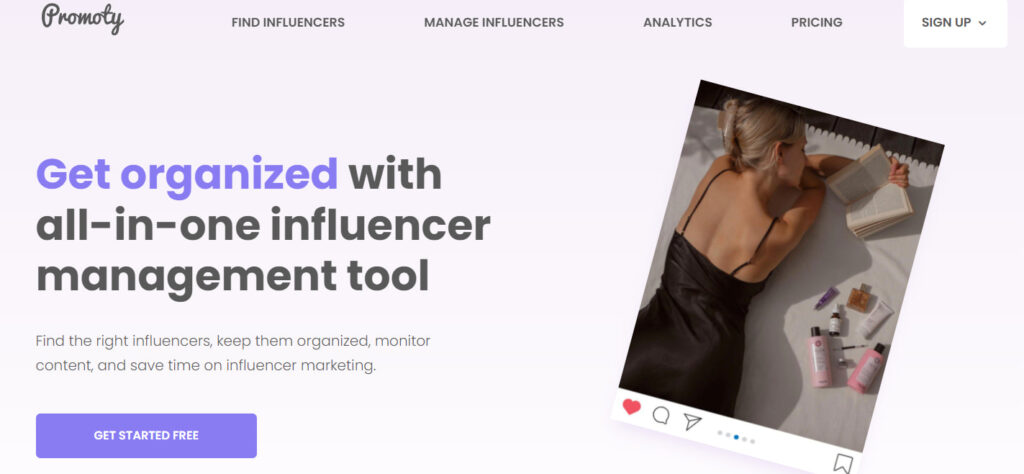 On this platform, you can see detailed insights into each influencer such as their audience demographics, interests, brand affinity, followers' credibility, etc. Then, you can use the app chat feature to contact influencers without leaving the platform.
Besides the search and contacting tools, Promoty offers tracking and monitoring, analytics, and ROI tracking to know how your collaborations are performing.
Promoty Features
Now, let's take a look at this influencer relations management tool's features.
Find Influencers,
Manage Influencers,
Analytics
Promoty Pros And Cons
To help you make up your mind about using Promoty, we provide a list of the top pros and cons of this service.
Pros
,
Free plan,
Brands can create a campaign and wait for influencers to apply for it,
Payment Tracking.
Cons
It takes some time to set up the details of a campaign.
The pricing of the packages is high for many users.
Promoty Pricing
This influencer relations management service offers three plans for businesses. Here is what each plan offers:
Premium: $87 per month: 300 credits for Search & Analytics
Professional: 132$ per month: 450 credits for Search & Analytics
Expert: $223 per month: 1350 credits for Search & Analytics
5. Modash
If you want to collaborate with Instagram, TikTok, and YouTube influencers, Modash provides a vast database in different niches. In Modash, you can find content creators, contact and email them, and monitor your campaigns from one single place.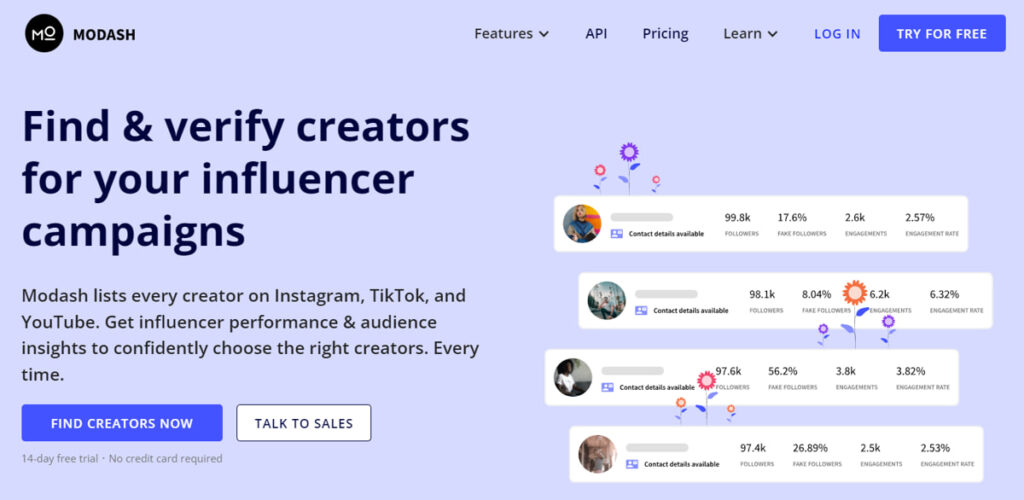 In Modash you can search for influencers who have at least 1k followers and view their analysis data shows you everything from demographics, locations, engagement rates, and detailed audience information. If you are already collaborating with influencers, you can import them to this platform and track their live content in Modash.
Modash Features
Now, let's take a quick look at the influencer management company features and check what it offers:
Influencer DiscoveryInfluencer Analytics,
Influencer Campaign Monitoring,
Find Influencer Emails,
Influencer Management.
Modash Pros And Cons
In case you are thinking about using Modash, you need to know its pros and cons.
Pros
24*7 Support team,
Advanced search with a lot of useful filters.
Cons
There are some technical issues while using this tool.
Limitations with tracking views on Instagram.
It's not affordable for many startups.
Modash Pricing
This social media influencer management tool offers four different packs that you can choose from.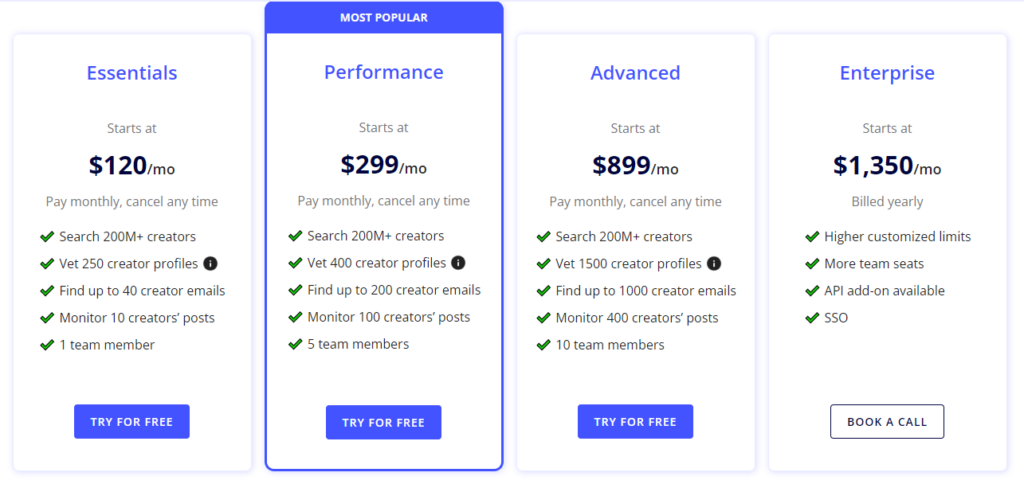 Essentials: $120 per month: Vet 250 creator profiles/ Find up to 40 creator emails
Performance: $299 per month: Vet 400 creator profiles/ Find up to 200 creator emails
Advanced: $899 per month: Vet 1500 creator profiles/ Find up to 1000 creator emails
Enterprise: $1,350 per month: Higher customized limits/ More team seats/ API add-on available
6. Klear
If you are looking for influencer management agencies that have a network of bloggers and vloggers across different social media platforms, Klear seems to be a good option.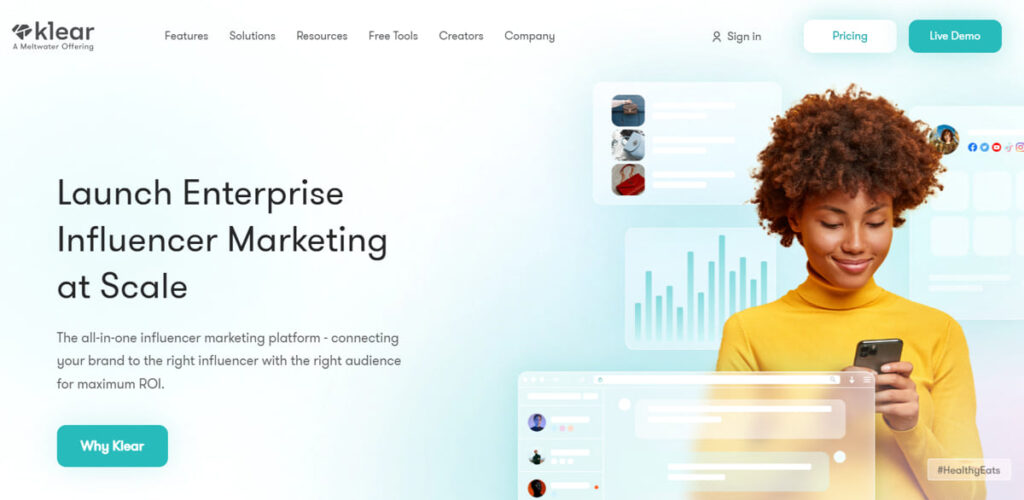 There are more than 30 million influencers from Instagram, YouTube, and TikTok on Klear's database. Using the Klear influencer management company, brands can invite, chat and collaborate with influencers and even make payments inside the app. Also, you can run and monitor your influencer campaign from start to finish on the platform.
Klear Features
Want to run influencer partnership programs with Klear? Here is what it offers:
Find Influencers,
Influencer Analytics,
Manage Relationships,
Connect Influencers,
Measure Campaigns.
Klear Pros & Cons
Now that you know everything about Klear and its features, let's quickly check the pros and cons.
Pros
Audience Demographics,
Analytics is enough to track in-depth conversion metrics, as the platform can connect, to your online shop on Shopify,
Competitor Analysis.
Cons
The difficult influencer discovery process.
The payment integration is very in-depth and complicated to set up.
High pricing according to their customers' reviews.
Klear Pricing
Klear does not include any information about plans and pricing on its website. You need to set a live demo with their team.
7. Creator.co
The next influencer management tool connects creators and brands in a user-friendly interface and allows them to run campaigns and influencer partnerships. Creator.co was launched in 2018 and helps you join like-minded creators and industry experts who want to help you get noticed and paid for creating stunning content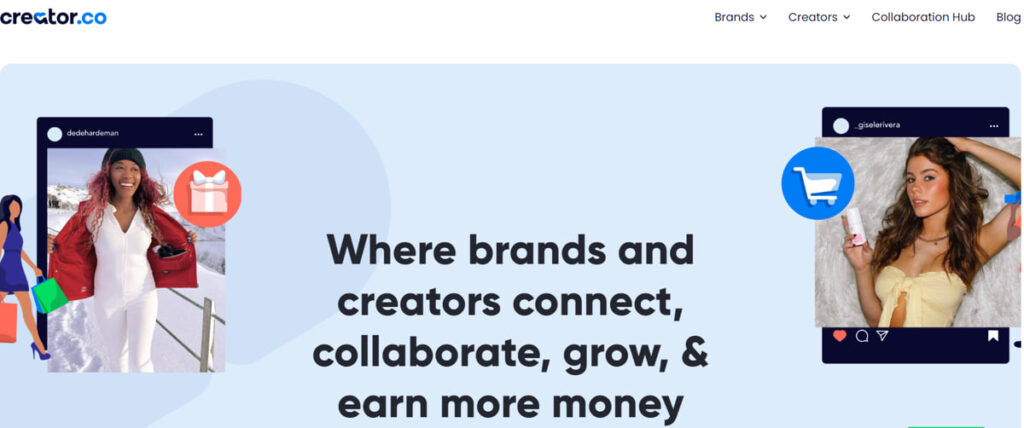 If you join as a brand, Creator.io offers two ecosystems: collaborations for influencer campaigns and managed services. There are more than 100,000 influencers on this platform now and it's still growing.
Creator.co Features
Influencer Search & Insights,
Influencer & Affiliate Campaigns,
Account Management,
Collaboration Hub.
Creator.co Pros & Cons
Are you thinking about using Creator.co? Here's a quick look at its pros and cons.
Pros
Automated campaign mode,
Deep analytics and tracking for your campaign.
Cons
Campaign reporting is limited to basic metrics,
High Pricing, especially for new businesses,
Limited packs- each package offers a different service.
Creator.co Pricing
Creator.co offers four different packs of features. Also, you can contact their team for customized packages.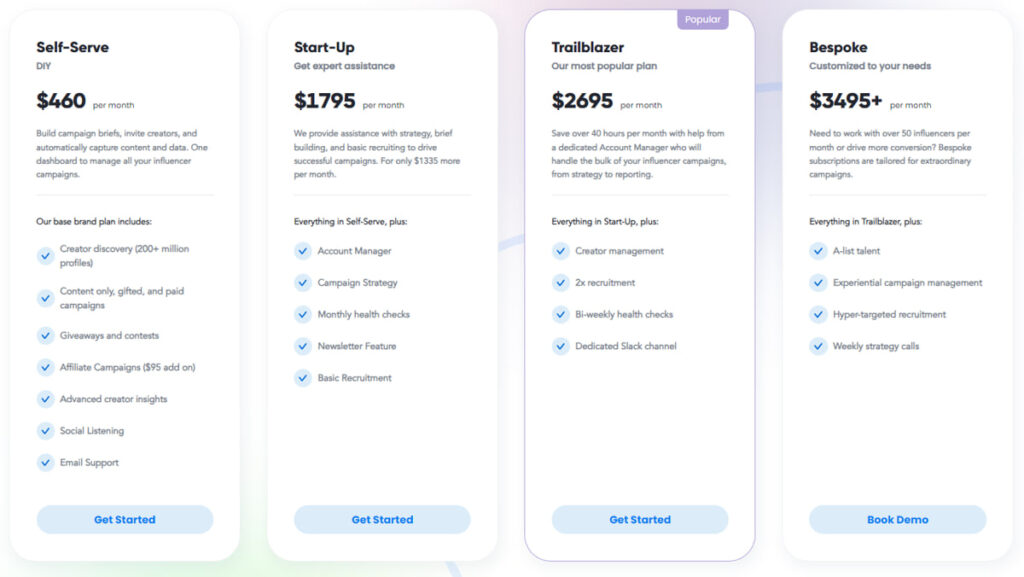 Self-Serve: $460 per month: Build campaign briefs, invite creators, and automatically capture content and data. One dashboard to manage all your influencer campaigns.
Start-up: $1795 per month: Assistance with strategy, brief building, and basic recruiting to drive successful campaigns.
Trailblazer: $2695 per month: Save over 40 hours per month with help from a dedicated Account Manager who will handle the bulk of your influencer campaigns, from strategy to reporting.
Bespoke: $3495 per month: Need to work with over 50 influencers per month or drive more conversion? Bespoke subscriptions are tailored for extraordinary campaigns.
8. Traackr
If you are into influencer marketing for a while, you have definitely heard about Traackr. Traackr has been one of the influencer marketing platforms around, having started right at the beginning of the industry. The platform features a comprehensive influencer database with great search filters. Other features include audience analysis, visualization maps, social listening, and campaign tools.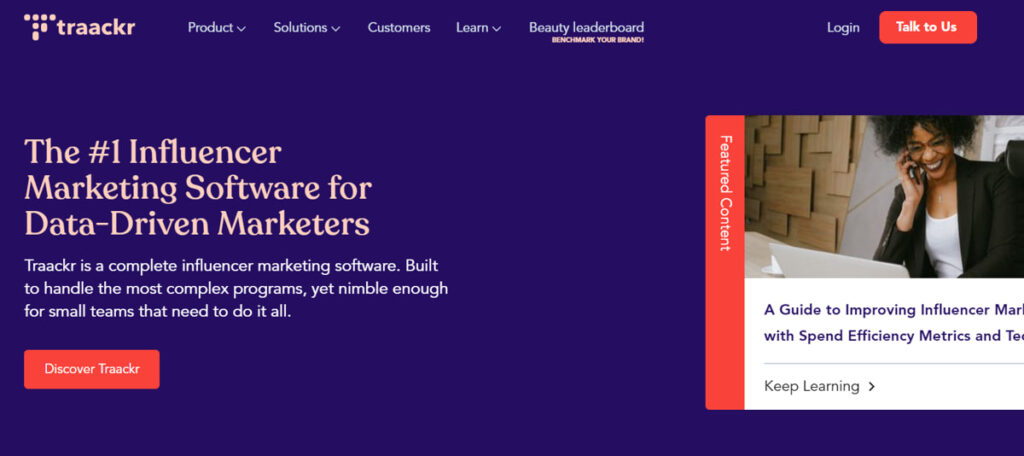 Once you've added influencers to your Traackr profile, you can organize them by topic, tier, and brand affiliations. If you use it for the business team, anyone in your organization can see where you're at with an influencer and add notes about interactions in the app and help others to stay updated. So if you are a team and are looking for influencer management companies to use together, Traackr is a good option.
Traackr Features
This tool is one of the best influencer management platforms and here is what it offers:
Influencer Gifting & Product Seeding,
Paid Campaigns,
Affiliate Marketing & Social Commerce,
Traackr Pros & Cons
Now that you what Traackr offers, let's check its pros and cons.
Pros
The robust analytics,
Engagement monitoring,
Top-notch collaboration tools for large teams.
Cons
No free trials,
This platform doesn't offer a free version,
Limited TikTok creators.
Traackr Pricing
Unfortunately, Traackr doesn't provide pricing on their website. You can contact their team for customized plans.
9. Meltwater
The next service offers a wide range of different tools for running and managing your influencer marketing campaigns. Meltwater with a massive database of social media influencers (around 30 million creators), allows brands to quickly find their best match.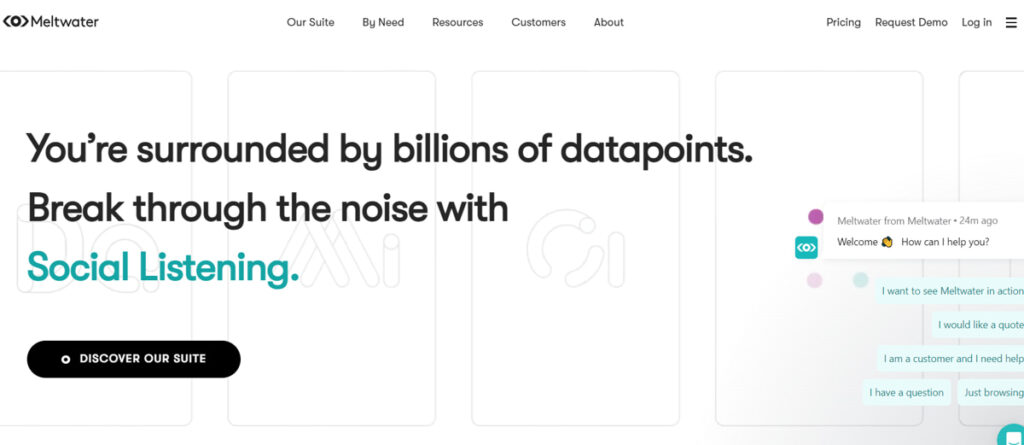 This service uses a powerful AI to detect influencers with fake followers and remove them from the platform. It also helps you measure the ROI of each influencer campaign.
Meltwater Features
This tool is one of the best influencer management platforms that offers all the essential features you need in one place.
Custom Reports,
Media Monitoring,
Social Media Monitoring,
Consumer Insights,
Social Media Publishing,
Media Database,
Social Media Engagement,
Social Influencer Management.
Metlwater Pros And Cons
Pros
organizes your influencer content,
tracks campaign statuses,
automatically generates affiliate links and tracking codes.
Cons
No pricing packs,
No free trials,
This platform doesn't offer a free version.
Meltwater Pricing
To choose and access the pricing packs, you need to contact the Meltwater support team from their website.
Conclusion
Running influencer and brand collaborations are one of the best methods to grow your audience with real and targeted users. However, finding the right influencers can be challenging for many users. That's why we've made a list of the top 9 marketing platforms that have a vast range of influencers in different niches.
No matter what service you offer, you can find your industry influencer on Ainfluencer now in a couple of seconds. And you know the best part? It's totally free to use.
FAQs
How Can Influencer Management Tools And Platforms Benefit Businesses?
Influencer management tools and platforms provide businesses with the necessary tools and resources to effectively identify, connect, and collaborate with influencers. These tools:
streamline the influencer marketing process, 
saving businesses time and effort in finding suitable influencers and managing their campaigns. They also offer valuable analytics and reporting features.
Are Influencer Management Tools And Platforms Suitable For Small Businesses?
Yes, influencer management tools and platforms are beneficial for businesses of all sizes, including small businesses. Some tools provide an affordable and efficient way for small businesses to leverage the power of influencer marketing without requiring extensive resources or expertise. By using influencer management platforms, small businesses can easily find relevant influencers, establish meaningful partnerships, and amplify their brand reach.

Can Influencer Management Tools Help Businesses Track The ROI Of Influencer Campaigns?
Absolutely! Influencer management tools and platforms often include robust tracking and analytics features that allow businesses to measure the ROI of their influencer campaigns. These tools provide valuable insights into key metrics such as engagement rates, click-through rates, and conversions, enabling businesses to assess the effectiveness of their influencer collaborations and make data-driven decisions to optimize their marketing strategies.