Nowadays, Instagram is one of the most popular, visually appealing social media which attracts different types of users in various niches. One of the most trending topics is hot Instagram models in 2020 that become highly famous among Instagram users, especially youth and teens.
As a matter of fact, Sexy Latina Mexican Instagram models are not separate from this topic, make a community around the famous Instagram models. Actually, we help you to know them to make smart connections between brands and influencers.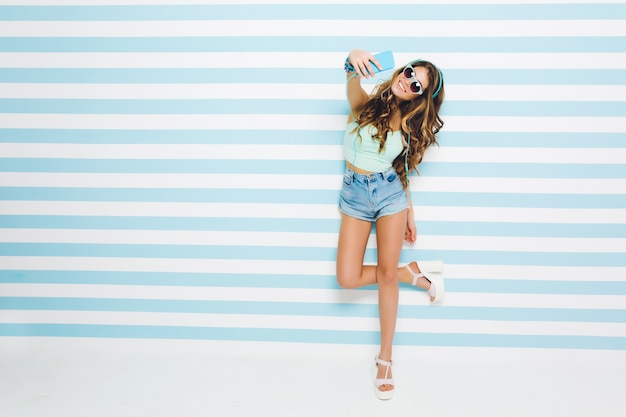 So, we come with Top 10 Mexican Instagram models to have an overview of hot Latina girls models:
1. Salma Hayek
Celebrity Salma Hayek is the first top Mexican Instagram model, hits 16M followers as one of the famous Latina women on Instagram. Also, She is an actress, director, and producer of Mexican who was proposed for an Academy Award for her role in 'Frida.

She shares many selfies with skincare and makeup brand photos besides numbers of makeup-free photos in 2020 on her Instagram feed because she is not frightened to show her real face as a top Mexican model.
2. Yanet Garcia
Secondly, Yanet Garcia is the most followed top Instagram model in the fitness niche, with around 13 M followers. Interestingly, this sexy Instagram model is an extremely popular Mexican girl because she started her modeling job when she was a fifteen-year-old girl.
Thanks to this Mexican model, she could establish a modeling school called "Yanet Garcia Models" by the age of 20. As a result, now she is is a television presenter and meteorologist, on some occasions, appears as an actress on InkEntourage alongside Yolanda Andrade and Montserrat Oliver.
3. Jimena Sanchez
Another thick Latina famous Mexican Instagram model that gains 8M followers is Jimena Sanchez, one of the hot Latina models IG in sportswear has a television personality and sports broadcaster. Now she hosts eye-catching Fox Sports business on social media space.
In fact, she decorates her Instagram feed with amazing daily work and a routine life basis. One more intriguing fact about her is that she is known as the Mexican Kim Kardashian with her sexy Latina style.
4. Ninel conde
Ninel Herrera Conde is one of the curvey women known as a sexist Instagram model with 4.5 M followers. However, she is a Mexican singer, actress, and television host widely famous for her performance in Rebelde, Fuego en la Sangre, Mar de Amor, and Porque el Amor Manda, and now her Instagram activities turn around lifestyle niche and cool stuff new dresses and swimwear form the most significant part of her Instagram grid.
5. Paula Fernandes
Paula Fernandes is one of the pretty Latinas models with a lovely cute face. Named as the 16th sexiest woman in the world who has 4.2M followers. This sexy Latina Instagram model is one of the top s because of her professional persona and a stunning style also poses.
If you want to know more about her, I should say that she is a brand ambassador of some famous brands in her country.
6. Aleida Nunez
Aleida Nunez, with 2.8 M Instagram followers, is considered a Mexican actress, singer, and model. that gains popularity when took the role of the television series Mujeres Asesinas.
Now she is collaborating with brand @sensualejeans hence her Instagram is filled with impressive colorful patterns and chubby hot styles photos promoting different clothes brand account categories.
7. Camila Sodi
Camila Sodi is the other thick Instagram model that appears as one of the hot Latina Mexican girls; she found her reputation as a singer, actress, and model with 2.2M followers.
One of the most appreciated activities she has done is joining as an ambassador to the SVEWITHSTORIES campaign to raise funds to carry out actions that protect children in situations of COVID-19 outbreak.
8. Ximena Navarrete
Ximena is a Mexican host TV and an actress and one of the pretty Mexican Instagram model. She is active in the beauty niche and is known as the beauty queen, with 2.1 M followers won the 2010 Miss Universe contest.
Moreover, she partnership s with multiple Instagram brands such as vicoguadarrama, etc., to promote their products.
9. Sofia Lascurain
Sofia Lascurain is one of the popular Mexican models that acts as a Style, beauty and lifestyle blogger. She has worked as an official Kate Spade Mexico brand ambassador and named the official blogger for Vogue Fashion's Night Out in 2012. Furthermore, she partnered with a litany of high-end brands, including Coach, Guess, and Forever 21.
10. Issa Lish
The last youngest fashion Mexican model is Issa Laish, who teased because of her strange Japanese appearance. Because of her unique look, a famous Latina could grab a high number of users' attention and has 48K followers that amaze and attract most of the Instagram audience by focusing on beautiful, odd Instagram content.