Influencer marketing is one of the most effective marketing mediums growing rapidly. This marketing medium is especially beneficial for companies looking to connect with their customers. Influencer marketing can be an inexpensive way to build brand awareness and increase sales when done correctly. There are influencer marketing companies to help you make the most of influencer marketing campaigns.
In this blog post, we'll create a list of the best influencer marketing companies to review and choose from once you want to expand your reach through influencer networks. Let's get started.
Influencer marketing is a social media marketing technique that leverages brand product sales by leveraging influencers' influence and authority.
Building buzz for your company can be difficult in today's world of social media. The good news is that influencer marketing is a powerful tool for brands seeking exposure on popular channels like Instagram, YouTube, Snapchat, and Facebook. Influencer marketing involves partnering with someone with a large following to promote products and services through their content, such as by posting about it on their social media account or mentioning them in their video.
What is an influencer marketing Company?
Any company needs to have a strategy when marketing its product online. Companies do this by using influencer marketing agencies to reach their target audience.
Influencer marketing companies are networks of social media users with significant followings in the form of followers, likes, and shares on social media platforms like Instagram, Facebook, Twitter, and YouTube. These influencer networks make the partnership between brands and influencers (or content creators) easy and fast.
So, an influencer marketing company specializes in leveraging the power of an influencer's audience and following to make a product, service, or company appear attractive and desirable to its followers.
Top 10 Influencer marketing companies
1. Ainfluencer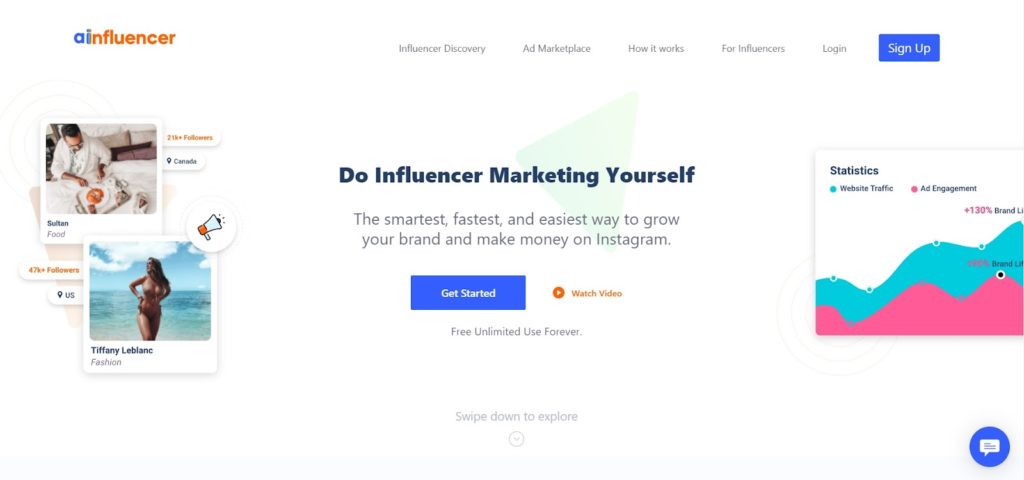 Ainfluencer is one of the best 100% free influencer marketing companies that have made it much easier for both brands and influencers to connect and collaborate. The relevant and easy-to-navigate features of Ainfluencer lets brands create free marketplace campaigns_this ad will then be posted to the marketplace where high-quality influencers can see and make offers_, browse thousands of qualified influencers, send invitations to influencers, receive their offers, and use the built-in chatbox to negotiate and close the deal. This influencer marketing marketplace offers a super-smart AI engine to help brands use search filters such as hashtags, location, category, gender, language, number of followers, etc. to refine search results.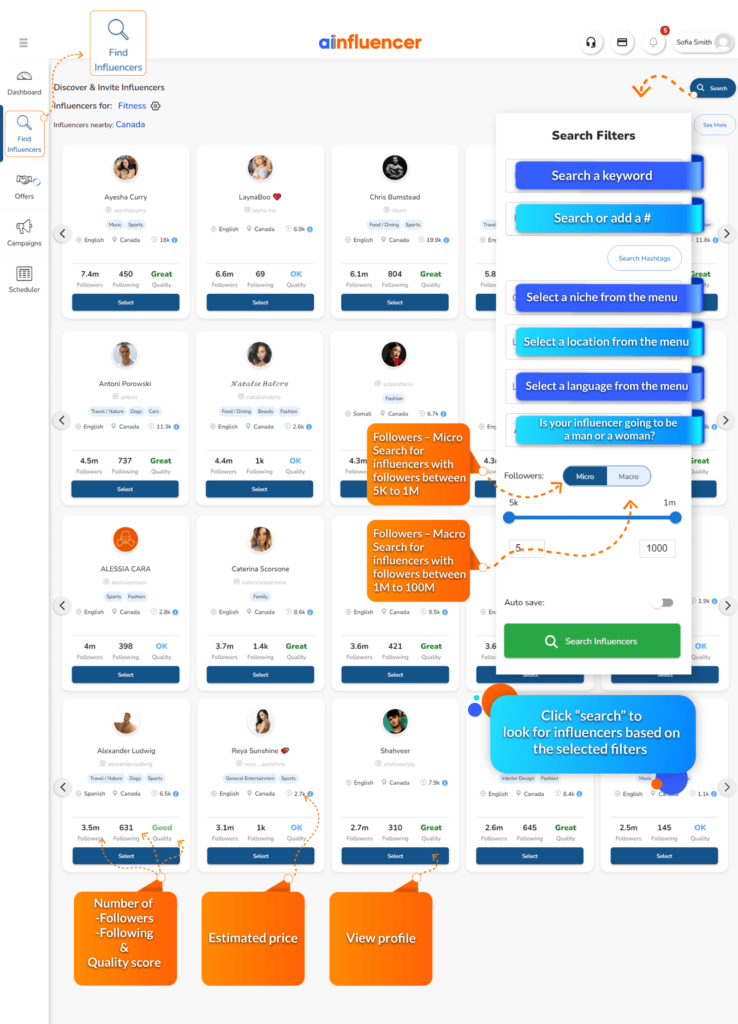 What makes this influencer management company distinctive from similar companies is that its automated system not only monitors the campaign but also will hold the funds until the post has been published. Plus, you can get deep insight into how your influencer marketing campaign is going and get real-time analytics.
2. Jin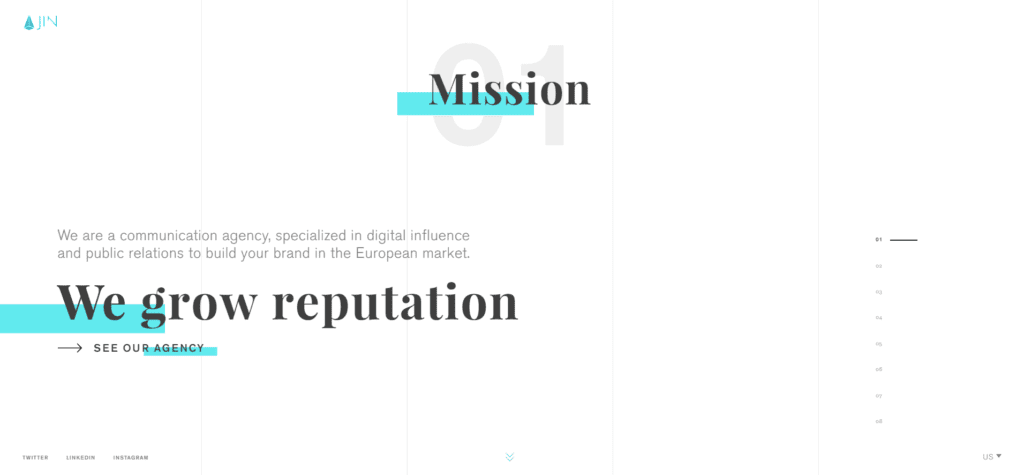 Jin is a European agency that offers services in inbound marketing, reputation management, and influencer marketing. Jin employs Plugr, a unique influencer discovery program, to assist clients in finding the most appropriate influencers for their target demographic.
Plugr analyzes conversations and media in real-time. Influencer mapping is one of its characteristics, in which it maps the main digital influencers on a certain issue or business in order to determine who and what is influencing public opinion.
3. SugarFree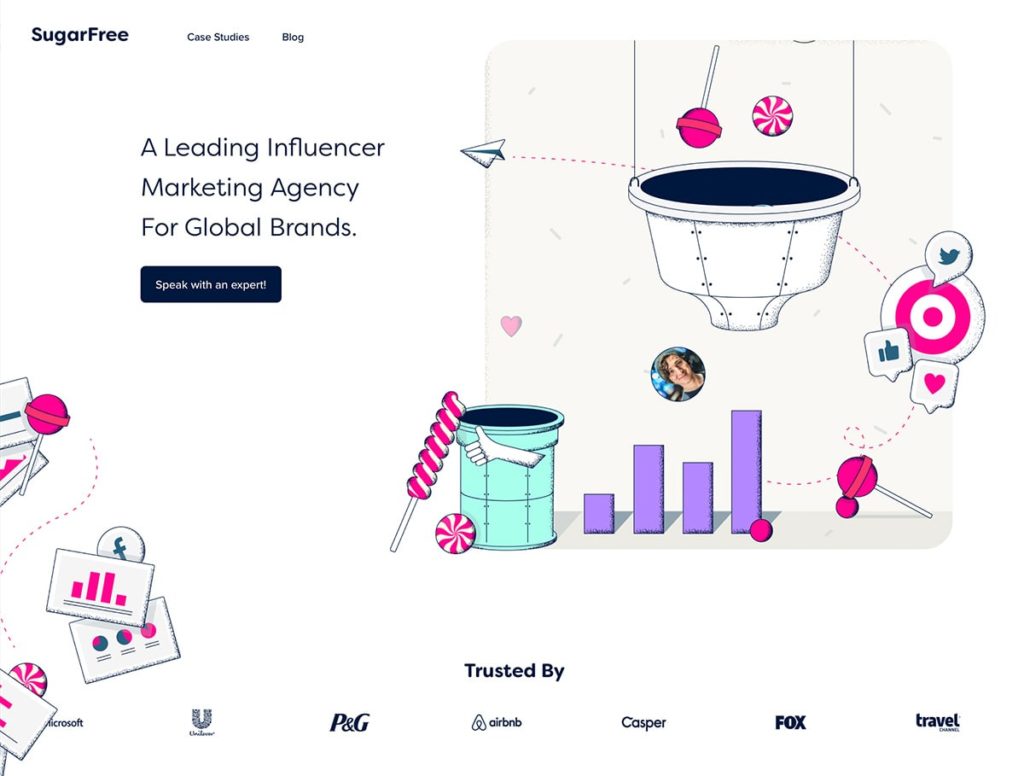 This is one of the top influencer marketing companies which provides users with a group of marketing professionals, talented creators, social media gurus, data analytics, etc. to give users the best experience.
SugarFree's core mission is to find influencers who are in tune with a client's aesthetic and culture, and who distribute content to the right people.
This influencer marketing company only deals with influencers and bloggers that have track record of success in traditional, digital, and social media. SugarFree is in charge of everything behind the scenes, from price negotiations to legal contracts to compliance and payment.
4. Upfluence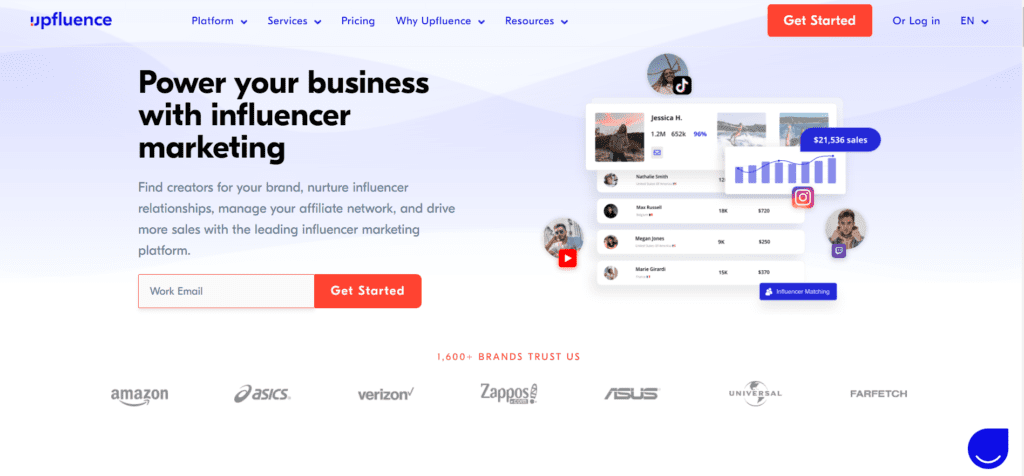 Using this influencer marketing company, you can manage your campaign by a professional team of influence experts. It gives its agency clients full software access to have 100% transparency on the progress.
Upfluence selects the best content providers for your target audiences on Instagram, TikTok, Twitch, YouTube, and blogs and is also happy to assist with influencer event management.
5. IMA agency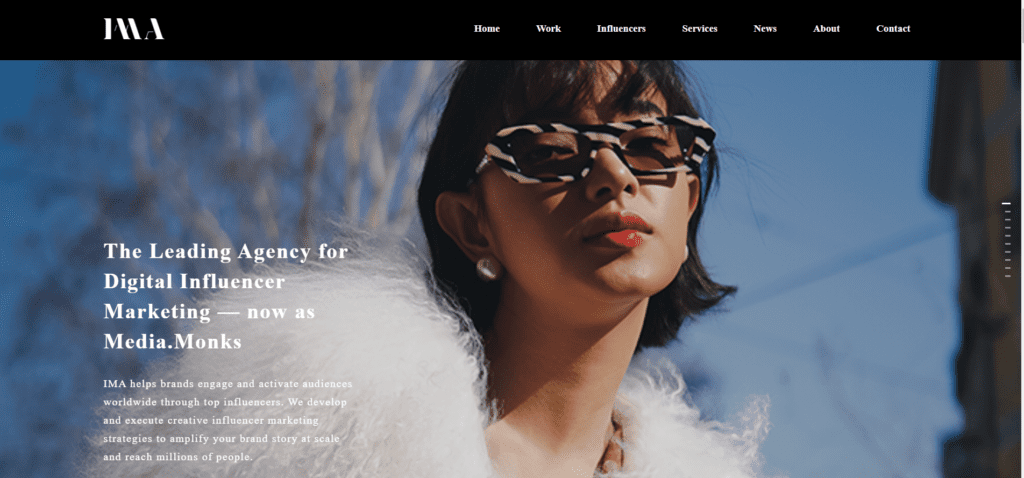 One of the top influencer marketing companies, IMA agency assists brands in developing influencer strategies that are tailored to their objectives. They can also connect with leading social media influencers, content providers, and vloggers using it.
That's not all, it also provides clients with campaign execution, tracking and measurement services, production, etc. more importantly, users can use social listening to have deeper insights.
6. Sway Group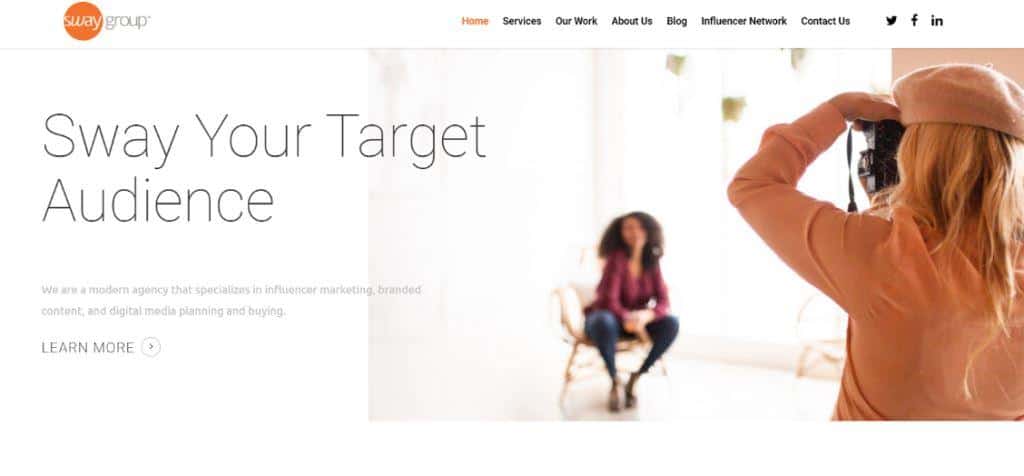 As a top influencer marketing company, Sway Group banks on its years of experience and research-based data. As part of their research, they look at social trends, social media behaviors, and consumer insights.
They focus in providing their clients with best-in-class content. That's because this influencer marketing company identifies influencers who are experts in the topic area most relevant to each user and campaign.
This is one of the influencer marketing companies that has launched its Social Content Studio. Their skilled team can develop photos or video assets (or both!) in a timely manner.
7. HypeAuditor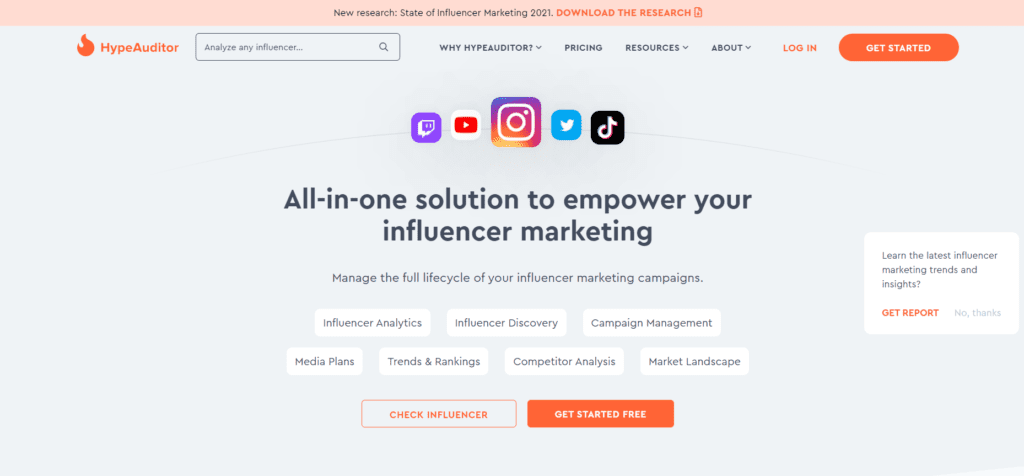 Reports, Discovery, Market Analysis, and Tracking are the four areas in which HypeAuditor divides its services. Instagram, YouTube, and TikTok data can be found in the Reports and Discovery modules. The Market Analysis section of HypeAuditor, which provides specialized competition analysis and overall market research, is limited to Instagram and YouTube.
This influencer management company covers all stages of influencer marketing and acts as a top influencer marketing company.
One of HypeAuditor's key features is its Report Hub, which includes in-depth Instagram, YouTube, and TikTok analytics.
8. AMP agency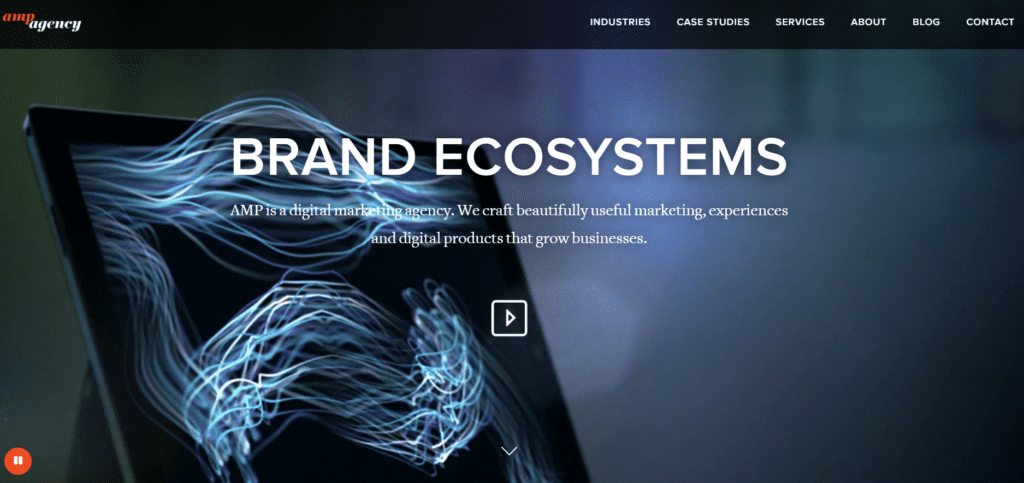 AMP agency is one of the best influencer marketing companies that assist you with managing your social media presence through influencer marketing campaigns. They help you find the best influencer for your brand. You can also hire them to help you expand your business online by using SEO, social media marketing, online and offline marketing, and other methods.
9. August United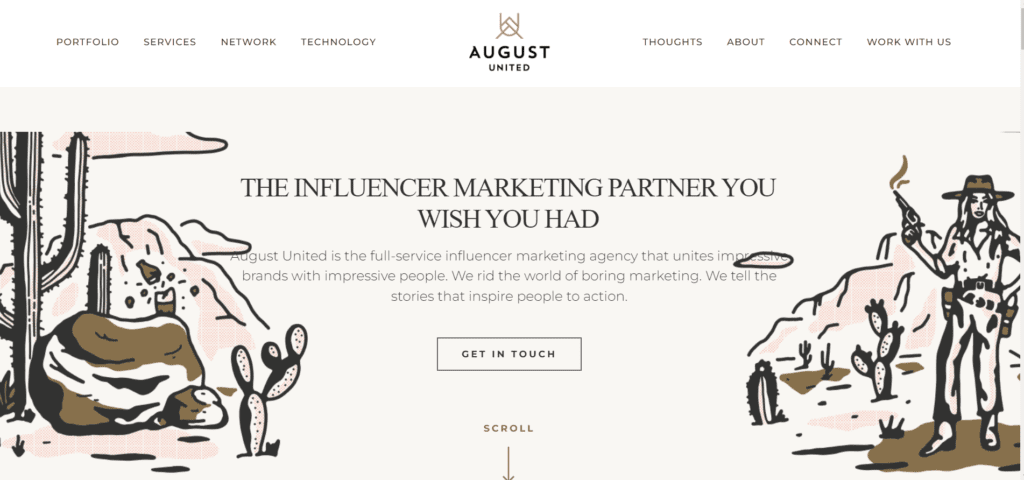 August United is one of the full-service influencer marketing agencies that unites brands with people. They give brands the possibility to identify influencers, develop campaign concepts, and maintain long-term and secure influencer marketing plans.
One of the unique offerings of this influencer management company is the organization of influencer brand retreats, where customers may meet influencers and plan their future influencer marketing campaigns.
10. Digital voices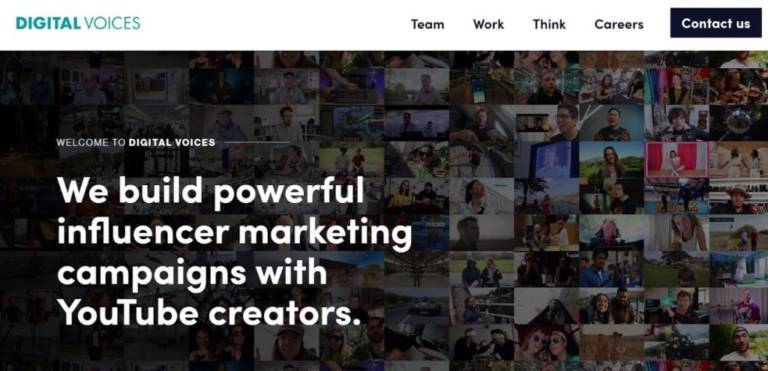 Digital Voices claims that in an age when consumers ignore ads, they can offer great features for digital marketing. This influencer marketing company focuses on YouTube. They use YouTube's API to identify the best creators for influencer marketing campaigns and then partner with YouTube creators and brands to help brands spread the word about their products/services and end up growing their leads and ROI.
Conclusion
In conclusion, we recommend you to do your research and find the top influencer marketing companies that can help you meet your needs such as increasing your brand identity, your reach, and revenue. Influencer marketing is an effective way to reach people in a simple, cost-effective manner when done right. To make the process of influencer marketing easy and fast, you can use one of the above-mentioned top influencer marketing companies like Ainfluencer to your benefit.
1- What is an influencer marketing company?
Influencer marketing is one of the fastest and easiest ways to build brand awareness amongst your target audience. An influence marketing company help brands and influencers on different popular social media platforms connect and collaborate to make the most of influencer marketing campaigns.

2- What companies use influencer marketing? 
Most brands use influencer marketing and also influencer marketing companies to reach more and more target audiences in a shorter period of time and much easier. Even big brands like Pepsi, Adidas, Dunkin' Donuts, etc. take advantage of influencer marketing to promote their products.