Influencer marketing tools can help many businesses to perform a high-quality influencer marketing campaign and grow stronger relationships with their audience.
It has been a proven way to increase brand awareness and achieve marketers' goals.
I know that you might have faced barriers and fallen into the trap of big issues to run your Influencer marketing strategy.
Yet, there might be different ways of Influencer marketing for small businesses to deploy your influencer marketing strategy.
Have you ever tested out any influencer research tools in the early stages of your small business?
The good news is that you can make a clear marketing road towards your small business using such tools.
Using influencer marketing tools are one of the best marketing approaches for small businesses with minimum knowledge and experience.
To jumpstart with influencer marketing, you need to know 5 recommended influencer marketing tools that ease your small business success.
Let's dive in to figure out these tools
5 Amazing influencer marketing tools for small businesses
1. Ainfluencer
Ainfluencer is the smartest, easiest, and fastest influencer discovery tool to grow your small business.
This all-in-one-package tool is a DIY (DO it yourself) platform for influencer marketing customizable with your budget.
Here are some valuable benefits:
Doing everything is free of cost when you create your first ad, discover influencers, invite, and collaborate.
Run most cost-effective influencer marketing campaigns
Moreover, to Ainfluencer's free registration, businesses can pay the charge to influencers when the deal is locked down and the post has been published.
Ainfluencer offers secure payment that will hold funds until the post has been published according to the agreement with the influencer.
Browse through leading brands and popular Instagram influencers
It lets you browse through thousands of different Instagram influencers to find your right influencer.
You can scale your marketing efforts to reach the best influencers, especially micro and nano influencers.
Ainfluencer Features
It shows the influencers' insight to give their real-time metrics, including engagement rate, avg likes per post,avg comments per post, like/follow ratio, and comment/followers ratio.
You can explore and pick up your niche target influencer with multiple factors like keywords, hashtags, location, number of followers.
Include built-in chat system for a smart workflow
Once a connection is made with an influencer, you can use the chat system and approval workflow to lock the deal down.
Review engagement statistics in an easy-to-understand chart format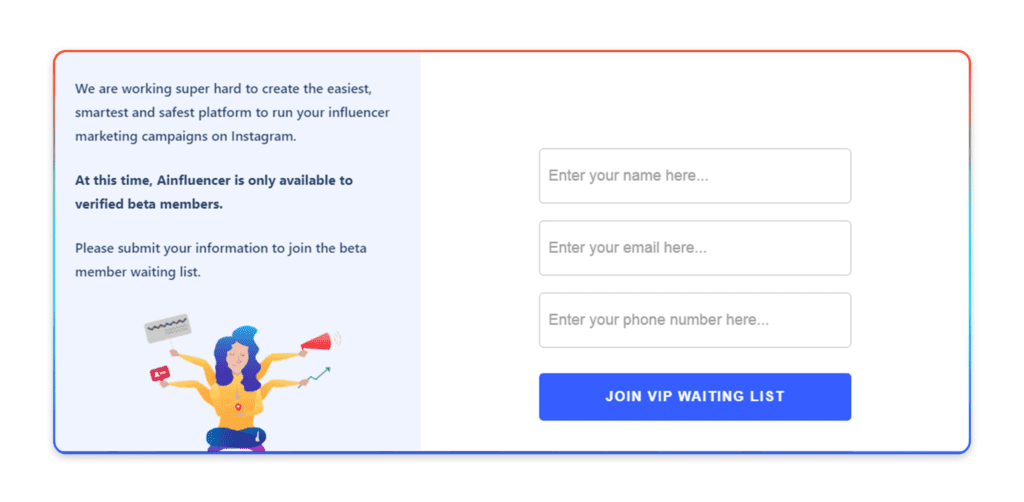 2. Buzzsumo
Buzzsumo is another influencer research tool that helps you find influencers and build relationships.
It is also a great choice for content creators to find the content that performs best. Indeed you can also use it to find the most popular posts in your particular content niche.
Using Buzzsumo content insights will serve you to generate ideas, create high-performing content, monitor your performance, and identify influencers.
In other words: Buzzsumo allows you to find out what pieces of content had been shared most on the internet. This eventually leads to finding the people who have the most impact on your audience.
Buzzsumo Benefits
Includes twitter influencer research tool
Access competitor hashtags analysis
Help influencers to produce relevant content
provides free limited searches
Product Features
3. Awario
Awario is a social listening tool that includes conversations about their brands, products, or services and influencer research.
It can deliver instant mentions from all around the web and social media.
This software collects and analyzes data to drive highly actionable insights that will help you improve your results, to attract more customers and potential clients.
Awario Benefits
Offers meaningful customer insights
Organize discussions, mentions, tweets, etc.
Grow brand awareness via word-of-mouth marketing
Awario Features
Multiple language support
Prioritize impactful conversations
4. Heepsy
Heepsy is an effective influencer marketing tool that connects agencies and brands with influencers to find Instagram and Youtube influencers in their industry based on location
It is a nice tool designed to ease companies' influencer searches to reach the influencers that best fit their needs.
But keep in mind, you cant use all features unless you pay for the minimum services.
Heespy Benefits
It has advanced search filters
Find highly unlimited influencers
Heespy Features
Analyze influencer audience
Fast influencers search panel
Dedicated customer support
Access advanced reports, including audience and authenticity analysis.
5. HypeAuditor
HypeAuditor is another influencer marketing tool known as an analytical platform for transparent and influencer fraud-free detection.
It lets you discover perfectly relevant Instagram, YouTube, and TikTok influencers across 18M profiles
Hype Auditor Benefits
Deliver industry-standard data and insights
Provide Instagram, Youtube, and Tiktok analytical reports
Include accurate audience demographics
Analyzes engagement growth
Hype Auditor Features
Detailed influencer reports
Account performance tracking
Conclusion
I know that it might be a difficult choice at a glance which influencer marketing tool resonates with your small business approach. However, there is no fixed recommendation to come up with the most appropriate influencer marketing tool.
Every tool has its own efficiency and advantages, but if you are leveraging your local or small business, rapidly Ainfluencer can be a great tool. 
In that case, you can experience your social business life with a free ad that can bring you the best marketing results.