Social media has provided a platform for everyone to share their passion and talent, and the wig industry is no exception. If you have knowledge about different types of wigs and want to know how to become a wig influencer, you are in the right place.
In this article, we will show you the ropes and help you earn money from your talent. Also, we will show you how to find influencers and brands to collaborate with. 
If you are a TikTok/Instagram influencer who is looking for brands in your niche to collaborate with, Ainfluencer is what you are looking for.
Who Is A Wig Influencer?
As it's obvious from the name, a wig influencer is a person who has established themselves as an authority in the world of wigs through their social media presence and content. They have a deep passion for wigs and use their platform to educate, inspire, and entertain their audience by showcasing various wig styles, transformations, tutorials, and reviews. In the following parts, we will show you how to become an Influencer and start monetizing your content. 
How To Become A Wig Influencer?
Becoming a wig influencer is a journey that allows you to showcase your creativity and potentially turn your hobby into a career. Let's dive into the steps of how to become a wig influencer.
1. Know About Wigs
Before you start your journey as a wig influencer, it's essential to have an understanding of wigs. Educate yourself about different types of wigs, materials used, and various wig styles. Know about the terminology commonly used in the wig community, such as lace front wigs, synthetic wigs, and human hair wigs. This knowledge will not only help you in creating content but also enable you to provide valuable information to your audience.
2. Choose Your Social Media Platform
If you want to start your work as a wig brand ambassador, you need to choose a social media platform that has a potential audience. Instagram, YouTube, and TikTok are popular choices for wig influencers due to their visual nature and broad reach. 
Instagram allows you to showcase your wig transformations through Instagram carousels and short reel videos, while YouTube enables you to share detailed tutorials and reviews through videos. TikTok, on the other hand, offers a fun and engaging platform to showcase short wig-related content. Choose the platform that resonates with you and where you can best express your creativity.
3. Introduce and Collaborate With High-Quality Brands
As a wig influencer/hair influencer, partnering with high-quality brands can provide you with credibility and better opportunities. Reach out to high-quality wig brands and introduce yourself as an aspiring influencer through their website or influencer marketing platforms. 
Showcase your previous work and express your interest in collaborating with them. Collaborations with established brands can open doors to potential sponsorships and collaborations with other influencers and help you monetize your posts.
But the question is how you can find these brands? Ainfluencer works as a safe bridge that connects influencers and brands of different niches together. With powerful search and filtering tools, you can find your best match and start collaborating easily. 
4. Build Relationships With Brands And Influencers
The next important step for how to become a wig influencer is building relationships with other brands and influencers on social media. To boost your growth and reach a wider audience, you can try collaborating with brands/influencers who have already established a strong audience on Instagram/TikTok/etc.
You can start by liking, commenting, and sharing their content, and tagging brands in your posts. Additionally, reach out to other wig influencers and establish connections by supporting their work and engaging with influencers. You can even run campaigns/giveaways together to maximize reach on both sides. 
5. Get Creative With Different Looks
Instagram, TikTok, and YouTube are all about visuals and the key to be seen is sharing eye-catching content. So, another important step to consider in how to become a wig influencer is sharing looks that can stand out.
Show your creativity through different wig looks and experiment with various wig styles, colors, and textures to create unique transformations. You can enhance your looks with different makeup looks, accessories, and outfits to complement your wig choices.
6. Stick To The Latest Trends
If you want to stay relevant as a wig influencer/brand ambassador for hair, it's important to keep up with the latest trends in the wig industry. Stay updated on popular wig styles, colors, and techniques by following wig-related hashtags, engaging with other influencers, and regularly browsing through wig-focused websites and blogs.
7. Share Posts And Videos Consistently
No matter what service you offer on social media, consistency is key for establishing yourself. You can't expect growth in one day and need long-term plans and strategy. To be consistent, you can create a content schedule and stick to it by sharing posts and videos consistently. Also, engage with your followers by responding to comments, DMs, and questions.
8. Choose The Right Influencer Marketing Platform
Ainfluencer is an influencer marketing platform that connects influencers with brands across various industries, including the wig industry. One of the best features of Ainfluencer is its powerful search tool that is totally free to use. With Ainfluencer's search filters, you can find brands that are actively seeking collaborations with influencers, making it easier than ever to discover partnership opportunities.
In addition to connecting with brands, Ainfluencer also allows you to partner with other influencers to create impactful and engaging campaigns. You can find like-minded wig influencers easily and contact them on the platform to see if they are willing for running campaigns.
So, what are you waiting for? Sign up on Ainfluencer now and connect with top wig brands waiting to collaborate with talented influencers like you.
The Best Wig Influencers
Now that you know everything about how to become a wig influencer, let's take a look at some of the most famous influencers to get inspired.
1. Tokyostylez – 1.5M Followers on Instagram
Mia Jackson is a famous hair stylist/hair influencer that is known professionally as Tokyo Stylez. She has over 1.5M followers on Instagram where she shares hair and wig tutorials. She is famous for working with celebrities such as Kylie Jenner, Nikkie Minaj, Rihanna, Kim Kardashian, etc.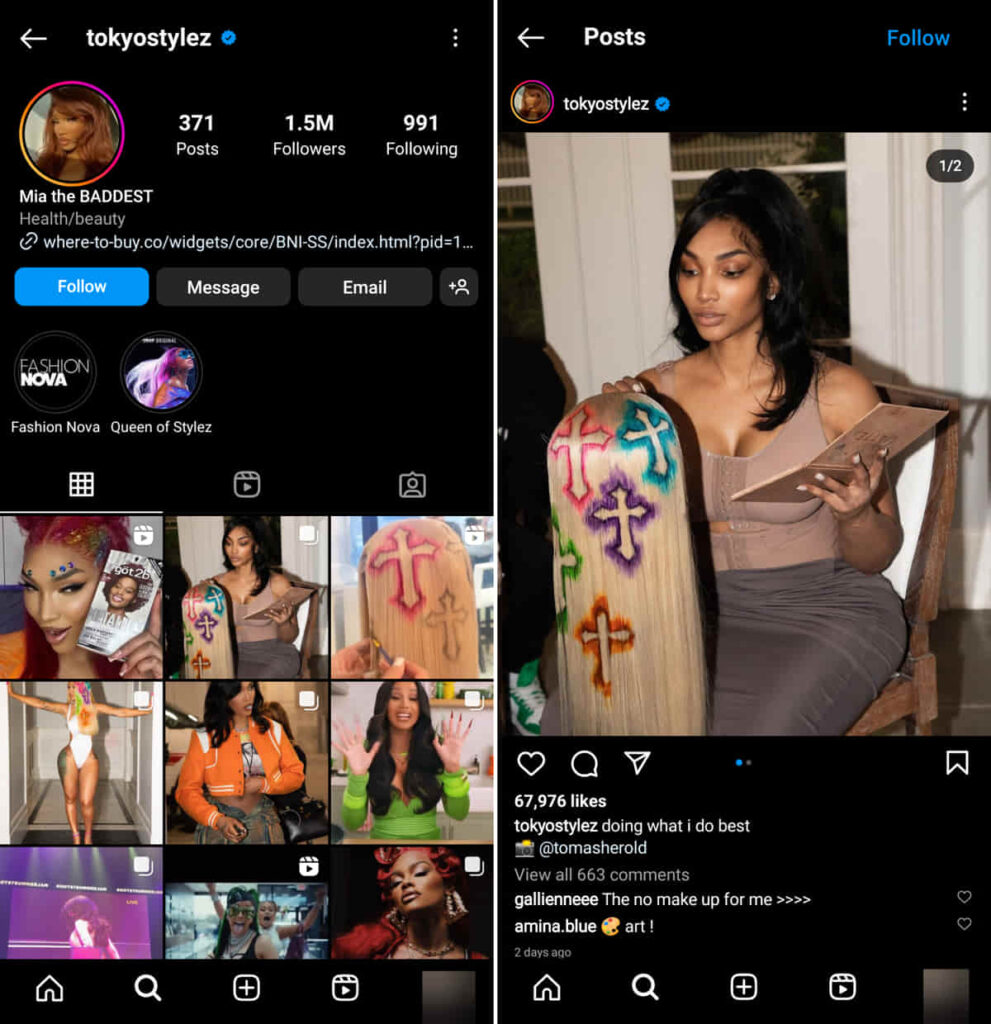 2. Beatsbydeb – 750k Followers On Instagram
If you think she only shares makeup tips and looks, you are wrong. Deb has worked with multiple high-quality wig brands on TikTok and Instagram to help the ones looking for new styles. She has around 750k followers on Instagram and has recently launched her own makeup line.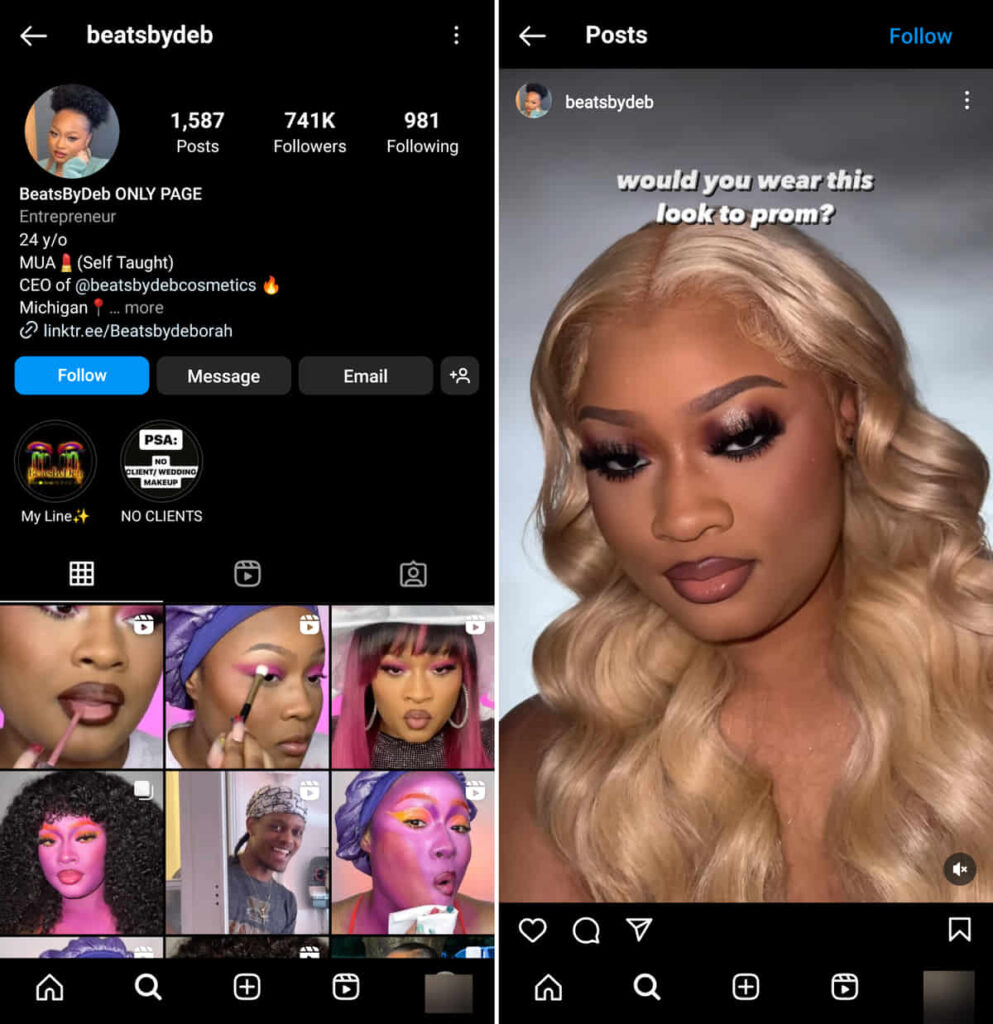 3. Andre Cavasier – 350k Followers On Instagram
The next wig influencer started his job when was only 14 as a hobby. Andre Cavasier is a famous and talented hairstylist who started his job professionally in 2010. He has over 350k followers on Instagram and shows you how to style cheap and expensive wigs for users in different budgets. You can also check his website to know more about him and his career.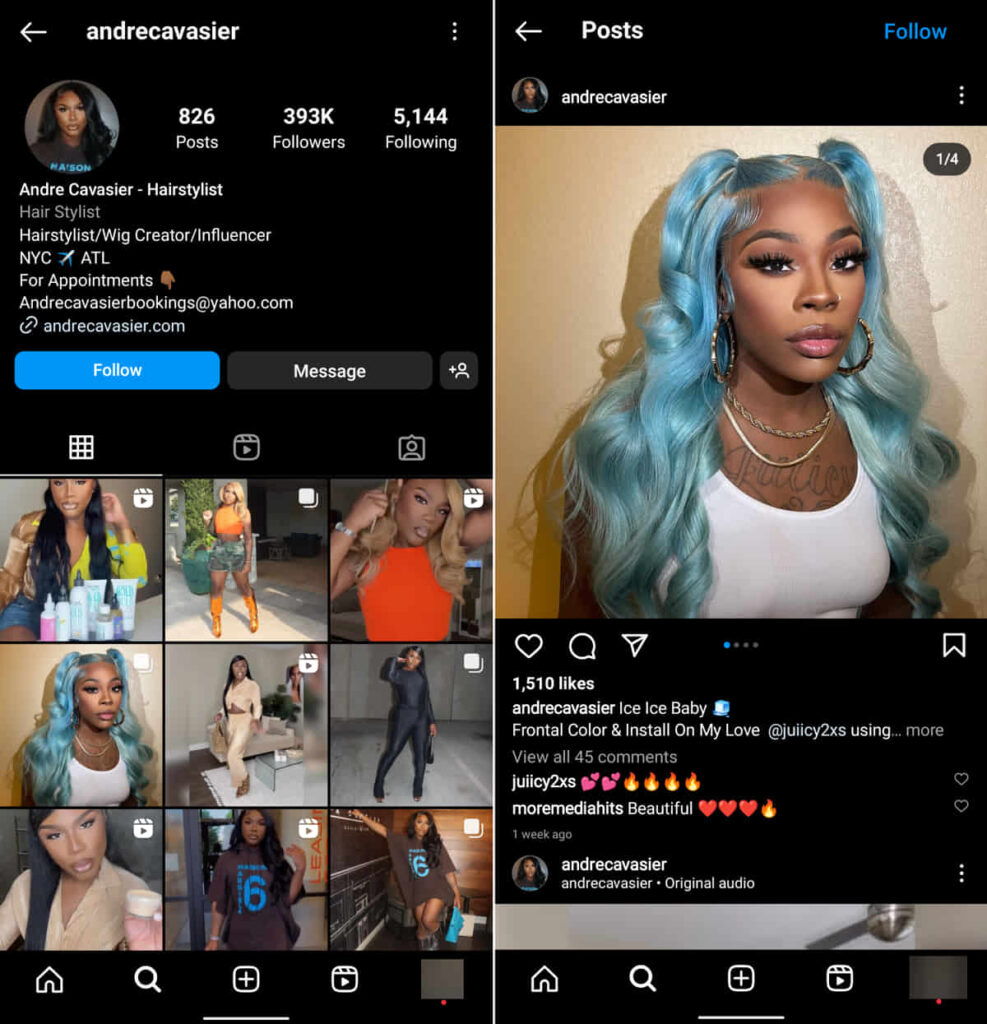 4. AlwaysAmeera – 150k Subscribers On YouTube
If you are looking for curly wig looks Ameera is here for you. She is a YouTuber that shares tutorials on how to style your wigs and make them look natural. She has around 150k subscribers on YouTube and 32k followers on Instagram.
5. Alfred Lewis – 100k Followers On Instagram
If you think only female influencers can become wig ambassadors, you are wrong. Alfred is a creator and artist that has over 100k followers on Instagram. He mostly shares videos of styling wigs but sometimes shares quick tutorials of makeup looks.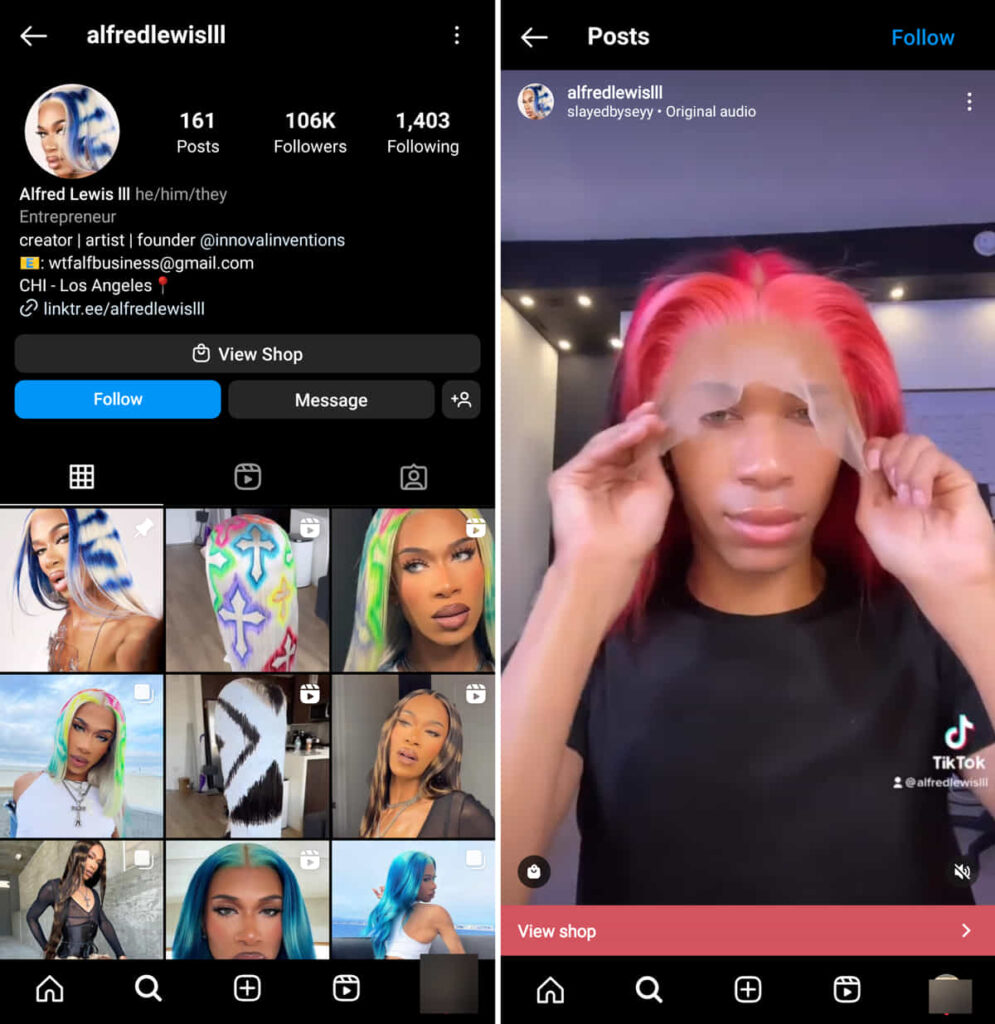 Conclusion
Becoming a wig influencer, similar to other industries, requires some steps to consider. In this article, we showed you how to become a wig influencer on different social media platforms to earn money from your knowledge.
Also, we introduced you to some of the best wig influencers to check and get inspired. So, if you are ready to start your work as a wig influencer and collaborate with brands in your niche, you can try Ainfluencer for free now.
FAQs
1. Do I Need Professional Photography Equipment To Start As A Wig Influencer?
While professional photography equipment can enhance the quality of your content, it is not a requirement to start as a wig influencer. Many successful influencers began with smartphones and gradually upgraded their equipment as they grew. Focus on creating engaging content with the resources you have, and invest in better equipment as you progress.
2. Can I Monetize My Wig Influencer Journey?
Yes, you can monetize your wig influencer journey through various avenues. Once you have built a substantial following, you can collaborate with wig brands for sponsored posts or brand partnerships. 
Additionally, you can explore affiliate marketing, where you earn a commission for promoting products or services. Another option is to create and sell your own wig-related merchandise or offer personalized consultations and services.
3. Can I Become A Wig Influencer If I'm Not A Professional Hairstylist?
Yes, you can absolutely become a wig influencer without being a professional hairstylist. While hairstyling skills can be an advantage, what matters most is your passion for wigs and your ability to educate, inspire, and entertain your audience. Focus on sharing your personal experiences, knowledge, and creativity in a way that resonates with your followers. Authenticity and a genuine love for wigs will go a long way in establishing yourself as a wig influencer.