As social media continues to dominate our daily lives, influencer marketing has become a crucial strategy for brands to reach their target audience. Gen Z, the generation born between the mid-1990s and early 2010s, is a particularly influential group on Instagram, with their keen eye for aesthetics and passion for social causes.
In this article, some of the most popular Gen Z influencers will be highlighted who have successfully built their brand on Instagram, attracting millions of followers and engagement. These influencers have a significant influence over their followers, making them valuable partners for brands looking to increase their reach and engagement on social media.
So, if you're a brand looking to reach Gen Z consumers on Instagram, stay tuned.
How to find Gen Z influencers?
Finding Gen Z influencers can be a valuable strategy for businesses and brands that want to reach younger audiences. There are several methods you can use to find Generation Z influencers, including:
Google Search: You can use Google to search for Gen Z influencers in your niche or industry. Try using keywords related to your industry or product along with terms like "Gen Z influencer" or "young influencer" to find potential influencers.
Instagram Hashtags: Instagram is a popular platform among Gen Z, so using relevant hashtags can help you find influencers in your niche. Search for hashtags that are popular among Gen Z, such as #genz, #youthculture, or #teeninfluencer, and look for posts from users with large followings and engaged audiences.
Influencer Marketplaces: Another great option, which is the fastest and easiest one, is to use influencer marketplaces like Ainfluencer to find Gen Z influencers. Ainfluencer allows you to search for influencers based on criteria like location, category, or follower count. You can also invite your desired influencers to collab.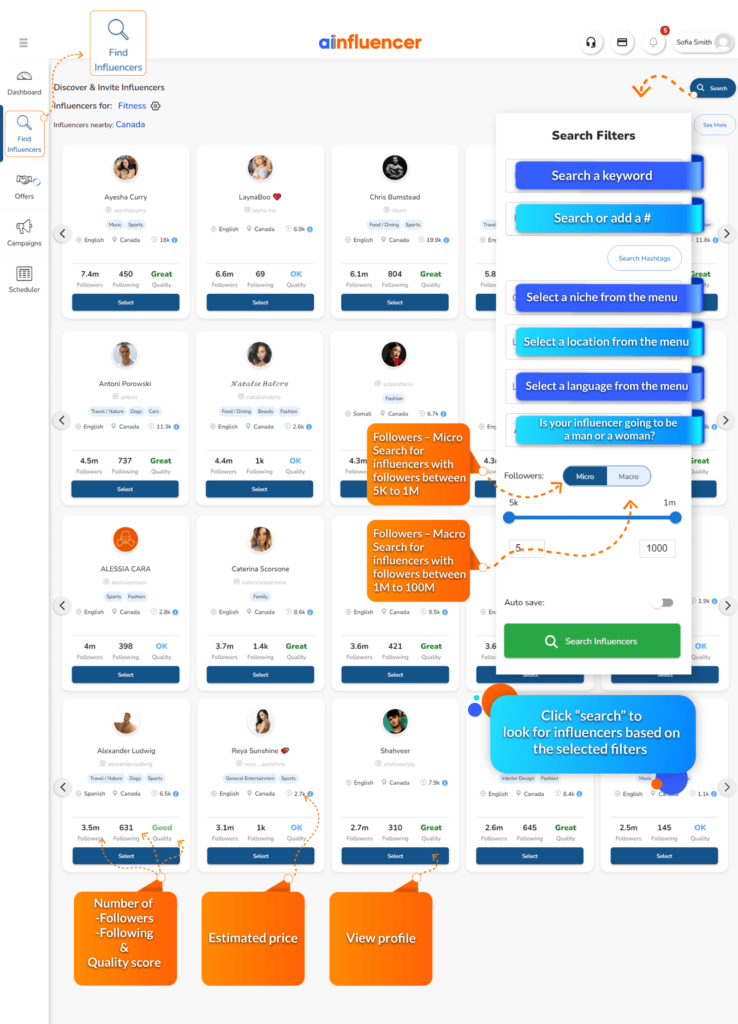 Top Gen Z influencers on Instgaram
Here are 12 of the top Gen Z Instagram influencers in different categories:
Top Gen Z lifestyle influencers on Instagram
1. Dixie D'Amelio (@dixiedamelio)
Dixie D'Amelio is a 21-year-old social media personality and singer who rose to fame on TikTok. She has since expanded her platform to Instagram, where she currently has over 23M followers. Dixie's Instagram feed features a mix of lifestyle content, including photos of her daily life, fashion and beauty posts, and promotions for her music and other projects. Dixie's relatable personality and authentic content have helped her amass a large following, and she frequently collaborates with other popular influencers on sponsored posts.
2. Emma Chamberlain (@emmachamberlain)
Emma Chamberlain is a 21-year-old YouTuber and social media personality who gained popularity for her vlogs and lifestyle content. She started posting on social media as a teen influencer and currently has over 16M followers on Instagram. She is known for her quirky personality and relatable content.
Emma's Instagram feed features a mix of daily life updates, fashion and beauty posts, and promotions for her YouTube channel and other projects. She often uses Instagram to engage with her followers and frequently posts humorous captions and stories that showcase her personality.
Top Gen Z beauty influencers on Instagram
3. James Charles (@jamescharles)
James Charles is a beauty influencer who rose to fame for his makeup tutorials, beauty reviews, and vlogs. He has about 22M followers on Instagram. Charles is known for his bold makeup looks, creative use of color, and impeccable blending skills. He has collaborated with numerous beauty brands, including Morphe, and has been featured in magazines such as Vogue and Elle. In addition to his beauty content, Charles has also been an advocate for LGBTQ+ rights and mental health awareness.
4. Molly-Mae Hague (@mollymae)
Molly-Mae Hague is one of the great Gen Z beauty influencers on Instagram, with a following of over 7.3M. She rose to fame after appearing on the UK reality TV show Love Island in 2019 and has since become a prominent figure in the beauty and fashion industry.
In addition to her beauty content, Molly-Mae also shares glimpses into her personal life, including her travels, her relationships, and her daily challenges as a mom.
Top Gen Z travel influencers on Instagram
5. Jack Morris (@jackmorris)
Jack Morris is a travel influencer and photographer who has become one of the most sought-after travel influencers in the world. He has amassed over 2.6M followers by sharing posts on his Instagram account. Jack's content features stunning landscapes, breathtaking views, and exotic locations from all around the world, which he captures with his camera and shares on Instagram.
What makes Jack's content so popular is his unique editing style, which gives his photos a dreamy, otherworldly quality.
Jack has collaborated with numerous brands and tourism boards over the years, and his work has been featured in top publications like Conde Nast Traveler, Forbes, and The New York Times.
6. Lauren Bullen (@gypsea_lust)
Lauren Bullen, also known as Gypsea Lust, is an Australian travel influencer and Instagram photographer who has been sharing her adventures on Instagram for many years. With over 2.1M followers, Lauren is one of the most popular travel influencers on Instagram, and her content features beautiful landscapes and unique cultural experiences.
She often incorporates fashion and lifestyle elements into her posts, creating images that are both visually striking and relatable.
Top Gen Z food influencers on Instagram
7. Tabitha Brown (@iamtabithabrown)
Tabitha Brown is a vegan food influencer on Instagram who has gained a huge following due to her positive attitude and infectious energy. Her videos are not only about cooking but also include motivational talks and personal anecdotes, making her an inspiration to many of her followers. Her recipes focus on plant-based foods that are healthy and delicious, and her upbeat personality has made her a beloved figure in the vegan community.
8. Jasmine + Melissa Hemsley (@hemsleyhemsley)
Jasmine and Melissa Hemsley are sisters and chefs who have built a strong following on Instagram with their healthy and delicious recipes. Their focus is on simple, wholesome food that is easy to prepare and incorporates lots of vegetables and natural ingredients. They are also advocates for sustainable living and reducing food waste, and their recipes often include tips on how to use up leftovers and make the most of what's in your pantry.
The Hemsley sisters have also authored several cookbooks, including "The Art of Eating Well" and "Good + Simple," and have collaborated with major brands in the food and wellness industries.
Top Gen Z music influencers on Instagram
9. Billie Eilish (@billieeilish)
Billie Eilish is an American singer-songwriter who became a global phenomenon with the release of her debut album "When We All Fall Asleep, Where Do We Go?" in 2019. She has won multiple awards, including five Grammy Awards, and has been praised for her unique musical style and distinctive voice.
Eilish's Instagram account is a reflection of her creative and artistic side, featuring a mix of personal photos, behind-the-scenes glimpses into her life and work, and promotional posts for her music and merchandise.
10. Ariana Grande (@arianagrande)
Ariana Grande is a singer, actress, and songwriter from the United States who first gained fame as a cast member on the Nickelodeon show "Victorious." Since then, she has released multiple hit albums, won numerous awards, and sold out concert tours around the world.
Grande's Instagram account, with 358M followers, is known for its glamorous and visually stunning photos, often featuring her signature high ponytail hairstyle and bold fashion choices. She is also active in promoting causes she cares about, such as mental health awareness and women's rights.
Top Gen Z fashion influencers on Instagram
11. Addison Rae (@addisonraee)
Addison Rae is one of the other famous Gen Z influencers who has gained millions of followers for her videos. She has gained 39M million followers on Instagram and often shares her beauty routines, dance videos, and stylish outlooks with her followers. This fashion influencer has also partnered with beauty brands such as ITEM Beauty and has been featured in magazines such as Cosmopolitan and Glamour.
Rae is also known for her fashion sense and has been named a global spokesperson for American Eagle.
12. Charli D'Amelio (@charlidamelio)
Charli D'Amelio is one of the most popular and influential Gen Z influencers on Instagram in the fashion industry. With a staggering 48.3M followers on the platform, Charli has become a household name among young people around the world.
While Charli is best known for her dance videos on TikTok, she has also become a major style icon for Gen Z. Her Instagram feed is filled with stylish and trendy outfits, as well as beautiful looks that her followers love to imitate.
Charli often shares unfiltered glimpses into her life, from her struggles with anxiety to her love of Dunkin' Donuts. This authenticity has helped her build a devoted fan base and cement her status as one of the most influential young people in the world today.
Conclusion
In conclusion, collaborating with Instagram influencers can be a great way to reach a wider audience and connect with Gen Z consumers. In 2023, there are many Gen Z influencers on Instagram who have built loyal followings and have the ability to promote products and services effectively. By partnering with the right influencers, brands can tap into the power of social media to boost their visibility and increase their sales. Whether you are looking for fashion, beauty, or lifestyle influencers, there are plenty of options to choose from. Keep these top Gen Z Instagram influencers in mind as you plan your marketing strategy for 2023.
FAQs:
1. Who are the best Gen Z influencers on Instagram?
There are many Gen Z influencers on Instagram who have built strong followings and can help promote products and services to a younger audience. Here are some of the best Gen Z influencers on Instagram:
1. Charli D'Amelio (@charlidamelio)
2. Addison Rae (@addisonraee)
3. Emma Chamberlain (@emmachamberlain)
4. Loren Gray (@loren)
5. Dixie D'Amelio (@dixiedamelio)
6. Avani Gregg (@avani)
7. Noah Beck (@noahbeck)
8. Bella Poarch (@bellapoarch)
9. Nikita Dragun (@nikitadragun)
10. Chase Hudson (@lilhuddy)
2. Who influences Gen Z?
Gen Z, the generation born roughly between the mid-1990s and the early 2010s, is influenced by a variety of factors, including technology, media, culture, and their peers. Here are some of the key influencers for Gen Z:
Social media: Gen Z is the first generation to grow up with social media, and it has had a significant impact on their lives. Social media platforms like TikTok, Instagram, and Snapchat are hugely popular among Gen Z and have a strong influence on their behavior, values, and attitudes.
Celebrities and influencers: Gen Z is highly influenced by celebrities and social media influencers. These figures are often seen as role models and can shape the opinions and preferences of young people.
Technology: Technology is an integral part of Gen Z's lives, and it has a significant impact on their behavior and worldview. Technology companies like Apple, Google, and Facebook have a major influence on Gen Z's preferences and consumption habits.
Political and social issues: Gen Z is a highly politically engaged generation, and they are often at the forefront of social and political movements. Issues like climate change, racial justice, and LGBTQ+ rights are particularly important to Gen Z, and they are more likely to support brands and companies that align with their values.
Friends and peers: Like all generations, Gen Z is influenced by their friends and peers. Social media and technology have made it easier for young people to connect with others who share their interests and values, and this can have a significant impact on their behavior and attitudes.