In today's highly competitive fashion industry, successfully marketing your clothing brand is essential to stand out from the crowd and attract customers. With countless clothing brands emerging each year, knowing how to market a clothing brand is crucial. Which strategies to employ to boost your brand awareness and sales? Check out this article to get ideas about marketing clothing brands.
You should note that most clothing brands use influencer marketing platforms to run their campaigns and collaborate with influencers, which is one of the best methods of online marketing.
This article will delve into seven powerful strategies to help you successfully market your clothing brand, boosting brand awareness, increasing sales, and establishing a loyal customer base.
7 Marketing Ideas for Clothing Brands
It is essential for every clothing brand to develop effective strategies that not only showcase their unique style but also compel their target audience. By implementing these marketing strategies, you can better compete with the top brands.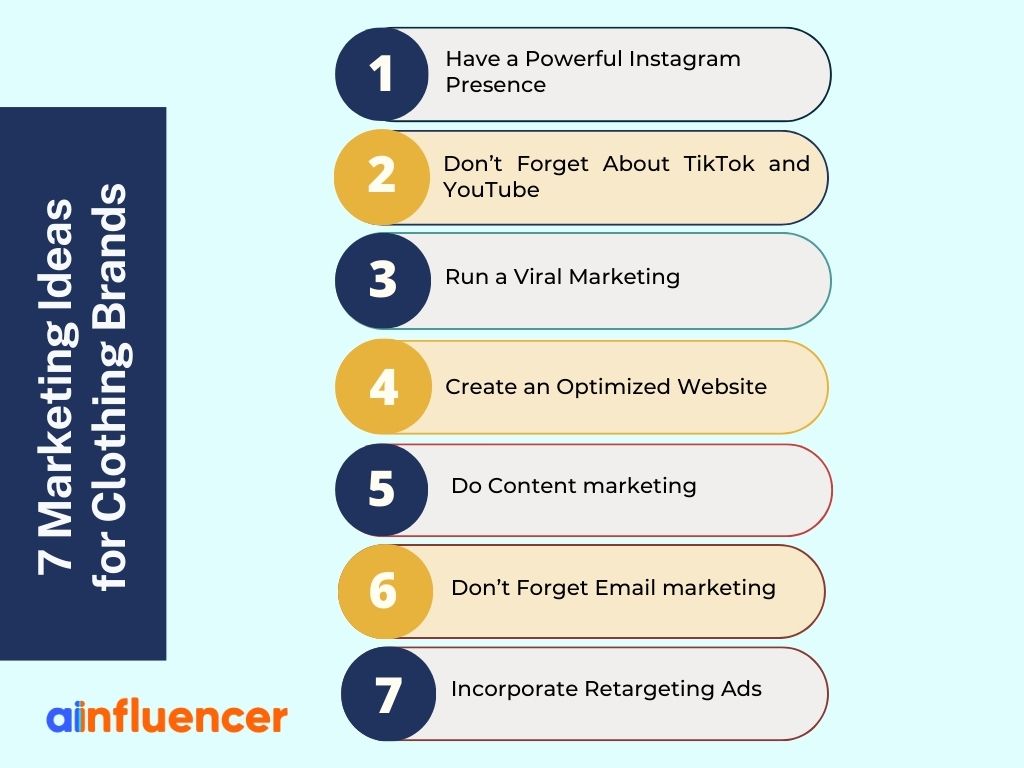 1. Have a Powerful Instagram Presence
As a fashion brand, you should know that most of your customers and competitors are available on social media. That's why your online presence is important. Instagram is one of the top social media platforms you should be active on. If you wonder how to market a clothing brand on Instagram, here are some tips that can help you have a better performance on Instagram:
Do you know how you can find male and female influencers on Instagram? The best method is using influencer marketing platforms like Ainfluencer. You can easily sign up on Ainfluencer for free and search for influencers based on their gender and category.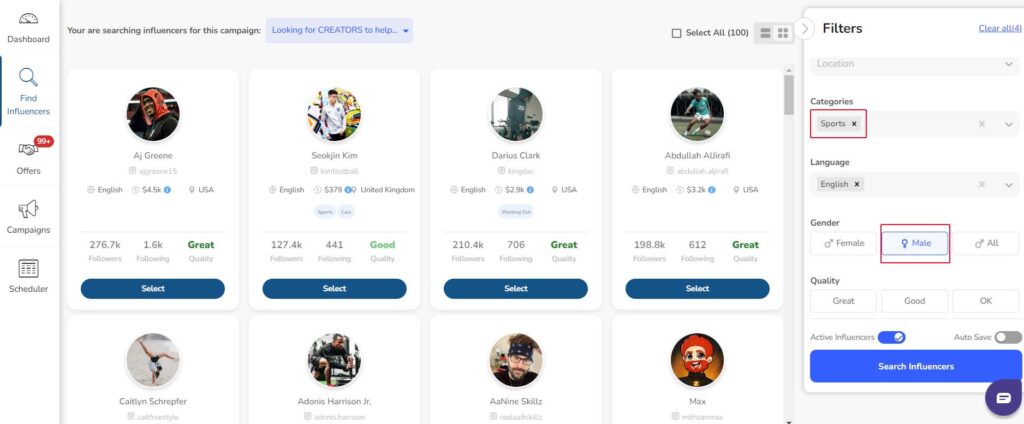 For example, if you want to sell sportswear and your target customers are men, you can select Male for Gender and Sport for Category. You can also narrow down the list by choosing your preferred location, number of followers, and budget.
As you see, it's as simple as selecting some criteria. Want to try?
2. Don't Forget About TikTok and YouTube
Your online presence should not end on Instagram. If your target customers are Gen Z, TikTok can be the best place for your online presence. However, you should know how you create content on TikTok will differ from other platforms. Therefore, keep learning how to use TikTok to understand what content this platform sells. Here are some tips to help you with clothing brand marketing on TikTok:
Follow TikTok trends. It's crucial to know about trends and participate in challenges. You can increase your engagement rate by taking part in TikTok challenges.
Like Instagram, TikTok users can also find you by hashtags. Therefore, it's essential to use proper hashtags for your videos. Read more about trending TikTok hashtags.
To add credibility to your brand, verify your TikTok account. Users trust verified accounts more, and purchasing their products is highly possible.
Choose a creative and relevant TikTok username. It is recommended to have one username on all social media platforms. Consequently, your audience can find you quickly on every platform.
TikTok collaboration is the most important thing to consider if you want to increase your sales. You should find a TikTok influencer and create videos together. Additionally, based on your marketing plan, you can run different campaigns to introduce your brand to more people.
Find a top figure as your brand ambassador. Although it may cost you more than other methods, having an ambassador online can be very helpful. People follow influencers and celebrities because they like to wear what they wear. Therefore, if they wear your brand's clothes, their followers may become your customers too.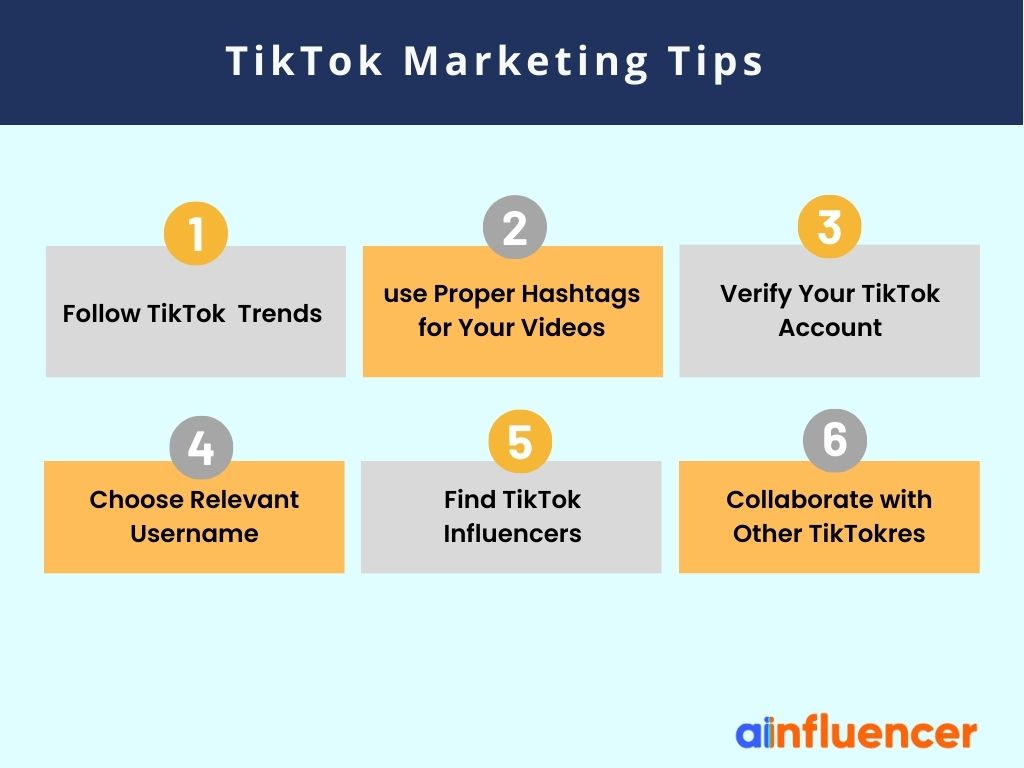 Become a Brand Ambassador Now
Do you want to become a brand ambassador and make money on TikTok or Instagram? First, you should have an active and high-quality Instagram or TikTok account. Afterward, join Ainfluencer community of influencers to make yourself more discoverable to brands and companies who look for influencers to collaborate with.
Joining our platform is free and doesn't require you to have millions of followers. If you are creative enough and have quality content on your accounts, it will be possible for you to become the next figure that shines in the world of fashion. Improve your chance of being found by the top clothing brands.
What about YouTube?
Like other social media platforms, you should find YouTube influencers to market a clothing brand on this platform. Furthermore, YouTube influencer marketing is somehow different from other platforms. Therefore, you should learn more about how to market a clothing brand on YouTube and find the right YouTube collaboration idea for your campaigns.
3. Run a Viral Marketing
One of the most incredible marketing ideas for clothing brands is viral marketing, a cost-effective yet highly practical method to promote your brand and products. However, viral marketing doesn't happen without consideration and strategies. You should create content that attracts the audience because the viewers can help your content go viral. Although it's a wonderful method to put your name on the top of the minds of so many people in only a few days, it's not that easy to achieve such a goal. However, that doesn't mean you shouldn't test it.
Even in viral marketing, you need the help of top influencers in your niche. They can be the first to promote your post or video on their account so more people can view your content.
4. Create an Optimized Website
Any clothing brand should have an optimized website to lead customers to buy products online. You can not only reach more customers through organic searches but also your website can be used in your influencer marketing campaigns too. No matter which type of campaigns you run, influencers can always add your link to their story or mention it in their videos. Therefore, more customers will directly come to your website to see what products you have, increasing your online sales.
Not that your website should include great visuals, so people enjoy navigating it. Therefore, use high-quality photos of your products to make viewers imagine the clothes on themselves. Furthermore, you should describe everything about clothes, from their size, material, or any other information required for washing or ironing.
Another excellent clothing brand marketing idea is the seasonal discount. Always promote your discounts on social media and to make this great offer lead to more sales, find a micro-influencer to promote this discount to more people.
5. Do Content marketing
Content is the most important thing to consider for marketing a clothing brand. Whether on social media or a website, you should always have some information to give your audience. Consistently sharing content enhances your visibility online and improves your search engine performance.
To effectively manage your content, develop a comprehensive content marketing strategy. Utilize a marketing calendar to keep track of your posts across multiple social media platforms, including Instagram, Pinterest, Facebook, Twitter, and others.
6. Don't Forget Email marketing
Although some businesses may consider email marketing an outdated method, it is still one of the valuable methods of marketing a clothing brand. You should create an email list to promote your new products through email marketing. Add a clear CTA to your email to make receivers take the action you want. If it seems complicated to create such a list, you can always buy or rent a subscriber list to implement in your marketing plan.
7. Incorporate Retargeting Ads
Sometimes the visitors to your website might navigate your site but don't purchase anything. Sometimes, they might even add products to their shopping cart but don't finish the purchase. Therefore, you want to take action to return them to your website and make them finish what they have left undone. In this situation, retargeting ads can work well. A retargeting ad is a static ad with messaging that appeals to people who have left your website or abandoned their carts.
Bottom Line
As you see, the benefits of influencer marketing are so many that they play a role in each of the methods presented on how to market a clothing brand. Whether a brand wants to promote its online presence or sell products on its website, it must collaborate with influencers.
That's why influencers need to join influencer marketing platforms to become more discoverable to brands and businesses. No matter how many followers you have, you still have a chance to make money on Instagram and TikTok by joining Ainfluencer. Since influencer marketing is one of the marketing strategies for clothing brands, you can receive offers from fashion brands if you share creative videos and ideas about mode and fashion. So, don't lose this chance.
FAQs
How Do I Market My Fashion Brand?
Apart from having an optimized e-commerce website, it would help if you had an active presence on social media. In order to gain more followers on different social media platforms, it would be better to consider influencer marketing, one of the best clothing brand marketing ideas.
How Do I Get Customers for My Clothing Business?
There are different methods about how to market a clothing brand. Accordingly, you should consider several strategies to increase brand awareness and boost sales. Moreover, since most of your target customers are social media users, you should introduce yourself on different social media platforms to let them know you exist and turn them into customers.