A hashtag is the bridge between you and your audience. No matter how hard you try to create great content, if you don't use the right hashtag for it, you'll lose your chance of being discovered. That is why hashtags are the most important tools for getting more views. However, you can't just throw some hashtags at your content and wait for the results. You should know which hashtags are relevant to your content and business and which are trending. Check out this article with more than 100 trending TikTok hashtags.
You should note that trends are important factors for the TikTok algorithm. Therefore, if you use TikTok trending hashtags in the right way, you increase the chance of going viral on this platform.
Why Should We Use TikTok Hashtags?
Not only on TikTok, but also on all other platforms like Instagram, Twitter or Facebook, hashtags are the most important part of the content that can connect you and your audience. There are many benefits to using hashtags:
1. Boost Your Visibility
People use hashtags to find content on social media. Therefore, you should be the one that sits in front of them while searching for a hashtag. If you don't use hashtags, you lose your seat on TikTok search and 'For You Page'. Therefore, considering what your target audience may search for, make yourself more visible to them.
2. Enhance Engagement Rate
The more users find you, the more engagement you will receive. Especially, if you create high-quality content or offer appealing products, more people will follow you or leave comments on your content.
3. Increase Brand Awareness
TikTok trending hashtags can get your content in front of more people. As a result, more users will notice your brand. If your content is creative enough to attract them, you will get a larger audience. Therefore, you can increase your brand awareness by participating in TikTok trends and using trending hashtags on TikTok.
Don't forget to verify your TikTok account. Read more about how to get verified on TikTok.
How to Find the Best Hashtags for Your TikTok Videos?
You should note that trending TikTok hashtags are not always the best hashtags for your videos. If you want to use TikTok trending hashtags, you should create a video related to it to make your content more relevant to the hashtag. Furthermore, although trending hashtags can increase your views, you have more competitors too. Therefore, it will be more difficult to find a place on the first page of the TikTok search. However, you won't lose anything if you use trending hashtags. You can increase your chance of being viewed.
Meanwhile, you should learn the tricks to find the best hashtags for your videos. The following tips can help you discover hashtags that are more relevant to your business or more appealing to your potential audience.
1. Check Out Your Competitors Hashtags
Your competitors' behavior and content can give you ideas for your TikTok marketing strategy. From the content they create to the hashtags they use, you can discover a lot about your target audience on TikTok by analyzing your competitors.
2. Analyze the Hashtags Your Audience Follow
Some hashtags are more appealing to your audience, so they follow them to see other content in this field. It's important to find these hashtags and incorporate them into your content. Furthermore, by analyzing your current TikTok stats and analytics, you can discover what are most of your followers from, so you use hashtags related to that region more often.
3. Use Hashtag Generators
Whether you want to find the best hashtags for your video or discover the trending TikTok hashtags right now, hashtag generators can be helpful. You should note that trending hashtags might change from time to time. Therefore, the sooner you find them, the better result you will get from using them.
You can add a word or phrase to a hashtag generator and wait for it to give you more suggestions. Furthermore, most hashtag generators have a page dedicated to the trending hashtags. You can check the trends or find the trending TikTok hashtags in your niche.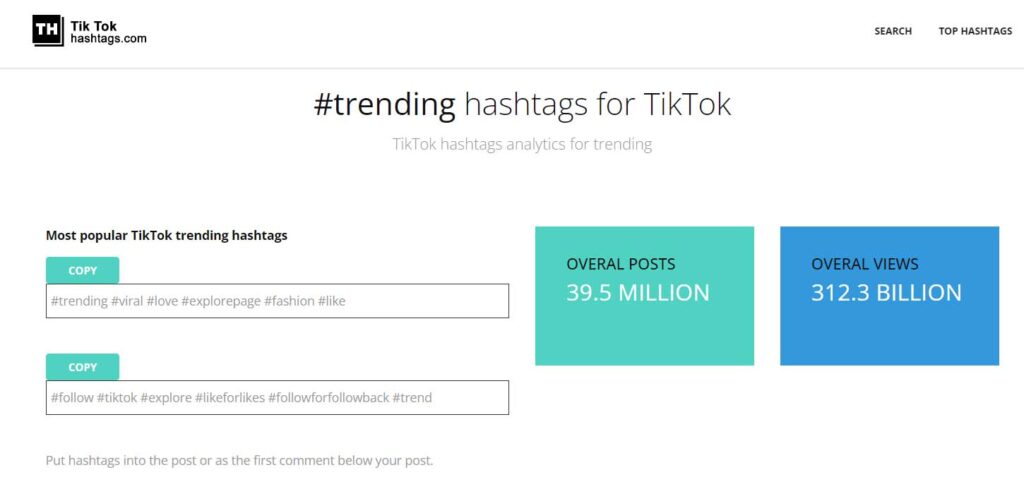 Search Hashtags on TikTok
The search box on the TikTok app allows you to search for hashtags. You only need to enter the keyword, and the search tool will give you more ideas, which are commonly the combination of the core keyword and other related words. Additionally, the search tool gives you stats about how many times a hashtag has been viewed.
Normally, the hashtags that have more views are trending at the moment. Therefore, you can find the relevant trending TikTok hashtag using the TikTok app. However, you should know that you have too many competitors on the trending hashtags. So, take your time to create more appealing and eye-catching videos to beat them.
Tips for Using Hashtags on TikTok
While it's always useful to find trending TikTok hashtags and use them for your TikTok videos, you also need to know what other options you have to increase views of your videos. These tips can help you add more practical hashtags to your posts.
1. Use a Mix of Hashtags
You can add multiple hashtags to a post. So, don't give all the space to trending TikTok hashtags. It is better to mix hashtags to maximize your reach. For example, you can add a popular hashtag, a location hashtag, and your branded hashtag to get your content discovered by different groups of your audience.
2. Create a Branded Hashtag
All brands have specified hashtags which might include their name or slogan. However, that's not all you can do with a branded hashtag. Although you might think that pre-existing hashtags are more effective for your business, creating a branded hashtag is also essential. You can create a campaign and spread your branded hashtags over TikTok.
3. Use Hashtags Relevant to Your Business
Even though trending hashtags get more views on the app, it doesn't make sense to use them if they're not related to your business. You want your audience to find you, so you should use hashtags they are searching for. Therefore, discover trending hashtags on TikTok that are more relevant to your business.
4. Add Hashtags to the Comments
Typically, hashtags are added to the caption. However, if you want to use more hashtags and are out of characters, add more hashtags to the comments. Some digital creators use the caption to write about their videos or talk to their audience, and dedicate the first comment to hashtags.
5. Don't Use Too Many Hashtags
In the previous tip, we gave the idea of adding more hashtags. But don't use too many. Currently, there is no official limit on the number of hashtags you can add to your TikTok post. However, it is more effective if you don't exceed 10 hashtags per post. If you use too many hashtags, you may increase your chance of being shadowbanned. On the other hand, most TikTokers only use between 3 to 5 hashtags in their posts, making them more specific and relevant.
6. Use Your Target Audience Location
If your business is regionally important, combine your business area with your location to create a location-based hashtag. For example, you might have a hair salon in LA and want to be discovered by people in that city. Use #LAhairsalon or another hashtag that includes your location.
7. Add Hashtags to the Bio
You can add hashtags to your bio too. In fact, the hashtag in the bio defines your business. Therefore, add the most relevant hashtag to your TikTok bio. Choose a hashtag with more views to increase your chance of being found in the searches.
If you are not sure what to add to your bio, read our guide about trending TikTok bio ideas.
8. Use Hashtags to Describe Your Audience
Some hashtags are about you and your business, while others describe your audience. It is a good idea to include at least one of these hashtags in your post. Find a characteristic of your audience and turn it into a hashtag. For example, if you are a food blogger or cook, you might choose #foodlover or #foodie. If you sell books or are a book blogger, you can use #bookworm or #bookish.
Now, let's delve into the lists of trending hashtags on TikTok based on different categories. However, you should note that the trends might change over time. Therefore, always follow the tips to find new trends and popular hashtags on TikTok.
Trending Hashtags on TikTok for Funny Content
The comedy and funny content have many fans on social media. If you create funny memes or comic videos, you can use the following hashtags to improve your views.
#funnystory #prank #funnyshit #blooper #lol #funnyvideos #justforfun #tiktokcringe #boyfriendprank #prankster #weirdpets #comedy
#humor #funnymemes
Hashtags for Friendship-Related Content
Some people share content about friendship or love. To specify this type of content to the users, they incorporate the following hashtags:
#friendshipday #friendshiplove #truefriendship #realfriendship #friendshiptest #cutecouple #textingmycrush #relationship #relationship
TikTok Trending Hashtags for Health-Related Content
The fitness influencers usually use the following hashtags on their posts:
#vitamins #naturalhealing #fitnessgoals #fitness #healthtips #weightloss #workout #stayhealthy #gym #lifestyle #5minworkout #getfit #fitgirl #fitnesstips #fitnesschallenge
Hashtags for Food-Related Content
If you post cooking videos or have a special recipe you want to share with others, the following hashtags can be helpful:
#spice #healthyfood #myrecipe #eatwithme #easyrecipe #foodrecipe #mysecretrecipe #cafe #vegan #veganrecipe #tiktokrecipe #cooking # #foodie #tiktokfood
TikTok Trending Hashtags for Dance-Related Content
Dancing videos are so popular on TikTok, especially when it comes to challenges. Use the following TikTok trending hashtags to specify your content is about dancing.
#dance #music #dancer #love #hiphop #party #dancers #dancing #dj #fun #ballet #dancelife #dancechallenge #danceinpublic #dancemoves #dancetutorial #dancevideo #tiktokdance
Trending Hashtags on TikTok for Beauty-Related Content
Beauty bloggers and makeup artists can increase their views by using the following hashtags on their videos:
#beauty #makeup #beautiful #fashion #skincare #style #model #beautyhacks #beautytips #naturalbeauty #facemasks #beautyblogger #beautychallenge #makeuptutorial
Popular Hashtags for Motivational Content
Some creators share quotes and motivational speeches. To find more audience, they can use the following hashtags:
#inspirational #madewithme #livemorechallenge #motivation #storytime #inspiration #goal #mentalhealth #quotes #storytime #feacherme
How to Become More Visible to Brands with TikTok Influencer Marketing?
TikTok is one of the best platforms for brands and businesses to increase their engagement and sales. However, to reach this goal they need to gain more followers, and it is possible through TikTok influencer marketing. In this case, they search for TikTokers to promote their products or introduce their brands.Getting discovered by top brands and companies is not just about using TikTok trending hashtags. To increase your chances of being found and discovered by brands for collaboration, you can join Ainfluencer as an influencer. At Ainfluencer, we connect brands and influencers to create a mutually beneficial partnership.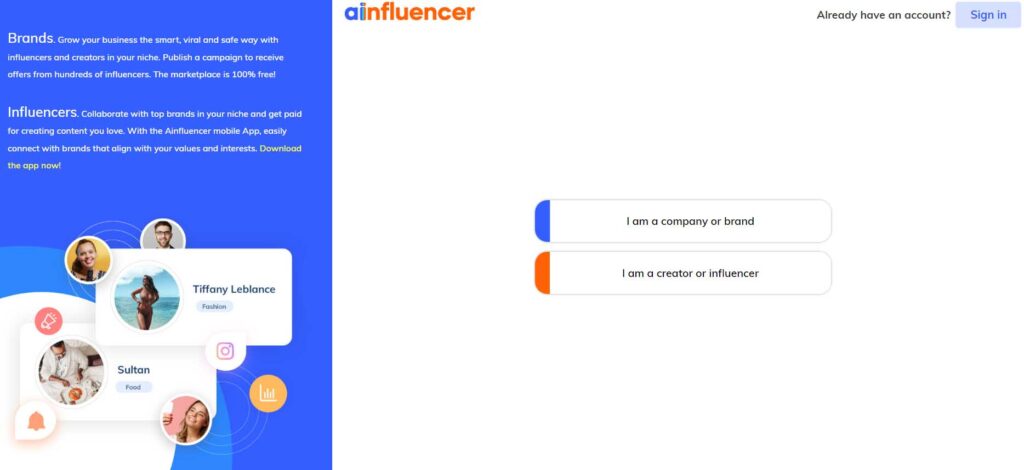 Companies use Ainfluencer to search for influencers based on their location, category, or gender. Moreover, they can find influencers based on the hashtags they use too. Therefore, make sure you always use the most relevant hashtags in your posts. No matter how many followers you have, you can join Ainfluencer for free.
Bottom Line
TikTok has become a popular platform for digital creators and businesses alike. To get more people to see your TikTok videos, you need to use hashtags that match your content. This helps you find the right audience and build a following for your brand. By using TikTok trending hashtags, you can also connect with other small business owners, become a leader in your industry, and attract new customers.
Additionally, if you are new to this platform and want to introduce your brand to more audience and reach more followers, you can sign up on Ainfuencer as a brand to start collaboration with TikTok influencers. The process is easy; you search for influencers based on their categories, gender, location, and hashtags they use, and send them your offer. It won't take your time, and the best part is that it's free! So, don't hesitate!
FAQs
1. What Are the Most Popular Hashtags on TikTok?
Some of the popular and mostly-used hashtags on TikTok are as follows: 
#tiktok – #foryoupage -#fyp – #foryou – #viral – #love – #funny – #memes – #loveyoutiktok – #followme – #fun – #cute – #music – #happy – #fashion – #comedy
2. What Is the Most Used Hashtag on TikTok?
Surprisingly, the TikTok hashtag is the most used hashtag on this platform. However, the FYP hashtag usually gets more views and most viral posts include this hashtag.
3. How Many Hashtags on TikTok to Go Viral?
TikTok allows you to add as many hashtags as you want, as long as they don't exceed 1000 characters. However, it is not a good idea to use all of this space because you will lose the chance to be seen on most of them. It is recommended that you use up to 10 hashtags per post. However, some people believe that 5 hashtags are enough for a post.
4. Can Too Many Hashtags Hurt Your TikTok?
Using too many hashtags on TikTok can make it hard for this platform to categorize your content. This could lead to your video not being suggested to viewers and not performing well. Additionally, you may be at the risk of being shadowbanned.