YouTube and TikTok are both popular platforms for sharing videos and going live with your audience. In recent updates, YouTube launched a new type of video, called shorts. But what is it and what are YouTube shorts vs. TikTok differences?
In this article, we will compare these two platforms on different aspects including their features, monetization methods, ownerships, etc. So, no matter if you want to know how to earn money on TikTok or YouTube, this guide can help you choose the best platform.
What Are YouTube Short?
Back in September 2020, YouTube released a new type of video content in India up to 60 seconds, called YouTube shorts. You can create these vertical short-form videos using YouTube's built-in creation tools, add music, edit, add text, and share it in your channel.
Viewers can interact with short videos by liking, commenting, sharing, or disliking the videos. Unlike Instagram stories, these short videos won't disappear and will remain on your channel.
What Are TikTok Videos?
With more than 2.5 billion downloads and around 1 billion active users in a month, TikTok is the second most popular social media platform after Instagram. This platform got noticed by young users for its ability to create and share creative videos using trendy soundtracks.
With multiple fun templates and tons of engaging audio, it get thousands of users right after its launch in 2018.
YouTube Shorts vs. TikTok
If you want to know how to become an influencer on different platforms, you need to keep your eyes on the differences between YouTube shorts vs. TikTok vs. reels. This way, you can choose the platform you are professional in. Here are some of the most important TikTok vs. YouTube shorts you need to check. 
1. Ownership & Content
YouTube is an American online video-sharing platform owned by Google launched on February 14, 2005, by Steve Chen, Chad Hurley, and Jawed Karim. On the other hand, TikTok is owned by the Chinese company, ByteDance.
The content you can share on both platforms is pretty similar. You can share video posts, stories, and stream lives.
2. Monetization
Let's start with the differences between the two platforms with the most important factor; YouTube shorts vs. TikTok monetization. On both platforms, you can earn money from the content you share, but the options are different. Here is everything about YouTube shorts vs TikTok monetization methods:
YouTube Shorts: Now, in YouTube's Partner Program, creators can join and earn money from their short videos. For this program, they need to have at least 1,000 subscribers and 4,000 valid public watch hours. Other monetization methods are YouTube collab and sponsorships. 
TikTok Videos: On the other hand, the answer to how to make money on TikTok has different answers. By joining the TikTok creator fund, you can earn money from the views of your videos. To join this program, you need to have at least 10k followers and 100,000 video views. Other than this, you can sell products, get live gifts, and collaborate with brands/influencers.
3. Duration
One of the most obvious TikTok vs. YouTube shorts differences is the length of the videos. YouTube short videos can be up to one minute long while TikTok can be up to 10 minutes long in the latest updates. 
4. Features And Tools
While comparing YouTube shorts vs. TikTok, features are one of the most important parts to consider. Both platforms offer multiple features and tools to help creators record and edit their videos, but they differ in some cases. Here is a quick look at TikTok vs. YouTube shorts features:
Green screen: YouTube offers a built-in green screen effect to create fun videos with different backgrounds.
Duets: TikTok offers a unique feature that allows creators to react to others' content with a split-screen video. Unfortunately, this tool is not available on YouTube or Instagram reels.
Dislike button: This feature is only available on YouTube.
Scheduling tool: YouTube shorts allow creators to schedule when their videos go live, but TikTok doesn't offer such a tool.
On YouTube, you can set your videos to be hidden for children.
5. Analytics
The last difference between YouTube shorts vs TikTok is their features for providing account analytics. In TikTok business accounts, you have access to deep analytics features to monitor your growth and engagement rate. But YouTube Shorts doesn't provide such features unless you use YouTube Studio.
6. Popularity
One of the most important factors for a video-sharing platform to check its popularity is the watch rate. The watch rate for TikTok videos is 9.06% while this number for YouTube shorts is much less, 2.52%.
Keep in mind that the first 3 seconds of a video are not counted as a watch time on both platforms. So while talking about YouTube shorts vs. TikTok views we mean more than 3 seconds of watch time. 
Note: Among all social media platforms, Instagram has the highest watch rate of 13.08.
TikTok vs. YouTube Shorts: Similarities 
Now that you know everything about TikTok vs. YouTube shorts and their differences, let's quickly examine their similarities. 
Video Format: TikTok content and YouTube shorts are both considered short-form video content.
Music Library: Both TikTok and YouTube Shorts provide creators with free music from their audio libraries.
Analytics: Both platforms provide some social media metrics such as video views, number of likes and comments, impressions, and reach. 
Algorithm: The feed page for both content types follows the same structure. Both scroll the same way in an unlimited number of videos sorted by interests. 
Monetizing: Creators on both platforms can earn money from their content. 
Closed captions: Using both platforms, you can add auto-captions and overlayed texts. 
Privacy: You can set your videos to public or private on both platforms. 
YouTube Shorts Vs TikTok Vs Reels
As you know, Instagram reel videos are pretty similar to TikTok videos and can be called as its copycat. However, it's important to mention that Instagram is the most popular social media platform these days. So it can be one of the options for your online presence and knowing the YouTube shorts vs. TikTok vs. reels can help you decide better. So let's take a quick look at YouTube shorts vs. TikTok vs. Instagram reels features:
Engagement rate: Average engagement rate on these platforms; TikTok has the highest rate with 5.53%, the second one is Instagram reels with 4.36%, and the last one is YouTube Short with a 3.80% engagement rate. 
Comments: According to a study by Social Insider, TikTok registers an average of 0.09%, while Reels and Shorts score the same levels of 0.05% on average for comments. This means you get 44% more comments on TikTok. 
Content: The number of content shared on TikTok by users around the world, is 2x than Reels and YouTube Shorts. 
How To Earn Extra Money?
No matter what platform you decide to work with, you can increase your income significantly by collaborating with brands as an influencer. Influencer marketing has become a powerful strategy for businesses to reach their target audience authentically and efficiently. But how to find brands that are looking for collaborations?
Ainfluencer is a free influencer marketing platform that connects influencers with top-notch brands, making the collaboration process much easier for both sides. With more than 500,000 active creators and thousands of businesses, you can find your best niche match in a couple of minutes.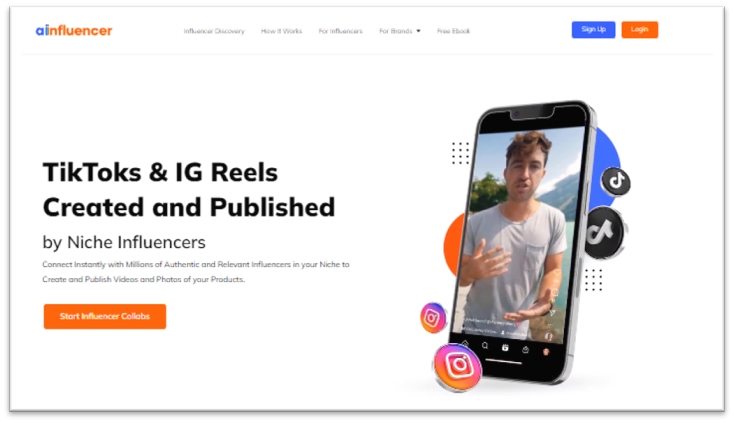 Ainfluencer also provides a powerful AI-powered search and filtering tool, you can search for brands or influencers based on niche, hashtags, location, language, budget, engagement metrics, etc. And the best part is that it's completely free to use for both sides.
Conclusion
In conclusion, both YouTube Shorts and TikTok offer multiple advantages and features for creators and users. Knowing the differences and similarities between these platforms can help you manage your social media account like a pro and grow your audience.
FAQs
1. How Do YouTube Shorts And TikTok Differ From Each Other?
YouTube Shorts is a feature within the YouTube app, while TikTok is a standalone platform. Additionally, their content discovery algorithms, editing tools, and community engagement differ.

2. Can I Use Copyrighted Music In My YouTube Shorts Or TikTok Videos?
Both YouTube and TikTok platforms have specific guidelines regarding the use of copyrighted music. It's essential to review their policies and use music that you have the right to.

3. How Can I Grow My Audience On YouTube Shorts Or TikTok?
Consistency, creativity, and engagement with your audience are key to growing your following on both platforms. Utilizing popular trends and hashtags can also help increase visibility.

4. Is There An Age Restriction For Using YouTube Shorts And TikTok?
Yes, both platforms have age restrictions in place to comply with legal regulations. Users must meet the minimum age requirement to create an account.