With the rise of social media platforms, particularly TikTok, there has been an increasing interest in using these platforms to make money. If you are looking for ways to monetize your content on TikTok, then this article is for you!
Here, we'll discuss several different TikTok marketing strategies that can let you know how to make money on TikTok. Whether it's through brand partnerships or creative ideas, this article will teach you how to get started and make money on the platform.
How To Make Money On TikTok?
If you have a knack for creating viral content and millions of followers, you can make some extra cash using the social media platform.
Making money on TikTok isn't hard if you know the right strategies. You need to be creative with your content, build an engaged audience, and learn how to monetize your account for maximum return. You can then use various methods like brand partnerships or sponsored posts to start making money on TikTok quickly. 
Also, you need to consider setting up your own online store or selling products through affiliate links, as these are great ways to increase your revenue on TikTok. With enough dedication and creativity, you can become successful at making money on this social commerc platform, so, this is how to make money on TikTok!
4 Tips To Get Paid On TikTok
Are you looking for ways to make money on TikTok? This popular social media platform can be a great way to monetize your content and earn an income. With over 1 billion users, there are plenty of opportunities to start making money on the platform. So, you should work out your TikTok marketing strategy and know the most important key tips about this platform.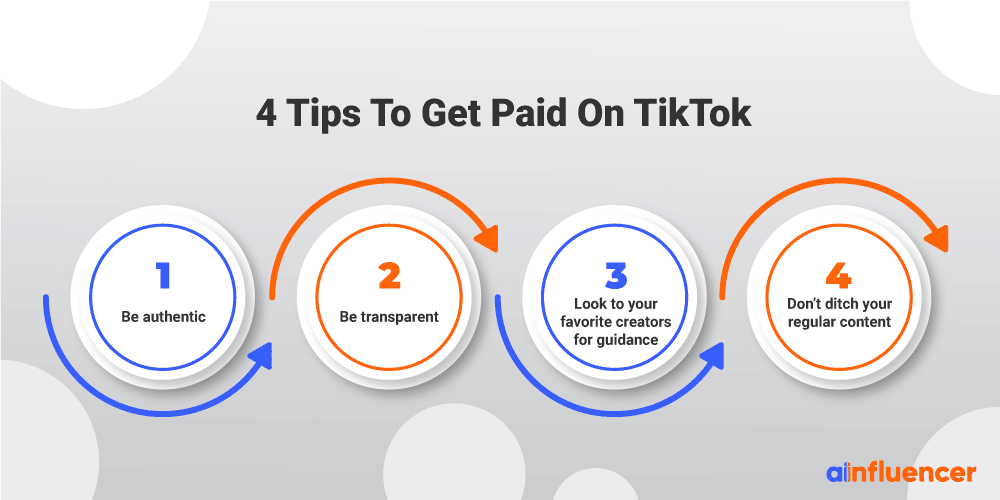 Here are some tips on how to get paid on TikTok. Continue reading to understand how to make money on TikTok:
1- Be authentic
For those who want to know ways of making money on TikTok, being yourself and creating unique content that resonates with your audience is the best way to earn money from TikTok. Building an organic following requires effort and dedication, but it has the potential for high rewards.
The first step to making money on TikTok is establishing a presence as a creator. This involves creating compelling content that aligns with your brand voice and resonates with viewers. To do this, focus on creating videos that are authentic and highlight your true personality or niche expertise. Additionally, be sure to engage with other users in order to build relationships and expand the visibility of your page. So, being authentic is one of the most important tips when you want to know how to make money on TikTok.
2- Be transparent
Making money on TikTok can be a great way to supplement your income, but it takes more than just posting videos. To maximize the potential of your content and make money on TikTok, you must practice transparency. This means being honest with your followers about what type of content you are creating and any products or services that you may be promoting.
When creating content for TikTok, make sure to always disclose if the video is sponsored or part of an affiliate marketing program. This will ensure that your followers trust the information they are viewing from you and feel comfortable engaging with it. Additionally, give yourself time away from posting sponsored content by interspersing quality organic posts in between them. This will show your audience that you care about their interests as much as gaining revenue and remind them why they like following you in the first place.
3- Look to your favorite creators for guidance
As the TikTok platform continues to grow in popularity, many creators are finding success and monetizing TikTok content. If you're looking to make money on TikTok, it's worth taking a look at your favorite creators for inspiration and guidance.
The most successful TikTok users have developed an understanding of what resonates with viewers and how to create engaging content that stands out from the crowd. From learning about TikTok trends to experimenting with editing styles and filming techniques, there is much to gain by studying your favorite creators' posts. Understanding how they leverage their channel can help you craft engaging content that resonates with followers and opens up opportunities for monetization.
Learning from experienced creatives is one of the best ways to jumpstart success on "how to make money on TikTok.
4- Don't ditch your regular content
Tiktok making money is great as the rise of influencers and creators continues. Many users are attracted to the idea of monetizing their content, but it can be difficult to know where to start. To make sure you're always able to make an income from your account, it's important not to ditch your regular content. You should be active regularly, not just when you want to advertise something. Show your followers how much they are valuable to you by answering their questions and making something valuable for them.
If you want to create a steady income from TikTok, one key point is maintaining consistency. Posting regularly will help keep your followers engaged and may lead to more people discovering your page who could potentially become long-term viewers or even customers in the future. Focusing on quality over quantity is also essential; short but effective videos that showcase who you are and what you have to offer will go a long way in making sure people remember who you are and why they should support you financially.
How Much Do TikTokers Make?
Apart from how to make money on TikTok let's see how much do TikTokers make.
The answer to that question depends on several factors, such as their number of followers and engagement rate. The more followers they have and the higher the engagement rate, the more likely they are to get brand deals or sponsorships. Top TikTokers can easily earn hundreds of thousands of dollars for sponsored content or product placements in their videos. Additionally, many TikTok influencers monetize their content through affiliate links or TikTok ads which can also lead to substantial earnings if done correctly.
If you want to earn the TikTok creator fund, you can make between 2 and 4 cents for every 1,000 views. This means you can earn around $20 to $40 after reaching a million views.
Who Makes The Most Money On TikTok?
Charli D'Amelio is the most-paid TikTok influencer. She is an 18-year-old American TikToker.
Post
Charlie D'Amelio is known for her inventive dance videos and has recently scored deals with a number of major brands, including Invisalign, Morphe cosmetics, Dunkin' Donuts, and her own web series, The D'Amelio Show.
Conclusion
All in all, TikTok is a great platform for making money. With the right strategy and creative ideas, you can make a lot of money from TikTok but you should know how to make money on TikTok. Then, you'll have to stay consistent and be creative with your content to give people incentive to follow you and support you. There are many ways to earn money on TikTok such as creating sponsored content, offering products and services, or using affiliate marketing.
Let's read people also asked questions about the topic.
1- How Much Does TikTok Pay?
$20 to $40 once your video has gained 1 million views. A viral video with 10 million views costs around $200 to $400 from the creator's fund.
2- Is TikTok A Good Way To Make Money?
TikTok is a great platform for creators to share their content and engage with their audience, while also being able to make money. You can do this by partnering up with brands or getting sponsorships from influencers. As long as you produce engaging content and grow your followers, there's potential for financial success.
It's important to note that making money on TikTok takes time and effort; you need to create high-quality content that appeals to your audience in order for them (and possible sponsors) to take notice.