TikTok has quickly become one of the most popular social media platforms, and influencers are a key part of this success. With the ability to reach millions of people with a single post, influencers have become an integral part of the marketing industry.
Finding TikTok influencers for your business or brand can be a daunting task, but this article will provide you with some important insights into how to find TikTok influencers and let you know some top platforms to help you hire TikTok influencers.
Why is TikTok influencer marketing important?
TikTok influencer marketing has become an important aspect of digital marketing for a number of reasons.
1- Reach
TikTok has a massive user base, especially among younger generations, making it a valuable platform for reaching a large and engaged audience.
2- Engagement
TikTok users are known for their high levels of engagement, which makes it an effective platform for influencer marketing campaigns. Influencers on the platform can drive significant traffic to a brand's profile and website and generate user-generated content (UGC) that can help spread the brand's message further.
3- Authenticity
TikTok influencer marketing often involves influencers creating their own content, which gives it a more authentic and relatable feel. This type of content is more likely to resonate with audiences and drive engagement than traditional advertising forms.
4- Cost-effectiveness
Influencer marketing on TikTok can be a cost-effective way for brands to reach a large and engaged audience, especially compared to traditional forms of advertising. This is because influencers can often reach a significant number of people for a lower cost than other forms of advertising.
Overall, TikTok influencer marketing can be an effective way for brands to reach new audiences, increase brand awareness, and drive engagement with their target demographic.
How to find TikTok influencers?
Manual search and using the app itself is one way to get started with finding influencers on TikTok. As you use the app, TikTok algorithm will naturally introduce you to trending content creators. It's beneficial to use TikTok more intentionally while looking for relevant influencers for your brand. Here's a look at some practical ways to start your search:
1- Perform a keyword research
One of the fastest and easiest ways to find TikTok influencers is to use relevant keywords to help search video content of creators who post content that aligns with your niche. Do you wonder how to find influencers on TikTok using keywords?
To start, open the TikTok app on your device.
In the bottom navigation bar, tap the magnifying glass icon to access the search bar.
Type in keywords relevant to your niche or industry and see the results.
Take a look at the profiles that come up in your search results, and pay attention to the number of followers and engagement metrics such as likes, comments, and views.
A high number of followers and engagement metrics can indicate that the user is an influencer. Pay attention to the content they post and the topics they focus on to determine if they align with your target audience.
After reviewing several profiles, narrow down your list to a few potential influencers.
Take the time to analyze the influencer's content to see if their content aligns with your brand. Make sure they are posting content that is of high quality, original, and engaging.
If you think the influencer is a good fit for your brand, reach out to them to see if they are interested in working with you. You can direct them on TikTok or email them if they have provided contact information on their profile.
2- Use hashtags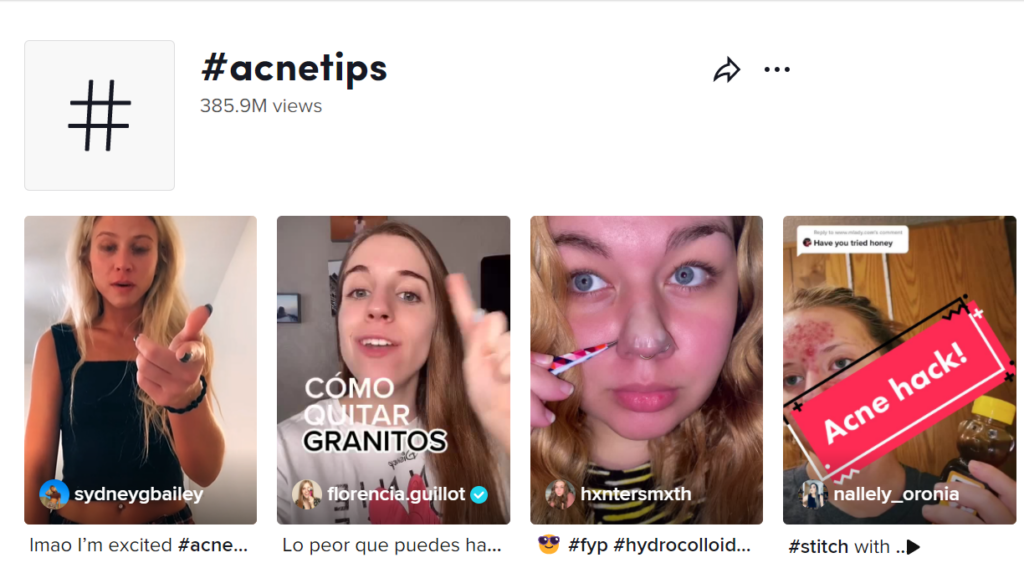 To find TikTok influencers using hashtags, start by identifying hashtags that are related to your niche or industry. This could include broad hashtags like #fashion or #beauty, or more specific hashtags like #fashionblogger or #makeuplook.
Then open the TikTok app and go to the "Discover" section. Use the search bar to search for the hashtags. You'll see a list of TikTok videos that have been tagged with that hashtag.
Tap on a TikTok video that catches your attention and check the creator's profile. Look at their follower count, engagement rate, and the quality of their content. Repeat the process for each relevant hashtag, and make a list of TikTok influencers that you think would be a good fit for your brand.
3. Carry out an organic search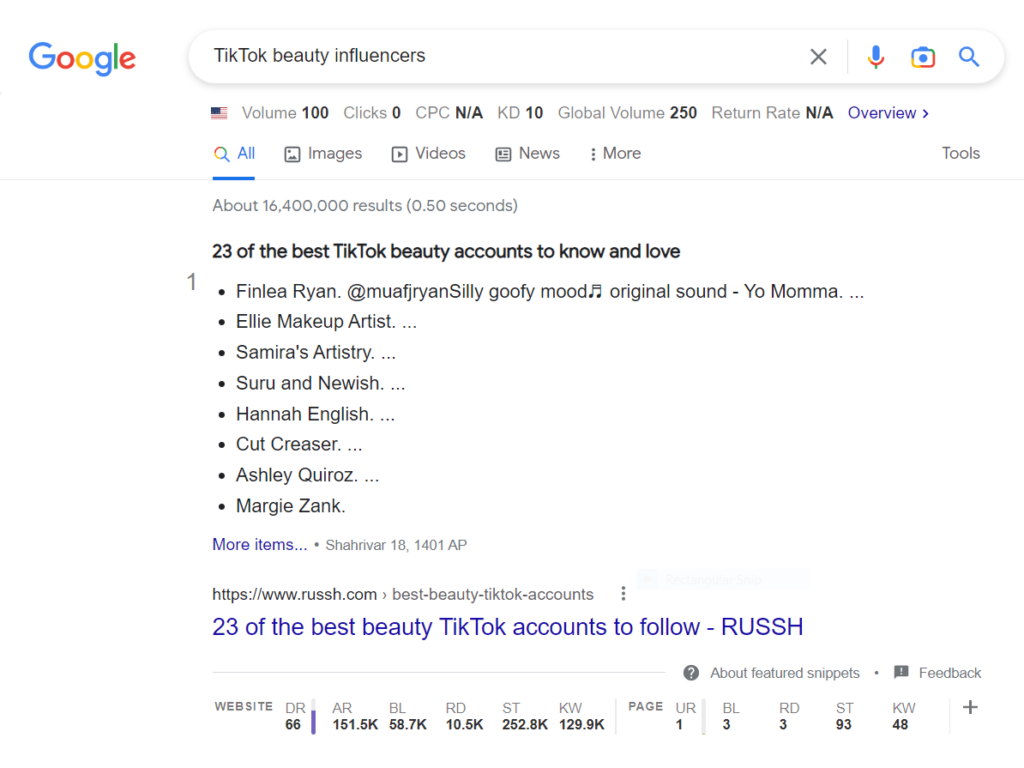 Finding TikTok influencers using Google can be a quick and easy way to identify and hire TikTok influencers for your brand. The first step in using Google to find TikTok influencers is to consider the keywords and phrases related to your brand and the type of influencer you're looking for. For example, if you sell skincare products, you might search for "TikTok skincare influencer" or "TikTok beauty influencer". This will give you a list of results related to the type of influencer you're looking for.
Once you have a list of results, it's important to review each influencer's TikTok account to determine if they are a good fit for your brand. Finally, once you've found several TikTok influencers that you think would be a good fit for your brand, it's important to reach out to them and start building a relationship.
4. Check if any of your existing influencers are on TikTok
This one may seem obvious, but it is still important to state. Check to see if any YouTubers, Instagrammers, or Twitch influencers who have previously produced successful outcomes for influencer marketing campaigns are also producing material for TikTok.
5. Use the "For You" page
The 'For You' page is a good place to start finding TikTok influencers if your brand already has a TikTok account and you're engaging with niche-related content. TikTok suggests relevant, trending content that fits your interests using the 'For You' page.
As you scroll through the page, pay attention to the content creators who consistently produce high-quality videos that receive a lot of engagement, such as likes and comments. You can also take note of the accounts that have a large following, which is a good indication that they are well-established influencers on the platform.
6. Check out what other brands are doing
By observing what other brands are doing, you can gain insights into the types of TikTok influencers they are working with and the content they are creating. This information can help you identify potential TikTok influencers who align with your brand's values and target audience, as well as give you ideas for content that may resonate with your audience on the platform.
7. Use an influencer marketing platform
All the methods for finding TikTok influencers listed above require doing a manual search. The manual search takes a lot of time and energy. Additionally, without filters to assist you in precisely define your search criteria, you may become overwhelmed by the vast number of influencers you find. Because of this, it makes sense to use an influencer marketing platform.
Influencer marketing platforms can help brands and businesses find TikTok influencers in several ways:
Search and filter: Platforms offer search and filtering options that allow brands to search for TikTok influencers based on criteria such as location, followers, engagement rate, and niche.
Analytics and insights: Platforms provide insights and analytics on TikTok influencers' profiles, content, and audience, which can help brands make informed decisions about who to work with.
Campaign management: Platforms offer tools for managing influencer campaigns, from outreach and negotiation to tracking and reporting. Brands can use these tools to collaborate with TikTok influencers and track the results of their campaigns.
Influencer discovery: Platforms also have a feature for discovering new TikTok influencers who may not have a large following yet but are up-and-coming and have the potential to become popular in the future.
By using an influencer marketing platform, brands can streamline their search for TikTok influencers, analyze their potential impact, and manage their campaigns effectively.
5 top TikTok influencer marketing platforms
1- AspireIQ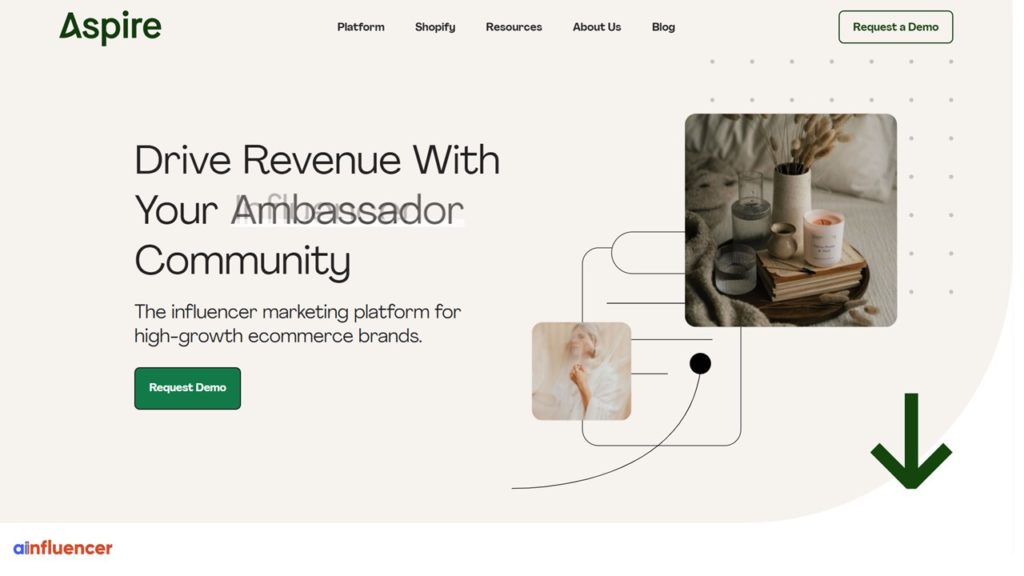 AspireIQ is a comprehensive influencer marketing platform that provides brands with access to a wide range of TikTok influencers, along with tools for campaign management and performance tracking.
The hybrid system is used by Aspire IQ for their influencer database. First, it searches a database of more than 500,000 influencers using a proprietary algorithm. Influencers cannot participate in campaigns without a platform account, though.
Customers of Aspire can look for influencers in a variety of ways using the discovery engine. By entering follower counts, average post likes, and other demographic information, you can narrow down the results of a search using keywords, hashtags, topics, etc.
2- Heepsy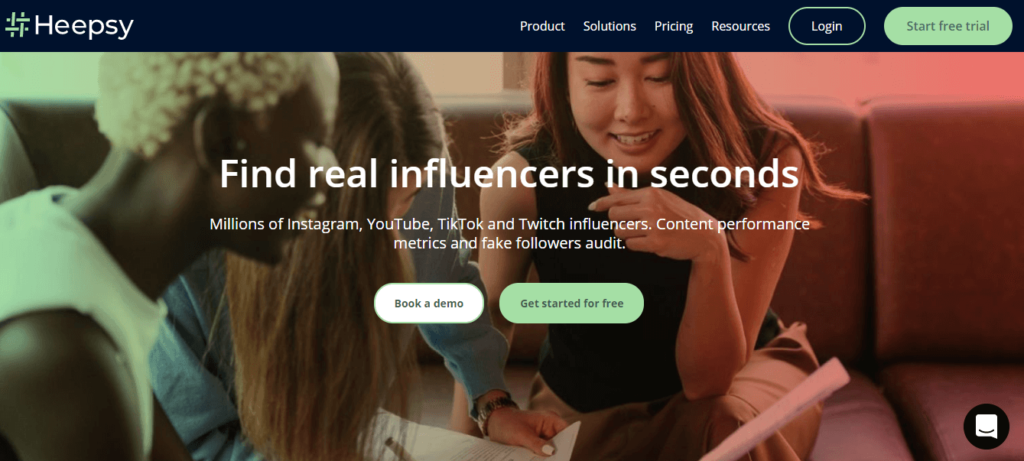 Heepsy is a platform that helps businesses and marketers find and connect with TikTok influencers. With Heepsy, you can search for TikTok influencers based on various criteria such as location, language, niche, audience size, engagement rate, and more. This makes it easier for you to find the right influencer for your brand and target audience.
Once you have found the right influencer, Heepsy provides you with their contact information, making it easy to reach out and start a conversation. You can also use Heepsy to track the performance of your influencer campaigns, monitor the growth of your influencer's audience, and get insights into your target audience.
In addition to these features, Heepsy also provides tools for managing and tracking influencer payments, so you can keep track of your expenses and ensure that your campaigns are running smoothly. By using Heepsy for your TikTok influencer marketing efforts, you can save time, increase efficiency, and achieve better results.
3- Upfluence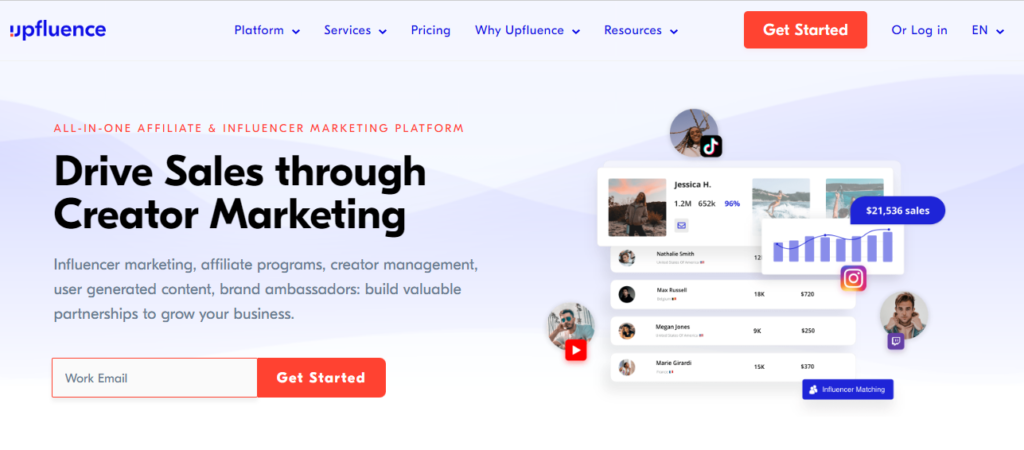 Upfluence is an influencer marketing platform that provides a suite of tools and services to help brands find TikTok influencers and run influencer marketing campaigns. The platform offers features such as influencer discovery, content creation, and campaign management, making it easier for brands to find the right TikTok influencers to work with, create compelling content, and measure the results of their campaigns.
With Upfluence, brands can search for TikTok influencers based on specific criteria such as location, niche, and audience demographics, and view detailed profiles of each influencer, including their past campaigns, engagement rates, and content samples. This helps brands to find influencers who are a good fit for their brand and target audience.
4- Grin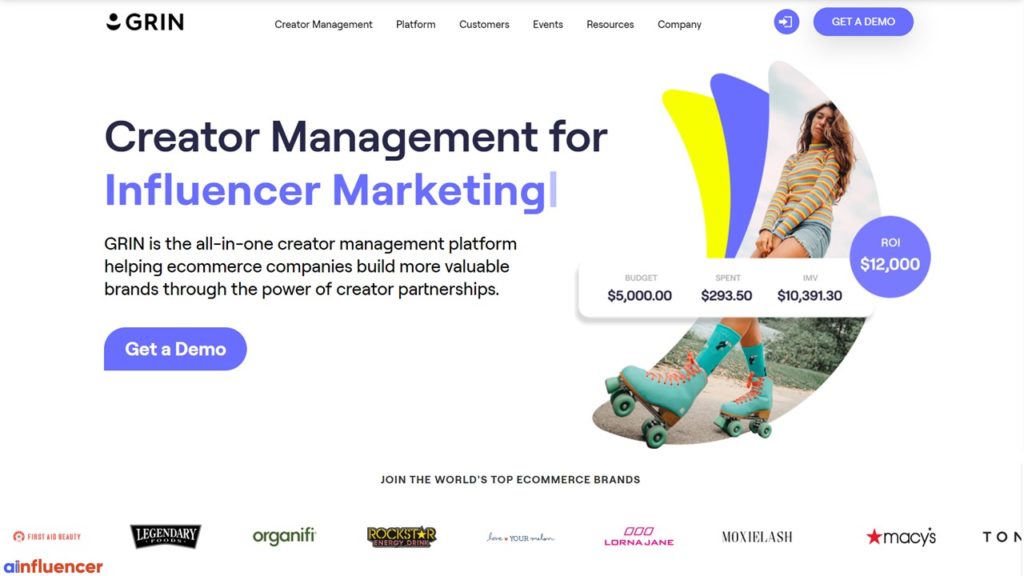 Grin is a lot more than just a tool for finding TikTok influencers. It claims to integrate with all aspects of your marketing stack, such as social media sites, e-commerce programs, and communication tools. Everything your team requires for effective influencer marketing is available in one place thanks to Grin.
Influencer marketing for eCommerce is Grin's main area of concentration. You can find influencers, maintain connections with them, and track your ROI. It provides you with the resources to look through a network of 32 million social media users on all platforms, including TikTok, to find the faces that are ideal for your company. Grin makes managing influencer marketing on a day-to-day basis simple, from messaging influencers to shipping products to repurposing content. Additionally, it displays all information, including specific KPIs and the ROI of your complete influencer program.
5- Klear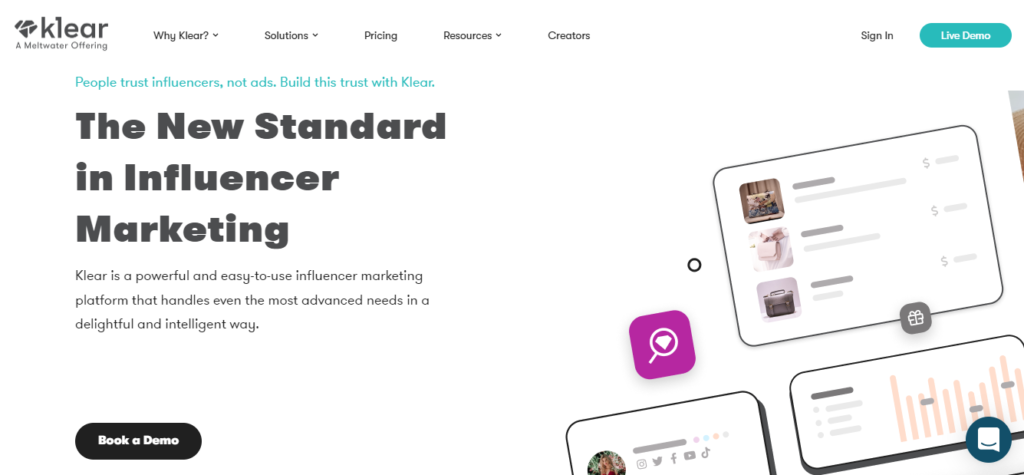 Klear is an influencer marketing platform that provides a range of features to help businesses and marketers find the right influencers for their marketing campaigns. Here's how Klear can help you find TikTok influencers:
Search for TikTok Influencers: Klear has a search feature that allows you to filter TikTok influencers based on your specific needs. You can search for influencers by their name, username, location, bio, and other criteria. The platform has a database of over 7 million influencers across all social media channels, including TikTok.
Analyze Influencer Metrics: Klear provides detailed analytics on influencer performance, including their engagement rates, follower growth, content, and more. This data can help you evaluate which influencers are the most effective for your campaign.
View Influencer Content: Klear allows you to view TikTok influencer content directly on the platform. This feature helps you get a better understanding of the type of content an influencer produces and whether it aligns with your brand's values and goals.
Manage Influencer Relationships: Klear offers tools to manage influencer relationships, including communication, payments, and contracts. This feature streamlines the influencer outreach process and helps you build long-term partnerships with the right influencers.
Conclusion
In conclusion,finding an ideal TikTok influencer to promote your brand can be a daunting task. However, by following the tips and platforms provided in this article, it is possible to identify and leverage the right influencers for your campaign. Start by researching the trends, browsing profiles and determining the authenticity of each influencer. Then, develop criteria that align with your goals and budget. Finally, create a contract that outlines specific deliverables as well as payment terms to ensure both parties are protected.
FAQs
1- How do I find creators on TikTok?
TikTok has a vast community of creators with various niches and interests. To find creators on TikTok, you can start by exploring the "Discover" page. This page features trending videos and hashtags, as well as recommendations based on your previous interactions on the app. From there, you can search for specific topics or hashtags that interest you, and TikTok will suggest creators that have content related to those topics. You can also follow creators that you enjoy and engage with their content by liking, commenting, or sharing their videos. TikTok's algorithm takes note of your interactions and recommends similar creators for you to follow.
Another way to find creators on TikTok is by utilizing the search bar. You can search for specific creators or types of content, such as "comedy," "beauty," or "cooking." TikTok will display a list of popular creators and videos related to that search term. You can also filter your search results by content type, sound, or hashtag. Additionally, you can join TikTok's live streams and interact with creators in real-time. TikTok also hosts events and challenges, which can be a great way to discover new creators and engage with the community.

2- How to get sponsors on TikTok?
One way for TikTok creators to monetize their accounts is through sponsorships. To get sponsors on TikTok, creators need to have a large and engaged following, as well as a niche or topic that appeals to brands. Creators should focus on creating high-quality content that is relevant to their audience and showcases their unique personality or talent. They should also engage with their followers by responding to comments and messages, and participating in trending challenges and events.
To attract sponsors, TikTok creators can also use influencer marketing platforms and agencies that connect them with brands. These platforms provide creators with the opportunity to showcase their content and audience demographics, while brands can review profiles and select the ones that best align with their marketing goals. Creators should be selective when choosing brands to work with, and ensure that they align with their personal values and interests. By building relationships with sponsors and consistently delivering high-quality content, TikTok creators can increase their chances of securing sponsorships and earning a steady stream of income from their accounts.
In addition, TikTok creators should also be transparent with their audience about sponsored content. They should clearly disclose when a post is sponsored or in partnership with a brand, and ensure that it does not compromise the authenticity and credibility of their content. By following these guidelines and building trust with their audience, TikTok creators can create a sustainable business model through sponsorships and continue to grow their influence on the platform.