TikTok is a social media platform that has been gaining immense popularity over the years. It's become a great way to showcase your talent, communicate with your friends, and share entertaining content. However, it can be difficult to get followers on TikTok without spending money. In this article, we will provide you with a cheat sheet on how to get free TikTok followers in 2023.
Why TikTok Followers Matter When It Comes To TikTok Algorithm?
Having a large number of followers on TikTok can be beneficial in many ways, especially if you want to do TikTok influencer marketing. But it's even more important when it comes to the platform's algorithm. The TikTok algorithm determines how often users will see your content and whether or not you get featured on the "For You" page. This makes getting free TikTok followers essential for anyone looking to maximize their reach on the platform.
Many people don't realize that having more followers is a key factor in gaining likes and views, which can help you to become popular fast. When someone looks at your profile and sees that you have a lot of followers, they are likely to watch your videos and leave comments as well as follow your account themselves. Since these viewers are already interested in what you have to offer, they will most likely give you positive engagement which then boosts your visibility through the algorithm.
How To Get Free TikTok Followers?
As a social media platform, TikTok has become one of the most popular ways to express yourself and find creative outlets. With millions of users around the world, it's no wonder why so many people want to increase their followers on TikTok. But how do you get free TikTok followers?
The good news is that there are a few simple steps you can take to increase your followers without spending any money and build your TikTok marketing strategy.
The first step is to create content that resonates with your target audience – think about what type of videos they would like to watch and create content around those topics.
Second, you can also use hashtags strategically in order to reach more people and gain more views on your videos.
Third, engage with other users by liking and commenting on their posts as well as responding quickly when someone messages you – this will help build relationships with potential followers.
Last, using free apps to get more followers on TikTok.
Now, let's discuss more different types of free apps to get TikTok followers.
Services To Get Free TikTok Followers
Are you looking for ways to increase your TikTok following with free followers? Look no further! There are a variety of services available that provide free TikTok followers. These services can help you attract more people to your profile, giving your content the visibility it deserves.
#1- TikFamous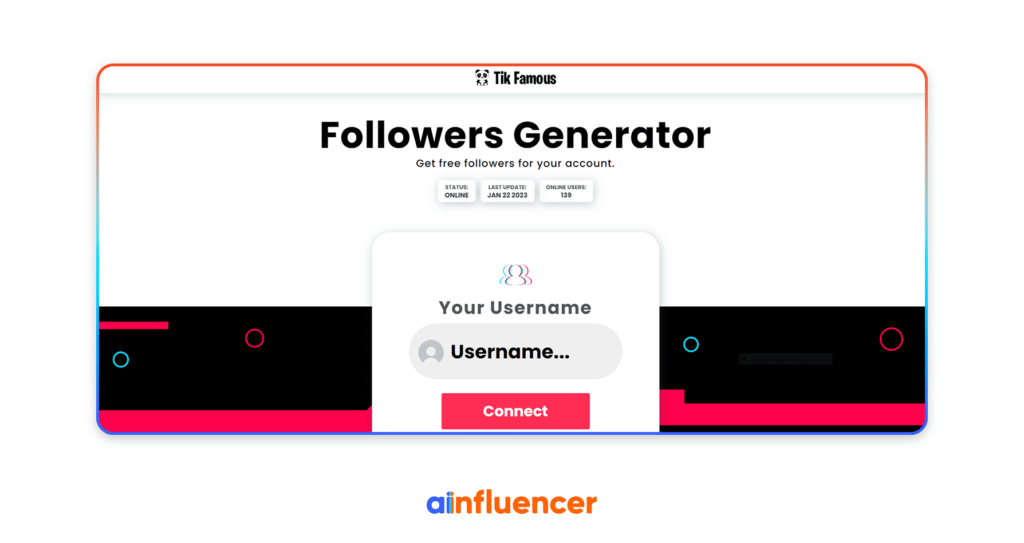 TikFamous is an app to get TikTok followers. If you're looking to increase your followers or free TikTok likes quickly, this app is definitely worth checking out. It's designed to help users build their profiles and boost their visibility in the social media world.
This app is 100% free, so it won't cost you anything to try it out. Plus, there are no hidden fees or subscription costs involved. The app works by connecting you with existing TikTok users who are interested in following your profile and content. All you have to do is create an account, link your profile, select a package from the available packages and then sit back and watch your follower count grow! With daily updates, new followers will come flowing into your account in no time at all.
#2- TikPlus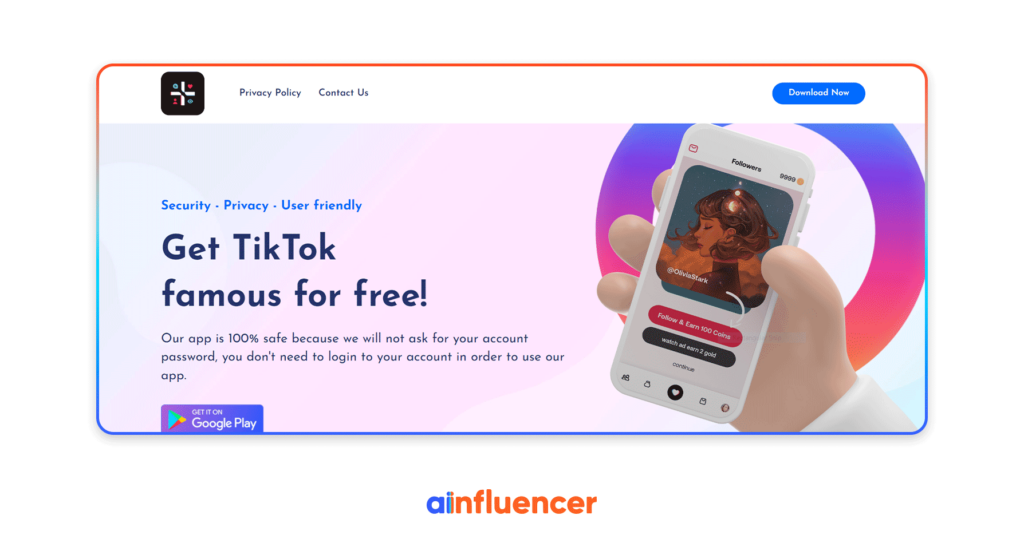 If you're looking for a way to get more followers on TikTok, look no further than the new free TikPlus app. This innovative tool helps you quickly and easily get free followers on TikTok.
When you download the app, it's like having your own personal assistant working for you around the clock to help grow your following. With its user-friendly interface, you can easily set up campaigns that target users who are interested in what you have to offer. Plus, with built-in analytics tools, it's easy to track and measure results so that you can make sure that your efforts are paying off.
The best part is that using this app doesn't cost a thing – it's completely free! So if increasing your follower count is something that interests you, be sure to check out TikPlus today!
#3- TikBoost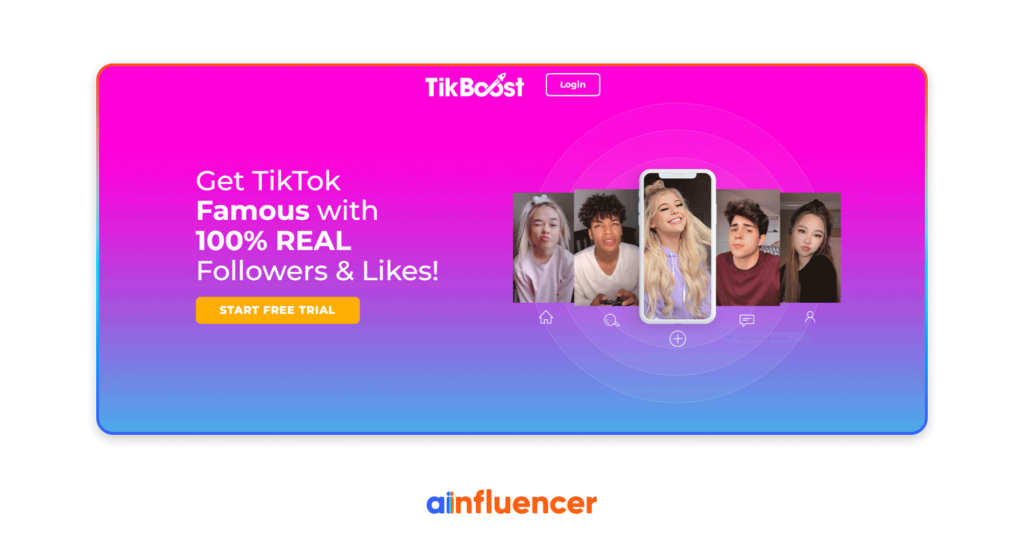 TikBoost is the latest mobile application that takes the social media world by storm. It has become an essential tool for millions of TikTok users to gain more followers and boost their profiles.
Are you looking for a way to get free TikTok followers without spending any money? Look no further! With TikBoost, you can now tap into an entirely new level of engagement with your content. The app features powerful features such as automatic follow/unfollow and post analytics that will help you track your progress and optimize your performance on the platform. Moreover, it also provides recommendations on which hashtags and accounts to follow in order to build you following quickly. With this amazing tool, you can easily increase your follower count in no time!
#4- TikFans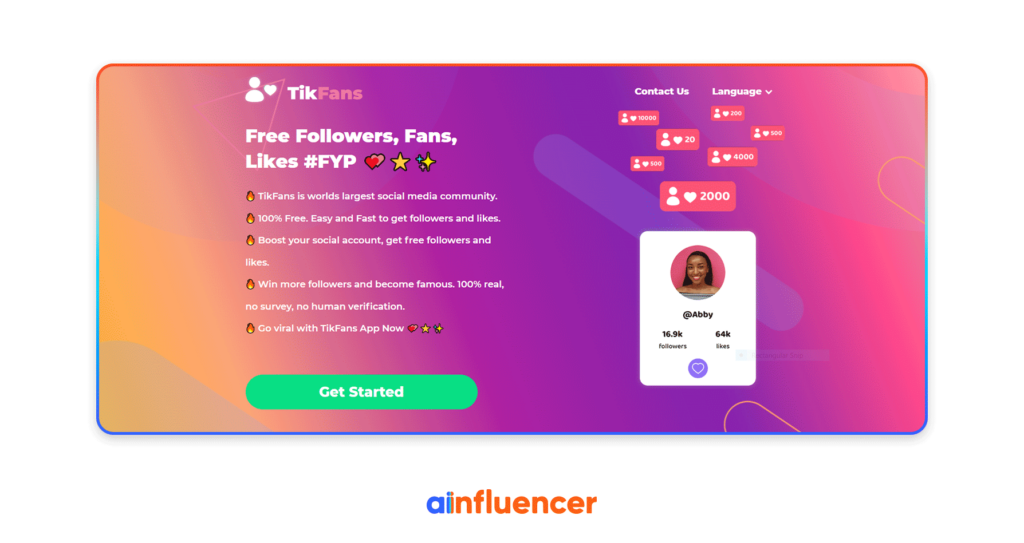 Are you looking for an easy way to get free TikTok followers? Look no further – TikFans has you covered! This app is one of the best ways to increase your following quickly and easily.
TikFans offers a unique approach – it allows users to follow each other, ensuring that everyone benefits from the exchange. This means that by simply interacting with others on the app, your follower count will begin to grow. It's a win-win situation! Allowing users to follow each other also helps build meaningful relationships, so it's more than just about getting followers for yourself.
The best part about TikFans is that it's 100% free! With no hidden fees or in-app purchases required, using this app won't break the bank.
Conclusion
Overall, free TikTok followers apps can help any content creator gain traction. It is a great way to reach a wider audience, find inspiration, and gain feedback. But like anything else, the most important thing to remember is to be consistent with your content and engage with your followers. You can create amazing videos, but if you don't interact with your followers, they won't stick around long. Don't forget that real engagement is key to building an effective community and reaching success on TikTok.