You may have created your TikTok account out of coincidence and selected a username in haste. Now that TikTok has become one of the most popular social media platforms, with millions of users worldwide, you may want to create a professional account and change your username. But you may be wondering how to change TikTok username.
Having a good TikTok username is one of the most critical TikTok marketing strategies for staying in people's minds and growing your business. However, after some time, you may want to change your TikTok name for any reason and wonder if you can change your TikTok username or what factors you should consider when changing it.
In this post, we will show you how to change TikTok username, as well as select the best name ever. Hold on tight.
Is It Possible To Change Username On TikTok?
Even though you know how to use TikTok, you may encounter problems growing your business on TikTok. For example, despite growing your TikTok fan base and sharing short videos, you may notice that your audience isn't returning to your page. It's possible that your username is to blame.
You may ask yourself how to change TikTok username. On TikTok, you can change your name, but there are restrictions. So, take into account the following factors before changing your username on TikTok.
You are free to change your TikTok username as often as you like, but you can only do so once every 30 days.
Your username can only have a total of 24 characters.
You should insert at least 2 characters in your username. (letters, numbers, etc.)
All users have a specific username, so your username on TikTok must be unique.
Your TikTok username can only contain letters, numbers, underscores, and periods.
You cannot end your TikTok name with a period.
If you change your TikTok username, your TikTok URL will also be changed. So, update your username details on other websites or media platforms.
If you change your username after having a verified account, that account is no longer verified.
So, whether you want to be an influencer and do TikTok influencer marketing or a business that wants to increase brand awareness using this platform, try to choose the best TikTok username to avoid having to change it. However, if you need to change your username on TikTok for any reason, continue reading.
How To Change TikTok Username?
If you want to convert your TikTok account into a business account or change your TikTok username to something more memorable, you'll need to know how to change TikTok username. It is simple to change the name of a TikTok. Here's how.
Step 1: Open your TikTok app, then sign in.
Step 2: Navigate to your profile page. If you're logged in, go to your profile page by tapping on the profile icon in the bottom right corner of the screen.
Step 3: Choose Edit profile.
Step 4: Type your desired TikTok username. You'll find a field for your TikTok username in the "Edit Profile" section. Simply tap on the field and type in your new username. (keep in mind that your username must be unique.)
Step 5: Confirm availability. If the username is available, a green checkmark will appear next to it, indicating that you can use it. If the username is not available, you will see a red "X" and must select a different username.
Step 6: Save your changes. Once you've selected an available username, make sure to save your changes by tapping "Save" in the top right corner of the screen. Your new TikTok username will now be visible to all of your followers on your TikTok profile.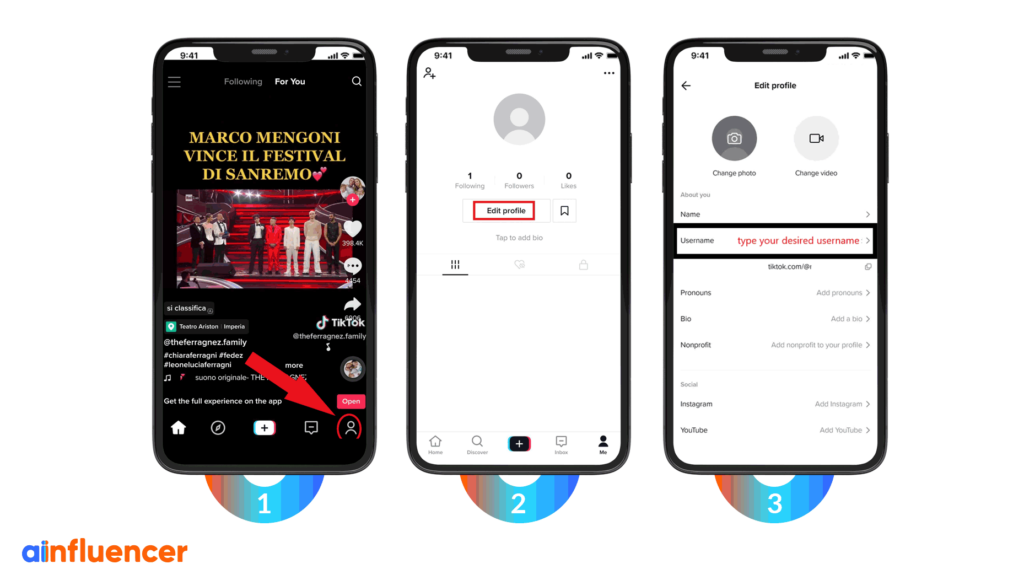 The steps for changing your TikTok username on Android and iOS are the same. You can also change your TikTok username using the TikTok web by going to TikTok.com. To do so, go to your profile page and click the three dots in the top right corner of the screen, select "Edit Profile" from the menu, and do the same steps as above.
Tips For Choosing TikTok Username
To keep it consistent and easy to remember, try not to change your TikTok username too often. But if you want to do so, you must consider several factors. Now that you know how to change TikTok username, we'll go over some tips for picking the best TikTok username.
1. Keep Your TikTok Username Short And Memorable
When choosing a username for TikTok, you should keep it short and memorable. Short usernames are easier to remember, and they make it easier for people to tag you in their videos. Avoid using long or complicated usernames that are difficult to spell or remember. Instead, opt for a name that is easy to type and rolls off the tongue.
2. Make Your Username on TikTok Unique
It's essential to choose a unique username that is not already taken. You don't want to be confused with someone else, and you want to create a distinct identity on the platform. Try to avoid generic usernames and think of something that reflects your personality, interests, or brand.
3. Use Keywords In TikTok Username
Using keywords in your username can help others find you on the platform. If you're creating content around a specific topic, include relevant keywords in your username. For example, if you're creating fitness videos, you could include the word "fitness" in your username.
4. Consider Your Brand When Changing Username On TikTok
If you're using TikTok for your business or personal brand, it's essential to consider your brand when choosing a username. Make sure your username reflects your brand's tone, style, and values. Avoid using inappropriate or offensive usernames that could damage your brand's reputation.
5. Be Consistent And Professional
If you have accounts on other social media platforms, consider using the same username on TikTok to make it easier for people to find you across multiple platforms. In addition, if you're using TikTok for business or professional purposes, consider using your name or a variation of it as your username.
6. Keep It Simple
Avoid using symbols, numbers, and special characters in your username, as they can make it harder for people to remember and find you.
Before you finalize your username, check to see if it's available on TikTok. If it's not available, you'll need to come up with a new name. Make sure to check the spelling and make sure there are no typos in your username.
Distinction Between TikTok Name And TikTok Username
On TikTok, "name" refers to your profile's display name, whereas the "username" is a unique identifier that appears in your profile URL and is used to tag you in videos and comments. Your username will appear in the URL address of your TikTok, as shown in the image below.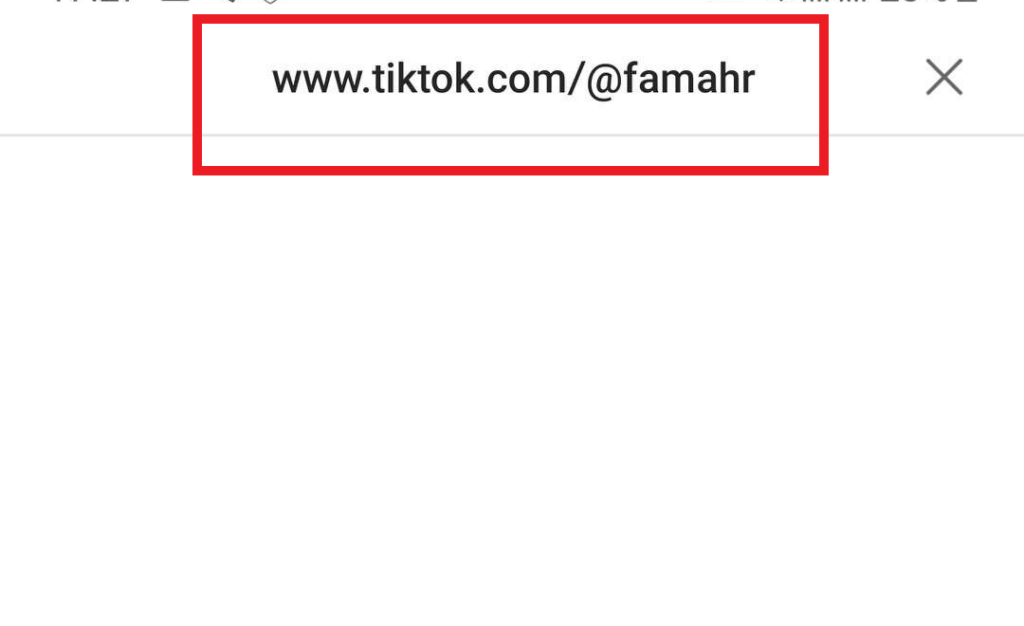 So, while your name is the display name that others will see on your profile, your username is the unique identifier that others can use to find you on the app. Your username is the larger name that appears on your profile, and the minor name that appears beneath it is your nickname or TikTok name.
How To Change TikTok Name
You may wonder if you can change your TikTok name or not; your name can be up to 30 characters long. Additionally, you can change your TikTok nickname every seven days. But your username, on the other hand, can only be changed once every 30 days and can have up to 20 characters.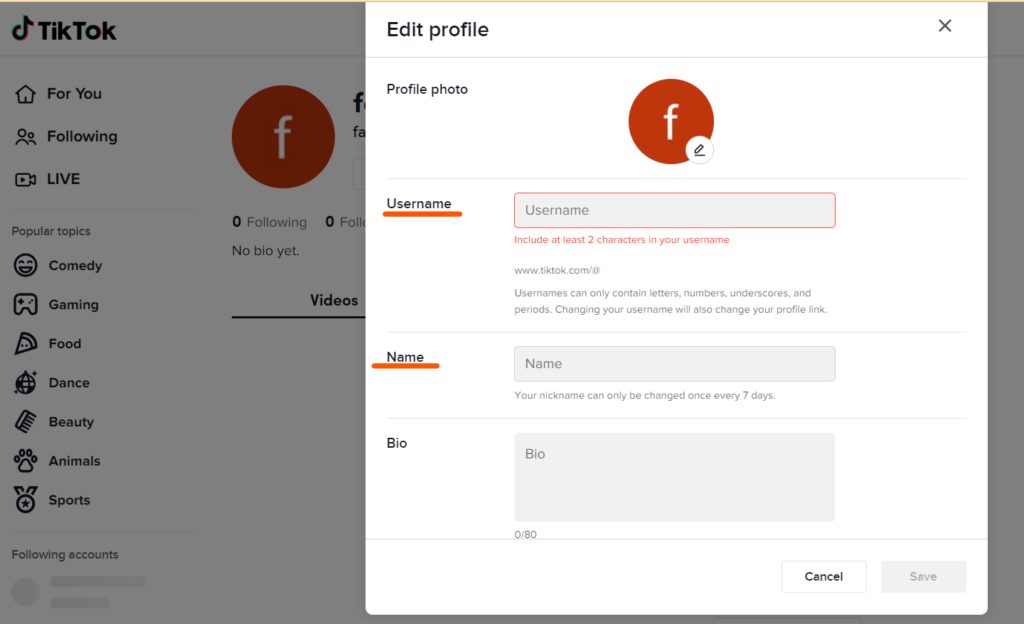 To change your TikTok username, go to your profile page via the app or website. Then, click the "Edit Profile" button. Then, in the "Name" field, type your name.
Conclusion
Changing your TikTok username is a simple process that can be done in just a few steps. After knowing how to change TikTok username, by following the steps outlined in this guide, you can choose a username that represents you and makes it easier for people to find you on the platform.
Choosing a TikTok username may seem like a small decision, but it can have a significant impact on your presence on the platform. By following these tips, you can create a username that is memorable, unique, and reflective of your personality or brand. So, to change your TikTok username, consider them all.
FAQs
1- How can a TikTok username be changed without having to wait 30 days?
Unfortunately, it's not possible to change a TikTok username without waiting for the 30-day cooldown period. This period is put in place to prevent users from changing their usernames too frequently, which can cause confusion for other users.
2- What happens after people change username on TikTok?
After you change your username on TikTok, your old username will become available for other users to claim. Your followers will be notified of the change and will still be able to find and follow you using your new username. However, any links or mentions of your old username may no longer work. Your account data, including your videos and profile information, will remain unchanged.