There are several methods to do marketing on TikTok. One of them is affiliate marketing, which is almost a win-win method for the business and the marketer. Whether you are a brand that wants to start TikTok affiliate marketing to grow its brand or a user who wants to profit from cooperating with brands through this type of marketing, here are some tips that can help you achieve the best in this type of marketing.
What is TikTok affiliate marketing?
Like affiliate marketing on any other social media, TikTok affiliate marketing is the collaboration between a brand and TikTok user; generally, TikTok influencers, to promote something. It is different from TikTok influencer marketing because, in this method, a link is added to a video, leading audiences to another page, website, or even another social media platform. The payment is a commission based on the clicks or sales. 
Fortunately, TikTok affiliate marketing is a method you can use as a brand. It means you won't need anyone else to start this type of marketing. Your brand's TikTok account can be your affiliate marketer page. So you can reach more clicks to your website.
TikTok Affiliate Marketing benefits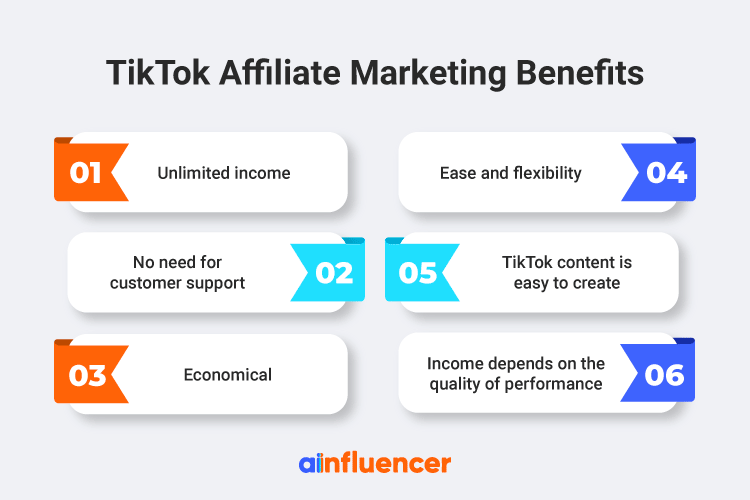 Tiktok affiliate marketing has benefits for both brands and affiliate marketers. Here are the pros of this type of marketing:
#1 Unlimited income
While any "regular" job requires you to be at work to make money, a sales associate allows you to earn money while you sleep. By investing in sales campaigns, you'll see continued profitability as consumers continue to purchase the product for days and weeks to come, and you'll get paid long after the job is done. Even when you're on vacation, your marketing skills can generate income for you. This is the benefit of the TikTok partner program for affiliate marketers and TikTok users.
#2 No need for customer support
Sellers and companies providing products or services must deal with their consumers and ensure they are satisfied with what they have purchased. Thanks to the TikTok affiliate marketing structure, you'll never need customer support or customer satisfaction as an affiliate marketer.
The whole job of a sales associate is to connect the seller with the consumer. After receiving a commission from the sale, the seller must deal with consumer complaints. You are not responsible for any after that.
#3 Economical
Most businesses need a lot of cash flow to cover the costs of advertising and selling their products. However, affiliate marketing is applicable at a low cost, which means you can get started quickly and without much hassle, and you don't have to worry about the costs associated with creating sales programs or ads. Getting started is relatively simple.
#4 Ease and flexibility
Since you are essentially working independently, you can easily change direction whenever you need to achieve your goals, choosing your favorite products and even setting your own hours. You gain ultimate independence. This convenience means that you can focus only on simple and straightforward campaigns if you like, and you will be free from company restrictions and regulations or inappropriate teams.
#5 TikTok content is easy to create
TikTok is a platform focused on video content. Therefore, you only need to have the basic tools of shooting videos. With a little bit of creativity and knowledge about TikTok trends, you can easily create videos that go viral. That's when you can gain more commission by selling more products to others.
#6 Income depends on the quality of performance
In other jobs, you might work 80 hours a week and still get paid the same. But the sales cooperation is based solely on your performance. The more you work, the more you will earn. Improving your skills in reviewing and writing compelling campaigns will lead to a direct improvement in your income. And you'll get paid for the outstanding work you do!
What are TikTok affiliate marketing downsides?
TikTok has many benefits for affiliate marketers and businesses. But still, it has some downsides.
Link building is very effective, but TikTok doesn't allow regular users to add links to their profiles. They need to upgrade to a business account to have this option. Furthermore, the platform doesn't let anyone add a clickable link to the caption of videos. That's another downside of TikTok affiliate marketing for creating a lead to websites.
How to use TikTok for affiliate marketing?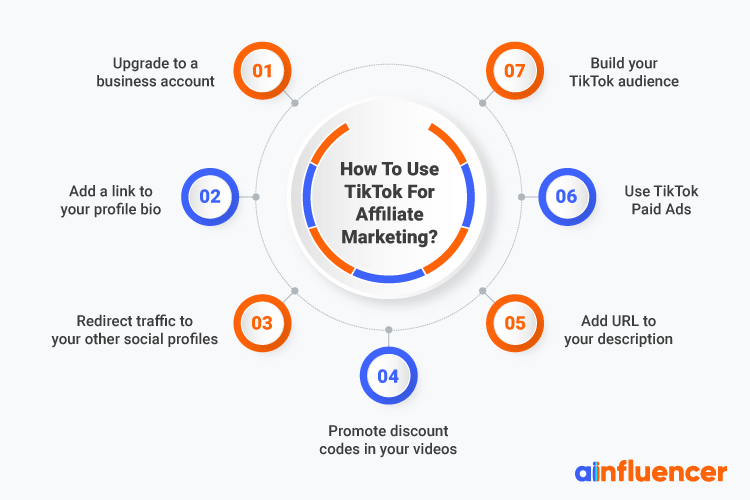 #1 Upgrade to a business account
You should take note that Personal accounts can't add clickable links to their bio. Therefore, if you want to start TikTok affiliation marketing, upgrade your account to Business, so you can link directly to your website or any blog post you want.
#2 Add a link to your profile bio
The most important thing you might want to do with TikTok affiliate marketing is to lead people to a special page. When you upgrade your profile to a Business account, you have this option unlocked. Therefore, take the best advantage of it. You can change that anytime you want. For example, if there is a specific page on your website you want your followers to see, put that in your Bio. They can click on it and directly reach the page.
#3 Redirect traffic to your other social profiles
You can lead your TikTok followers to other social media platforms, like Instagram or Facebook. The process is very easy. The options are in the settings of your profile. There are separate fields to add Instagram and YouTube links to your profile. This is one of the methods you can use to reach more followers and subscribers on other platforms.
#4 Promote discount codes in your videos
Discounts are always valuable, not only to buyers but also to sellers. Thus, add discount codes to your videos or give that code to the affiliate marketer you are collaborating with. Discount codes are unique and will provide you with a hint at how your customers have found your product. It's the best option if you run several advertisements—the code shows which works better.
#5 Add URL to your description
Although links are not clickable in the description of a post on TikTok, it is still a method of TikTok affiliate. In this case, the user should copy the link, paste it on the address bar, and can't directly land on that page. Lots of TikTok influencers add a link to their video description or even mention the URL on their video. Therefore, if they use this method, it might still be a practical TikTok affiliate program.
#6 Use TikTok Paid Ads
You can do TikTok affiliate with TikTok ads. However, ads are pricey compared to other methods. But you can still take advantage of this technique.
In-Feed Videos: This type of ad is shown between other posts on TikTok. It can have a button that users can click and open a website. Therefore, it's one of the best methods for TikTok affiliates.
Brand Takeover: This ad is shown when the app opens. BrandTakeover is the most expensive TikTok ad; it is not skippable, but it can have a link, so it's another excellent way to lead TikTok users to your preferred landing.
TopView: This ad is something between the two other mentioned TikTok ads. It is a fullscreen ad that pops for a few seconds. But unlike BranTakeover, the TopView ad is skippable.
#7 Build your TikTok audience
Consistency is everything on social media. You should have a schedule for your posts. Thus, your followers know when you are going to post new content. However, it is recommended to set your timetable based on the time most users are online.
Don't forget you are on a fun and entertaining platform. Your audience will love you more if they see creativity from your side. The more fun your content is, the more followers you will reach. And that will lead to more clicks on the links you offer.
TikTok is where you can create or find a team. You can't succeed if you are alone on this platform. Therefore, collaborate with other users, leave comments for people, and reply to the comments others leave on your posts. Be an active, outgoing, and social person or brand on TikTok to build more audience for your channel.
Hashtags can make your posts more discoverable on this platform. However, you shouldn't use too many irrelevant hashtags in your posts. Use fewer hashtags but choose them from the trends relevant to your business or sharing content.
Conclusion
TikTok affiliate marketing is a method that can help brands promote their web pages or products with less budget. It is also an excellent method for nano influencers on TikTok. They have fewer followers but want to do social media marketing. You need to become more familiar with the TikTok affiliate program and start marketing after creating an account on this platform.
1- How Do I Become A TikTok Affiliate?
Create an account on TikTok and upgrade it to business so you can add links to your profile. Follow the TikTok affiliate program to know what your next step should be. 
2- How Do You Get Paid On TikTok Affiliate Marketing?
You can do affiliate marketing on TikTok and get paid by companies and brands. The brands will give you a commission for every product sold from your marketing.
3- Who Is The Highest Paid Affiliate Marketer?
Charli D'Amelio is a TikTok influencer who receives the highest amount for every promotion She runs on her page. She is also the top-paid TikTok affiliate marketer.