TikTok is the third most-used social media platform after Facebook and Instagram. Soon after its release in 2016, it attracted millions of users and currently has more than 1.5 billion active monthly users. The significant number of followers on TikTok has made this platform a great place for businesses and brands to find many potential customers. That's when the TikTok Creator Marketplace was introduced to make it easier for companies to find TikTok influencers.
However, TikTok Creator Marketplace is not the only platform to use for influencer marketing. You can work with TikTok influencer agencies too. They act the same as marketplaces.
What Is TikTok Creator Marketplace (TCM)?
Launched in 2019, the TikTok Creator Marketplace (TCM) is the official platform for brand and creator collaborations on TikTok, allowing brands and companies to connect with millions of qualified creators across the globe. In this marketplace, creators can collaborate with brands on paid and reward-based campaigns.
A brand can search for top influencers in its niche and check their posts to find the right person for collaboration. An influencer can help a business in several ways:
Creating content precisely for that brand. It can be a complete TikTok video.
Wearing or using the brand's product and sharing their reviews and opinion
Becoming the brand ambassador.
Sharing their link on their posts and stories to drive more sales.
As you can see, it's easy and effective for both parties. The business will get more engagement and increase sales, and the influencer will gain money. It's a win-win project.
However, it's not that easy for all brands and TikTokers to join this marketplace. They should meet some eligibility criteria. Let's see how they can join TikTok Creator Marketplace.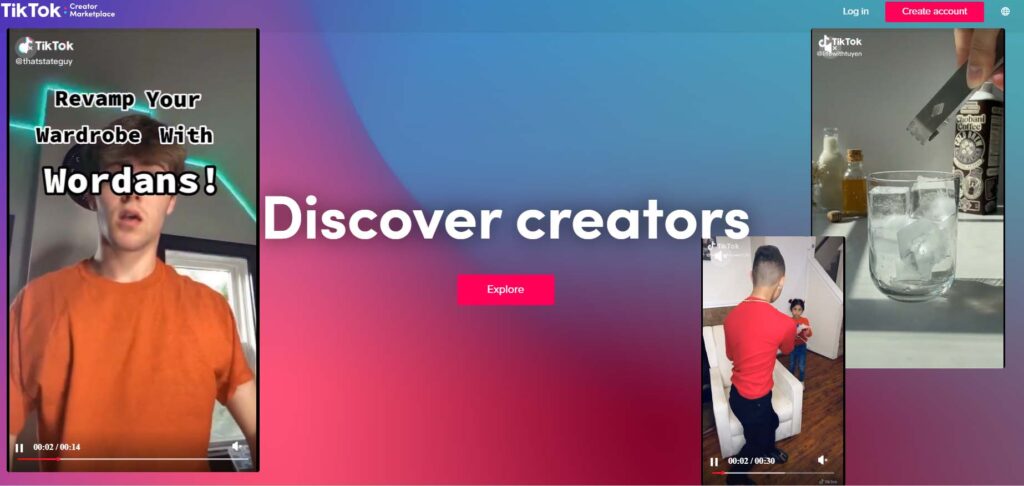 How to Join TikTok Creator Marketplace?
Brands with a TikTok Ads Manager account can easily log in to this marketplace with their password. However, if they don't, they can still join TCM:
Go to the TikTok Creator Marketplace website.
Click on Create an account.
Enter the required information, including your name, business type, email, and phone number.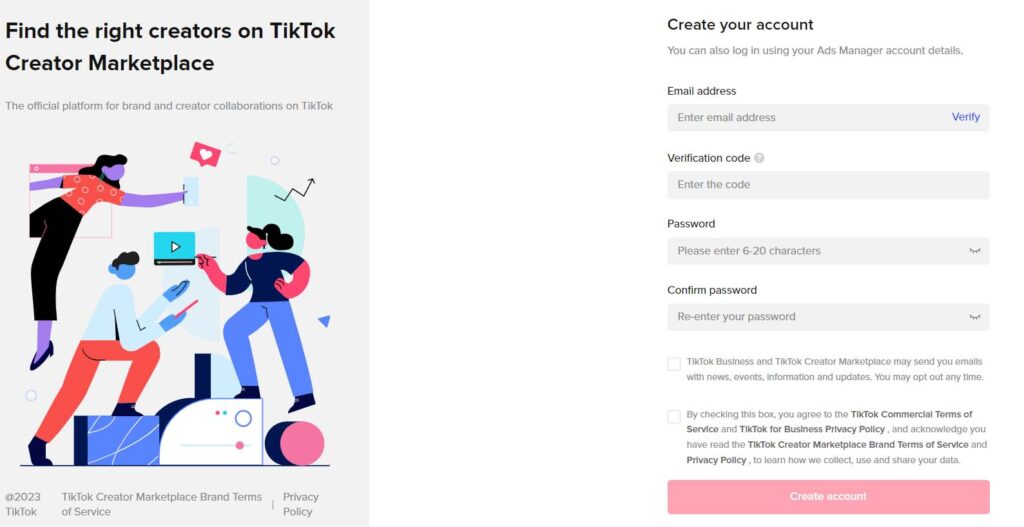 The verification email will be sent to your email. Click on the link to verify your account.
You can complete your account by adding a logo and other necessary information in this step.
It's easy! Now, you have a TCM account and can search for the proper creators to promote your brand.
How Can Creators Join TCM?
TikTok is a huge platform with millions of creators. But all of them are not eligible to join TCM because this marketplace only accepts the top creators. So, they need to be qualified with the following criteria:
The creators should only have personal TikTok accounts.
Be over 18 years old.
Live in one of the countries where this marketplace is available. Currently, TCM is only available in 24 countries. Check the list here.
Have more than 10K followers. (it was formerly 100k followers, which was a major downside for this marketplace)
Have at least 3 videos in 28 days.
Have gained more than 100K likes on their posts in the last 28 days.
Typically, TikTok invites top TikTokers to this marketplace. However, they can also apply to join this platform. In this case, their application will be reviewed, and if they meet the mentioned criteria, they will be allowed to join.
Now, let's check out the benefits of TikTok Creator Marketplace.
What Are the Benefits of TikTok Creator Marketplace?
TCM is beneficial to businesses and creators. Some of the benefits of joining TikTok Creator Marketplace are:
1. Accessing Top TikTok Creators Globally
The main challenge that most brands had was finding influencers for their TikTok influencer marketing plans. By joining TikTok Creator Marketplace, they can access a list of top TikTokers in 24 countries. Therefore, they can easily find the proper influencer for their market.
2. Building Brand Awareness
The main idea of any marketing is to increase brand awareness. Creative and fun branded content on TikTok can make you recognized by more people. Additionally, since the followers of TikTokers are not only from one country, you have a chance to introduce your brand to the world.
3. Analyzing Creators' Effectiveness
You may wonder how you can find which TikTok creator is the perfect choice for your brand. TCM provides complete data about each creator's performance, from their audience demographic, video performance trends, and other metrics that can be useful for selecting a creator. Therefore, you can check their effectiveness and analyze how well they acted in previous campaigns.
4. Analytics for Your Campaign Results
TikTok Creator Marketplace gives you statistics about your campaigns, so you can analyze if they were successful. These analytics, such as audience demographics, their device, and the time duration they spent on your content, can provide ideas about your next campaign because you can understand what appeals to your target audience more, so you can focus on that.
5. Easy to Use
Working with the TikTok creator marketplace is simple for businesses. You should only join this marketplace. If you already have a TikTok Ads Manager account, you can use it to log into this platform. However, since TCM has strict eligibility criteria for creators, it's not simple for creators to join this marketplace and increase their income.
However, suppose you are a TikToker with less than a certain number of followers. In that case, you still have a chance to be discovered by brands and businesses and receive offers. You can join Ainfluencer for free and make yourself visible to more companies.
Ainfluencer is a marketplace that connects brands and influencers to create a successful partnership. Generally, startups have fewer budgets than brands, so they seek micro-influencers to increase brand awareness. Therefore, as an influencer with fewer followers, it is still possible for you to collaborate with businesses and earn money from TikTok. Don't hesitate!
What Are the Disadvantages of TikTok Creator Marketplace?
Like any other platform, TikTok Creator Marketplace also comes with disadvantages that may make businesses choose one of its alternatives for influencer marketing. Let's see what makes people stay away from TCM.
1. Only Top Influencers and Celebrities Are Allowed
According to the TCM rules, the number of followers and monthly views of creators' profiles are essential metrics that allow them to join this system. This will make it difficult for micro-influencers to apply and make money on this platform. On the other hand, research in 2021 shows that even 90% of marketers search for influencers with fewer followers.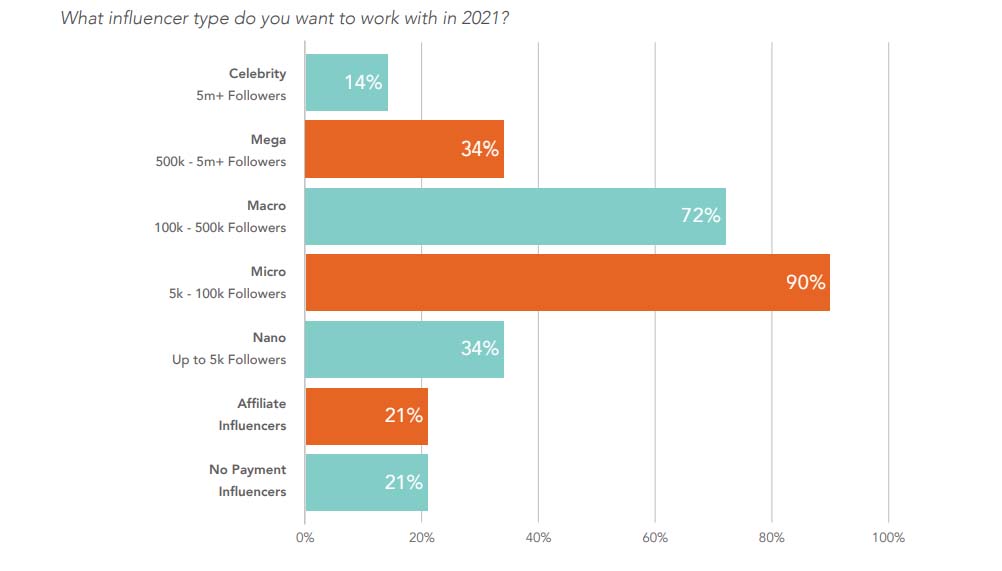 2. The Price Is High
Since you have to work with top influencers, you should increase your influencer marketing budget because the per-post prices of most celebrities and top TikTokers are high. Therefore, it doesn't make sense for most startups to spend this much money only on one TikTok post.
3. It Has Limitations
The marketers can only have 20 ongoing campaigns on this marketplace. Some companies may like to run multiple campaigns and work with more creators each time. Therefore, this limitation doesn't sound good to them.
How to Work with TikTok Creator Marketplace?
First, you should join this marketplace and follow these steps:
#1. Create a Campaign
In the first step, you should create a campaign, which includes the Campaign Name, Brand Name, Brand Website available, and details about your brand. You can also upload your description if it is more than 500 characters.
#2. Search for Influencers
After creating the campaign, you can search for influencers based on different factors, including their country or region, niche, number of followers, video views, and other factors. You can also search for a specific influencer by entering their name or username into the search box.
#3. Check Their Insights
Based on the filters, you will see a list of creators. Now, you can click on each name to see its insights. This step can be critical for a business to decide which influencer is proper for your campaign. You can list influencers that sound interesting for your influencer marketing strategy.
#4. Send Invitation
Whenever you find the right influencer, you can send your campaign brief as an invitation. However, you can send invitations to several creators and wait for their response.
Looking for an Alternative to TCM?
We reviewed TikTok Creator Marketplace and mentioned all its pros and cons. But you should know that to start TikTok influencer marketing; you don't have to work using TikTok Creator Marketplace. You have other choices that their result is the same as running campaigns on TCM.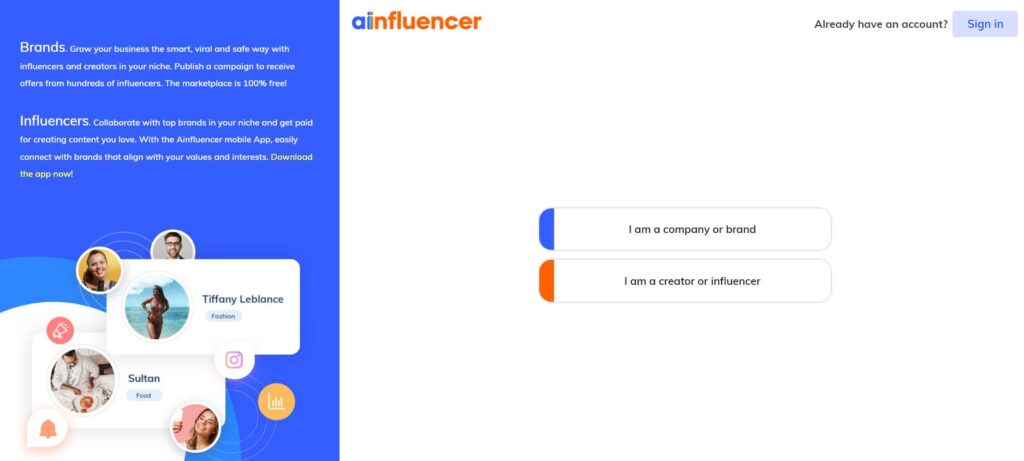 As a business or brand that wants to increase its online presence by using TikTok, you can sign up on Ainfluencer for free and find TikTok creators based on their gender, category, location, and number of followers.
Furthermore, one of the most outstanding features of Ainfluencer is that you can search hashtags too. Therefore, you will find the creators using those hashtags. Since micro-influencers are also allowed on our marketplace, marketers can discover influencers at more affordable prices. 
Bottom Line
Social media revolutionized the marketing strategies of companies. Nowadays, with the emergence of TikTok, businesses whose potential customers are mostly Gen-z prefer to work on TikTok influencer marketing to introduce themselves to more audiences and promote their products. This affection made TikTok create a marketplace for brands and creators to find each other and collaborate.
However, this marketplace is not for everyone, especially all TikTok creators. Only eligible creators can join this system. However, at Ainfluencer, we still have seats for creative micro-influencers who want to participate in online marketing plans.
FAQs
What Is TikTok Creator Marketplace for?
It is a mutually-beneficial system for companies and creators. The first group can increase their brand awareness and sales through TikTok influencer marketing, and the second group can earn money by creating branded videos.
Is Creator Marketplace Free?
Yes, it is free to join this marketplace for business accounts. However, the creators can also apply to join the community for free.
Does TikTok Creator Marketplace Lower Views?
Generally, a marketplace doesn't have anything to do with the views of a post, and there is no evidence that the lower views of some branded videos are caused by the creator marketplace. But some creators claimed that the view of their videos dropped after they joined this platform. TikTok also responded to these claims and still insists that the creator marketplace will not affect the number of views but if any drop in views has been seen, it might be due to the fluctuations within the app.