Even though TikTok is a new platform, it has become one of the most popular platforms for brands to engage with their target audience and create successful TikTok campaigns.
In this article, we will show you how to find TikTok influencers for running TikTok ad campaigns. Also, we will provide some of the best examples of TikTok brand campaigns to help you get inspired.
These powerful campaigns are good examples of how brands can boost their social media presence with the help of influencers and app features. So, if you want to find out how famous brands are managing their social media account, don't miss this article.
What Are TikTok Campaigns?
TikTok is one of the platforms that gained a lot of popularity and attention among the young generation after its launch. Over 1 billion active users use this platform every month, making it a perfect opportunity for brands to grow their audience.
Brands in different industries with different audience sizes can use this platform for their brand advertisement campaigns and grow their audience. TikTok campaigns refer to marketing actions performed on the TikTok platform to promote brands, products, or services.
If you want to run Tiktok marketing campaigns and ads, make sure to read the TikTok Advertising Policies first and follow the rules. Also, TikTok ads are not available for all countries, so make sure to check them on their official website. 
Types of TikTok Ads
Before looking at some of the best TikTok campaigns, it's important to understand the different types of content that these advertising campaign posts can be. Here are the most common types of TikTok ads.
1. In-Feed Ads
Scrolling TikTok's 'For You' page, you can see hundreds of videos up to 60 seconds long. This FYP page is where In-feed ads appear and TikTokers can engage with these ads via likes, comments, and shares.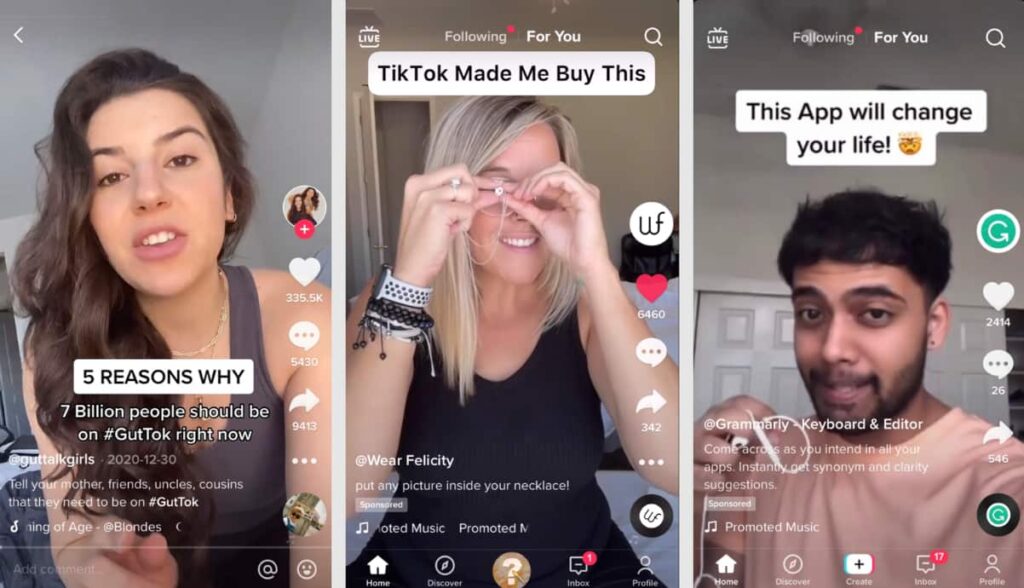 2. Spark Ads
Another type of TikTok ad that takes less time is Spark ads. It allows brands to promote their existing TikTok content or videos from other users instead of creating a new video. These videos appear on 'For You' page and the following pages, without interrupting the user's scrolling.
Their difference is, since these ads are created by a TikTok account, viewers can visit the creator's page and original video.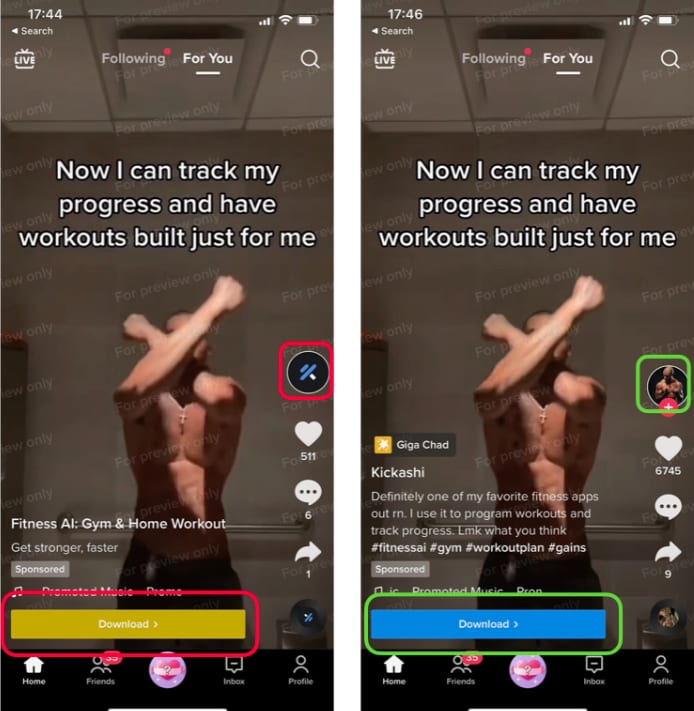 3. Image ads
This type of ad is not as popular as the previous ones. Image ads only run in TikTok News Feeds apps like Babe, BuzzVideo, and TopBuzz. If you want to create this type of content, you can include the name of your brand or app, ad text, and images.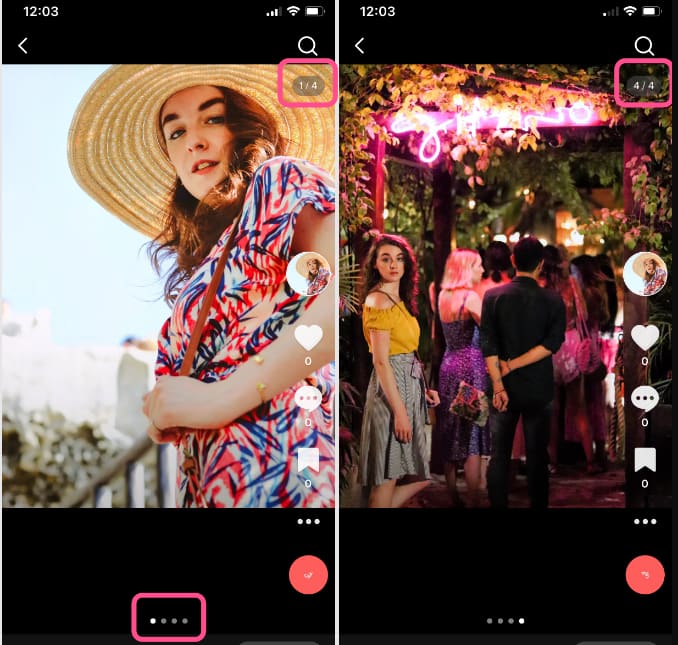 Top TikTok Campaigns In 2023
Now that you know TikTok brand campaigns work, let's take a look at some of the most campaigns in 2023.
1. Supergoop!
If you are into skincare products, you know how much SPF is important. Sugergoop is a famous skincare brand that focuses on producing sunscreen sticks and cremes.
In their TikTok smart performance campaigns, they collaborated with different influencers and ask them to share videos and speak about the importance of using sunscreen. This campaign helped their growth and sales and now their page has over 1.7M followers.
2. Walmart
Most Americans are familiar with Walmart chain hypermarkets and stores. Walmart is one of the first retailers that used TikTok to follow trends, create shoppable content, and build trust.
Walmart is one of the best TikTok ad campaigns that focused on customers' experience. Using the '#GotItAtWlmart" hashtag, they collected hundreds of user-generated content and reviews. If you check their TikTok page, it's filled with UGC and customers' opinions about different products.
Also, they have collaborated with some TikTok and Instagram micro-influencers such as Erin Christensen, Malyri, and Chloee Huseman for promoting their shop.
3. Netflix
With more than 34M followers on TikTok, Netflix is the second most followed brand on this platform. Netflix is an American subscription streaming service for watching movies and series owned and operated by Netflix, Inc.
Their TikTok page is filled with videos of interviews with actors, latest shows, and movie trailers. Netflix has run multiple TikTok brand campaigns by making trends with their top shows. If you use TikTok you have probably seen the 'Wednesday' trend using Lady Gaga's bloody mary track.
Other than these trendy and viral campaigns, Netflix had other TikTok campaigns such as #WhatsYourPower hashtag campaign that got used by over 112,000 users.
4. e.l.f Cosmetics
Founded by Joseph Shamah and Scott Vincent Borba in 2004, e.l.f Cosmetics is one of the best drugstore makeup brands. Elf is one of the first beauty brands that started using TikTok for marketing by running the best TikTok marketing campaigns.
This beauty brand recently created an NFT collection to promote cryptocurrency, and the group launched its Twitch channel.
5. Gymshark
For gym lovers and athletes, Gymshark is a known name as it's one of the top fitness brands. Gymshark is a British fitness apparel and accessories brand founded in June 2012.
This brand has used the power of influencer marketing for running its TikTok campaigns which led to gaining over 2 million followers in the first six months. In their TikTok influencer campaigns, Gymshark shares short videos about workout techniques and challenges and motivational fitness content to inspire users.
One of their best TikTok smart performance campaigns is the '66 Days: Change your life' campaign. This campaign was focusing on showing the effects of working out for 66 days on the body. Their hashtag generated more than 193M views on the platform.
6. Marc Jacobs
One of the most-known names in luxury makeup brands is Marc Jacobs. With the help of TikTok's Duet feature, this brand builds connections with influencers around the world.
Their TikTok account is filled with duets of reacting to customers' and influencers' reviews. In the summer of 2020, MarcJacobs ran one of the best TikTok marketing campaigns using their branded hashtag "#PerfectAsIAm".
With the help of their beauty and skincare influencers, this hashtag got over 10B views. Some of their most known influencers in this campaign were JojoSiwa, Bretman Rock, and Rickey Thompson.
7. Fortnite
If you are a fan of online video games, you probably know how popular Fortnite is. This brand started sharing posts by running one of the TikTok smart performance campaigns. So, with its first 16 posts on TikTok, Fortnite got around 2.6M followers. But that's not their only success point, their videos got one of the highest numbers of average likes per post on TikTok.
In their TikTok campaigns, this brand shared new game updates and releases, tips, and tricks for gamers, and upcoming events. The success point of these campaigns was using trending TikTok hashtags and using top trend audio. These videos showed different Fortnite characters doing TikTok trends!.
8. Red Bull
Started by running creative campaigns on Instagram, Red Bull is one of the best brands that used social media platforms to grow brand awareness. This famous energy drink brand has over 3M followers on TikTok today and the key behind it is running TikTok ad campaigns.
One successful example of their campaigns was #givesyouwings hashtag campaign that invited users to share their videos of Redbull drinks with this branded tag. This hashtag got over 1B views.
How To Find And Collaborate With TikTok Influencers?
Influencer marketing has become a powerful strategy for brands to create TikTok campaigns and connect with their target audience engagingly. Collaborating with TikTok influencers can help brands increase visibility, drive user engagement, and achieve better results. But how to find your industry influencers to work with?
Ainfluencer is a top influencer marketing platform with a vast network of over 500k influencers across various niches and industries. This platform connects brands and influencers safely and for free and helps them to find their best match.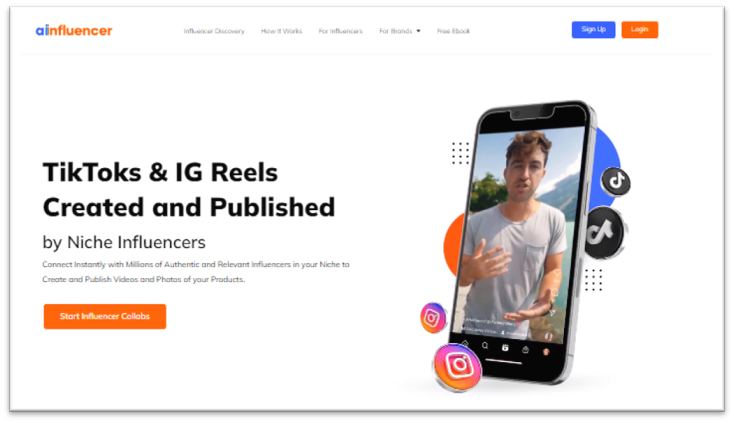 Using a powerful search engine, brands can target influencers based on hashtags, locations, language, niche, budget, audience size, engagement rate, etc. This way brands can find and collaborate with creators that align with their needs.
Conclusion
In conclusion, TikTok has proven to be one of the best platforms for brands to launch successful marketing campaigns. With different tools and features on TikTok, brands can share creative and fun videos to engage their customers and increase leads.
In this article, we've provided the top 8 TikTok campaigns to check and find out why they were successful. Also, if you are a brand looking for TikTok influencers to collaborate with, we introduced you to Ainfluencer. In this safe platform, you can target and find influencers in a couple of minutes.
FAQs
1. How Much Does Advertising On TikTok Cost?
The cost of advertising on TikTok varies based on factors such as ad format, targeting options, campaign duration, and competition. TikTok offers different pricing models, including cost-per-click (CPC) and cost-per-thousand-impressions (CPM), allowing advertisers to choose the most suitable option for their budget.

2. Can TikTok Ads Target Specific Audiences?
Yes, TikTok ads offer various targeting options, including demographics, interests, behavior, and custom audiences. These targeting features help advertisers reach their desired audience and ensure their ads are seen by the most relevant users.

3. Can I Use Music In My TikTok Ads?
TikTok has a vast library of licensed music that advertisers can use in their ads. Utilizing popular and catchy music can help enhance the appeal and engagement of your TikTok ads.

4. Are There Any Best Practices For TikTok Ad Campaigns?
Some best practices for TikTok ad campaigns include understanding the platform's audience and trends, creating attention-grabbing and concise content, incorporating user-generated content and influencers, and testing and optimizing your campaigns based on performance data.