When you create an account on TikTok or any other social media, you should choose a username for your profile. This name is how others know you on this platform, so it's better to think about it before rushing into the first name that comes to your mind. A good username can help you establish credibility, increase engagement, and improve discoverability. It can also be a form of personal expression and give hints about your channel. In this article, we'll give you over 100 TikTok username ideas.
You should also note that a better and more credible username can affect your income from TikTok. Therefore, as a creator, you should also know how to make money on TikTok.
Now, let's see what other benefits a good TikTok username has.
Want to Collaborate with Top Brands on TikTok?
Social media is where you can earn money as a digital creator. No matter how many followers you have, you can make more money by collaborating with top brands or becoming their brand ambassador. However, you should be more visible, so they can find you and send their offers. How is it possible?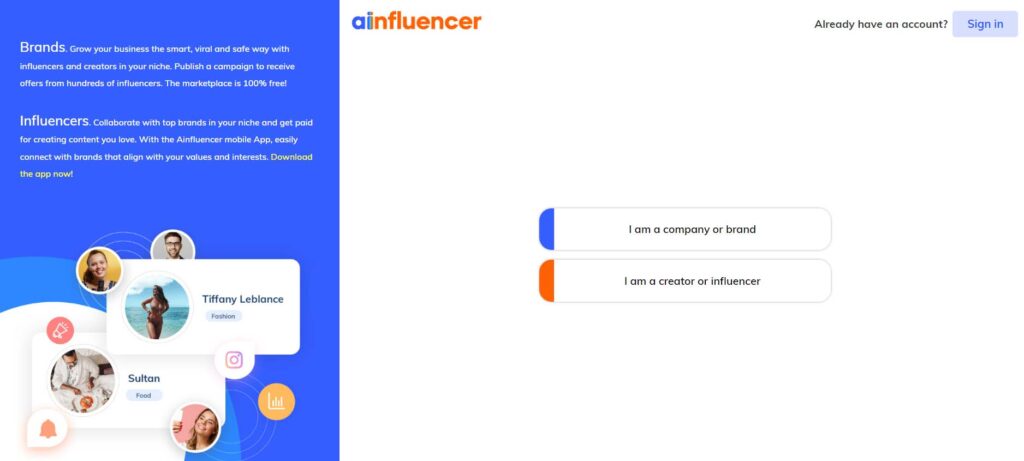 Join the Ainfluencer community of influencers for free, and you will be visible to thousands of businesses and companies looking for a TikTok influencer to promote their products or services. Therefore, ensure you have a great username, which can make you more suitable for those brands. We also recommend you write a great bio for your profile and introduce yourself as appealing as possible.
Benefits of Good TikTok Usernames Ideas
You may think, "It's just a name!", but your username is not just a name. It is how you present yourself to your audience. Accordingly, you will be recognized by that name, just like a brand is recognized by its name. Here are some of the benefits of having username ideas for TikTok.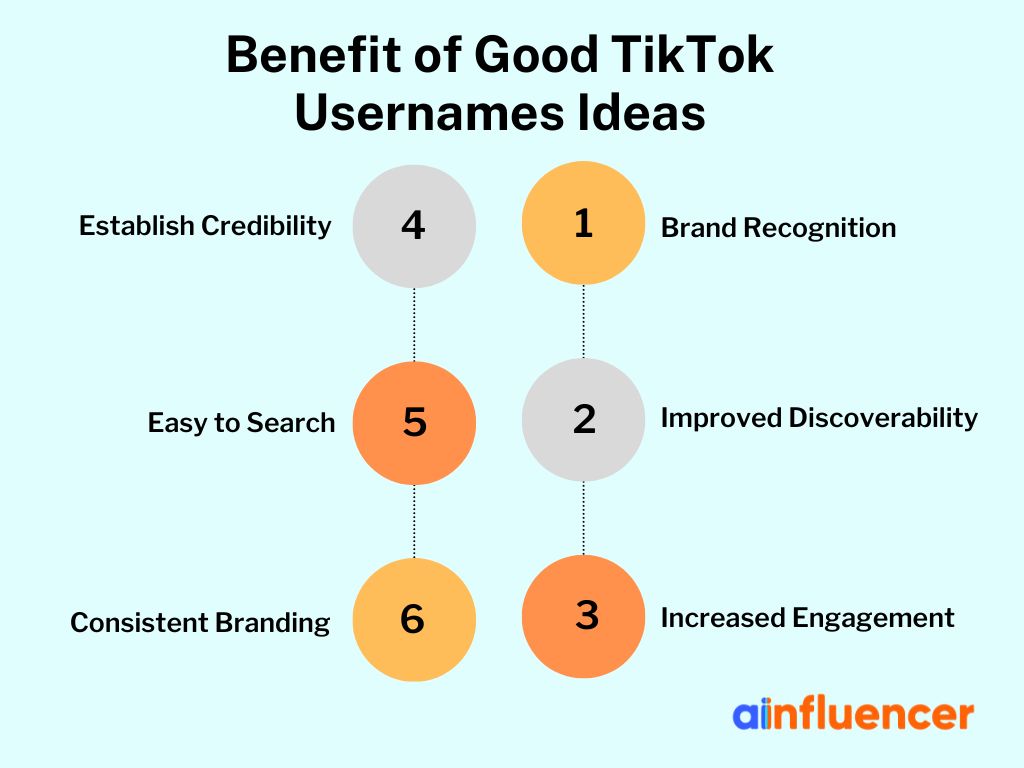 1. Brand Recognition
Whether you are creating your TikTok for personal use or as a brand, your username can make you recognized among all other accounts. For brands, it's crucial to have their name as a username. A good TikTok username can help build brand recognition and make it easier for people to find and remember your account. Furthermore, a unique name makes you more memorable, so people can find you much easier.
2. Easy to Search
People search for usernames to discover you. Therefore, you should choose a simple and easy-to-remember username, so everyone remembers it the first time they see it. And, the shorter your username is, the better. However, most of the short usernames might have been taken by now. So, you should have more creative username ideas for TikTok.
3. Increased Engagement
If you choose a username that is memorable and easy to use, you can reach more engagement because more people can find you with a simple search, especially if they have found your video interesting, they check out your username and try to remember it for the next time.
4. Establish Credibility
Since your TikTok username reflects your personality and interest, having good Tiktok username ideas can improve your credibility among your audience. Therefore, pick a distinctive, memorable, and grammatically correct username.
5. Improved Discoverability
Given that a unique and creative username can help you stand out from the crowd and improve your discoverability on the platform. Therefore, try to select a meaningful name that people may search for.
6. Consistent Branding
It is mainly recommended to use the same username you have on other social media accounts. It will help you become more recognized and easily discovered on all platforms. However, sometimes your username might have been taken, so you should come up with TikTok username ideas with your name.
That's why joining new social media platforms as soon as possible is essential, so no one else can take your username on other platforms. Furthermore, as a brand, you should get verified on TikTok to gain more credibility.
If you have already created a TikTok account and chosen a username, don't worry! You can always change TikTok username anytime you want. Check out the following tips to choose a better username for your account.
Tips for Choosing a TikTok Username
Later, we will give you a list of TikTok username ideas for your channel. However, you should know that by now, almost all these usernames might have been taken, so they might not be usable anymore. Meanwhile, you can still get ideas from them. But how to use these ideas to create a fun and meaningful username?
Keep It Simple and Easy to Remember: Choose a username that is easy to spell and remember. Avoid using complicated or lengthy usernames.
Reflect Your Personality or Niche: Your username should reflect your personality or the niche you are in. If you are a dancer, you can add it to your username—for example, DanceWith[Your Name].
Avoid Using Numbers or Special Characters: Numbers are not remembered well. It's better to avoid using them, but in some cases, it might not be possible to avoid numbers. Instead, try incorporating the numbers into your username so that your audience can remember it more easily.
Check for Availability: Before finalizing your username, make sure it is available on TikTok. For this purpose, you can use the search bar to check if the username is already taken. If so, TikTok will suggest other usernames or add numbers to the current username. There is no force in choosing suggestions; you can always think about another username more like what you want.
Be Creative: Don't be afraid to get creative with your username. Play on words to make it unique.
Avoid Offensive or Inappropriate Usernames: It is evident that this type of username can affect your credibility and can reflect poorly on you and your brand. Before choosing a name, you should also read more about the TikTok ban.
Well, it's time to check out the list of TikTok username ideas.
TikTok Username Ideas Aesthetic
To create an aesthetic username, you can combine different words, such as your feeling, a color for inspiration, an object, or something mystical or dreamy. Such as the following examples:
| | | | |
| --- | --- | --- | --- |
| @moonlitwhispers | @etherealeva | @velvetdusk | @echoingdreams |
| @mysticalwonder | @celestialstarlight | @lavenderdaydream | @crystal.cove |
| @serenedreamer | @gothicgrace | @dark.orchid | Shadowdancerz |
TikTok Username Ideas for Girls
You can always add your name to TikTok usernames. Therefore, create a unique username combining your name, field of work, interest, color, or anything that defines you.
| | | | |
| --- | --- | --- | --- |
| @ScoobyCutie | @BuggyMama | @FlowerKaty | @FreshCutie |
| @EmeraldGirl | @CakeCandy | @AngelExcitement | @SmilingFace |
| @ArtWithAngi | @KittyBloom | @EmmaTech | @EmmasBookBlog |
| @AnnyArts | @CandyGirl | @TrendyJasmine | @GirlyOutfit |
Funny TikTok Username Ideas
Do you want to create comedy or fun videos? Meanwhile, you can combine different funny words to make your username more creative. Add sarcasm to your username, which may make your audience smile whenever they see your name.
| | | | |
| --- | --- | --- | --- |
| @SeriousJokes | @DontBelieveMe | @AlienTest | @CaptainJoker |
| @HarrySmiles | @CaptainBananaWings | @LetMeGoogleThat | @ CrazyJoker |
| @Cereal_Killer | @KittyBloom | @JakeJokes | @ SocialMediaJunky |
| @WorldOfLaugh | @TheXJoker | @HaveFun | @DaysOfLaughter |
Cute Username Ideas for TikTok
If you are looking for a cool and cute username for TikTok, you can use casual words or adjectives to describe your channel.
| | | | |
| --- | --- | --- | --- |
| @CoolAndCute | @BleachedWhale | @SweetFiona | @NeverSayNever |
| @MissMyCupcake | @TakeMyPicture | @DiamondLady | @DragonBreath |
| @SnapOutofit | @SnowWhite | @ButterflyLove | @DestinyChanger |
| @ElectricMind | @MasterMind | @OneManArmy | @CaptainWonder |
Sports-Related TikTok Username Ideas
Do you want to talk about sports or train a specific sport on TikTok? For this purpose, it would help if you had the name of the sport and some adjectives, like trainer or slim.
| | | | |
| --- | --- | --- | --- |
| @rowyourboat | @kungfukicker | @zipliner | @Kungfupanda |
| @athleticsupporter | @ninjashooter | @sportsaddict | @TkwBoy |
| @borntoplay | @teamplayer | @coolplayer | @timetofight |
| @hockeyhero | @eatmybullets | @armwrestler | @letsplay |
Dance-Related TikTok Username Ideas
Dancing is so popular on TikTok. Hence, if you only share dancing moves and videos, you can make it clear to your audience what your dancing type is. For example, a hip-hop dancer can add the word hip-hop to the username. Furthermore, dancing makes people feel good, so talk about this benefit with different words and adjectives.
| | | | |
| --- | --- | --- | --- |
| @pyschodancer | @letsdance | @dancingqueen | @danceallnight |
| @dancelover | @moondancer | @shakeyourbody | @lordofthedance |
| @livetodance | @ninjadancer | @dandydancer | @feelthebeat |
| @getupanddance | @hiphopcantstop | @dancerwiththeband | @DancingProdigy |
Professional TikTok Username Ideas
Do you have expertise in any specific field? Thus, make it clear to your audience by adding that expert to your username.
| | | | |
| --- | --- | --- | --- |
| @ChefArmy | @PowerExplorers | @TechChampion | @WittyCopywriter |
| @FinanceExpert | @TechnicalWizards | @CarExplorer | @DrawYourDream |
| @TechDrive | @ResumeBuilder | @FutureTrader | @CryptoLord |
| @BusinessGeeks | @JakeTraveler | @TradewithCane | @NFTGuy |
TikTok Username Ideas for Boys
Like username ideas for TikTok girl, boys can also combine their names, professions, interests, or hobbies into their usernames.
| | | | |
| --- | --- | --- | --- |
| @FootballLovers | @TrainWithJake | @IronKing | @RaisedByWolves |
| @ClearMarble | @MikeTrader | @FieryHero | @MotorHead |
| @Mr.Thunder | @IronMan | @JakeJokes | @PrinceCharming |
| @TalkToMock | @DealBreaker | @TechWizard | @MightyTravis |
Bottom Line
As you can see, having good TikTok username ideas is one of the first things you should consider before creating an account on TikTok. Although you can always change your username anytime you want, it is not a good idea to change it multiple times because that will make your audience lose you since they know you by your username. Therefore, if you want to change that, do this before you get thousands of followers. For that reason, combine the TikTok username ideas in this article to create a unique and more engaging username for your channel.
Finally, If you are a beginner on this platform, you can gain more followers and increase your brand awareness through TikTok influencer marketing. Therefore, you will need to find TikTok influencers to collaborate. Accordingly, the best way to discover influencers on TikTok is through an influencer marketing platform like Ainfluencer. As has been noted, you can easily sign up on Ainfluencer for free and search for influencers based on category, gender, location, username, and hashtags they use. Remember, it's all free! So, don't hesitate!
FAQs
What Makes a Good TikTok Username?
Your TikTok username introduces you to your audience before they see your channel and videos. Therefore, try to make it unique, creative, and relevant to your content. Furthermore, try to make it simple, enabling people to effortlessly remember it whenever they hear it.
How Long Is a Perfect TikTok Username?
It's essential to keep your TikTok username as short as possible. Generally, TikTok usernames can have up to 24 characters. It is better to create a username with half of them.