With over 1 billion monthly active users, TikTok doesn't need any introduction. It is the most popular social media platform among Gen Z and the third most used social media globally. Therefore, there is no need to emphasize how important it is to grow your TikTok followers in the quickest way. Read this article to learn how to grow on TikTok.
Benefits Of A Large TikTok Following
Why do you need to grow followers on TikTok? Whether you have a personal account or want to grow your business over this platform, since TikTok is getting more and more popular each day, you need to know how to grow followers on TikTok.
Some of the benefits of having a large TikTok following are:
You can increase your brand awareness over this platform. The more people hear your name, the more trust they will have in your brand.
It is more likely for your followers to use your service or buy the product you introduce. Therefore, your followers have the potential to become your customers.
TikTok is a growing platform. If you boost your followers now, you will be more popular on this social media later.
How To Grow On TikTok
You should note that growing your followers on TikTok, or any other social media, is not an overnight process. Whether you manage your TikTok personally or ask a social media agency to manage your account, the following tips can help you understand how to grow on TikTok.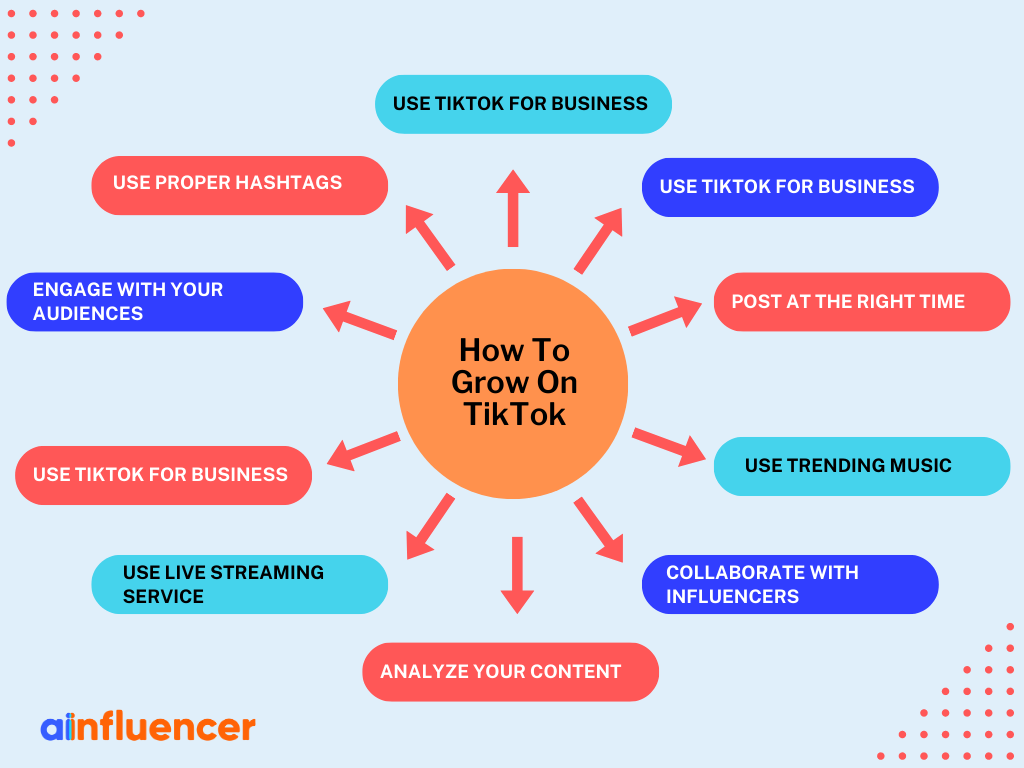 1. Use TikTok For Business
Always create a business account so that you can view real-time metrics and insights. This information will help you analyze your posts and find out what is more appealing to your audiences. Thus, you can create better content and reach more followers.
2. Post At The Right Time
Don't just throw your content on TikTok anytime you want. You should find out when most of your audiences are online. It will be a waste of time if you post your content when no one is available to view it. According to a survey, TikTok users open the app 8 times per day. So you have 8 golden moments to post on this platform. Discover the best time to post on TikTok to improve your chances to gain more followers.
3. Use Trending Songs And Music
Did you know that almost 90% of TikTok users like posts with music? They prefer to watch videos with trending songs. Therefore, you should always be aware of trending songs and music on TikTok and participate in challenges. Try to create fun and creative videos with trending music to increase the chance of being viewed by TikTok users.
4. Leverage the Power of TikTok Influencers
Influencer marketing is one powerful way to grow your brand on social media. Whether you use Instagram or TikTok, you can always benefit from participating with influencers. Ask them to present your services and products or collaborate with them in creating a video. Read more about TikTok Influencer marketing to learn how to grow on TikTok with their help.
Do You Need Help Finding TikTok Influencers?
Ainfluencer is a 100% free DIY marketplace that helps brands and influencers find each other. As a brand, you can sign up on Ainfluencer and create a campaign, which can tell influencers what exactly you want. You can add details about your campaign, for example, which hashtags are important to you, and how much budget you want to dedicate to it. Therefore, it will be clear to influencers how they can help you.
Additionally, you can search for influencers based on their gender, location, category, and hashtags. And all these steps are free!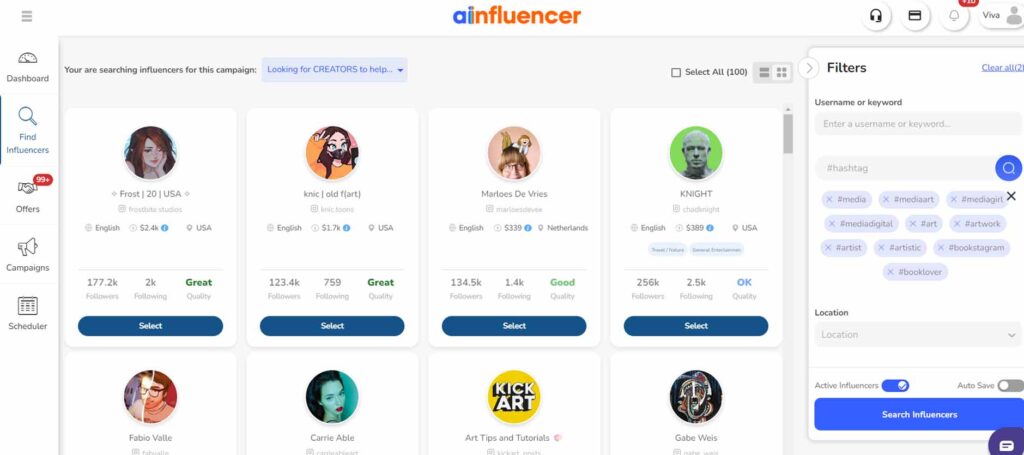 If you have a personal account, you can become an influencer on TikTok and increase your income. You can join Ainfluencer even if you don't have many followers. Our marketplace is the right place for you to become discoverable among brands and companies searching for micro-influencers to collaborate with.
5. Analyze Your Content
Did you know one way to learn how to grow on TikTok followers is to analyze the data you gather from TikTok insight? Furthermore, knowing about the TikTok algorithm can also help you improve your content. You can then decide on your social media marketing strategy and find out what subjects are more appealing to your users. The insights of each post tell you a lot about your audience. Thus, spend enough time analyzing them.
If you don't know where to start, read these tips on analyzing social media growth.
6. Use TikTok Live Streaming Service
Another answer to how to grow on TikTok is using the Live option. You may be familiar with going Live on Instagram. You can then directly connect with your followers and talk to them. TikTok also has a live-streaming service, which is so popular among its users. The live-stream service allows you to broadcast videos in real-time. 
However, the livestreaming service is not a default feature on TikTok. Users need to have at least 1000 followers to enable this feature. Thus, this could be another reason to learn how to grow your TikTok. After all, you may miss the engaging features this platform offers.
7. Engage With Your Audiences
Create compelling content to entice your followers to like, share, or leave comments. The higher levels of engagement will increase your TikTok reach and help your content be viewed by more people. So, always reply to comments and be friendly. This will make your audience trust you more. You can also create your brand hashtag and ask your followers to use that to participate in your challenges.
8. Use Proper Hashtags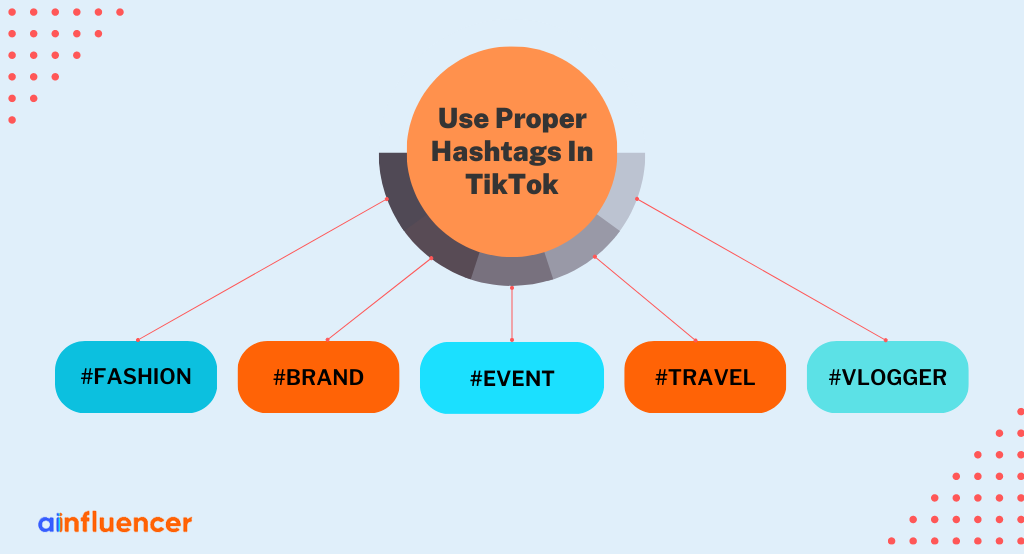 One thing that makes you visible to your target audiences on social media is using hashtags. Thus, you should be more conscious about using proper hashtags, the ones your target audiences search for, and you want to be discovered with. Therefore, hashtags are everything.
Finding the proper hashtags for your content might seem difficult, but with top hashtag generators, you can find the right hashtags related to your business.
You should also note that your posts must have compelling captions, which are related to the video you shared and the hashtags you used. They are three main components of a TikTok post that can guarantee its success.
Remember, the more people find you, the more followers you will have.
9. Post Educational And Informative Content
Although fun videos are more interesting on TikTok, educational content can also attract users on this media. Promote your products or services with useful information. Tell your audiences with facts and proof of why they may need your product. However, you should not forget to add fun and creativity to any type of content you create.  
10. Promote Your Profile On Other Social Media Platforms
People use different social media. If they are active on TikTok, it doesn't mean they don't use Instagram. Therefore, you can promote your content on other platforms and draw users to follow you on TikTok. However, you should note that there may be some restrictions on different platforms. Therefore, it is suggested to customize your content for each social media.
Bottom Line
TikTok is turning into a competitive platform for brands and influencers. Since more and more users are joining this platform, it becomes essential for them to know how to grow on TikTok. You can use different methods to get more followers on this social media. But you should also know that in the end, it is your content that can make you stand out among your competitors. 
Furthermore, don't underestimate the power of influencer marketing. The collaboration between you and influencers will attract more people to your account.
FAQs
Can I Make Money From TikTok If I Don't Have A Large Following?
Even if you still don't have many followers, you can easily learn how to grow on TikTok. Additionally,  you have a chance of making money by joining Ainfluencer as a micro-influencer. However, it doesn't mean you shouldn't be more active on this platform. Always share fun and creative content so that you can attract your audiences. As a result, the brands will find you a better choice for their ads and marketing.
How Fast Should A TikTok Account Grow?
Depending on how often you post on TikTok, how fun and unique your content is, and how you employ techniques to attract users, your TikTok growth might take up to 24 months. However, if you follow the tips and tricks about how to grow on TikTok, you can elevate your account in less than a year.
How Often Should I Post On TikTok To Grow?
The effective way to post on TikTok is 2 to 4 posts per day. It shouldn't be annoying to your followers. Meanwhile, it doesn't matter how often you post on TikTok, the main thing is the quality of your content and the best time to post that. One high-quality content is better than ten posts with no strategy. Therefore, always think about quality first. Furthermore, analyze your audience to find the best time to post your content. 
How To Get Popular On TikTok?
You should learn how to grow on TikTok. To reach this goal, follow the trends on TikTok and create a video with that subject. Try to be as unique as you can. Additionally, you can partner with other influencers on Instagram and post a duet. So, their followers will know you and may find you interesting to follow. You can also join marketplaces like Ainfluencer. As a brand, you can find top influencers to collaborate with. And as an influencer, you have more chances to make money with TikTok.