TikTok with more than one billion active users in a month, is one of the main platforms for brands, businesses, and influencers to grow their audience. There are different tools and features on this platform that help you create engaging content and have a better experience. So, you may know everything about using this platform but have you heard anything about how to buy TikTok coins and use them?
Whether you want to use this platform to find out how to make money on TikTok, using it to contact your friends, or support someone you like, knowing how to recharge TikTok coins is essential. In this guide, we will provide a full guide on everything you need to know about TikTok coins, and how to buy and recharge them.  
What Are TikTok Coins?
Similar to in-game coins, TikTok provides a form of in-app currency that you can purchase with real money. You can use these coins to send gifts to other users. The recipient will earn a percentage of the coins (You can use a TikTok money calculator to check how much they receive and how much the app takes) and once they earn around $100 of diamonds, they can withdraw them to real money.
After around 15 days, the money is ready on their PayPal account. These TikTok coins can also be used to send gifts again!
What Can You Use TikTok Coins For?
Before talking about how to buy TikTok coins, it's important to know what they are used for. By buying TikTok coins, you can purchase virtual gifts and send them to other users during their live stream. When you send the gift, the host and all the viewers can see your gift and name. Also, your name will appear at the top of the page, as the number X gifter.
Once you buy coins for TikTok, there are different gift emojis you can exchange. These emojis are what you can send to users during their lives.
How Can You Buy Cheap TikTok Coins?
The price of coins depends on different factors such as the TikTok coins buying method and region. For example, the platform clearly says that if you want to buy coins from TikTok on a desktop, it's cheaper than the app version. This is because The App Store (Or Google Play on Android Devices) charges a commission fee for payments made to app companies through the store's payment processes.
Buy Coins From the App
So we talked about what the coins are used for but where to buy TikTok coins? Let's start with how to buy coins on the TikTok app since it's where most users use it.
Log into your TinTok account and go to your profile.
Tap the three-line icon at the top of your screen and choose 'Privacy and Settings.'
Choose 'Balance.'
In the opened window you can view how much money you have on your TikTok account and exchange them for coins.
If you want to buy more, tap on the 'Coins' section.
Choose the number of coins you want and tap 'Purchase.'
Add your credit card details and make the payment.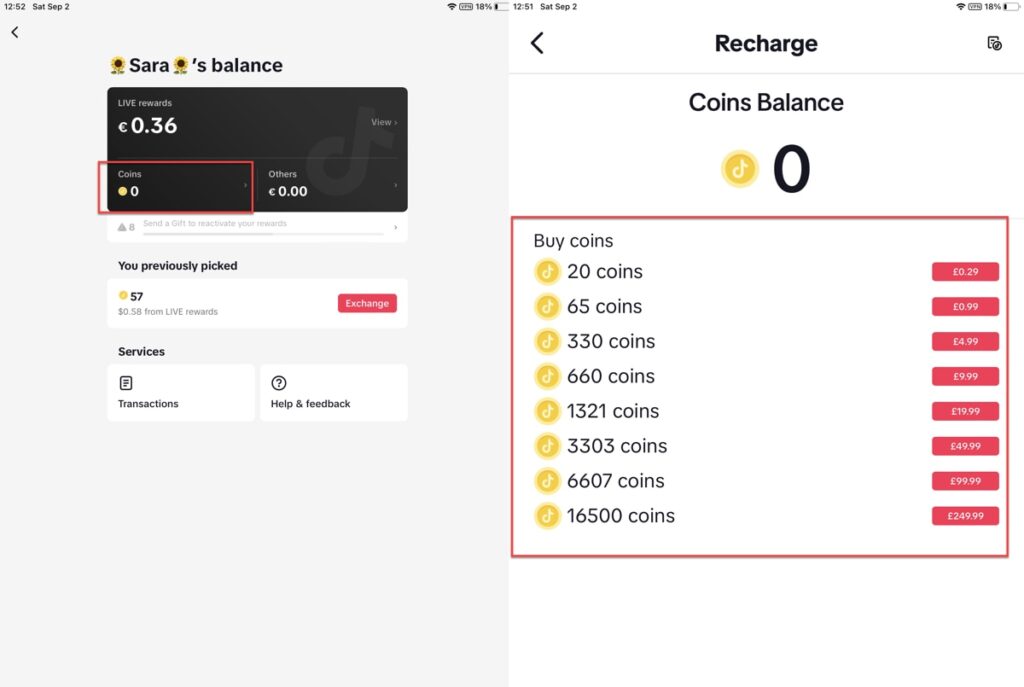 Buy TikTok Coins On Desktop
Since TikTok's website is not hosted on app stores, the payments are straight and don't have a commission fee. So it's 31% cheaper than the app version. Here is how to buy TikTok coins cheaply on a desktop
Log into your TikTok account on a browser.
Open the TikTok coin purchase page at the top of your screen.
Select the number of coins you want from the suggested option or click on the 'Custom' icon and write down the number of coins you need.
Click 'Recharge'.
If it's your first time, fill in the payment method otherwise your credit card information is already saved on the browser.
Click 'Confirm'.
You can now open the app on your smartphone and use the buy coins on TikTok.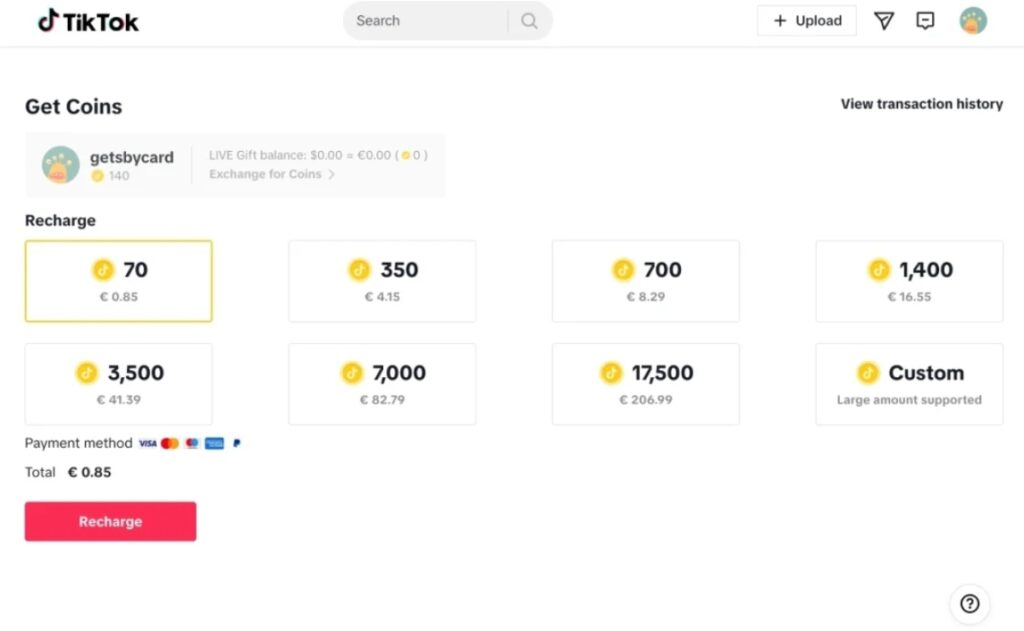 How To Recharge TikTok Coins?
Have you ever been watching a live event and wanted to send gifts but noticed you were out of coins? You don't need to exit the live since you can buy and send (The live host must have at least 1000 followers to be able to collect coins) and support a creator while you are watching. Here is how to recharge TikTok coins:
Open the live stream by tapping on the users' profile page,
Tap the 'Gift' icon from the bottom right corner of your screen.
Tap the 'Recharge' icon and choose the amount of coins you want to buy.
Use your credit card to make the payment and you will receive the coins immediately on your account.
Based on the coins you have to select a gift and send it by double tapping it.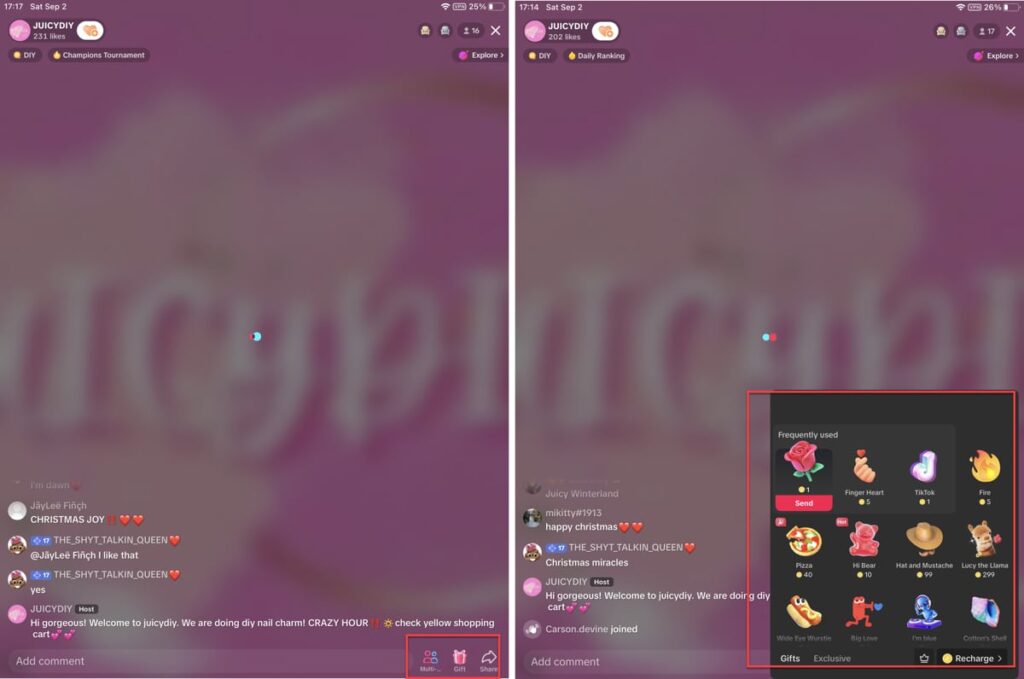 How To Earn Money On TikTok?
Up to here, we've shown you how to buy TikTok coins and send gifts or collect diamonds. Now, let's see if it is possible to earn money from your content. There are different methods for monetizing your account (followers' gifts, TikTok Creator fund, etc.) but the best way is becoming an influencer and collaborating with brands. But how to find them?
Ainfluencer is an influencer marketing platform that connects brands with their niche influencers across different industries. With a powerful AI engine and the help of powerful search filters (based on hashtags, location, language, niche, budget, etc.), you can find your best match in a few minutes.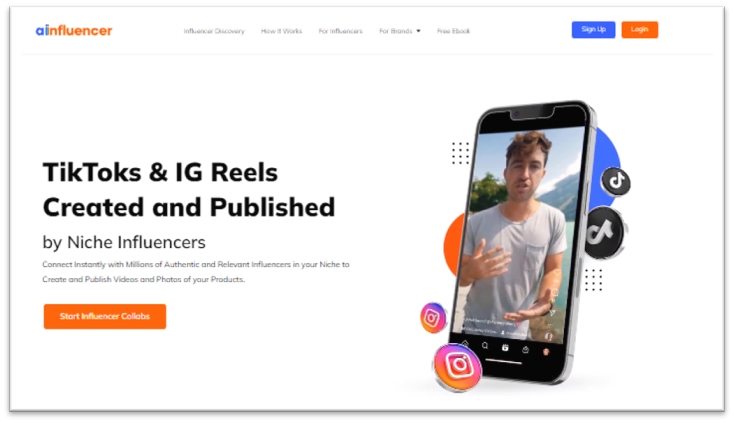 If you decide to use this method to earn money on TikTok and become an influencer, you don't need a massive following to start working. Once you hit the 5k followers mark on TikTok, you can create your influencer account and join the community of more than 500,000 creators on Ainfluencer. So what are you waiting for? Create your influencer account for free and start earning money!
Conclusion
Buying TikTok coins allows you to purchase in-app gifts and support your favorite creators during their live events. In this article, we've shown you how to buy tiktok coins on the app and the desktop version in the cheapest ways.
FAQs
1. Are TikTok Coins Transferable Between Accounts?
TikTok coins are usually non-transferable between accounts. Coins are tied to the account they were purchased on and cannot be moved to another account. But once you collect enough coins ($100) you can exchange them with money and receive it in your PayPal account. 
2. Do TikTok Coins Have An Expiration Date?
TikTok coins do not typically have an expiration date. They can be used at any time as long as your TikTok account remains active. If you lose your account or get banned from the platform, your coins are lost too. 

3. Are There Any Risks Associated With Buying TikTok Coins From Third-Party Apps Or Websites?
Yes, there can be risks when buying TikTok coins from third-party sources. It's recommended to purchase TikTok coins directly from the official TikTok app to ensure security and avoid potential scams or account issues.

4. Are There Discounts Available For Purchasing TikTok Coins In Larger Quantities?
Yes, TikTok often offers discounts on TikTok coin packages when you buy in larger quantities. Purchasing a bigger package can save you money per coin.