Did you know that TikTok allows you to download its videos? But first, you need to learn how to save videos on TikTok.
You might wonder, why would you want to save them when you can just watch them online. But here's something to consider: Have you ever come across a music clip that perfectly matches your mood or a funny prank you want to share with friends who aren't on TikTok? Thankfully, you have the option to save TikTok videos and easily share them on other apps like Facebook and Instagram.
In this guide, we'll unveil four reliable methods that work seamlessly on both Android and iPhone devices, allowing you to effortlessly save those videos on TikTok. If you're wondering how to save videos on TikTok, here are four commonly used methods for saving TikTok videos.
Note: Do you want to make money with your TikTok account? One of the TikTok marketing strategies is collaborating with TikTok influencers. Therefore, lots of brands are looking for a TikTok user like you to collaborate with. And don't worry about your number of followers or how to find brands because in Ainfluencer everything is ready for you. And it's FREE. So what are you waiting for?
How to Save Videos on TikTok
Without further ado, let's discuss different methods for saving TikTok videos:
Method 1: Save TikTok Videos Using the TikTok App
TikTok knows what we like and want, so it lets us save our favorite videos to any device we have. You don't even need to have a TikTok account to do it! Just follow these easy steps after installing the app:
Open TikTok.
Tap the arrow icon ('share to' button) on the bottom right.
Find and select your favorite video, then tap "Save Video".
That's it! Your video will be downloaded in just a few seconds.
Bonus Tip: You can also share the video on Facebook, Instagram, or WhatsApp with just one click. TikTok makes it easy to download and share videos without switching between apps.
Method 2: Save TikTok Video Online
TTDownloader is a handy online tool that helps you save your favorite videos from TikTok's vast library. Wondering why you should use it? Here are the benefits it offers:
You can save videos to any device, including PC, Android, iOS, or tablet.
You can save videos in any format, such as MP3 or MP4.
You can choose to remove the watermark.
You don't need to download the app; you only need the video's URL.
You don't need to register or install the downloader.
You can download videos for free and without any limits.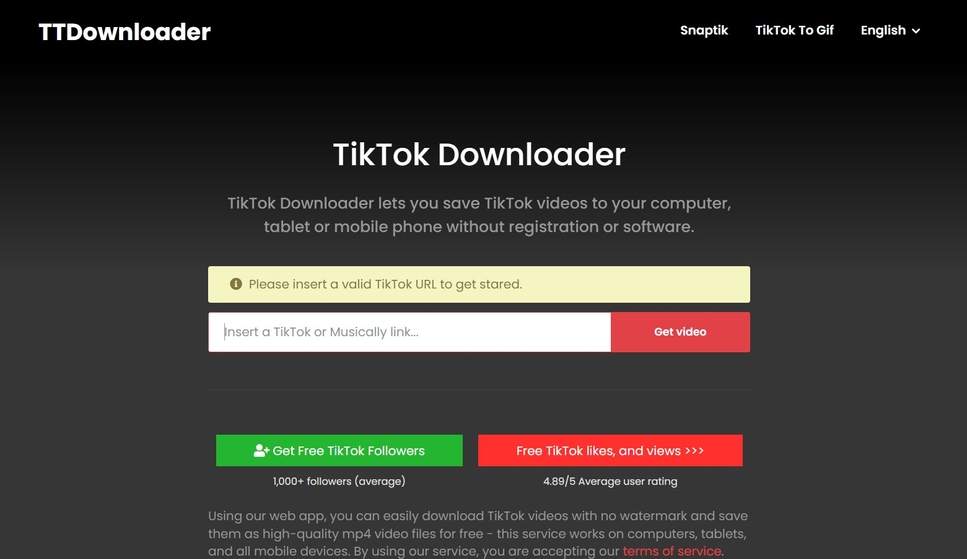 If you're convinced, here's how easy it is to use:
Open 'www.ttdownloader.com' in your browser.
Right-click on the TikTok video and select 'Copy link address.'
Paste the URL into the textbox on TTDownloader and click 'Get Video.' A drop-down menu with various options will appear.
Choose how you want to download your video and click 'Download video.' Within seconds, the video will be saved to your gallery. It's that simple!
With this tool, you can easily download TikTok videos for free. ِDo you know what else is easy? Getting free TikTok followers. You just need to learn simple tricks that are mentioned in this free TikTok followers cheat sheet!
Method 3: Save TikTok Video by a Third-Party App
TikMate is a fantastic app available on the Google Store that allows you to download TikTok videos quickly and easily. The best part? It's completely free! With TikMate, you can download as many videos as you want without any limitations, and the best part is, you don't even need to log in.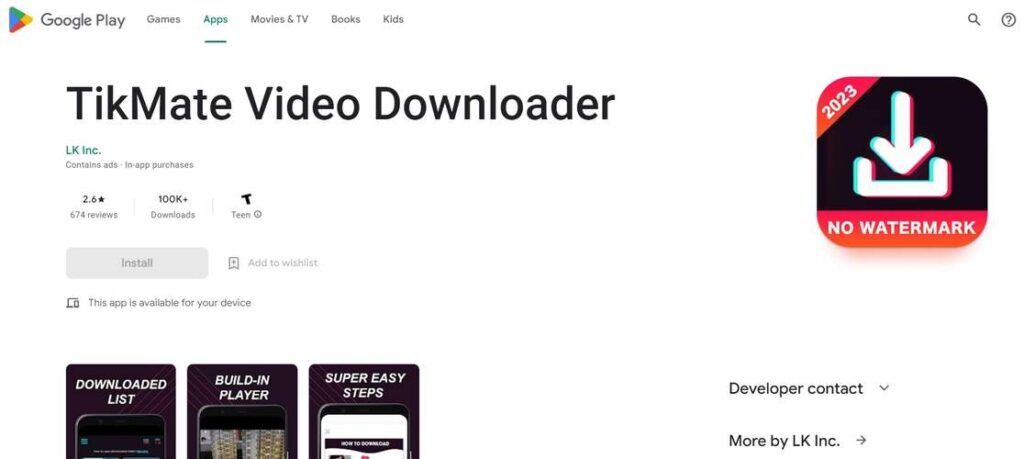 But TikMate isn't just a downloader, it's also a video player! How cool is that? All the videos you download are conveniently stored within the app, so you don't have to go searching through your gallery to find them.
One thing that sets TikMate apart is its user-friendly interface. Unlike other apps with complicated layouts, TikMate keeps things simple and straightforward. In just a few quick steps, you'll have your favorite videos saved and ready to watch anytime.
Here's how to use TikMate:
Download TikMate from the Google Store and open it.
Open TikTok and select the video you want to save. Tap on 'Share,' swipe left, and select 'Others.' Then choose to open the video with TikMate.
Note: Alternatively, you can tap 'Share,' then 'Copy link,' and open TikMate to paste the link.
Once you've copied the URL or shared it directly to TikMate, click on 'Download.'
Sit back and watch as the video starts downloading. You'll find it not only in your device's gallery but also within the TikMate library.
In addition to the methods mentioned earlier, there are also free TikTok video downloaders available in the market that you can explore. These downloaders provide an alternative solution for saving TikTok videos directly to your device. By utilizing these tools, you can quickly and easily download TikTok videos without the need for additional apps or complicated procedures.
Method 4: Recording the TikTok Video Using Your Device's Screen Recorder
Here's how you can record TikTok videos using your device's screen recorder:
Make sure your device has a built-in screen recording feature. If not, you can download a screen recording app from the app store.
Open the TikTok app on your device.
Find the video you want to record and make sure it is ready to play.
Activate your device's screen recorder by accessing the control center (for iPhone users) or the notification panel (for Android users). The process may vary depending on your device model.
Once you've accessed the screen recording option, start the recording. It will capture everything displayed on your device's screen, including the TikTok video and audio.
Play the TikTok video and let the screen recorder capture it. You can pause or stop the recording at any time by accessing the control center or notification panel again.
After you've finished recording, the video file will be saved to your device's gallery or camera roll, depending on your device settings.
Please note that recording TikTok videos using a screen recorder may affect the video quality slightly. Additionally, be mindful of respecting the rights and privacy of content creators when recording and sharing TikTok videos.
Bonus Tip: Accelerate Your Success as a TikTok Influencer Using Ainfluencer
Have you ever wondered how you, as a TikTok influencer, can collaborate with brands? Collaborating with brands as a TikTok influencer is made easy through Ainfluencer. You can explore brand opportunities on the platform and apply for campaigns that match your interests and audience.
Once you find a brand collaboration that interests you, submit your application and showcase your TikTok content to stand out. If the brand is interested, Ainfluencer helps you negotiate the campaign terms, including deliverables, timeline, and compensation. This streamlined process allows you to connect with brands, showcase your unique value, and secure exciting collaborations to monetize your influence on TikTok.
Conclusion
Now, you know how to save videos on Tiktok. Saving videos on TikTok has never been easier with the three reliable methods mentioned in this article.
While TikTok offers an immersive and engaging platform to watch videos, there are times when you come across a video that resonates deeply or brings a smile to your face, and you want to cherish and share it beyond the app. By using the TikTok app itself, online tools like TTDownloader, or dedicated third-party apps like TikMate, you can effortlessly save your favorite TikTok videos to your device's gallery.
FAQs
#1 Why Can't I Save a TikTok Video?
if you're unable to save a TikTok video, it's likely because the creator has disabled the "Save Video" option or the video has copyright protection.

The ability to save a TikTok video depends on a few factors. First, if the creator has enabled the "Save Video" option for their video, you should be able to save it directly from the app. However, if the creator has disabled this option, you won't be able to save their video.

Additionally, some TikTok videos may have copyright protection, which prevents them from being downloaded or saved. This is to protect the intellectual property rights of the creator or the owner of the content.

However, there are ways to save TikTok videos without using the app's built-in download feature. One common method is to use a third-party app or website to download the video. But, it's important to be cautious when using these methods, as some may not be secure or may violate TikTok's terms of service.

#2 Are TikTok Videos Free to Use?
No, TikTok videos are not free to use without permission from the original creators. TikTok videos, like any other type of creative work, are protected by copyright laws, which give the creators the exclusive right to control how their work is used, reproduced, and distributed.
#3 Can You Save a TikTok Video Without the TikTok?
Yes, it's possible to save a TikTok video without the app. You can download from TikTok's website, use a third-party video downloader app, or screen record the video. However, downloading or using someone else's TikTok video without permission is a violation of their intellectual property rights, so make sure to obtain permission before using their content.