The popularity of TikTok is rapidly increasing. When users create videos on this platform, the app automatically adds a watermark to them that displays the TikTok logo or a username. While this watermark serves as a way to protect content copyrights, there are times when users want to remove the watermark for a variety of reasons, like sharing on other platforms. In this case, you will need to learn how to remove TikTok watermark.
If you find it challenging to remove watermark from your TikTok video and reshare it on other platforms, you can contact a social media marketing agency to help you manage your online market.
In this article, we will review different methods and tools to help users remove watermarks from TikTok videos efficiently and conveniently.
How to Remove TikTok Watermark?
Before defining the TikTok watermark removal method, please note that you should not use these methods to copy someone else's video on your name. It is against social media rules of copyrights, and your account might be restricted. Therefore, only use the following methods on your video if you want to remove TikTok watermark to share your video on other platforms, such as Instagram Reels.
Furthermore, first, you should use one of the TikTok video download tools to have the video on your phone. Then follow these tips:
1. Use Your Phone's Editor
Whether you use an iPhone or an Android phone, you can simply employ the editing option on your phone's gallery or Photo app to remove the TikTok watermark. How is it possible?
Crop the Video
Open the video in your Gallery or Photo app and:
Tap on the top-right corner of the video to edit it.
You will have different options at this place. One of them is Crop. Tap on its icon to see a border around your video.
Change the crop border to cover only the area above the watermark.
You can also pinch to zoom the video as well. So the watermark part will be out of the cropped area.
Save the video to your phone.
This method changes the dimensions of your video and may affect its quality. Therefore, it is not recommended if you want to have a high-quality video.
2. Use Video Editing Apps
Working with video editing apps is one of the essential skills a content creator should learn. You can do several things using these apps. Some of the methods to remove TikTok watermark are as follows:
Add Border
You can create a border or frame around the video and cover up the watermark area. However, it will also cover part of the video. Therefore, in most cases, it will not be the best option. To add a border around your TikTok video, use a mobile app like Capcut, VivaVideo, or iMovie on your iPhone.
Import your video to the app.
Depending on which video editing app you use, you can either create a border or add a premade frame to the video.
Save the video into your gallery.
Blur the Watermark
Again, you can use an editing app to blur the watermark. However, the method of blurring a part of a video is not the same on all apps. For example, on Capcut, you should create an overlay and mask the area you want to blur.
However, you should note that blurring a watermark still makes viewers notice you have hidden something on your video, which is not a professional option, especially if you have many followers. It gives them this feeling that you have copied someone else's video and blurred its logo. Therefore, it is better to share your video with a watermark than to blur it.
In case you want to share your TikTok video on Instagram, read more about how to use hashtags for Instagram Reels to make your video more discoverable to others and help it go viral.
3. Use a TikTok Watermark Remover App
In the world of technology, everything comes with an app. No matter if you want to create a video, edit the previous one, or simply remove a watermark from a video. Therefore, you can use one of the following apps to remove TikTok watermark.
#1. SaveTok
If you are looking for a TikTok watermark remover app on your iPhone, SaveTok can be a good choice. Apart from downloading TikTok videos without a watermark, this app allows users to bookmark videos and profiles or share them with their friends. Additionally, SaveTok has an option that can play the video in slow-motion mode. Although this app is free, it comes with in-app ads.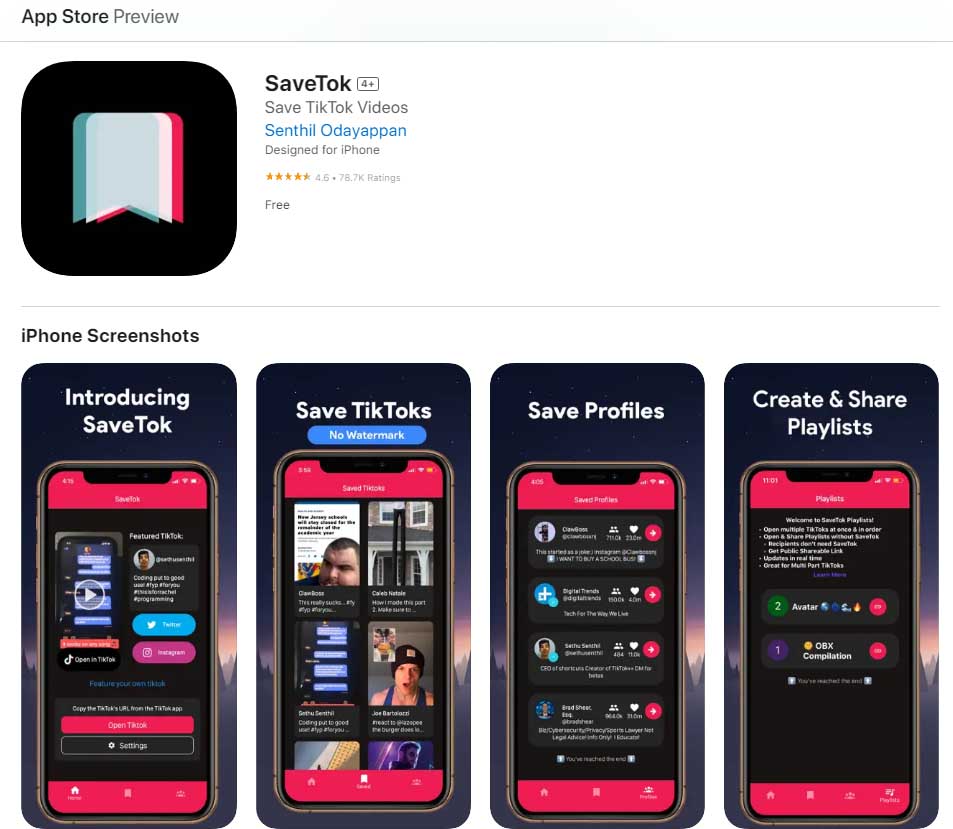 #2. TikSaver: Watermark Remover
One simple way to remove the TikTok watermark is to download it without a watermark, which is what TikSaver does. You only need to copy the link of your video to this app and download the app. The good news is that it also keeps the quality of the video. The app is available for Android and iPhone for free.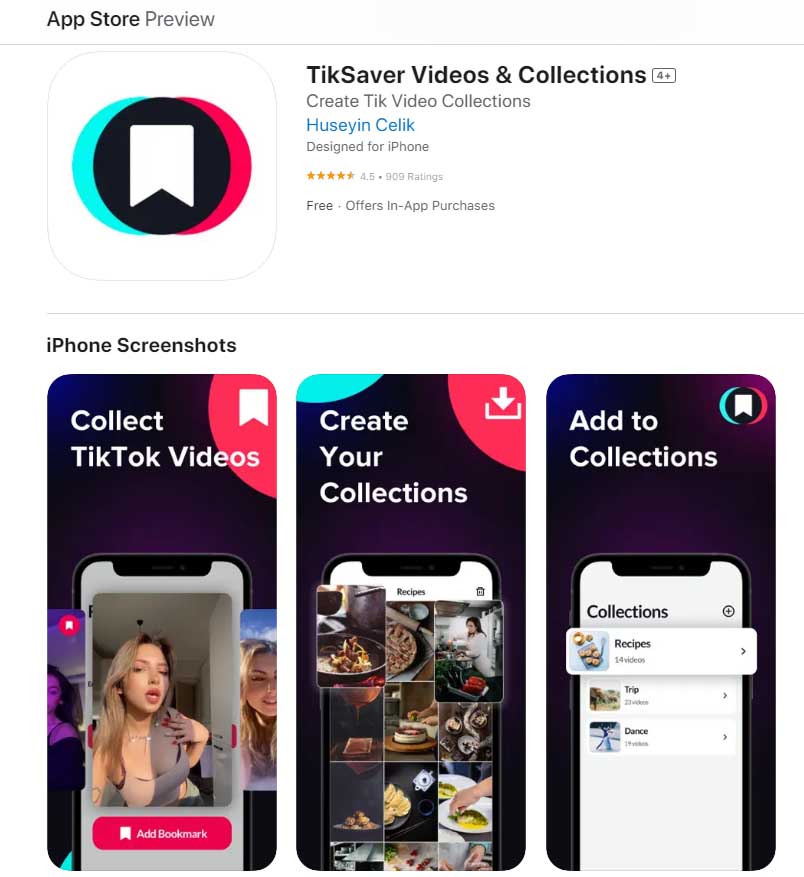 #3. Video Eraser: Remove Logo
As the name suggests, Video Eraser is another TikTok watermark remover app that can help you remove logos or watermarks from videos. Although this app is free, it has a pro version that offers its users more video editing features. Therefore, if you are a content creator, these features might help you create better TikTok videos or engaging Instagram reels, so you can get paid for Reels on Instagram.
This app is only available for iPhones, and it comes with a drawback: you can still see a blurry spot where the watermark was located. Therefore, it still gives the viewer a hint that something is hidden in the video.
#4. Snaptok
There are so many apps that can help you remove watermarks, but not all of them are great. Instead, Snaptok is among the best apps for this purpose. You can watch and download TikTok without a watermark on this app.
However, since the app is free, you may have to watch an ad before downloading the video. But after that, you will be able to save TikTok videos in HD quality, MP4 file format or convert to audio MP3. So you can easily detract the trending songs from the video to use it yourself. Furthermore, you can browse the most popular TikTok content without leaving the app itself.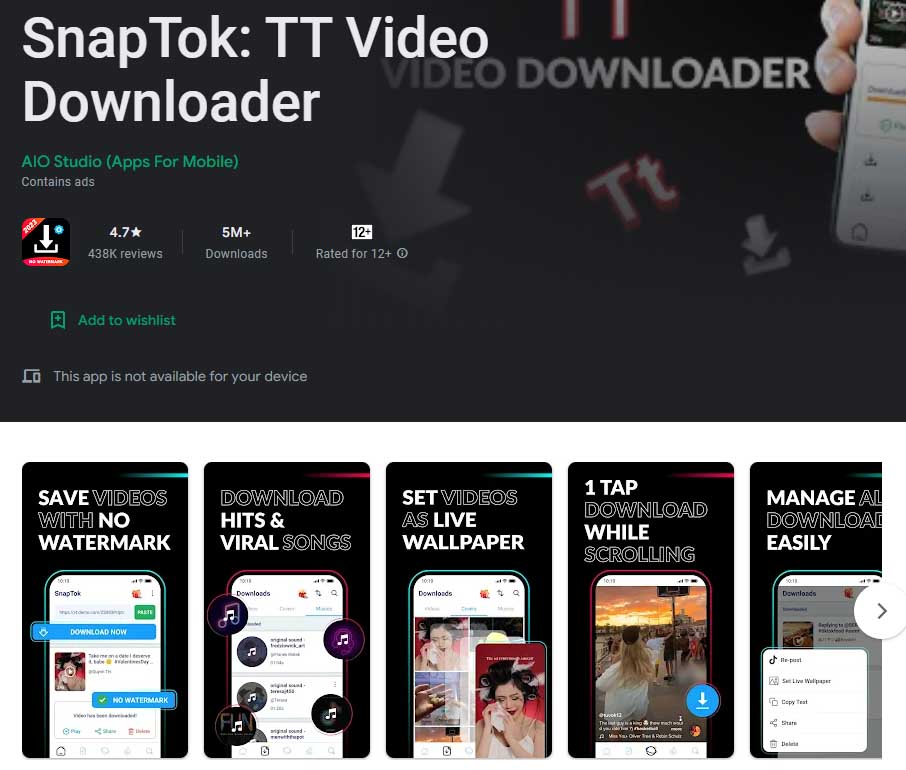 #5. SnapTik
One of the top apps you can use to download TikTok videos without a watermark is SnapTik, which has an online version too. Therefore, if you only want to use the downloading option, you can use the SnapTik website. But to use other features, it is better to have the app on your mobile.
You should also note that this app is not only used for downloading TikTok videos, you can use it to download videos from Facebook, Instagram, Twitter, and other platforms too.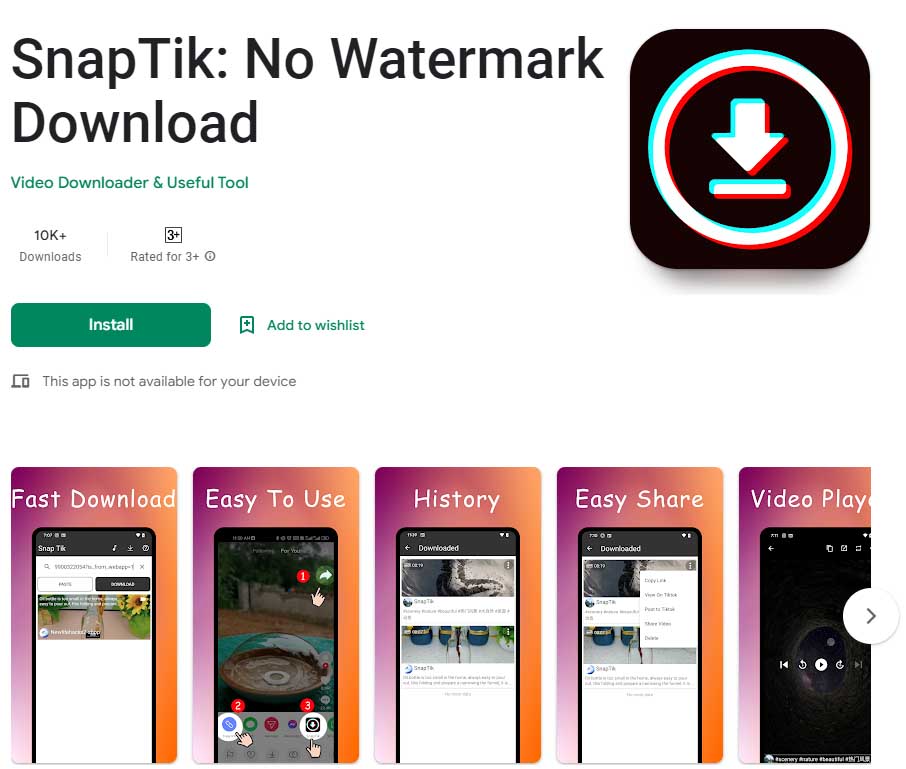 #6. Logo Remover from Video
Are you an avid TikTok user looking to elevate your video content by removing those intrusive watermarks? Look no further than SoftOrbits Remove Logo Now, one of the best TikTok logo remover from video. With this powerful tool, you can effortlessly eliminate TikTok watermarks and enhance the quality of your videos.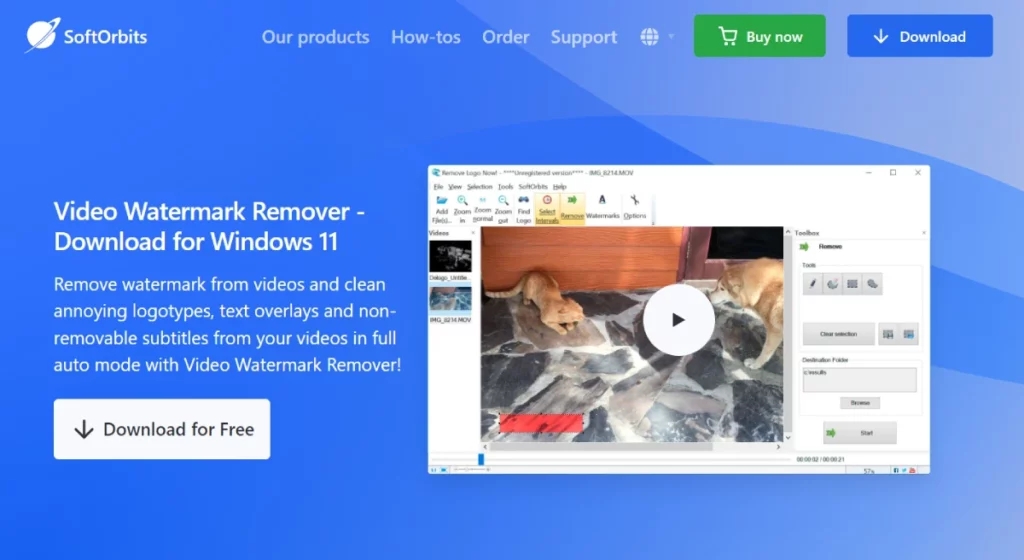 Why choose SoftOrbits Remove Logo Now?
Effortless Watermark Removal,
Preserve Video Quality,
User-Friendly Interface,
Wide Format Support.
How to use SoftOrbits?
Import your TikTok video(s) into the software.
Select the watermark area you want to remove.
Click the "Remove" button and let the magic happen.
4. Remove TikTok Watermark Online
Apart from the TikTok watermark remover apps you can use on your phone, some websites can help you download TikTok videos without watermark. Therefore, if you don't want to remove watermarks from TikTok videos frequently, you can easily use one of the following websites and download the videos without watermarks.
#1- Kapwing
It may not seem easy to create a video from scratch using an online tool. But Kapwing just made it easier. Kapwing is an AI tool that can help content creators make different edits to their videos, one of these options is repurposing videos, which means removing a watermark from a video and sharing it on another platform.

#2- Media.io
One of the greatest online tools that not only remove watermark but also erase text or any other logo on the video is Media.io. Unlike other TikTok watermark removers that download the video without its watermark, this tool asks you to upload the video to remove text, logo, or any watermark from it. If you edit multiple videos in one month, you may have to purchase one of its plans. But for one or two videos, it's free of charge.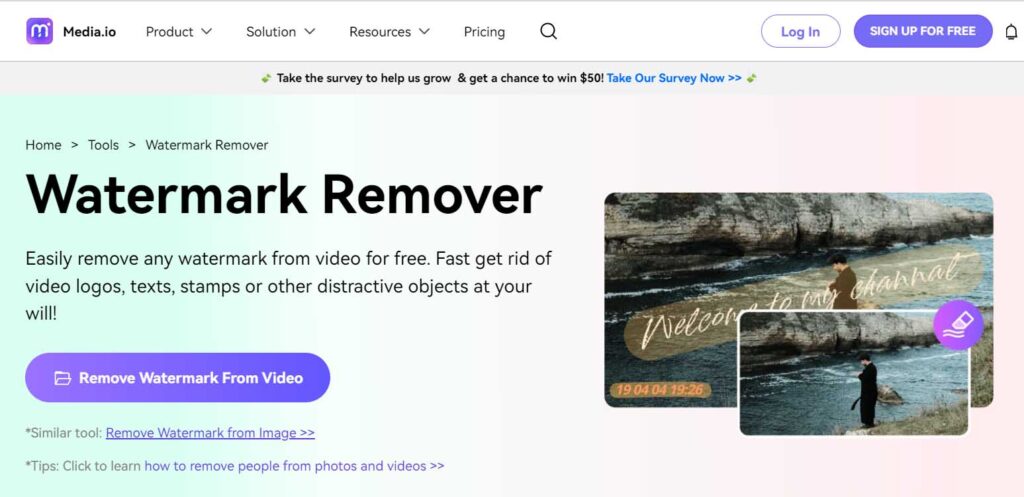 #3- HitPaw
It's another free method to remove the TikTok watermark. The process is easy and quick; you copy and paste the video link into this website. Then click Remove so the video is downloaded without its watermark.
You should note that you may not be allowed to download all videos. For example, videos on private pages are not downloadable, or some videos might be limited to one country, so they can't be downloaded in another location, no matter what method you try.

Improve Your Presence on TikTok with Ainfluencer
Like other social platforms, TikTok is useful for brands and businesses. They need to increase their followers on TikTok. However, it's not easy to compete in this crowded world. Therefore, you may need help. As a brand or company, you can sign up on Ainfluencer for free and start your influencer marketing. At Ainfluencer, we have gathered a list of the best and most active Influencers on TikTok and Instagram who can help you promote your brand or product.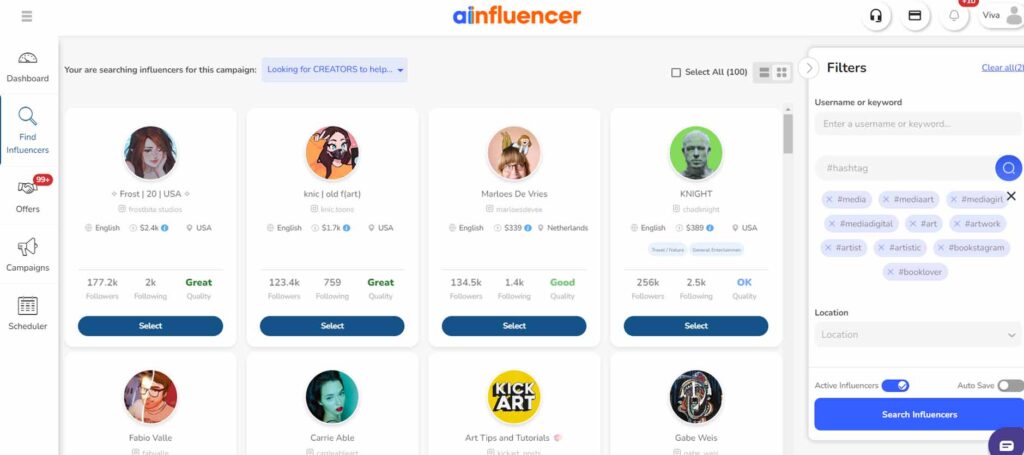 After the signup, you need to create a campaign and invite influencers. Moreover, you can search for influencers based on their category, gender, location, or the hashtags they use. Try it for free now.
Bottom Line
As you can see, you have several options to remove TikTok watermark. Therefore, the logo on your video will not bother you because it is easy to clean. However, we should mention again that it is not recommended to utilize these methods to remove the ownership of a video or share it in your name. Therefore, always follow the rules and regulations of the platform you are using.
Additionally, if you want to become a popular digital creator, you should be able to work with these tools to create engaging Instagram Reels or TikTok videos. To earn money this way, you can join the Ainfluencer community for free and make yourself more discoverable to companies and brands looking for a creative person to work with.
FAQs
Are There Any Free Tools for Removing TikTok Watermarks?
You can find several online tools or mobile applications that can remove TikTok watermarks for free. However, some of them have special features that may require you to purchase a pro version to use them. 
How Do I Save TikTok Videos Without Watermark on iPhone?
There are many apps for your iPhone to download or save videos. To name a few, you can use TikSaver, SnapTok, or SaveTok.  
Can You Use TikTok Videos on Other Social Media Platforms?
Every video you create belongs to you. Therefore, you can share your videos on other platforms if you want. However, if you have created a video on TikTok, it will come with a watermark. You may have to remove the TikTok watermark from the video and share it on other platforms.