TikTok has become one of the most popular social media apps in recent years, with millions of users sharing short videos on different topics. One of the coolest features of TikTok is the duet feature, which allows users to collaborate with other users and create content together. But how to duet on TikTok?
If you are an influencer who wants to know how to make money on TikTok or a business owner who is looking to grow their customers, you should get the most out of TikTok features. In this article, we will provide a step-by-step guide on how to duet a video on TikTok for total beginners.
What Is TikTok Duet?
If you are a TikToker who is following TikTok trends, you have definitely heard about duets. So, before talking about how to duet someone on TikTok, you first need to know what it is. One of the wonderful features that TikTok provides to respond to others or communicate with them is the 'Duet' feature. A duet video contains two videos, from two different users, on a split screen.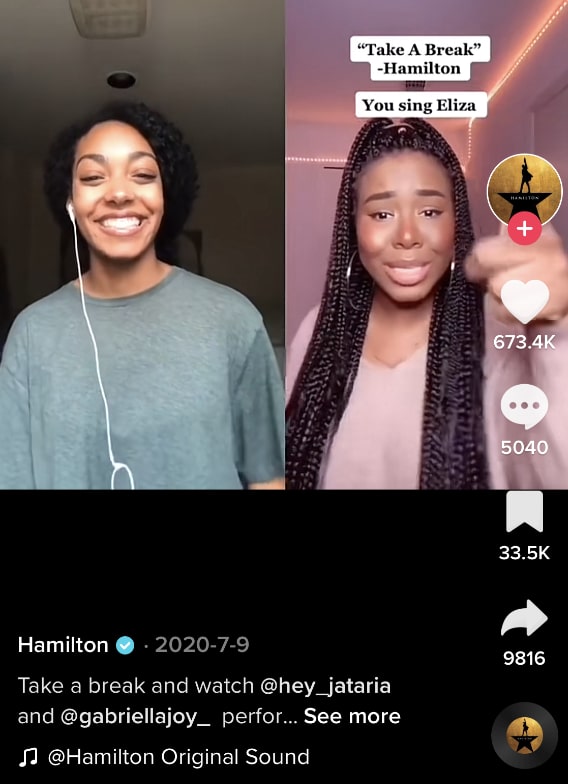 How To Duet On TikTok?
For those who are looking to find out how to grow on TikTok, creating a duet with a viral video is a good idea. If you think working with the duet feature is difficult, you are wrong. Here are the five simple steps to follow and find out how to duet on TikTok.
Step1: Find The Perfect Duet Partner
The first step of how to duet videos on TikTok is finding a video that allows duet. Creators can decide to turn on or off this option for their videos, so to duet with a creator, they should turn this option on from their settings.
So, start by scrolling through the For You page and look for a video that you want to react to.
Once you find the video tap on the share button from the right side of your screen.
A pop-up will open and you can see a 'Duet' icon from the options.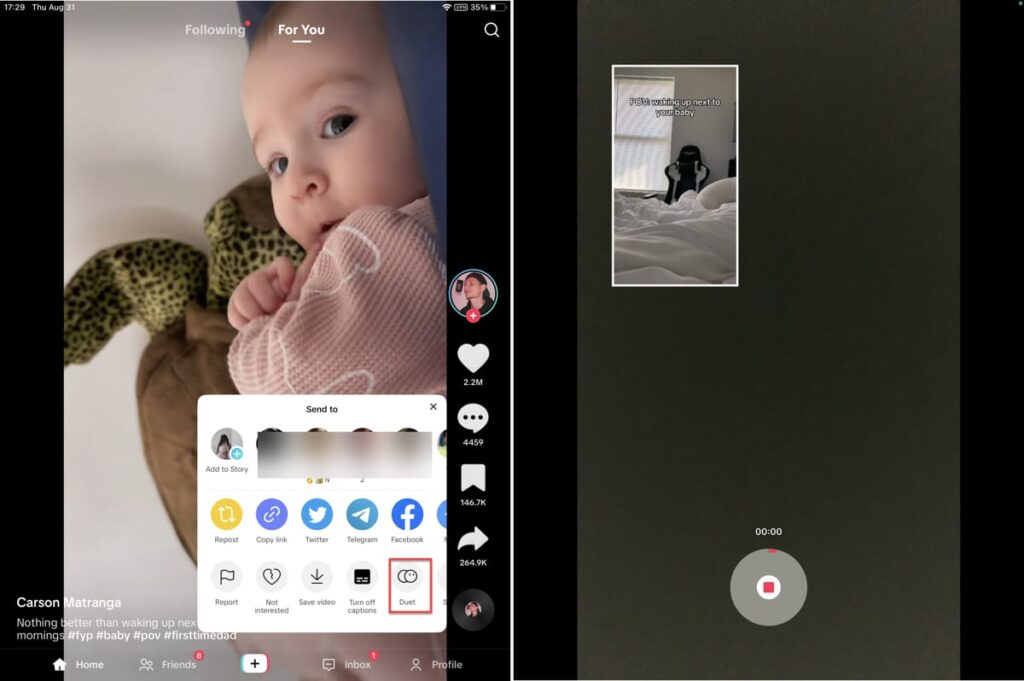 If duets have been turned off by the original creator, the duet button will appear grayed out and you can't tap it.
Step 2: Choose The Layout
After tapping the duet option, it's time to choose the layout. TikTok offers four different layouts to choose from:
Greenscreen,
Side by side,
Picture in picture,
Top and bottom.
Experiment with these different formats to find out which one is better for your video and then choose one.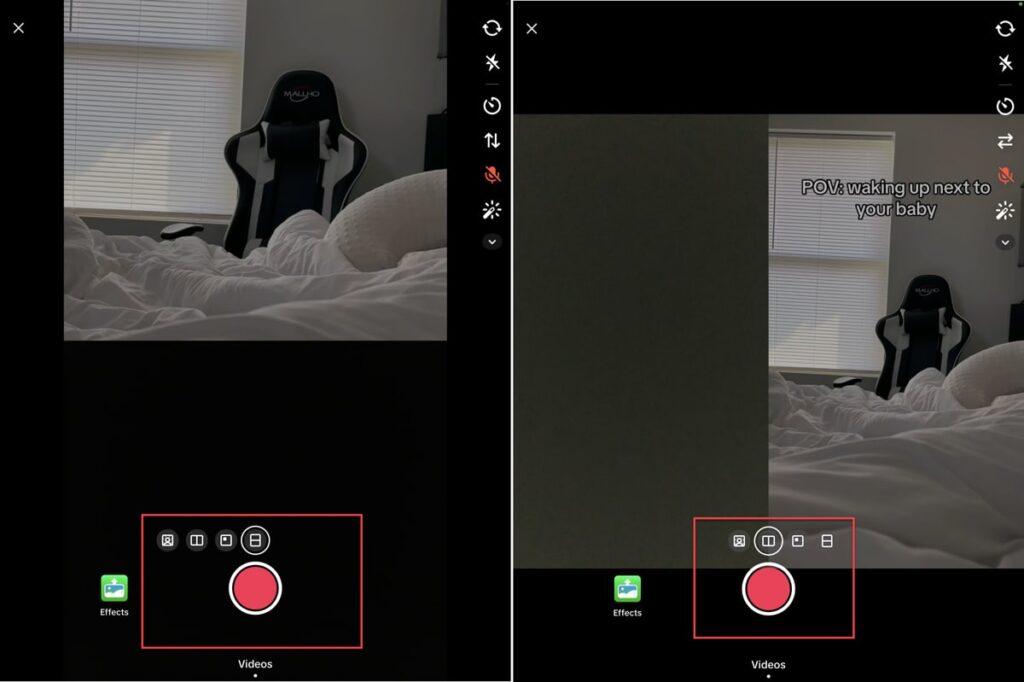 Step 3: Record Your Duet
After choosing the layout, the next step in how to duet on TikTok is recording the video. Simply tap the red button to start recording.. The maximum length of a video you can record is the same as the length of the original video.
You can also change the speed of the video using the 'Speed' icon on the right toolbar. To stop recording, simply tap the red button again when you're finished.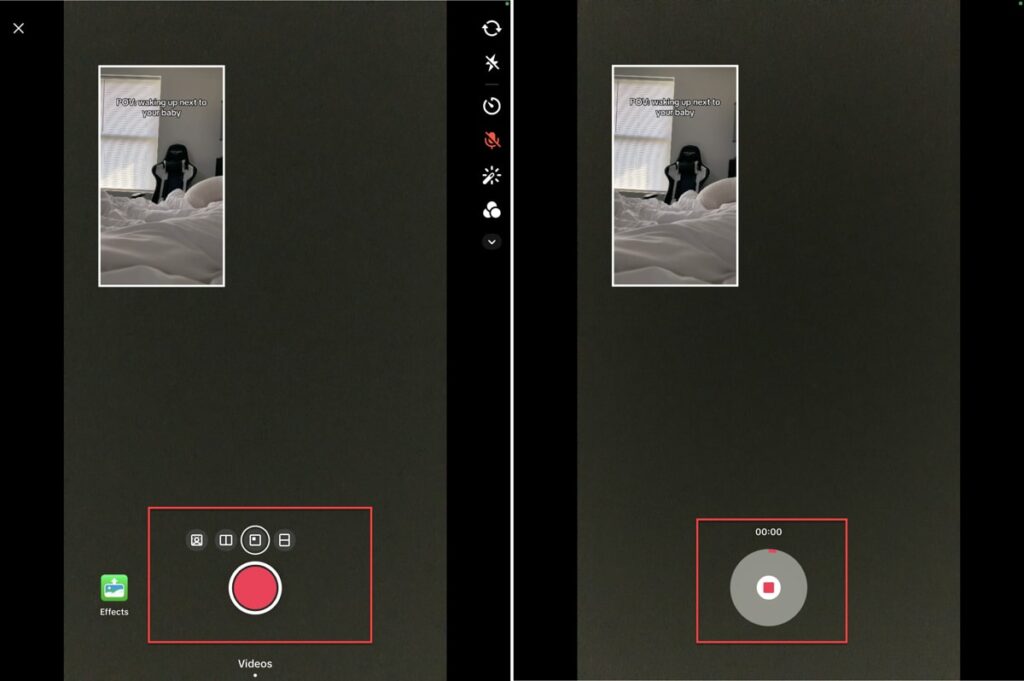 Step 4: Add Filters And Effects
Now the video is almost ready and it's time to add some filters and effects. Up to here, you found out how to do a duet on TikTok and it's time for final touch-ups while TikTok plays the video for you. Here you can:
Write texts and change their color/format/font or even add transitions for your text.
Add stickers such as Mention, Hashtag, Poll, Location, Add Yours, Date, Time, etc.
Add effects and filters,
Voice over your video,
Turn on the auto caption,
Change the volume of the original and duet video.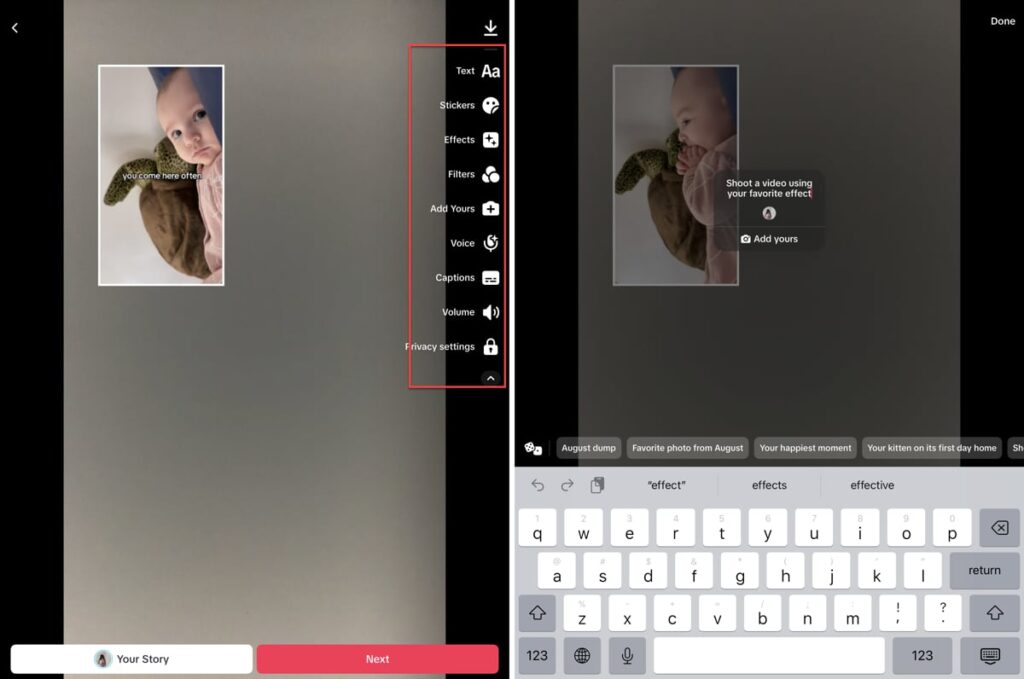 Step 5: Add Details And Publish The Video
Now that you are done with your content, it's time to publish the post. In your caption section, TikTok will write '#duet with …' showing that it's not original content. Then, you have 2200 characters to include in your caption. Make sure to leave space for including enough TikTok trend hashtags. Then you can also tag people and add location.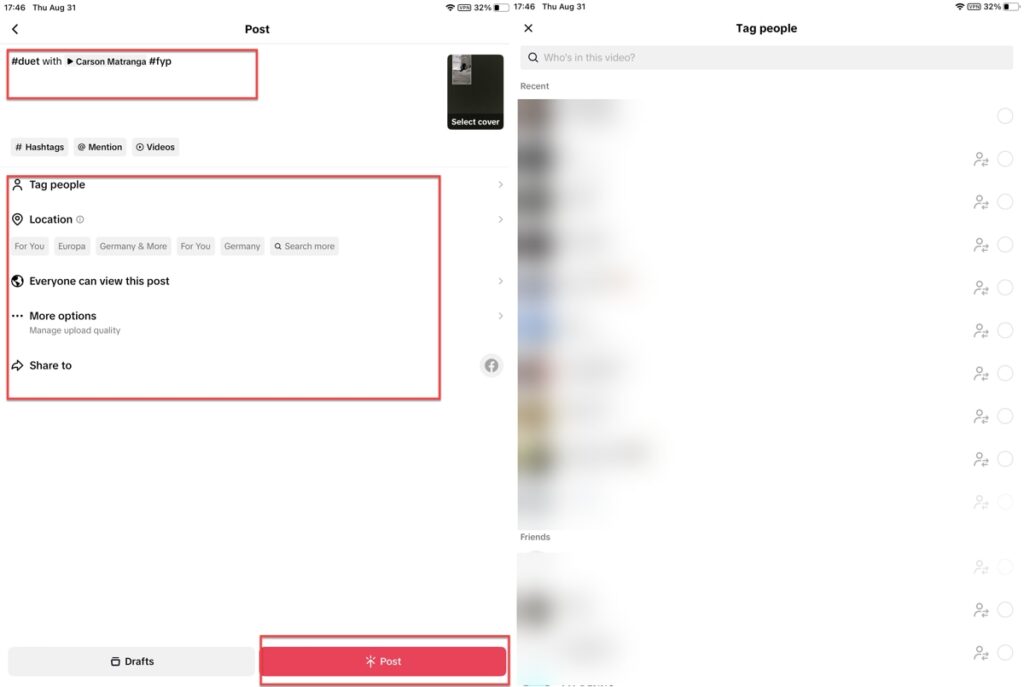 How To Delete Duet Videos Containing Your Content
If someone duets with one of your videos and you are not happy about it, you can't delete their video. However, by deleting your own original post, the duet video will also be removed. Here's how to delete a video on TikTok.
Before any actions, make sure to save the video on your device in case you need it later.
Open the video from your profile and tap on the three-dot icon on the right side of your screen.
Choose 'Save Video'.
After that, tap the icon one more time swipe the pop-up menu, and choose 'Delete.'
Confirm your action and that's it!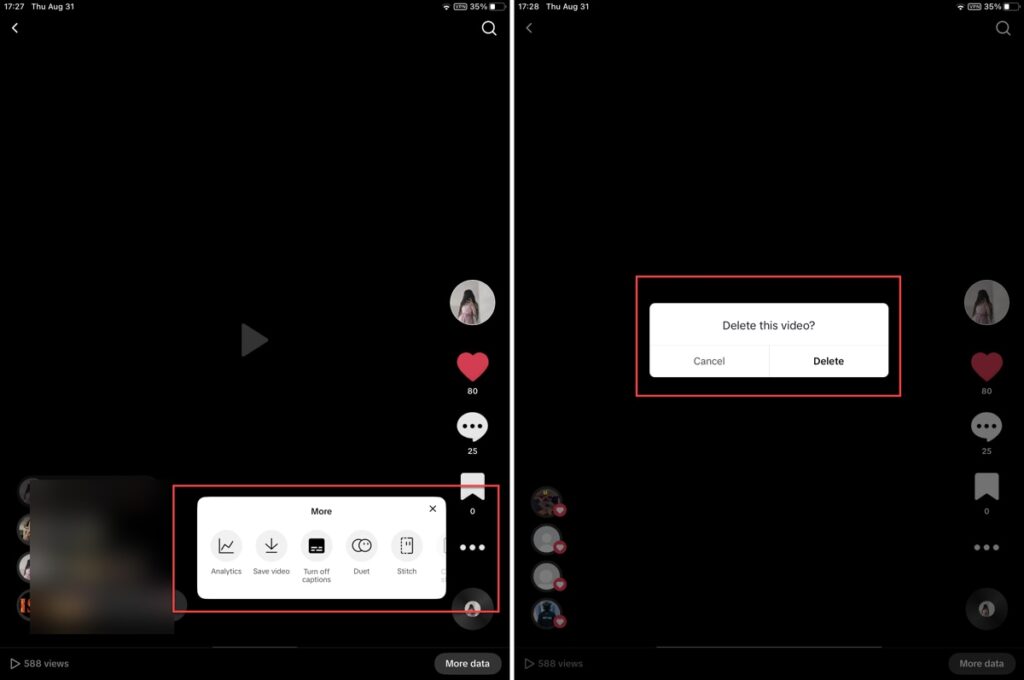 How To Turn On Duet On TikTok?
Now that you know how to use TikTok and the duet feature, let's see how to enable or disable this option for your videos. Follow these simple steps to find out how to duet on TikTok
Log into your TikTok account and go to your profile.
Tap the three-line icon at the top-right corner of your screen and choose 'Settings and Privacy'.
Under the 'Account' section tap 'Privacy.'
Tap on the 'Duet' icon.
Here you can decide who can duet with your videos. It can be 'Everyone', 'Followers You Follow Back, or 'Only you'.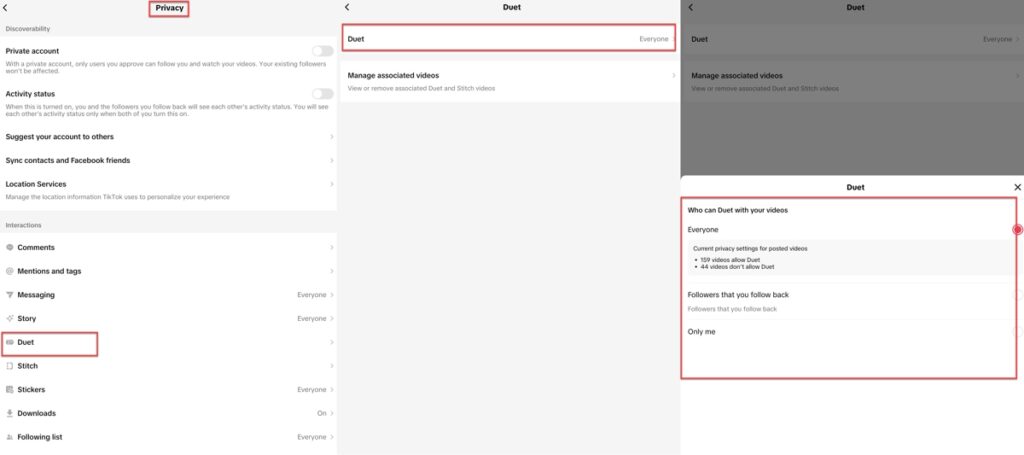 How To Monetize Your Videos On TikTok?
Up to here, we've provided everything you need to know about how to make a duet on TikTok. Now, let's see if it is possible to earn money from your content. There are different methods for monetizing your account (followers' gifts, TikTok Creator fund, etc.) but the best way is becoming an influencer and collaborating with brands. But how to find them?
Ainfluencer is an influencer marketing platform that connects brands with their niche influencers across different industries. This platform uses AI and powerful search filters (based on hashtags, location, language, niche, budget, etc.), so you can find your best match in a few minutes.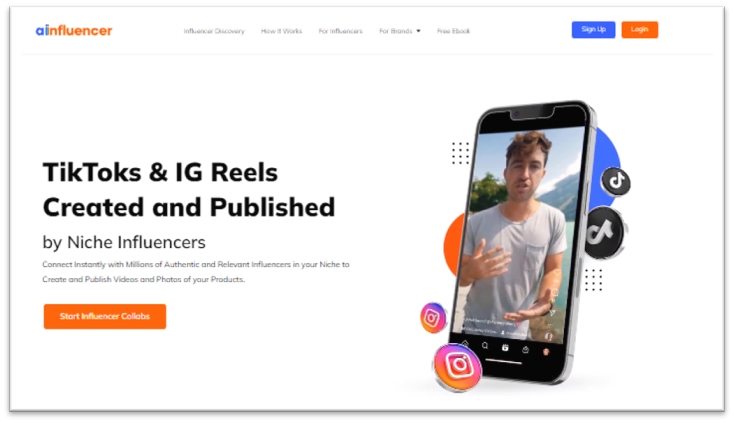 Once you hit the 5k followers mark on TikTok, you can create your influencer account and join the community of more than 500,000 creators. So what are you waiting for? Create your influencer account for free and start earning money!
Conclusion
Duetting on TikTok is a fantastic way to collaborate, contact other creators, and connect with a larger audience. By following these five easy steps, you can create engaging and memorable duet videos that showcase your creativity. So, find your duet partner, choose your layout, record your video, and share the video now.
FAQs
1. Can I Duet With My Own Videos?
Absolutely! Duetting with your own videos can be a powerful tool for storytelling, comparison, or showcasing progression. You can create split-screen interactions, and reactions, or even provide additional context to your original content. It's a way to engage your audience in a new and interactive manner, inviting them to see different perspectives and dimensions of your content.
2. Can I Edit My Duet After Publishing It?
TikTok provides some post-publishing editing options for duet videos. You can edit captions and hashtags even after your duet has been posted. However, if you wish to make significant changes to the video itself, you might need to delete the original duet and create a new one. It's advisable to review your content before publishing to ensure it aligns with your creative vision.
3. Can I Use Effects And Filters In My Duet?
Certainly! Incorporating effects, filters, and stickers into your duet can enhance its visual appeal and capture your audience's attention. TikTok provides multiple creative tools to choose from. Whether you're adding an artistic filter, a playful sticker, or an engaging visual effect, these elements can elevate your duet, making it stand out and enhancing its storytelling potential.

4. Do I Need To Use The Same Audio As The Original Video?
While you have the option to use the same audio as the original video, TikTok also allows you to use different audio tracks in your duet. This flexibility enables you to infuse your unique style and creativity into the duet, adding your voice, music, or sound effects that complement the original content. It's an excellent way to add depth and layers to your collaboration.